Refine your results
SHOW
Show:

Press enter to collapse or expand the menu. For navigating with in Filter options, press tab. To select Filter options, press enter.

Clear All

Filter

Done

0

Products

Add filter

Reset filters
Product List
{ "450006608" : { "42 Short": [ "Blue", "Charcoal" ], "44 Long": [ "Blue", "Charcoal" ], "46 Short": [ "Blue", "Charcoal" ], "42 Long": [ "Blue", "Charcoal" ], "42 Regular": [ "Blue", "Charcoal" ], "44 Short": [ "Blue", "Charcoal" ], "46 Regular": [ "Blue", "Charcoal" ], "46 Long": [ "Blue", "Charcoal" ], "41 Regular": [ "Blue", "Charcoal" ], "43 Regular": [ "Blue", "Charcoal" ], "40 Regular": [ "Blue", "Charcoal" ], "41 Long": [ "Blue", "Charcoal" ], "44 Regular": [ "Blue", "Charcoal" ], "40 Long": [ "Blue", "Charcoal" ], "43 Long": [ "Blue", "Charcoal" ], "40 Short": [ "Blue", "Charcoal" ] } }

{ "id" : "450006608", "productName" : "Executive Collection Traditional Fit Suit", "productItem" : "3EH9", "productDescription" : "This fine, classic Executive Collection suit features smooth and lightweight premium wool specially finished for a clean texture. Ideal year-around wool weight. Traditional Fit. Two-button, notch lapel, center vent. Soft shoulders, fully lined. Flat-front trousers half-lined to the knee. Unfinished hems for tailoring. 100% wool. Dry clean only. Imported.", "promoDescription" : "", "productUrl" : "http://www.gl-green.com/p/executive-collection-traditional-fit-suit-3EH9", "productImageUrl" : "https://images.josbank.com/is/image/JosBank/3EH9_06_EXECUTIVE_CHARCOAL_MAIN?$browse_thumbnail$", "productImageFullSize" : "https://images.josbank.com/is/image/JosBank/3EH9_06_EXECUTIVE_CHARCOAL_MAIN?$browse_thumbnail$", "price" : "", "regPrice" : "$598.00", "salePrice" : "$199.00", "label": "sale", "category" : "Suits", "subcategory": "Executive Suits", "stock": 1, "dimension53" : "No" }

{ "450007891" : { "42 Short": [ "Black", "Charcoal", "Navy" ], "44 Long": [ "Black", "Charcoal", "Navy" ], "46 Short": [ "Black", "Charcoal", "Navy" ], "42 Long": [ "Black", "Charcoal", "Navy" ], "42 Regular": [ "Black", "Charcoal", "Navy" ], "44 Short": [ "Black", "Charcoal", "Navy" ], "46 Regular": [ "Black", "Charcoal", "Navy" ], "46 Long": [ "Black", "Charcoal", "Navy" ], "41 Regular": [ "Black", "Charcoal", "Navy" ], "43 Regular": [ "Black", "Charcoal", "Navy" ], "40 Regular": [ "Black", "Charcoal" ], "41 Long": [ "Black", "Charcoal" ], "38 Short": ["Black"], "44 Regular": [ "Black", "Charcoal", "Navy" ], "40 Long": [ "Black", "Charcoal", "Navy" ], "43 Long": [ "Black", "Charcoal" ], "40 Short": [ "Black", "Charcoal" ] } }

Going Fast

Buy 1 Get 1 Free! (Separates Package must include Jacket)

{ "id" : "450007891", "productName" : "Signature Gold Collection Tailored Fit Suit", "productItem" : "3JJ2", "productDescription" : "In a trim and flattering, Tailored Fit, this fine suit is crafted from the world s finest worsted wool with elegant pick-stitched details. Fully lined. Two-button jacket, side vents, and notch lapel. Soft form-fitting inner canvas chest piece for the perfect fit. Sleeves designed to add custom buttonholes. Unattached buttons provided. Plain front, half lined to knee. Unfinished hem for tailoring. Premium cotton pocketing with button-through back besom pocket. Solid pattern. 100% wool. Imported. Dry clean only.", "promoDescription" : "Buy 1 Get 1 Free! (Separates Package must include Jacket)", "productUrl" : "http://www.gl-green.com/p/signature-gold-collection-tailored-fit-suit-3JJ2", "productImageUrl" : "https://images.josbank.com/is/image/JosBank/30555_041_main?$browse_thumbnail$", "productImageFullSize" : "https://images.josbank.com/is/image/JosBank/30555_041_main?$browse_thumbnail$", "price" : "$998.00", "regPrice" : "", "salePrice" : "", "label": "none", "category" : "Suits", "subcategory": "Signature Gold Suits", "stock": 1, "dimension53" : "No" }

{ "451146241" : { "37 Regular": [ "Black", "Dark Grey", "Navy" ], "42 Short": [ "Black", "Dark Grey", "Navy" ], "44 Long": [ "Black", "Dark Grey", "Navy" ], "40 X Long": ["Dark Grey"], "39 Long": [ "Black", "Dark Grey", "Navy" ], "46 Short": [ "Black", "Dark Grey", "Navy" ], "42 Long": [ "Black", "Dark Grey", "Navy" ], "36 Regular": [ "Black", "Dark Grey" ], "39 Regular": [ "Black", "Dark Grey", "Navy" ], "42 Regular": [ "Black", "Dark Grey", "Navy" ], "38 Long": [ "Black", "Dark Grey", "Navy" ], "44 Short": [ "Black", "Dark Grey", "Navy" ], "46 Regular": [ "Black", "Dark Grey", "Navy" ], "46 Long": [ "Black", "Dark Grey", "Navy" ], "41 Regular": [ "Black", "Dark Grey", "Navy" ], "36 Short": [ "Black", "Dark Grey", "Navy" ], "43 Regular": [ "Black", "Dark Grey", "Navy" ], "36 Long": [ "Black", "Dark Grey", "Navy" ], "37 Short": [ "Dark Grey", "Navy" ], "41 Long": [ "Black", "Dark Grey", "Navy" ], "38 Short": [ "Black", "Dark Grey", "Navy" ], "40 Regular": [ "Black", "Dark Grey", "Navy" ], "44 Regular": [ "Black", "Dark Grey", "Navy" ], "40 Long": [ "Black", "Dark Grey", "Navy" ], "43 Long": [ "Black", "Dark Grey", "Navy" ], "38 Regular": [ "Black", "Dark Grey", "Navy" ], "40 Short": [ "Black", "Dark Grey", "Navy" ] } }

{ "id" : "451146241", "productName" : "Executive Collection Tailored Fit Suit", "productItem" : "37K8", "productDescription" : "Crafted from the finest wool, this exceptional suit from the Executive Collection features fine tailoring and fabric for many years of wear. Tailored fit. Two button, side vent, notch lapel. Three-inch lapel. Lining - solid color poly blend. No canvas chest piece - garment uses modern fusing technology. Super 100's plain weave. Pant - unfinished hem for alteration. Pant - Flat front, half lined to knee. 100% wool. Dry clean. Imported.", "promoDescription" : "", "productUrl" : "http://www.gl-green.com/p/executive-collection-tailored-fit-suit-37K8", "productImageUrl" : "https://images.josbank.com/is/image/JosBank/37K8_75_EXECUTIVE_NAVY_MAIN?$browse_thumbnail$", "productImageFullSize" : "https://images.josbank.com/is/image/JosBank/37K8_75_EXECUTIVE_NAVY_MAIN?$browse_thumbnail$", "price" : "", "regPrice" : "$279.00", "salePrice" : "$199.00", "label": "sale", "category" : "Suits", "subcategory": "Executive Suits", "stock": 1, "dimension53" : "No" }

{ "450007472" : { "37 Regular": [ "Black", "Bright Blue", "Pearl Gry" ], "42 Short": [ "Black", "Bright Blue", "Pearl Gry" ], "44 Long": [ "Black", "Bright Blue" ], "39 Long": [ "Black", "Pearl Gry" ], "46 Short": [ "Black", "Bright Blue", "Pearl Gry" ], "35 Short": [ "Black", "Bright Blue", "Pearl Gry" ], "42 Long": [ "Black", "Bright Blue", "Pearl Gry" ], "39 Regular": [ "Black", "Bright Blue", "Pearl Gry" ], "36 Regular": [ "Black", "Bright Blue", "Pearl Gry" ], "38 Long": [ "Black", "Bright Blue", "Pearl Gry" ], "42 Regular": [ "Black", "Bright Blue", "Pearl Gry" ], "44 Short": [ "Black", "Bright Blue", "Pearl Gry" ], "46 Regular": [ "Black", "Bright Blue", "Pearl Gry" ], "46 Long": [ "Black", "Bright Blue", "Pearl Gry" ], "41 Regular": [ "Black", "Bright Blue", "Pearl Gry" ], "36 Short": [ "Black", "Pearl Gry" ], "43 Regular": [ "Black", "Bright Blue", "Pearl Gry" ], "37 Short": [ "Black", "Pearl Gry" ], "40 Regular": [ "Black", "Bright Blue", "Pearl Gry" ], "38 Short": ["Pearl Gry"], "41 Long": [ "Black", "Bright Blue", "Pearl Gry" ], "44 Regular": [ "Black", "Bright Blue", "Pearl Gry" ], "40 Long": [ "Black", "Bright Blue", "Pearl Gry" ], "35 Regular": ["Pearl Gry"], "43 Long": [ "Black", "Bright Blue", "Pearl Gry" ], "38 Regular": [ "Black", "Bright Blue", "Pearl Gry" ], "40 Short": [ "Black", "Bright Blue" ] } }

Going Fast

Buy 1 Get 1 Free! (Separates Package must include Jacket)

{ "id" : "450007472", "productName" : "Signature Gold Collection Tailored Fit Herringbone Suit", "productItem" : "3FRR", "productDescription" : "Year-round fabric has fluid drape and rich hand, side-vent jacket for classic styling, sleeves constructed for the addition of custom working buttonholes, tailored shoulders and pick-stitched detailing and premier jacquard signature Bemberg lining. Half-canvas chest piece and padded notch lapels for a crisp, smooth look. Scalloped facing for clean finish. Tailored Fit. Plain front trousers have premium cotton pockets and are half-lined to the knee. Unfinished bottoms for altering ease. Herringbone pattern. 100% worsted wool. Dry clean. Imported.", "promoDescription" : "Buy 1 Get 1 Free! (Separates Package must include Jacket)", "productUrl" : "http://www.gl-green.com/p/signature-gold-collection-tailored-fit-herringbone-suit-3FRR", "productImageUrl" : "https://images.josbank.com/is/image/JosBank/3FRR_73_SIGNATURE_GOLD_BRIGHT_BLUE_MAIN?$browse_thumbnail$", "productImageFullSize" : "https://images.josbank.com/is/image/JosBank/3FRR_73_SIGNATURE_GOLD_BRIGHT_BLUE_MAIN?$browse_thumbnail$", "price" : "$998.00", "regPrice" : "", "salePrice" : "", "label": "none", "category" : "Suits", "subcategory": "Signature Gold Suits", "stock": 1, "dimension53" : "No" }

{ "450007904" : { "42 Short": [ "Bright Navy", "Cambridge Grey" ], "44 Long": [ "Bright Navy", "Cambridge Grey" ], "46 Short": ["Cambridge Grey"], "42 Long": [ "Black", "Bright Navy", "British Tan", "Cambridge Grey" ], "39 Regular": ["Cambridge Grey"], "42 Regular": [ "Black", "Bright Navy", "Cambridge Grey" ], "44 Short": ["Cambridge Grey"], "46 Regular": ["Cambridge Grey"], "46 Long": [ "Bright Navy", "Cambridge Grey" ], "41 Regular": [ "Black", "Bright Navy", "British Tan", "Cambridge Grey" ], "43 Regular": [ "Bright Navy", "Cambridge Grey" ], "40 Regular": [ "Black", "Cambridge Grey" ], "41 Long": [ "Black", "Bright Navy", "British Tan", "Cambridge Grey", "Navy" ], "44 Regular": ["Cambridge Grey"], "40 Long": [ "Black", "Bright Navy", "British Tan", "Cambridge Grey", "Navy" ], "43 Long": [ "Black", "Bright Navy", "British Tan", "Cambridge Grey", "Navy" ], "40 Short": [ "Bright Navy", "Cambridge Grey" ] } }

{ "id" : "450007904", "productName" : "Executive Collection Traditional Fit Suit", "productItem" : "3JJG", "productDescription" : "A classic look for today's executive. Also perfect for embarking on a new career. Soft, lightweight wool and luxurious wool specially finished to impart a smooth, clean surface texture. Fully lined jacket with center vent and notch collar. Traditional Fit. Double pleated front trousers are half-lined to the knee. Unfinished bottom for altering ease. 100% wool. Dry clean only. Imported.", "promoDescription" : "", "productUrl" : "http://www.gl-green.com/p/executive-collection-traditional-fit-suit-3JJG", "productImageUrl" : "https://images.josbank.com/is/image/JosBank/3JJG_07_EXECUTIVE_CAMBRIDGE_GREY_MAIN?$browse_thumbnail$", "productImageFullSize" : "https://images.josbank.com/is/image/JosBank/3JJG_07_EXECUTIVE_CAMBRIDGE_GREY_MAIN?$browse_thumbnail$", "price" : "", "regPrice" : "$598.00", "salePrice" : "$199.00", "label": "sale", "category" : "Suits", "subcategory": "Executive Suits", "stock": 1, "dimension53" : "No" }

{ "451047195" : { "37 Regular": ["Black"], "42 Short": ["Black"], "44 Long": ["Black"], "39 Long": ["Black"], "46 Short": ["Black"], "42 Long": ["Black"], "36 Regular": ["Black"], "39 Regular": ["Black"], "42 Regular": ["Black"], "38 Long": ["Black"], "44 Short": ["Black"], "46 Regular": ["Black"], "46 Long": ["Black"], "41 Regular": ["Black"], "36 Short": ["Black"], "43 Regular": ["Black"], "36 Long": ["Black"], "37 Short": ["Black"], "41 Long": ["Black"], "40 Regular": ["Black"], "38 Short": ["Black"], "44 Regular": ["Black"], "40 Long": ["Black"], "35 Regular": ["Black"], "43 Long": ["Black"], "38 Regular": ["Black"], "40 Short": ["Black"] } }

{ "id" : "451047195", "productName" : "1905 Collection Slim Fit Tuxedo", "productItem" : "33RF", "productDescription" : "This fine wool tuxedo coat features vintage details with a modern approach. Single button closure, side vents, and satin notch lapel. Fully lined. Covered buttons. Soft shouldered construction. Satin details at pockets. Slim Fit. Flat-front slacks with satin stripe, lined to the knee. Unhemmed for tailoring. 98% wool, 2% spandex. Imported. Dry clean.", "promoDescription" : "", "productUrl" : "http://www.gl-green.com/p/1905-collection-slim-fit-tuxedo-33RF", "productImageUrl" : "https://images.josbank.com/is/image/JosBank/33RF_01_1905_BLACK_MAIN?$browse_thumbnail$", "productImageFullSize" : "https://images.josbank.com/is/image/JosBank/33RF_01_1905_BLACK_MAIN?$browse_thumbnail$", "price" : "", "regPrice" : "$698.00", "salePrice" : "$199.00", "label": "sale", "category" : "Suits", "subcategory": "1905 Suits", "stock": 1, "dimension53" : "No" }

{ "450006678" : { "56 Long": ["Blue"], "50 Regular": [ "Blue", "Charcoal" ], "48 Regular": [ "Blue", "Charcoal" ], "54 Long": ["Charcoal"], "50 Long": [ "Blue", "Charcoal" ], "46 X Long": ["Charcoal"], "52 Long": [ "Blue", "Charcoal" ], "58 Regular": ["Charcoal"], "52 Regular": [ "Blue", "Charcoal" ], "44 X Long": [ "Blue", "Charcoal" ], "48 Long": [ "Blue", "Charcoal" ], "50 X Long": [ "Blue", "Charcoal" ] } }

{ "id" : "450006678", "productName" : "Executive Collection Traditional Fit Suit - Big & Tall", "productItem" : "3EKJ", "productDescription" : "A classic look for today's executive. Also perfect for embarking on a new career. Traditional Fit. Soft, lightweight wool and luxurious wool specially finished to impart a smooth, clean surface texture. With center vent. Plain front trousers are half-lined to the knee. Unfinished bottoms for altering ease. 100% wool. Dry clean only. Imported.", "promoDescription" : "", "productUrl" : "http://www.gl-green.com/p/executive-collection-traditional-fit-suit-big-tall-3EKJ", "productImageUrl" : "https://images.josbank.com/is/image/JosBank/3EH9_06_EXECUTIVE_CHARCOAL_MAIN?$browse_thumbnail$", "productImageFullSize" : "https://images.josbank.com/is/image/JosBank/3EH9_06_EXECUTIVE_CHARCOAL_MAIN?$browse_thumbnail$", "price" : "", "regPrice" : "$658.00", "salePrice" : "$239.00", "label": "sale", "category" : "Big & Tall", "subcategory": "All Big & Tall", "stock": 1, "dimension53" : "No" }

{ "450007961" : { "54 Regular": [ "Black", "Navy" ], "56 Long": ["Cambridge Grey"], "50 Regular": [ "Bright Navy", "British Tan", "Cambridge Grey" ], "40 X Long": [ "Black", "Bright Navy", "British Tan", "Cambridge Grey" ], "48 Regular": [ "Black", "Bright Navy", "British Tan", "Cambridge Grey" ], "54 Long": [ "British Tan", "Cambridge Grey" ], "50 Long": ["Cambridge Grey"], "56 Regular": [ "Black", "Cambridge Grey" ], "52 Regular": [ "Black", "Bright Navy", "British Tan", "Cambridge Grey" ], "44 X Long": [ "Black", "Bright Navy", "British Tan", "Cambridge Grey" ], "42 X Long": [ "Black", "Bright Navy", "British Tan", "Cambridge Grey" ], "48 Long": [ "Black", "Bright Navy", "Cambridge Grey" ], "50 X Long": ["Black"] } }

{ "id" : "450007961", "productName" : "Executive Collection Traditional Fit Suit - Big & Tall", "productItem" : "3JLD", "productDescription" : "Smooth and lightweight premium wool specially finished for a clean texture. Perfect weight year-round. 2-button. Soft shoulders, fully lined. Traditional Fit. Double pleated trouser are half-lined to the knee. Center vent. Unfinished bottoms for altering ease. 100% wool. Dry clean only. Imported.", "promoDescription" : "", "productUrl" : "http://www.gl-green.com/p/executive-collection-traditional-fit-suit-big-tall-3JLD", "productImageUrl" : "https://images.josbank.com/is/image/JosBank/22049_149_main?$browse_thumbnail$", "productImageFullSize" : "https://images.josbank.com/is/image/JosBank/22049_149_main?$browse_thumbnail$", "price" : "", "regPrice" : "$658.00", "salePrice" : "$239.00", "label": "sale", "category" : "Big & Tall", "subcategory": "All Big & Tall", "stock": 1, "dimension53" : "No" }

{ "451082316" : { "42 Short": [ "Dark Blue", "Light Grey", "Mid Blue" ], "44 Long": [ "Dark Blue", "Light Grey", "Mid Blue" ], "46 Short": [ "Dark Blue", "Light Grey", "Mid Blue" ], "42 Long": [ "Dark Blue", "Light Grey", "Mid Blue" ], "39 Regular": [ "Dark Blue", "Light Grey", "Mid Blue" ], "42 Regular": [ "Dark Blue", "Light Grey", "Mid Blue" ], "44 Short": [ "Dark Blue", "Light Grey", "Mid Blue" ], "46 Regular": [ "Dark Blue", "Light Grey" ], "46 Long": [ "Dark Blue", "Light Grey", "Mid Blue" ], "41 Regular": [ "Dark Blue", "Light Grey", "Mid Blue" ], "43 Regular": [ "Dark Blue", "Light Grey", "Mid Blue" ], "38 Short": [ "Light Grey", "Mid Blue" ], "40 Regular": [ "Dark Blue", "Light Grey", "Mid Blue" ], "41 Long": [ "Dark Blue", "Light Grey", "Mid Blue" ], "44 Regular": [ "Dark Blue", "Light Grey", "Mid Blue" ], "40 Long": [ "Dark Blue", "Light Grey", "Mid Blue" ], "43 Long": [ "Light Grey", "Mid Blue" ], "38 Regular": [ "Dark Blue", "Light Grey", "Mid Blue" ], "40 Short": [ "Dark Blue", "Light Grey", "Mid Blue" ] } }

Buy 1 Get 1 Free! (Separates Package must include Jacket)

{ "id" : "451082316", "productName" : "Traveler Collection Traditional Fit Sharkskin Suit", "productItem" : "33V6", "productDescription" : "From the Traveler Collection this Traditional Fit sharkskin suit is water and stain resistant for easy care and wear. Ideal for travel. Fully lined, two-button jacket with notch lapel. Narrower lapel with five interior pockets. Flat-front slacks lined to the knee. Unhemmed for tailoring. Natural stretch wool for refined comfort. Comfort range waistband with self-adjusting stretch. Quarter top pockets on pants. 100% wool. Dry clean. Imported.", "promoDescription" : "Buy 1 Get 1 Free! (Separates Package must include Jacket)", "productUrl" : "http://www.gl-green.com/p/traveler-collection-traditional-fit-sharkskin-suit", "productImageUrl" : "https://images.josbank.com/is/image/JosBank/33V6_70_EXECUTIVE_MID_BLUE_MAIN?$browse_thumbnail$", "productImageFullSize" : "https://images.josbank.com/is/image/JosBank/33V6_70_EXECUTIVE_MID_BLUE_MAIN?$browse_thumbnail$", "price" : "$798.00", "regPrice" : "", "salePrice" : "", "label": "none", "category" : "Suits", "subcategory": "Traveler Suits", "stock": 1, "dimension53" : "No" }

{ "451146239" : { "37 Regular": ["Bright Blue"], "42 Short": ["Bright Blue"], "44 Long": ["Bright Blue"], "46 Short": ["Bright Blue"], "42 Long": ["Bright Blue"], "36 Regular": ["Bright Blue"], "39 Regular": ["Bright Blue"], "42 Regular": ["Bright Blue"], "38 Long": ["Bright Blue"], "44 Short": ["Bright Blue"], "46 Regular": ["Bright Blue"], "46 Long": ["Bright Blue"], "36 Short": ["Bright Blue"], "41 Regular": ["Bright Blue"], "43 Regular": ["Bright Blue"], "38 Short": ["Bright Blue"], "40 Regular": ["Bright Blue"], "41 Long": ["Bright Blue"], "44 Regular": ["Bright Blue"], "40 Long": ["Bright Blue"], "43 Long": ["Bright Blue"], "38 Regular": ["Bright Blue"], "40 Short": ["Bright Blue"] } }

{ "id" : "451146239", "productName" : "1905 Collection Tailored Fit Suit", "productItem" : "37K6", "productDescription" : "The 1905 Collection creates new fashion traditions with vintage details in a modern approach. Tailored Fit. Two-button closure, side vents, and notch lapel. Soft shouldered construction. Solid color poly-blend lining. No canvas chest piece, garment uses modern fusing technology. Flat-front slacks, lined to the knee. Unfinished hem for alterations. 54% cotton, 43% wool, 3% spandex. Imported. Dry clean.", "promoDescription" : "", "productUrl" : "http://www.gl-green.com/p/1905-collection-tailored-fit-suit-37K6", "productImageUrl" : "https://images.josbank.com/is/image/JosBank/37K6_73_1905_BRIGHT_BLUE_MAIN?$browse_thumbnail$", "productImageFullSize" : "https://images.josbank.com/is/image/JosBank/37K6_73_1905_BRIGHT_BLUE_MAIN?$browse_thumbnail$", "price" : "", "regPrice" : "$698.00", "salePrice" : "$199.00", "label": "sale", "category" : "Suits", "subcategory": "1905 Suits", "stock": 1, "dimension53" : "No" }

{ "998609629" : { "37 Regular": [ "Black", "Mid Grey", "Navy" ], "42 Short": [ "Black", "Mid Grey", "Navy" ], "44 Long": [ "Black", "Mid Grey", "Navy" ], "39 Long": [ "Black", "Mid Grey", "Navy" ], "46 Short": [ "Black", "Mid Grey", "Navy" ], "42 Long": [ "Black", "Mid Grey", "Navy" ], "36 Regular": [ "Black", "Mid Grey", "Navy" ], "39 Regular": [ "Black", "Mid Grey", "Navy" ], "42 Regular": [ "Black", "Mid Grey", "Navy" ], "38 Long": [ "Black", "Mid Grey", "Navy" ], "44 Short": [ "Black", "Mid Grey", "Navy" ], "46 Regular": [ "Black", "Mid Grey", "Navy" ], "46 Long": [ "Black", "Mid Grey", "Navy" ], "41 Regular": [ "Black", "Mid Grey", "Navy" ], "36 Short": [ "Black", "Mid Grey", "Navy" ], "43 Regular": [ "Black", "Mid Grey", "Navy" ], "36 Long": [ "Black", "Navy" ], "37 Short": [ "Black", "Mid Grey", "Navy" ], "41 Long": [ "Black", "Mid Grey", "Navy" ], "38 Short": [ "Black", "Mid Grey", "Navy" ], "40 Regular": [ "Black", "Mid Grey", "Navy" ], "44 Regular": [ "Black", "Mid Grey", "Navy" ], "40 Long": [ "Black", "Mid Grey", "Navy" ], "43 Long": [ "Black", "Mid Grey", "Navy" ], "38 Regular": [ "Black", "Mid Grey", "Navy" ], "40 Short": [ "Black", "Mid Grey", "Navy" ] } }

[ { "name": "1905 Collection Tailored Fit Textured Suit Separate Jacket", "partNumber": "JAB_343Y", "quantity": 1, "price": "119.0", "category": "Suits\/1905 Suits", "brand": "Jos. A. Bank", "promo": "" } , { "name": "1905 Collection Tailored Fit Flat Front Textured Suit Separate Pants", "partNumber": "JAB_344R", "quantity": 1, "price": "80.0", "category": "Suits\/1905 Suits", "brand": "Jos. A. Bank", "promo": "" } , { "name": "1905 Collection Tailored Fit Textured Suit Separate Vest", "partNumber": "JAB_344U", "quantity": 1, "price": "120.0", "category": "Suits\/1905 Suits", "brand": "Jos. A. Bank", "promo": "" } ]

{ "id" : "998609629", "productName" : "1905 Collection Tailored Fit Textured Suit", "productItem" : "BUNDLE_343Y", "productDescription" : "<p>Suit separates let you choose jacket, pants, and vest sizes separately for an ideal fit. Create your own tailored look with these pieces from the 1905 Collection. This suit separate set features a textured solid pattern and a tailored fit.<\/p>\n\n<p><strong>Jacket:<\/strong><br \/>\nThe jacket is fully lined with scalloped facings and contrast details. It features a two-button closure, side vents, and notch lapels with soft shouldered construction.&nbsp;<\/p>\n\n<p><strong>Pants:<\/strong><br \/>\nThe flat-front pants are lined to the knee and unhemmed for altering ease.<\/p>\n\n<p><strong>Vest:<\/strong><br \/>\nThe vest features five buttons, quarter panel pocket, no vent, and full fabric front &amp; back with patterned lining.&nbsp;&nbsp;<\/p>\n\n<p>98% wool, 2% spandex. Dry clean only. Imported.<\/p>", "promoDescription" : "", "productUrl" : "http://www.gl-green.com/p/1905-collection-tailored-fit-textured-suit-", "productImageUrl" : "https://images.josbank.com/is/image/JosBank/343Y_01_1905_BLACK_MAIN?$browse_thumbnail$", "productImageFullSize" : "https://images.josbank.com/is/image/JosBank/343Y_01_1905_BLACK_MAIN?$browse_thumbnail$", "price" : "", "regPrice" : "$818.00", "salePrice" : "$200.00", "label": "sale", "category" : "", "subcategory": "", "stock": 1, "dimension53" : "Yes" }

{ "998609644" : { "37 Regular": ["Black"], "42 Short": ["Black"], "44 Long": ["Black"], "39 Long": ["Black"], "35 Short": ["Black"], "42 Long": ["Black"], "36 Regular": ["Black"], "39 Regular": ["Black"], "42 Regular": ["Black"], "38 Long": ["Black"], "44 Short": ["Black"], "46 Regular": ["Black"], "46 Long": ["Black"], "41 Regular": ["Black"], "36 Short": ["Black"], "43 Regular": ["Black"], "36 Long": ["Black"], "37 Short": ["Black"], "41 Long": ["Black"], "40 Regular": ["Black"], "38 Short": ["Black"], "44 Regular": ["Black"], "40 Long": ["Black"], "43 Long": ["Black"], "38 Regular": ["Black"], "40 Short": ["Black"] } }

[ { "name": "1905 Collection Tailored Fit Tuxedo Separate Jacket", "partNumber": "JAB_3EZ2", "quantity": 1, "price": "119.0", "category": "Suits\/1905 Suits", "brand": "Jos. A. Bank", "promo": "" } , { "name": "1905 Collection Tailored Fit Flat Front Tuxedo Separate Pants", "partNumber": "JAB_3EZ3", "quantity": 1, "price": "80.0", "category": "Featured\/Ready for Anything", "brand": "Jos. A. Bank", "promo": "" } , { "name": "1905 Collection Tailored Fit Tuxedo Separate Vest", "partNumber": "JAB_3EZ4", "quantity": 1, "price": "120.0", "category": "Suits\/1905 Suits", "brand": "Jos. A. Bank", "promo": "" } ]

{ "id" : "998609644", "productName" : "1905 Collection Tailored Fit Tuxedo", "productItem" : "BUNDLE_3EZ2", "productDescription" : "", "promoDescription" : "", "productUrl" : "http://www.gl-green.com/p/1905-collection-tailored-fit-tuxedo-BUNDLE3EZ2", "productImageUrl" : "https://images.josbank.com/is/image/JosBank/32018_001_main?$browse_thumbnail$", "productImageFullSize" : "https://images.josbank.com/is/image/JosBank/32018_001_main?$browse_thumbnail$", "price" : "", "regPrice" : "$818.00", "salePrice" : "$200.00", "label": "sale", "category" : "", "subcategory": "", "stock": 1, "dimension53" : "Yes" }

{ "451526687" : { "42 Short": ["Med Blue"], "44 Long": ["Med Blue"], "39 Long": ["Med Blue"], "46 Short": ["Med Blue"], "42 Long": ["Med Blue"], "39 Regular": ["Med Blue"], "38 Long": ["Med Blue"], "42 Regular": ["Med Blue"], "44 Short": ["Med Blue"], "46 Regular": ["Med Blue"], "46 Long": ["Med Blue"], "41 Regular": ["Med Blue"], "43 Regular": ["Med Blue"], "38 Short": ["Med Blue"], "40 Regular": ["Med Blue"], "41 Long": ["Med Blue"], "44 Regular": ["Med Blue"], "40 Long": ["Med Blue"], "43 Long": ["Med Blue"], "38 Regular": ["Med Blue"], "40 Short": ["Med Blue"] } }

{ "id" : "451526687", "productName" : "1905 Collection Slim Fit Herringbone Suit", "productItem" : "3U26", "productDescription" : "The 1905 Collection creates new fashion traditions with vintage details in a modern approach. Slim Fit. Two-button closure, side vents, and notch lapel. Soft shouldered construction. Solid color poly-blend lining. No canvas chest piece, garment uses modern fusing technology. Flat-front slacks, lined to the knee. Unfinished hem for alterations. 97% wool, 3% spandex. Dry clean only. Imported.", "promoDescription" : "", "productUrl" : "http://www.gl-green.com/p/1905-collection-slim-fit-herringbone-suit-3U26", "productImageUrl" : "https://images.josbank.com/is/image/JosBank/3U26_71_1905_MED_BLUE_MAIN?$browse_thumbnail$", "productImageFullSize" : "https://images.josbank.com/is/image/JosBank/3U26_71_1905_MED_BLUE_MAIN?$browse_thumbnail$", "price" : "", "regPrice" : "$698.00", "salePrice" : "$199.00", "label": "sale", "category" : "Suits", "subcategory": "1905 Suits", "stock": 1, "dimension53" : "No" }

{ "451518826" : { "42 Short": ["Blue"], "44 Long": ["Blue"], "42 Long": ["Blue"], "42 Regular": ["Blue"], "44 Short": ["Blue"], "46 Regular": ["Blue"], "46 Long": ["Blue"], "41 Regular": ["Blue"], "43 Regular": ["Blue"], "40 Regular": ["Blue"], "44 Regular": ["Blue"], "40 Long": ["Blue"], "43 Long": ["Blue"], "40 Short": ["Blue"] } }

Buy 1 Get 1 Free! (Separates Package must include Jacket)

{ "id" : "451518826", "productName" : "Reserve Collection Tailored Fit Check REDA 1865 SustainaWool? Suit", "productItem" : "3TZ5", "productDescription" : "This stylish and refined Reserve Collection suit is made with sustainably sourced wool that is created in compliance with the principles of animal welfare, and the reduced use of chemicals, water, and energy. Tailored Fit. Two-button jacket, notch lapel, side vents. Flat-front slacks, lined to the knee. Unhemmed for tailoring. Pick-stitched details. 100% wool. Dry clean only. Imported.", "promoDescription" : "Buy 1 Get 1 Free! (Separates Package must include Jacket)", "productUrl" : "http://www.gl-green.com/p/reserve-collection-tailored-fit-check-reda-1865-sustainawool-suit", "productImageUrl" : "https://images.josbank.com/is/image/JosBank/3TZ5_70_JOS_A_BANK_RESERVE_BLUE_MAIN?$browse_thumbnail$", "productImageFullSize" : "https://images.josbank.com/is/image/JosBank/3TZ5_70_JOS_A_BANK_RESERVE_BLUE_MAIN?$browse_thumbnail$", "price" : "$1,198.00", "regPrice" : "", "salePrice" : "", "label": "none", "category" : "Suits", "subcategory": "Reserve Suits", "stock": 1, "dimension53" : "No" }

{ "451530032" : { "42 Short": ["Blue"], "44 Long": ["Blue"], "46 Short": ["Blue"], "42 Long": ["Blue"], "39 Regular": ["Blue"], "42 Regular": ["Blue"], "44 Short": ["Blue"], "46 Regular": ["Blue"], "46 Long": ["Blue"], "41 Regular": ["Blue"], "43 Regular": ["Blue"], "38 Short": ["Blue"], "40 Regular": ["Blue"], "41 Long": ["Blue"], "44 Regular": ["Blue"], "40 Long": ["Blue"], "43 Long": ["Blue"], "38 Regular": ["Blue"], "40 Short": ["Blue"] } }

{ "id" : "451530032", "productName" : "Executive Collection Tailored Fit Glen Plaid Suit", "productItem" : "3U49", "productDescription" : "Achieve a refined and stylish look with this Executive Collection suit in a subtle glen plaid pattern. This fine wool suit has a two-button jacket, notch lapel and side vents. Interior pockets. Fully lined jacket, pant half-lined to the knee. Unfinished pant hem for tailoring. 100% wool. Dry clean only. Imported.", "promoDescription" : "", "productUrl" : "http://www.gl-green.com/p/executive-collection-tailored-fit-glen-plaid-suit-3U49", "productImageUrl" : "https://images.josbank.com/is/image/JosBank/3U49_70_EXECUTIVE_BLUE_MAIN?$browse_thumbnail$", "productImageFullSize" : "https://images.josbank.com/is/image/JosBank/3U49_70_EXECUTIVE_BLUE_MAIN?$browse_thumbnail$", "price" : "", "regPrice" : "$598.00", "salePrice" : "$199.00", "label": "sale", "category" : "Suits", "subcategory": "Executive Suits", "stock": 1, "dimension53" : "No" }

{ "450007060" : { "54 Regular": ["Black"], "50 Regular": [ "Black", "Charcoal", "Navy" ], "48 Regular": [ "Black", "Charcoal", "Navy" ], "54 Long": ["Black"], "50 Long": ["Charcoal"], "46 X Long": [ "Charcoal", "Navy" ], "44 Regular": ["Navy"], "52 Long": [ "Black", "Charcoal", "Navy" ], "52 Regular": [ "Black", "Charcoal" ], "48 Long": [ "Black", "Charcoal", "Navy" ], "48 X Long": ["Black"] } }

Going Fast

Buy 1 Get 1 Free! (Separates Package must include Jacket)

{ "id" : "450007060", "productName" : "Signature Gold Collection Tailored Fit Suit - Big & Tall", "productItem" : "3EZX", "productDescription" : "In a trim and flattering, Tailored Fit, this fine suit is crafted from the world s finest worsted wool with elegant pick-stitched details. Fully lined. Two-button jacket, side vents, and notch lapel. Soft form-fitting inner canvas chest piece for the perfect fit. Sleeves designed to add custom buttonholes. Unattached buttons provided. Plain front, half lined to knee. Unfinished hem for tailoring. Premium cotton pocketing with button-through back besom pocket. Solid pattern. 100% wool. Imported. Dry clean only.", "promoDescription" : "Buy 1 Get 1 Free! (Separates Package must include Jacket)", "productUrl" : "http://www.gl-green.com/p/signature-gold-collection-tailored-fit-suit-big-tall-3EZX", "productImageUrl" : "https://images.josbank.com/is/image/JosBank/3JJ2_06_SIGNATURE_GOLD_CHARCOAL_MAIN?$browse_thumbnail$", "productImageFullSize" : "https://images.josbank.com/is/image/JosBank/3JJ2_06_SIGNATURE_GOLD_CHARCOAL_MAIN?$browse_thumbnail$", "price" : "$1,058.00", "regPrice" : "", "salePrice" : "", "label": "none", "category" : "Big & Tall", "subcategory": "Signature Gold Suits", "stock": 1, "dimension53" : "No" }

{ "450006886" : { "37 Regular": [ "Bright Blue", "Dark Blue", "Dark Grey", "Light Grey", "Mid Grey" ], "35 Short": [ "Dark Blue", "Dark Grey", "Light Grey", "Mid Grey" ], "42 Long": [ "Bright Blue", "Dark Blue", "Dark Grey", "Light Grey", "Mid Grey" ], "36 Regular": [ "Bright Blue", "Dark Blue", "Dark Grey", "Light Grey", "Mid Grey" ], "38 Long": [ "Bright Blue", "Dark Blue", "Dark Grey", "Light Grey", "Mid Grey" ], "42 Regular": [ "Bright Blue", "Dark Blue", "Dark Grey", "Light Grey", "Mid Grey" ], "41 Regular": [ "Bright Blue", "Dark Blue", "Dark Grey", "Light Grey", "Mid Grey" ], "43 Regular": [ "Bright Blue", "Dark Blue", "Dark Grey", "Light Grey", "Mid Grey" ], "38 Short": [ "Bright Blue", "Dark Blue", "Dark Grey", "Light Grey", "Mid Grey" ], "40 Regular": [ "Bright Blue", "Dark Blue", "Dark Grey", "Light Grey", "Mid Grey" ], "44 Regular": [ "Bright Blue", "Dark Blue", "Dark Grey", "Light Grey", "Mid Grey" ], "43 Long": [ "Bright Blue", "Dark Blue", "Dark Grey", "Light Grey", "Mid Grey" ], "38 Regular": [ "Bright Blue", "Dark Blue", "Dark Grey", "Light Grey", "Mid Grey" ], "42 Short": [ "Bright Blue", "Dark Blue", "Dark Grey", "Light Grey", "Mid Grey" ], "44 Long": [ "Bright Blue", "Dark Blue", "Dark Grey", "Light Grey", "Mid Grey" ], "39 Long": [ "Bright Blue", "Dark Blue", "Dark Grey", "Light Grey", "Mid Grey" ], "46 Short": [ "Bright Blue", "Dark Blue", "Dark Grey", "Light Grey", "Mid Grey" ], "39 Regular": [ "Bright Blue", "Dark Blue", "Dark Grey", "Light Grey", "Mid Grey" ], "44 Short": [ "Bright Blue", "Dark Blue", "Dark Grey", "Light Grey", "Mid Grey" ], "46 Regular": [ "Bright Blue", "Dark Blue", "Dark Grey", "Light Grey", "Mid Grey" ], "46 Long": [ "Bright Blue", "Dark Blue", "Dark Grey", "Light Grey", "Mid Grey" ], "36 Short": [ "Bright Blue", "Dark Blue", "Dark Grey", "Light Grey", "Mid Grey" ], "37 Short": [ "Bright Blue", "Dark Blue", "Dark Grey", "Light Grey", "Mid Grey" ], "36 Long": [ "Bright Blue", "Dark Blue", "Dark Grey", "Mid Grey" ], "41 Long": [ "Bright Blue", "Dark Blue", "Dark Grey", "Light Grey", "Mid Grey" ], "40 Long": [ "Bright Blue", "Dark Blue", "Dark Grey", "Light Grey", "Mid Grey" ], "35 Regular": [ "Dark Blue", "Light Grey" ], "40 Short": [ "Bright Blue", "Dark Blue", "Dark Grey", "Light Grey", "Mid Grey" ] } }

Buy 1 Get 1 Free! (Separates Package must include Jacket)

{ "id" : "450006886", "productName" : "Traveler Tailored Fit Sharkskin Suit", "productItem" : "3EU8", "productDescription" : "For those who prefer a slimmer cut. Wrinkle, water, and stain resistant. Natural stretch wool for refined comfort. Two-button with side vent and flat-front trousers. Quarter-top pockets. Comfort-range waistband with self-adjusting stretch for ease. Button-through back besom pocket. Half-lined to the knee. Unfinished hems for altering ease. Dry clean only. Imported.", "promoDescription" : "Buy 1 Get 1 Free! (Separates Package must include Jacket)", "productUrl" : "http://www.gl-green.com/p/traveler-tailored-fit-sharkskin-suit", "productImageUrl" : "https://images.josbank.com/is/image/JosBank/3EU8_73_BRITE_BLUE_SHRK_MAIN?$browse_thumbnail$", "productImageFullSize" : "https://images.josbank.com/is/image/JosBank/3EU8_73_BRITE_BLUE_SHRK_MAIN?$browse_thumbnail$", "price" : "$798.00", "regPrice" : "", "salePrice" : "", "label": "none", "category" : "Suits", "subcategory": "Traveler Suits", "stock": 1, "dimension53" : "No" }

{ "451530034" : { "42 Short": ["Grey"], "44 Long": ["Grey"], "46 Short": ["Grey"], "42 Long": ["Grey"], "39 Regular": ["Grey"], "42 Regular": ["Grey"], "44 Short": ["Grey"], "46 Regular": ["Grey"], "46 Long": ["Grey"], "41 Regular": ["Grey"], "43 Regular": ["Grey"], "38 Short": ["Grey"], "40 Regular": ["Grey"], "41 Long": ["Grey"], "44 Regular": ["Grey"], "40 Long": ["Grey"], "43 Long": ["Grey"], "38 Regular": ["Grey"], "40 Short": ["Grey"] } }

{ "id" : "451530034", "productName" : "Executive Collection Tailored Fit Glen Plaid Suit", "productItem" : "3U4C", "productDescription" : "Achieve a refined and stylish look with this Executive Collection suit in a subtle glen plaid pattern. This fine wool suit has a two-button jacket, notch lapel and side vents. Interior pockets. Fully lined jacket, pant half-lined to the knee. Unfinished pant hem for tailoring. 100% wool. Dry clean only. Imported.", "promoDescription" : "", "productUrl" : "http://www.gl-green.com/p/executive-collection-tailored-fit-glen-plaid-suit-3U4C", "productImageUrl" : "https://images.josbank.com/is/image/JosBank/3U4C_03_EXECUTIVE_GREY_MAIN?$browse_thumbnail$", "productImageFullSize" : "https://images.josbank.com/is/image/JosBank/3U4C_03_EXECUTIVE_GREY_MAIN?$browse_thumbnail$", "price" : "", "regPrice" : "$598.00", "salePrice" : "$199.00", "label": "sale", "category" : "Suits", "subcategory": "Executive Suits", "stock": 1, "dimension53" : "No" }

{ "451530036" : { "42 Short": ["Grey"], "44 Long": ["Grey"], "46 Short": ["Grey"], "42 Long": ["Grey"], "39 Regular": ["Grey"], "42 Regular": ["Grey"], "44 Short": ["Grey"], "46 Regular": ["Grey"], "46 Long": ["Grey"], "41 Regular": ["Grey"], "43 Regular": ["Grey"], "38 Short": ["Grey"], "40 Regular": ["Grey"], "41 Long": ["Grey"], "44 Regular": ["Grey"], "40 Long": ["Grey"], "43 Long": ["Grey"], "40 Short": ["Grey"] } }

{ "id" : "451530036", "productName" : "Executive Collection Slim Fit Windowpane Suit", "productItem" : "3U4H", "productDescription" : "Refined and distinguished style are the hallmarks of the Executive Collection. This classic suit features a subtle windowpane pattern. The jacket has a two-button closure, notch lapel and side vents. Fully lined jacket. Slacks are half-lined to the knee. Unfinished hems for tailoring. Pants with quarter top cotton pouch pockets. 100% wool. Dry clean only. Imported.", "promoDescription" : "", "productUrl" : "http://www.gl-green.com/p/executive-collection-slim-fit-windowpane-suit", "productImageUrl" : "https://images.josbank.com/is/image/JosBank/3U4H_03_EXECUTIVE_GREY_MAIN?$browse_thumbnail$", "productImageFullSize" : "https://images.josbank.com/is/image/JosBank/3U4H_03_EXECUTIVE_GREY_MAIN?$browse_thumbnail$", "price" : "", "regPrice" : "$598.00", "salePrice" : "$199.00", "label": "sale", "category" : "Suits", "subcategory": "Executive Suits", "stock": 1, "dimension53" : "No" }

{ "450006819" : { "37 Regular": ["Black"], "35 Short": ["Black"], "42 Long": ["Black"], "36 Regular": ["Black"], "38 Long": ["Black"], "42 Regular": ["Black"], "41 Regular": ["Black"], "43 Regular": ["Black"], "38 Short": ["Black"], "40 Regular": ["Black"], "44 Regular": ["Black"], "43 Long": ["Black"], "38 Regular": ["Black"], "42 Short": ["Black"], "44 Long": ["Black"], "39 Long": ["Black"], "46 Short": ["Black"], "39 Regular": ["Black"], "44 Short": ["Black"], "46 Regular": ["Black"], "46 Long": ["Black"], "36 Short": ["Black"], "37 Short": ["Black"], "36 Long": ["Black"], "41 Long": ["Black"], "40 Long": ["Black"], "35 Regular": ["Black"], "40 Short": ["Black"] } }

Buy 1 Get 1 Free! (Separates Package must include Jacket)

{ "id" : "450006819", "productName" : "Traveler Collection Tailored Fit Tuxedo", "productItem" : "3ER3", "productDescription" : "This fine tuxedo is ideal for those who prefer a slimmer cut. This Tailored Fit suit is wrinkle, water, and stain resistant. Woven in natural stretch wool for refined comfort. Satin lapel, covered button, and details. Single breasted notch lapel with single-button closure. Quarter-top pockets. Comfort-range waistband with self-adjusting stretch for ease. Button-through back besom pockets. Flat-front slacks, half-lined to the knee. Unfinished hems for tailoring. Satin stripe on leg. 100% wool. Dry clean only. Imported.", "promoDescription" : "Buy 1 Get 1 Free! (Separates Package must include Jacket)", "productUrl" : "http://www.gl-green.com/p/traveler-collection-tailored-fit-tuxedo-3ER3", "productImageUrl" : "https://images.josbank.com/is/image/JosBank/3ER3_01_TRAVELER_BLACK_MAIN?$browse_thumbnail$", "productImageFullSize" : "https://images.josbank.com/is/image/JosBank/3ER3_01_TRAVELER_BLACK_MAIN?$browse_thumbnail$", "price" : "$798.00", "regPrice" : "", "salePrice" : "", "label": "none", "category" : "Suits", "subcategory": "Traveler Suits", "stock": 1, "dimension53" : "No" }

{ "450007469" : { "58 Long": [ "Black", "Bright Blue", "Pearl Gry" ], "54 Regular": ["Bright Blue"], "40 X Long": [ "Black", "Bright Blue" ], "54 Long": [ "Bright Blue", "Pearl Gry" ], "50 Long": [ "Black", "Bright Blue", "Pearl Gry" ], "46 X Long": ["Black"], "52 Long": [ "Black", "Pearl Gry" ], "60 Long": [ "Black", "Bright Blue", "Pearl Gry" ], "52 Regular": [ "Black", "Bright Blue", "Pearl Gry" ], "44 X Long": ["Black"], "48 Long": [ "Bright Blue", "Pearl Gry" ], "50 Regular": [ "Black", "Bright Blue", "Pearl Gry" ], "48 Regular": [ "Black", "Bright Blue", "Pearl Gry" ], "60 Regular": [ "Black", "Bright Blue", "Pearl Gry" ], "58 Regular": [ "Bright Blue", "Pearl Gry" ], "48 X Long": ["Pearl Gry"], "50 X Long": [ "Black", "Pearl Gry" ] } }

Going Fast

Buy 1 Get 1 Free! (Separates Package must include Jacket)

{ "id" : "450007469", "productName" : "Signature Gold Collection Tailored Fit Herringbone Suit - Big & Tall", "productItem" : "3FRM", "productDescription" : "Year-round fabric has fluid drape and rich hand, side-vent jacket for classic styling, sleeves constructed for the addition of custom working buttonholes, tailored shoulders and pick-stitched detailing and premier jacquard signature Bemberg lining. Half-canvas chest piece and padded notch lapels for a crisp, smooth look. Scalloped facing for clean finish. Tailored Fit. Plain trousers have premium cotton pockets and are half-lined to the knee. Unfinished bottoms for altering ease. Herringbone pattern. 100% worsted wool. Dry clean. Imported.", "promoDescription" : "Buy 1 Get 1 Free! (Separates Package must include Jacket)", "productUrl" : "http://www.gl-green.com/p/signature-gold-collection-tailored-fit-herringbone-suit-big-tall-3FRM", "productImageUrl" : "https://images.josbank.com/is/image/JosBank/3FRR_01_SIGNATURE_GOLD_BLACK_MAIN?$browse_thumbnail$", "productImageFullSize" : "https://images.josbank.com/is/image/JosBank/3FRR_01_SIGNATURE_GOLD_BLACK_MAIN?$browse_thumbnail$", "price" : "$1,058.00", "regPrice" : "", "salePrice" : "", "label": "none", "category" : "Big & Tall", "subcategory": "Signature Gold Suits", "stock": 1, "dimension53" : "No" }

{ "998609638" : { "37 Regular": [ "Black", "French Blue", "Graphite" ], "35 Short": [ "French Blue", "Graphite" ], "42 Long": [ "Black", "French Blue", "Graphite" ], "36 Regular": [ "Black", "French Blue", "Graphite" ], "38 Long": [ "Black", "French Blue", "Graphite" ], "42 Regular": [ "Black", "French Blue", "Graphite" ], "41 Regular": [ "Black", "French Blue", "Graphite" ], "43 Regular": [ "Black", "French Blue", "Graphite" ], "38 Short": [ "Black", "French Blue", "Graphite" ], "40 Regular": [ "Black", "French Blue", "Graphite" ], "44 Regular": [ "Black", "French Blue", "Graphite" ], "43 Long": [ "Black", "French Blue", "Graphite" ], "38 Regular": [ "Black", "French Blue", "Graphite" ], "42 Short": [ "Black", "French Blue", "Graphite" ], "44 Long": [ "Black", "French Blue", "Graphite" ], "39 Long": [ "Black", "French Blue", "Graphite" ], "46 Short": [ "Black", "French Blue" ], "39 Regular": [ "Black", "French Blue", "Graphite" ], "44 Short": [ "Black", "French Blue", "Graphite" ], "46 Regular": [ "Black", "French Blue", "Graphite" ], "46 Long": [ "Black", "French Blue", "Graphite" ], "36 Short": [ "Black", "French Blue", "Graphite" ], "37 Short": [ "Black", "French Blue", "Graphite" ], "36 Long": [ "Black", "French Blue", "Graphite" ], "41 Long": [ "Black", "French Blue", "Graphite" ], "40 Long": [ "Black", "French Blue", "Graphite" ], "35 Regular": [ "French Blue", "Graphite" ], "40 Short": [ "Black", "French Blue", "Graphite" ] } }

SUIT Separates

Buy 1 Get 1 Free! (Separates Package must include Jacket)

[ { "name": "Travel Tech Slim Fit Suit Separate Jacket", "partNumber": "JAB_38KP", "quantity": 1, "price": "598.0", "category": "Featured\/Ready for Anything", "brand": "Jos. A. Bank", "promo": "Buy 1 Get 1 Free! (Separates Package must include Jacket)" } , { "name": "Travel Tech Slim Fit Suit Separate Pants", "partNumber": "JAB_38KT", "quantity": 1, "price": "200.0", "category": "Featured\/Ready for Anything", "brand": "Jos. A. Bank", "promo": "" } , { "name": "Travel Tech Collection Slim Fit Suit Separate Vest", "partNumber": "JAB_38KV", "quantity": 1, "price": "140.0", "category": "Suits\/Travel Tech Suits", "brand": "Jos. A. Bank", "promo": "" } ]

{ "id" : "998609638", "productName" : "Travel Tech Collection Slim Fit Suit", "productItem" : "BUNDLE_38KP", "productDescription" : "<p>Suit separates let you choose jacket, pants, and vest sizes separately for an ideal fit. Create your own tailored look with these pieces from the Travel Tech Collection. Our Travel Tech suit separate set features fabric that maintains the optimum microclimate for your body for optimum comfort. Removes moisture at the vapor stage before sweat can form. Acts like a thermostat by removing moisture when you are hot and retaining warmth when cold. Absorbs and traps odor molecules that are washed away when cleaned. Built-in fabric technology that doesn&#39;t wash out.&nbsp;Stretch mesh fabric integrated throughout for maximum mobility.<\/p>\n\n<p><strong>Jacket:<\/strong><br \/>\nSlim Fit. Two button, side vents, notch lapel. Performance stretch lining. Zippered utility pockets are strategically placed inside jackets and pants.&nbsp;<\/p>\n\n<p><strong>Pants:<\/strong><br \/>\nSlim Fit. Flat front. Trouser waist band has 37.5 Mesh lining to achieve flexible stretch comfort.&nbsp;<\/p>\n\n<p><strong>Vest:<\/strong>&nbsp;<br \/>\nFive-button vest. Rubberized buttons complement the tech attitude and feeling of Travel Tech.<\/p>\n\n<p>71% wool, 25% 37.5 polyester, 4% spandex. Dry clean. Imported.<\/p>", "promoDescription" : "Buy 1 Get 1 Free! (Separates Package must include Jacket)", "productUrl" : "http://www.gl-green.com/p/travel-tech-collection-slim-fit-suit", "productImageUrl" : "https://images.josbank.com/is/image/JosBank/38KP_74_TRAVELER_FRENCH_BLUE_MAIN?$browse_thumbnail$", "productImageFullSize" : "https://images.josbank.com/is/image/JosBank/38KP_74_TRAVELER_FRENCH_BLUE_MAIN?$browse_thumbnail$", "price" : "", "regPrice" : "$938.00", "salePrice" : "$200.00", "label": "sale", "category" : "", "subcategory": "", "stock": 1, "dimension53" : "Yes" }

{ "999122600" : { "37 Regular": ["Bright Navy"], "42 Short": [ "Bright Navy", "Dark Grey" ], "44 Long": [ "Bright Navy", "Dark Grey" ], "39 Long": [ "Bright Navy", "Dark Grey" ], "46 Short": [ "Bright Navy", "Dark Grey" ], "42 Long": [ "Bright Navy", "Dark Grey" ], "36 Regular": [ "Bright Navy", "Dark Grey" ], "39 Regular": [ "Bright Navy", "Dark Grey" ], "42 Regular": [ "Bright Navy", "Dark Grey" ], "38 Long": [ "Bright Navy", "Dark Grey" ], "44 Short": [ "Bright Navy", "Dark Grey" ], "46 Regular": [ "Bright Navy", "Dark Grey" ], "46 Long": [ "Bright Navy", "Dark Grey" ], "41 Regular": [ "Bright Navy", "Dark Grey" ], "36 Short": [ "Bright Navy", "Dark Grey" ], "43 Regular": [ "Bright Navy", "Dark Grey" ], "36 Long": ["Bright Navy"], "37 Short": [ "Bright Navy", "Dark Grey" ], "41 Long": [ "Bright Navy", "Dark Grey" ], "38 Short": [ "Bright Navy", "Dark Grey" ], "40 Regular": [ "Bright Navy", "Dark Grey" ], "44 Regular": [ "Bright Navy", "Dark Grey" ], "40 Long": [ "Bright Navy", "Dark Grey" ], "43 Long": [ "Bright Navy", "Dark Grey" ], "38 Regular": [ "Bright Navy", "Dark Grey" ], "40 Short": [ "Bright Navy", "Dark Grey" ] } }

[ { "name": "1905 Collection Tailored Fit Suit Separate Jacket with brrr° comfort", "partNumber": "JAB_3HMZ", "quantity": 1, "price": "119.0", "category": "Suits\/1905 Suits", "brand": "Jos. A. Bank", "promo": "" } , { "name": "1905 Collection Tailored Fit Suit Separate Flat Front Pants with brrr? comfort", "partNumber": "JAB_3HN5", "quantity": 1, "price": "80.0", "category": "Suits\/1905 Suits", "brand": "Jos. A. Bank", "promo": "" } , { "name": "1905 Collection Tailored Fit Suit Separate Vest with brrr° comfort", "partNumber": "JAB_3HN7", "quantity": 1, "price": "140.0", "category": "Suits\/1905 Suits", "brand": "Jos. A. Bank", "promo": "" } ]

{ "id" : "999122600", "productName" : "1905 Collection Tailored Fit Suit with brrr° comfort", "productItem" : "BUNDLE_3HMZ", "productDescription" : "<p>Suit separates let you choose jacket, pants, and vest sizes separately for an ideal fit. Create your own tailored look with these pieces from the 1905 Collection. Our brrr&deg; comfort suit separates combine wool with a light stretch plus a unique cooling effect as it wicks moisture away.&nbsp;<\/p>\n\n<p>Jacket:<br \/>\nThis suit separate jacket allows you to pair it with any number of slacks for a complete look. It features a notch lapel, two-button closure. Fully lined with four interior pockets.<\/p>\n\n<p>Pants:<br \/>\nThese pants feature a flat front and are fully lined to the knee. Unhemmed for personalized alteration.&nbsp;<\/p>\n\n<p>Vest:<br \/>\nSuit separate, five-button vest.&nbsp;<\/p>\n\n<p>97% wool, 3% spandex. Dry clean. Imported.<\/p>", "promoDescription" : "", "productUrl" : "http://www.gl-green.com/p/1905-collection-tailored-fit-suit-with-brrr-comfort-BUNDLE3HMZ", "productImageUrl" : "https://images.josbank.com/is/image/JosBank/3HMZ_76_JOSEPH_A_BANK_BRIGHT_NAVY_MAIN?$browse_thumbnail$", "productImageFullSize" : "https://images.josbank.com/is/image/JosBank/3HMZ_76_JOSEPH_A_BANK_BRIGHT_NAVY_MAIN?$browse_thumbnail$", "price" : "$838.00", "regPrice" : "", "salePrice" : "", "label": "none", "category" : "", "subcategory": "", "stock": 1, "dimension53" : "Yes" }

{ "998609637" : { "37 Regular": [ "Black", "Grey", "Navy" ], "35 Short": ["Black"], "42 Long": [ "Black", "Bright Navy", "Grey", "Navy" ], "36 Regular": [ "Black", "Bright Navy", "Grey", "Navy" ], "38 Long": [ "Black", "Bright Navy", "Grey", "Navy" ], "42 Regular": [ "Black", "Bright Navy", "Grey", "Navy" ], "41 Regular": [ "Black", "Bright Navy", "Grey", "Navy" ], "43 Regular": [ "Black", "Bright Navy", "Grey", "Navy" ], "38 Short": [ "Black", "Bright Navy", "Grey", "Navy" ], "40 Regular": [ "Black", "Bright Navy", "Grey", "Navy" ], "44 Regular": [ "Black", "Bright Navy", "Grey", "Navy" ], "43 Long": [ "Black", "Bright Navy", "Grey", "Navy" ], "38 Regular": [ "Black", "Bright Navy", "Grey", "Navy" ], "42 Short": [ "Black", "Bright Navy", "Grey", "Navy" ], "44 Long": [ "Black", "Bright Navy", "Grey", "Navy" ], "39 Long": [ "Black", "Grey", "Navy" ], "46 Short": [ "Black", "Bright Navy", "Grey", "Navy" ], "39 Regular": [ "Black", "Bright Navy", "Grey", "Navy" ], "44 Short": [ "Black", "Bright Navy", "Grey", "Navy" ], "46 Regular": [ "Black", "Bright Navy", "Grey", "Navy" ], "46 Long": [ "Black", "Bright Navy", "Grey", "Navy" ], "36 Short": [ "Black", "Bright Navy", "Grey", "Navy" ], "37 Short": [ "Black", "Grey", "Navy" ], "36 Long": [ "Black", "Grey", "Navy" ], "41 Long": [ "Black", "Bright Navy", "Grey", "Navy" ], "40 Long": [ "Black", "Bright Navy", "Grey", "Navy" ], "35 Regular": ["Black"], "40 Short": [ "Black", "Bright Navy", "Grey", "Navy" ] } }

SUIT Separates

Buy 1 Get 1 Free! (Separates Package must include Jacket)

[ { "name": "Traveler Collection Tailored Fit Suit Separate Jacket", "partNumber": "JAB_33RH", "quantity": 1, "price": "598.0", "category": "Special Categories\/Top 10 Men's Clothing", "brand": "Jos. A. Bank", "promo": "Buy 1 Get 1 Free! (Separates Package must include Jacket)" } , { "name": "Traveler Collection Tailored Fit Suit Separate Pants", "partNumber": "JAB_33RL", "quantity": 1, "price": "200.0", "category": "Special Categories\/Top 10 Men's Clothing", "brand": "Jos. A. Bank", "promo": "" } , { "name": "Traveler Collection Tailored Fit Solid Suit Separate Vest", "partNumber": "JAB_344Y", "quantity": 1, "price": "120.0", "category": "Suits\/All Suits & Suit Separates", "brand": "Jos. A. Bank", "promo": "" } ]

{ "id" : "998609637", "productName" : "Traveler Collection Tailored Fit Suit", "productItem" : "BUNDLE_33RH", "productDescription" : "<p>Suit separates let you choose jacket, pants, and vest sizes separately for an ideal fit. Create your own tailored look with these pieces from the Traveler Collection. Our Traveler Collection suit separates feature wrinkle, water, and stain resistant farbic for easy wear and care.<\/p>\n\n<p><strong>Jacket:<\/strong><br \/>\nThis fine, tailored fit suit coat features classic notch lapel styling in fine wool. Two-button jacket with side vents.<\/p>\n\n<p><strong>Pants:<\/strong><br \/>\nTailored Fit. Flat front, half lined to knee. Unfinished hem for alteration ease.&nbsp;<\/p>\n\n<p>100% wool. Dry clean only. Imported.<\/p>", "promoDescription" : "Buy 1 Get 1 Free! (Separates Package must include Jacket)", "productUrl" : "http://www.gl-green.com/p/traveler-collection-tailored-fit-suit-BUNDLE33RH", "productImageUrl" : "https://images.josbank.com/is/image/JosBank/33RH_01_TRAVELER_BLACK_MAIN?$browse_thumbnail$", "productImageFullSize" : "https://images.josbank.com/is/image/JosBank/33RH_01_TRAVELER_BLACK_MAIN?$browse_thumbnail$", "price" : "$918.00", "regPrice" : "", "salePrice" : "", "label": "none", "category" : "", "subcategory": "", "stock": 1, "dimension53" : "Yes" }
Related Products

Description:
The 1905 Collection creates new fashion traditions with vintage details in a modern approach. Tailored Fit. Two-button closure, side vents, and notch lapel. Soft shouldered construction. Solid color poly-blend lining. No canvas chest piece, garment uses modern fusing technology. Flat-front ...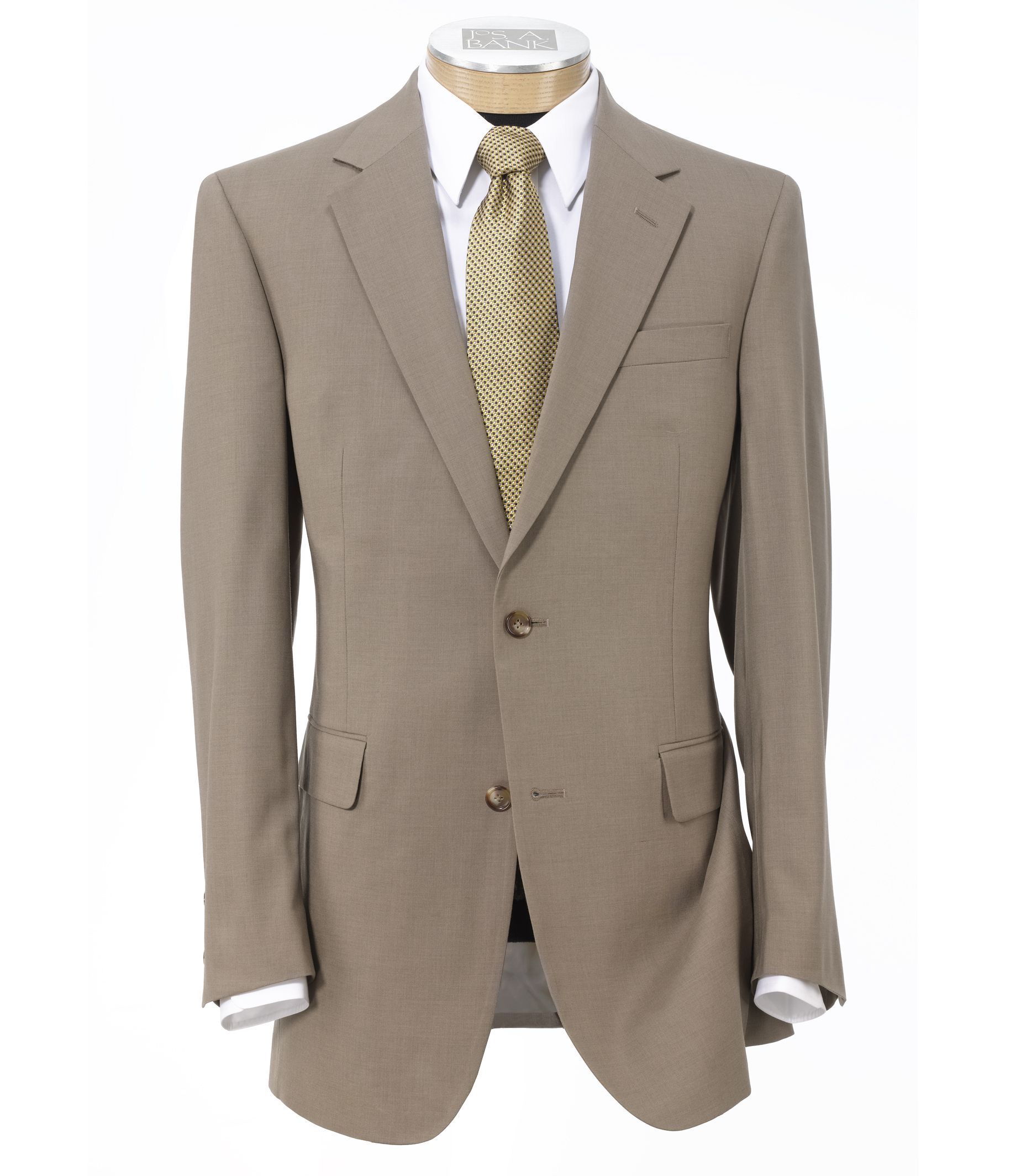 Description:
Smooth and lightweight premium wool specially finished for a clean texture. Perfect weight year-round. Traditional Fit. 2-button. Center vent. Soft shoulders, fully lined. Trousers are flat front and half-lined to the knee. Unfinished bottoms for altering ease. 100% Wool. Dry ...

Description:
Crafted from fine Italian super 130's wool, this Reserve Collection suit is a distinguished choice in a subtle, classic hue. Two button, notch lapel, side vents. Fully lined coat. Pick-stitched details. Flat-front slacks, lined to the knee. Unhemmed slacks for ...

Description:
Tailored in luxurious Superfine wool with Bemberg lining and satin lapels and buttons. Traditional Fit. Single breasted, notch lapel jacket with one button closure and side vent. Fully lined. Flat front trousers with satin stripe, half-lined to the knee. Unfinished botttoms ...

Description:
Make your mark with this stylish, fine wool suit from the Signature Collection. Tailored Fit. Super 120's worsted wool. Two button, side vents, notch lapel. Jacquard Bemberg lining. 1/2 canvas construction best enables garment to mold to body and retains shape. ...
Create Your Dream Wardrobe
Something is always on sale!
Smart shoppers love a good value. And Jos. A. Bank shoppers love that they can take advantage of men's clothing sales yet still count on impeccable quality and the traditional styles that get them noticed for all the right reasons. You already appreciate our everyday low prices, and it is no secret that we love a good sale. This is why we offer even more added-value sales on our renowned collections of suits, sportcoats, dress shirts, sweaters, dress pants, ties, outerwear and much more throughout the year. It's actually fun to hunt for those extra-special pieces, and when you score a fantastic deal on a piece you really want and need, everyone wins. It's the perfect solution to your goal of having an effortless wardrobe of quality menswear at your fingertips—one that will take you from elegant formalwear to upscale casual and everything in between. From the boardroom to date night to chauffeuring the kids to their activities, it's an awesome feeling to be the best dressed man on the block. You can never have too many fine menswear pieces in your closet to add versatility and elegance to your clothing rotation.