Refine your results
SHOW
Show:

Press enter to collapse or expand the menu. For navigating with in Filter options, press tab. To select Filter options, press enter.

Clear All

Filter

Done

0

Products

Add filter

Reset filters
Product List
{ "451514523" : { "2 X Tall": ["Med Wash"], "2 X Big": ["Med Wash"], "4 X Tall": ["Med Wash"], "XX Large": ["Med Wash"] } }

{ "id" : "451514523", "productName" : "1905 Collection Tailored Fit Button-Down Medium Wash Sportshirt - Big & Tall", "productItem" : "67CF", "productDescription" : "Our 1905 Collection sportshirt features vintage details with modern style. Tailored Fit. Spread collar. Barrel cuff. Chest pocket. 100% cotton. Machine washable. Imported.", "promoDescription" : "", "productUrl" : "http://www.gl-green.com/p/1905-collection-tailored-fit-button-down-medium-wash-sportshirt-big-tall", "productImageUrl" : "https://images.josbank.com/is/image/JosBank/67CE_89_1905_MED_WASH_MAIN?$browse_thumbnail$", "productImageFullSize" : "https://images.josbank.com/is/image/JosBank/67CE_89_1905_MED_WASH_MAIN?$browse_thumbnail$", "price" : "", "regPrice" : "$89.50", "salePrice" : "$35.00", "label": "sale", "category" : "Big & Tall", "subcategory": "New Arrivals", "stock": 1, "dimension53" : "No" }

{ "451524329" : { "2 X Tall": ["Light Blue"], "2 X Big": ["Light Blue"], "4 X Tall": ["Light Blue"], "3 X Tall": ["Light Blue"], "4 X Big": ["Light Blue"], "XX Large": ["Light Blue"] } }

{ "id" : "451524329", "productName" : "1905 Collection Tailored Fit Spread Collar Print Pattern Sportshirt - Big & Tall", "productItem" : "67PK", "productDescription" : "In soft, ethically sourced cotton, this stylish 1905 Collection sportshirt is a classic addition to your look. It features barrel cuffs, a chest pocket, and a stylish print pattern. Non-iron. 100% cotton. Machine washable. Imported.", "promoDescription" : "", "productUrl" : "http://www.gl-green.com/p/1905-collection-tailored-fit-spread-collar-print-pattern-sportshirt-big-tall-67PK", "productImageUrl" : "https://images.josbank.com/is/image/JosBank/67PJ_71_1905_LIGHT_BLUE_MAIN?$browse_thumbnail$", "productImageFullSize" : "https://images.josbank.com/is/image/JosBank/67PJ_71_1905_LIGHT_BLUE_MAIN?$browse_thumbnail$", "price" : "", "regPrice" : "$89.50", "salePrice" : "$35.00", "label": "sale", "category" : "Big & Tall", "subcategory": "New Arrivals", "stock": 1, "dimension53" : "No" }

{ "451514527" : { "2 X Tall": ["White"], "2 X Big": ["White"], "4 X Tall": ["White"], "3 X Big": ["White"], "3 X Tall": ["White"], "XX Large": ["White"] } }

{ "id" : "451514527", "productName" : "1905 Collection Tailored Fit Spread Collar Printed Pattern Sportshirt - Big & Tall", "productItem" : "67CP", "productDescription" : "With a trim Tailored Fit and a crisp spread collar this 1905 Collection sportshirt is an updated classic. Long sleeved, with barrel cuffs. Made with ethically sourced cotton. 100% cotton. Machine washable. Imported.", "promoDescription" : "", "productUrl" : "http://www.gl-green.com/p/1905-collection-tailored-fit-spread-collar-printed-pattern-sportshirt-big-tall", "productImageUrl" : "https://images.josbank.com/is/image/JosBank/67CN_10_1905_WHITE_MAIN?$browse_thumbnail$", "productImageFullSize" : "https://images.josbank.com/is/image/JosBank/67CN_10_1905_WHITE_MAIN?$browse_thumbnail$", "price" : "", "regPrice" : "$89.50", "salePrice" : "$35.00", "label": "sale", "category" : "Big & Tall", "subcategory": "New Arrivals", "stock": 1, "dimension53" : "No" }

{ "451524331" : { "2 X Tall": ["Navy"], "2 X Big": ["Navy"], "4 X Tall": ["Navy"], "3 X Big": ["Navy"], "3 X Tall": ["Navy"], "XX Large": ["Navy"] } }

{ "id" : "451524331", "productName" : "1905 Collection Tailored Fit Spread Collar Print Pattern Sportshirt - Big & Tall", "productItem" : "67PM", "productDescription" : "Featuring vintage styling, with an on-trend flair, this 1905 Collection sportshirt is an updated classic. Long sleeved, with barrel cuffs. Made with ethically sourced cotton. Print pattern. 100% cotton. Machine washable. Imported.", "promoDescription" : "", "productUrl" : "http://www.gl-green.com/p/1905-collection-tailored-fit-spread-collar-print-pattern-sportshirt-big-tall-67PM", "productImageUrl" : "https://images.josbank.com/is/image/JosBank/67PL_75_1905_NAVY_MAIN?$browse_thumbnail$", "productImageFullSize" : "https://images.josbank.com/is/image/JosBank/67PL_75_1905_NAVY_MAIN?$browse_thumbnail$", "price" : "", "regPrice" : "$89.50", "salePrice" : "$35.00", "label": "sale", "category" : "Big & Tall", "subcategory": "New Arrivals", "stock": 1, "dimension53" : "No" }

{ "451514525" : { "2 X Tall": ["Navy"], "2 X Big": ["Navy"], "XX Large": ["Navy"] } }

{ "id" : "451514525", "productName" : "1905 Collection Tailored Fit Button-Down Navy Print Sportshirt - Big & Tall", "productItem" : "67CM", "productDescription" : "Our 1905 Collection sportshirt features vintage details with modern style. Tailored Fit. Spread collar. Barrel cuff. Chest pocket. 100% cotton. Machine washable. Imported.", "promoDescription" : "", "productUrl" : "http://www.gl-green.com/p/1905-collection-tailored-fit-button-down-navy-print-sportshirt-big-tall", "productImageUrl" : "https://images.josbank.com/is/image/JosBank/67CL_75_1905_NAVY_MAIN?$browse_thumbnail$", "productImageFullSize" : "https://images.josbank.com/is/image/JosBank/67CL_75_1905_NAVY_MAIN?$browse_thumbnail$", "price" : "", "regPrice" : "$89.50", "salePrice" : "$35.00", "label": "sale", "category" : "Big & Tall", "subcategory": "New Arrivals", "stock": 1, "dimension53" : "No" }

{ "451514246" : { "2 X Tall": ["Blue"], "2 X Big": ["Blue"], "3 X Big": ["Blue"], "3 X Tall": ["Blue"], "4 X Big": ["Blue"], "XX Large": ["Blue"] } }

{ "id" : "451514246", "productName" : "1905 Collection Tailored Fit Button-Down Collar Check Sportshirt with brrr° comfort - Big & Tall", "productItem" : "67C4", "productDescription" : "In a classic small check pattern, this sportshirt is made from a stretch, non-iron, cotton-blend fabric. It includes brrr\u00B0 comfort technology that continually keeps you cooler with natural cooling minerals, a special fiber core that increases moisture wicking, and an enhanced airflow to boost cooling and to keep you feeling fresh. Other features include a split-back yoke, back side pleats, a traditional placket, left chest pocket, a reinforced button-down collar and barrel cuffs. Exact sleeve length. 54% cotton, 41% brrr\u00B0 nylon, 5% spandex. Machine washable. Imported.", "promoDescription" : "", "productUrl" : "http://www.gl-green.com/p/1905-collection-tailored-fit-button-down-collar-check-sportshirt-with-brrr-comfort-big-tall", "productImageUrl" : "https://images.josbank.com/is/image/JosBank/67C3_70_1905_BLUE_MAIN?$browse_thumbnail$", "productImageFullSize" : "https://images.josbank.com/is/image/JosBank/67C3_70_1905_BLUE_MAIN?$browse_thumbnail$", "price" : "", "regPrice" : "$99.50", "salePrice" : "$35.00", "label": "sale", "category" : "Big & Tall", "subcategory": "New Arrivals", "stock": 1, "dimension53" : "No" }

{ "451514533" : { "2 X Tall": ["Navy"], "2 X Big": ["Navy"], "XX Large": ["Navy"] } }

{ "id" : "451514533", "productName" : "1905 Collection Tailored Fit Spread Collar Navy Dot Sportshirt - Big & Tall", "productItem" : "67CY", "productDescription" : "With a trim Tailored Fit and a crisp spread collar this 1905 Collection sportshirt is an updated classic. Long sleeved, with barrel cuffs. Made with ethically sourced cotton. Printed pattern. 100% cotton. Machine washable. Imported.", "promoDescription" : "", "productUrl" : "http://www.gl-green.com/p/1905-collection-tailored-fit-spread-collar-navy-dot-sportshirt-big-tall", "productImageUrl" : "https://images.josbank.com/is/image/JosBank/67CX_75_1905_NAVY_MAIN?$browse_thumbnail$", "productImageFullSize" : "https://images.josbank.com/is/image/JosBank/67CX_75_1905_NAVY_MAIN?$browse_thumbnail$", "price" : "", "regPrice" : "$89.50", "salePrice" : "$35.00", "label": "sale", "category" : "Big & Tall", "subcategory": "New Arrivals", "stock": 1, "dimension53" : "No" }

{ "451524337" : { "2 X Tall": ["Navy"], "2 X Big": ["Navy"], "XX Large": ["Navy"] } }

{ "id" : "451524337", "productName" : "1905 Collection Tailored Fit Button-Down Collar Print Pattern Short Sleeve Sportshirt - Big & Tall", "productItem" : "67PV", "productDescription" : "Featuring vintage styling, with an on-trend flair, this 1905 Collection sportshirt is an updated classic. Short sleeved. Made from ethically sourced cotton. Non-iron. 100% cotton. Machine washable. Imported.", "promoDescription" : "", "productUrl" : "http://www.gl-green.com/p/1905-collection-tailored-fit-button-down-collar-print-pattern-short-sleeve-sportshirt-big-tall", "productImageUrl" : "https://images.josbank.com/is/image/JosBank/67PU_75_1905_NAVY_MAIN?$browse_thumbnail$", "productImageFullSize" : "https://images.josbank.com/is/image/JosBank/67PU_75_1905_NAVY_MAIN?$browse_thumbnail$", "price" : "", "regPrice" : "$89.50", "salePrice" : "$35.00", "label": "sale", "category" : "Big & Tall", "subcategory": "New Arrivals", "stock": 1, "dimension53" : "No" }

{ "451524327" : { "2 X Tall": ["Light Blue"], "2 X Big": ["Light Blue"], "4 X Tall": ["Light Blue"], "3 X Big": ["Light Blue"], "4 X Big": ["Light Blue"], "XX Large": ["Light Blue"] } }

{ "id" : "451524327", "productName" : "1905 Collection Tailored Fit Spread Collar Print Pattern Sportshirt - Big & Tall", "productItem" : "67PH", "productDescription" : "With a trim Tailored Fit and a crisp spread collar this 1905 Collection sportshirt is an updated classic. Long sleeved, with barrel cuffs. Contrast lining in cuffs. Made with ethically sourced cotton. 100% cotton. Machine washable. Imported.", "promoDescription" : "", "productUrl" : "http://www.gl-green.com/p/1905-collection-tailored-fit-spread-collar-print-pattern-sportshirt-big-tall-67PH", "productImageUrl" : "https://images.josbank.com/is/image/JosBank/67PG_71_1905_LIGHT_BLUE_MAIN?$browse_thumbnail$", "productImageFullSize" : "https://images.josbank.com/is/image/JosBank/67PG_71_1905_LIGHT_BLUE_MAIN?$browse_thumbnail$", "price" : "", "regPrice" : "$89.50", "salePrice" : "$35.00", "label": "sale", "category" : "Big & Tall", "subcategory": "New Arrivals", "stock": 1, "dimension53" : "No" }

{ "451514531" : { "2 X Tall": ["Navy"], "2 X Big": ["Navy"], "4 X Tall": ["Navy"], "XX Large": ["Navy"] } }

{ "id" : "451514531", "productName" : "1905 Collection Tailored Fit Spread Collar Navy Print Sportshirt - Big & Tall", "productItem" : "67CV", "productDescription" : "With a trim Tailored Fit and a crisp spread collar this 1905 Collection sportshirt is an updated classic. Long sleeved, with barrel cuffs. Made with ethically sourced cotton. 100% cotton. Machine washable. Imported.", "promoDescription" : "", "productUrl" : "http://www.gl-green.com/p/1905-collection-tailored-fit-spread-collar-navy-print-sportshirt-big-tall", "productImageUrl" : "https://images.josbank.com/is/image/JosBank/67CU_75_1905_NAVY_MAIN?$browse_thumbnail$", "productImageFullSize" : "https://images.josbank.com/is/image/JosBank/67CU_75_1905_NAVY_MAIN?$browse_thumbnail$", "price" : "", "regPrice" : "$89.50", "salePrice" : "$35.00", "label": "sale", "category" : "Big & Tall", "subcategory": "New Arrivals", "stock": 1, "dimension53" : "No" }

{ "451514535" : { "2 X Tall": ["White"], "2 X Big": ["White"], "4 X Tall": ["White"], "XX Large": ["White"] } }

{ "id" : "451514535", "productName" : "1905 Collection Tailored Fit Spread Collar White Dot Sportshirt - Big & Tall", "productItem" : "67D0", "productDescription" : "With a trim Tailored Fit and a crisp spread collar this 1905 Collection sportshirt is an updated classic. Long sleeved, with barrel cuffs. Made with ethically sourced cotton. Printed pattern. 100% cotton. Machine washable. Imported.", "promoDescription" : "", "productUrl" : "http://www.gl-green.com/p/1905-collection-tailored-fit-spread-collar-white-dot-sportshirt-big-tall", "productImageUrl" : "https://images.josbank.com/is/image/JosBank/67CZ_10_1905_WHITE_MAIN?$browse_thumbnail$", "productImageFullSize" : "https://images.josbank.com/is/image/JosBank/67CZ_10_1905_WHITE_MAIN?$browse_thumbnail$", "price" : "", "regPrice" : "$89.50", "salePrice" : "$35.00", "label": "sale", "category" : "Big & Tall", "subcategory": "New Arrivals", "stock": 1, "dimension53" : "No" }

{ "451542059" : { "2 X Tall": ["Fuchsia"], "2 X Big": ["Fuchsia"], "XX Large": ["Fuchsia"] } }

{ "id" : "451542059", "productName" : "1905 Collection Tailored Fit Short Sleeve Button Down Collar Flamingo Sportshirt - Big & Tall", "productItem" : "68JV", "productDescription" : "In a crisp, woven cotton-blend, this sportshirt features a fun flamingo pattern in pinks and blues. Built-in stretch provides comfort for all-day wear. The Tailored Fit sportshirt features a classic button-down collar, slimmer placket, smooth pocketless front, center back box pleats and loop for hanging. 97% cotton, 3% elastane. Machine washable. Imported.", "promoDescription" : "", "productUrl" : "http://www.gl-green.com/p/1905-collection-tailored-fit-short-sleeve-button-down-collar-flamingo-sportshirt-big-tall", "productImageUrl" : "https://images.josbank.com/is/image/JosBank/68JU_53_1905_FUCHSIA_MAIN?$browse_thumbnail$", "productImageFullSize" : "https://images.josbank.com/is/image/JosBank/68JU_53_1905_FUCHSIA_MAIN?$browse_thumbnail$", "price" : "", "regPrice" : "$89.50", "salePrice" : "$35.00", "label": "sale", "category" : "Big & Tall", "subcategory": "New Arrivals", "stock": 1, "dimension53" : "No" }

{ "451542073" : { "2 X Tall": ["Navy"], "2 X Big": ["Navy"], "4 X Tall": ["Navy"], "3 X Big": ["Navy"], "3 X Tall": ["Navy"], "4 X Big": ["Navy"], "XX Large": ["Navy"] } }

{ "id" : "451542073", "productName" : "1905 Collection Tailored Fit Button-Down Collar Floral Sportshirt - Big & Tall", "productItem" : "68K9", "productDescription" : "1905 Collection sportshirts feature classic, vintage styling with an on-trend twist. This fine floral sportshirt is woven with ethically sourced cotton that is good for you and the environment. Built-in stretch provides a more comfortable fit. Callouts include a button-down collar, slimmer placket, smooth pocketless front, center back pleats and loop for hanging. 97% ethically sourced cotton, 3% elastane. Machine washable. Imported.", "promoDescription" : "", "productUrl" : "http://www.gl-green.com/p/1905-collection-tailored-fit-button-down-collar-floral-sportshirt-big-tall", "productImageUrl" : "https://images.josbank.com/is/image/JosBank/68K8_75_1905_NAVY_MAIN?$browse_thumbnail$", "productImageFullSize" : "https://images.josbank.com/is/image/JosBank/68K8_75_1905_NAVY_MAIN?$browse_thumbnail$", "price" : "", "regPrice" : "$89.50", "salePrice" : "$35.00", "label": "sale", "category" : "Big & Tall", "subcategory": "New Arrivals", "stock": 1, "dimension53" : "No" }

{ "451542093" : { "2 X Tall": ["Berry"], "2 X Big": ["Berry"], "4 X Tall": ["Berry"], "3 X Big": ["Berry"], "3 X Tall": ["Berry"], "4 X Big": ["Berry"], "XX Large": ["Berry"] } }

{ "id" : "451542093", "productName" : "1905 Collection Tailored Fit Button-Down Collar Check Sportshirt - Big & Tall", "productItem" : "68LG", "productDescription" : "Our 1905 Collection sportshirt features vintage details with an updated style. Tailored Fit. Button-down collar. Barrel cuff. Contrast lining in cuffs. Easy-care non-iron cotton. Made with ethically sourced cotton. Check. 100% cotton. Machine washable. Imported.", "promoDescription" : "", "productUrl" : "http://www.gl-green.com/p/1905-collection-tailored-fit-button-down-collar-check-sportshirt-big-tall-68LG", "productImageUrl" : "https://images.josbank.com/is/image/JosBank/68LF_61_1905_BERRY_MAIN?$browse_thumbnail$", "productImageFullSize" : "https://images.josbank.com/is/image/JosBank/68LF_61_1905_BERRY_MAIN?$browse_thumbnail$", "price" : "", "regPrice" : "$89.50", "salePrice" : "$35.00", "label": "sale", "category" : "Big & Tall", "subcategory": "New Arrivals", "stock": 1, "dimension53" : "No" }

{ "451514254" : { "2 X Tall": ["Blue"], "2 X Big": ["Blue"], "4 X Tall": ["Blue"], "3 X Big": ["Blue"], "3 X Tall": ["Blue"], "4 X Big": ["Blue"], "XX Large": ["Blue"] } }

{ "id" : "451514254", "productName" : "1905 Collection Slim Fit Spread Collar Plaid Sportshirt with brrr° comfort - Big & Tall", "productItem" : "67CD", "productDescription" : "In a classic plaid pattern, this sport shirt is made from a stretch, non-iron, cotton-blend fabric. It includes brrr\u00B0 comfort technology that continually keeps you cooler with natural cooling minerals, a special fiber core that increases moisture wicking, and an enhanced airflow to boost cooling and to keep you feeling fresh. Other features include a split-back yoke, back side pleats, a traditional placket, left chest pocket, a reinforced spread collar and barrel cuffs. Exact sleeve length. 54% cotton, 41% brrr\u00B0 nylon, 5% spandex. Machine washable. Imported.", "promoDescription" : "", "productUrl" : "http://www.gl-green.com/p/1905-collection-slim-fit-spread-collar-plaid-sportshirt-with-brrr-comfort-big-tall-67CD", "productImageUrl" : "https://images.josbank.com/is/image/JosBank/67CC_70_1905_BLUE_MAIN?$browse_thumbnail$", "productImageFullSize" : "https://images.josbank.com/is/image/JosBank/67CC_70_1905_BLUE_MAIN?$browse_thumbnail$", "price" : "", "regPrice" : "$99.50", "salePrice" : "$35.00", "label": "sale", "category" : "Big & Tall", "subcategory": "New Arrivals", "stock": 1, "dimension53" : "No" }

{ "451357247" : { "2 X Tall": ["White"], "2 X Big": [ "Light Blue", "White" ], "3 X Big": [ "Light Blue", "White" ], "3 X Tall": [ "Light Blue", "White" ], "XX Large": [ "Light Blue", "White" ] } }

{ "id" : "451357247", "productName" : "1905 Collection Tailored Fit Button-Down Collar Short Sleeve Sportshirt - Big & Tall", "productItem" : "64KL", "productDescription" : "Crafted in a substantial Oxford cotton, this Sportshirt - Big & Tall from the 1905 Collection has classic casual style. Button-down collar. Chest pocket. Short sleeves. 100% Cotton. Machine washable. Imported.", "promoDescription" : "", "productUrl" : "http://www.gl-green.com/p/1905-collection-tailored-fit-button-down-collar-short-sleeve-sportshirt-big-tall", "productImageUrl" : "https://images.josbank.com/is/image/JosBank/64KK_71_1905_LIGHT_BLUE_MAIN?$browse_thumbnail$", "productImageFullSize" : "https://images.josbank.com/is/image/JosBank/64KK_71_1905_LIGHT_BLUE_MAIN?$browse_thumbnail$", "price" : "", "regPrice" : "$89.50", "salePrice" : "$35.00", "label": "sale", "category" : "Big & Tall", "subcategory": "New Arrivals", "stock": 1, "dimension53" : "No" }

{ "451514256" : { "2 X Tall": ["Olive"], "2 X Big": ["Olive"], "4 X Tall": ["Olive"], "3 X Big": ["Olive"], "3 X Tall": ["Olive"], "4 X Big": ["Olive"], "XX Large": ["Olive"] } }

{ "id" : "451514256", "productName" : "1905 Collection Tailored Fit Spread Collar Check Sportshirt with brrr° comfort - Big & Tall", "productItem" : "67CH", "productDescription" : "In a stylish grid pattern, this sport shirt is made from a stretch, non-iron, cotton-blend fabric. It includes brrr\u00B0 comfort technology that continually keeps you cooler with natural cooling minerals, a special fiber core that increases moisture wicking, and an enhanced airflow to boost cooling and to keep you feeling fresh. Other features include a split-back yoke, back side pleats, a traditional placket, left chest pocket, a reinforced spread collar and barrel cuffs. Exact sleeve length. 54% cotton, 41% brrr\u00B0 nylon, 5% spandex. Machine washable. Imported.", "promoDescription" : "", "productUrl" : "http://www.gl-green.com/p/1905-collection-tailored-fit-spread-collar-check-sportshirt-with-brrr-comfort-big-tall-67CH", "productImageUrl" : "https://images.josbank.com/is/image/JosBank/67CG_85_1905_OLIVE_MAIN?$browse_thumbnail$", "productImageFullSize" : "https://images.josbank.com/is/image/JosBank/67CG_85_1905_OLIVE_MAIN?$browse_thumbnail$", "price" : "", "regPrice" : "$99.50", "salePrice" : "$35.00", "label": "sale", "category" : "Big & Tall", "subcategory": "New Arrivals", "stock": 1, "dimension53" : "No" }

{ "451542065" : { "2 X Tall": ["Berry"], "2 X Big": ["Berry"], "4 X Tall": ["Berry"], "3 X Big": ["Berry"], "3 X Tall": ["Berry"], "4 X Big": ["Berry"], "XX Large": ["Berry"] } }

{ "id" : "451542065", "productName" : "1905 Collection Slim Fit Point Collar Check Sportshirt with brrr° Comfort - Big & Tall", "productItem" : "68K1", "productDescription" : "From the 1905 Collection, this finely crafted sportshirt features a check pattern with built-in stretch for added comfort. This shirt has brrr\u00B0 comfort technology that continually keeps you cooler with natural cooling minerals, a special fiber core that increases moisture wicking, and an enhanced airflow to boost cooling and to keep you feeling fresh. Other features include a left chest pocket, barrel cuffs, a center back pleat and a locker loop for hanging. 54% cotton, 41% brrr\u00B0 nylon, 5% spandex. Machine washable. Imported.", "promoDescription" : "", "productUrl" : "http://www.gl-green.com/p/1905-collection-slim-fit-point-collar-check-sportshirt-with-brrr-comfort-big-tall", "productImageUrl" : "https://images.josbank.com/is/image/JosBank/68K0_61_1905_BERRY_MAIN?$browse_thumbnail$", "productImageFullSize" : "https://images.josbank.com/is/image/JosBank/68K0_61_1905_BERRY_MAIN?$browse_thumbnail$", "price" : "", "regPrice" : "$99.50", "salePrice" : "$35.00", "label": "sale", "category" : "Big & Tall", "subcategory": "New Arrivals", "stock": 1, "dimension53" : "No" }

{ "451542069" : { "2 X Tall": ["Berry"], "2 X Big": ["Berry"], "4 X Tall": ["Berry"], "3 X Big": ["Berry"], "3 X Tall": ["Berry"], "4 X Big": ["Berry"], "XX Large": ["Berry"] } }

{ "id" : "451542069", "productName" : "1905 Collection Tailored Fit Point Collar Floral Sportshirt - Big & Tall", "productItem" : "68K5", "productDescription" : "1905 Collection sportshirts feature classic, vintage styling with an on-trend twist. This fine sportshirt features a stylish floral pattern, fabric with a touch of stretch, and ethically sourced cotton that is good for you and the environment. 97% cotton, 3% elastane. Machine washable. Imported.", "promoDescription" : "", "productUrl" : "http://www.gl-green.com/p/1905-collection-tailored-fit-point-collar-floral-sportshirt-big-tall", "productImageUrl" : "https://images.josbank.com/is/image/JosBank/68K4_61_1905_BERRY_MAIN?$browse_thumbnail$", "productImageFullSize" : "https://images.josbank.com/is/image/JosBank/68K4_61_1905_BERRY_MAIN?$browse_thumbnail$", "price" : "", "regPrice" : "$89.50", "salePrice" : "$35.00", "label": "sale", "category" : "Big & Tall", "subcategory": "New Arrivals", "stock": 1, "dimension53" : "No" }

{ "451542071" : { "2 X Tall": ["Navy"], "2 X Big": ["Navy"], "4 X Tall": ["Navy"], "3 X Big": ["Navy"], "3 X Tall": ["Navy"], "4 X Big": ["Navy"], "XX Large": ["Navy"] } }

{ "id" : "451542071", "productName" : "1905 Collection Tailored Fit Button-Down Collar Boats & Anchors Sportshirt - Big & Tall", "productItem" : "68K7", "productDescription" : "1905 Collection sportshirts feature style forward looks with a vintage vibe. Built-in stretch provides a more comfortable fit. Button-down collar, slimmer placket, smooth pocketless front, center back pleats and loop for hanging. 97% ethically sourced cotton, 3% elastane. Machine washable. Imported.", "promoDescription" : "", "productUrl" : "http://www.gl-green.com/p/1905-collection-tailored-fit-button-down-collar-boats-anchors-sportshirt-big-tall", "productImageUrl" : "https://images.josbank.com/is/image/JosBank/68K6_75_1905_NAVY_MAIN?$browse_thumbnail$", "productImageFullSize" : "https://images.josbank.com/is/image/JosBank/68K6_75_1905_NAVY_MAIN?$browse_thumbnail$", "price" : "", "regPrice" : "$89.50", "salePrice" : "$35.00", "label": "sale", "category" : "Big & Tall", "subcategory": "New Arrivals", "stock": 1, "dimension53" : "No" }

{ "451542077" : { "2 X Tall": ["Blue"], "2 X Big": ["Blue"], "4 X Tall": ["Blue"], "3 X Big": ["Blue"], "3 X Tall": ["Blue"], "4 X Big": ["Blue"], "XX Large": ["Blue"] } }

{ "id" : "451542077", "productName" : "1905 Collection Slim Fit Point Collar Woven Sportshirt - Big & Tall", "productItem" : "68KE", "productDescription" : "1905 Collection sportshirts feature classic, vintage styling with an on-trend twist. This Slim Fit sportshirt is stylishly woven with ethically sourced cotton that is good for you and the environment. Made to matter, it features built-in stretch for added comfort and a flattering fit. Callouts include a point collar, smooth pocketless front, center back pleat, and barrel cuffs. 97% cotton, 3% elastane. Machine washable. Imported.", "promoDescription" : "", "productUrl" : "http://www.gl-green.com/p/1905-collection-slim-fit-point-collar-woven-sportshirt-big-tall", "productImageUrl" : "https://images.josbank.com/is/image/JosBank/68KD_70_1905_BLUE_MAIN?$browse_thumbnail$", "productImageFullSize" : "https://images.josbank.com/is/image/JosBank/68KD_70_1905_BLUE_MAIN?$browse_thumbnail$", "price" : "", "regPrice" : "$89.50", "salePrice" : "$35.00", "label": "sale", "category" : "Big & Tall", "subcategory": "New Arrivals", "stock": 1, "dimension53" : "No" }

{ "451542061" : { "2 X Tall": ["Blue"], "2 X Big": ["Blue"], "4 X Tall": ["Blue"], "3 X Big": ["Blue"], "3 X Tall": ["Blue"], "4 X Big": ["Blue"], "XX Large": ["Blue"] } }

{ "id" : "451542061", "productName" : "1905 Collection Tailored Fit Button Down Collar Check Sportshirt with brrr° comfort - Big & Tall", "productItem" : "68JX", "productDescription" : "From the 1905 Collection, this finely crafted sportshirt features a check pattern with built-in stretch for added comfort. This shirt has brrr\u00B0 comfort technology that continually keeps you cooler with natural cooling minerals, a special fiber core that increases moisture wicking, and an enhanced airflow to boost cooling and to keep you feeling fresh. Other features include barrel cuffs, a center back pleat and a locker loop for hanging. 54% responsibly grown cotton, 41% brrr\u00B0 nylon, 5% spandex. Machine washable. Imported.", "promoDescription" : "", "productUrl" : "http://www.gl-green.com/p/1905-collection-tailored-fit-button-down-collar-check-sportshirt-with-brrr-comfort-big-tall-68JX", "productImageUrl" : "https://images.josbank.com/is/image/JosBank/68JW_70_1905_BLUE_MAIN?$browse_thumbnail$", "productImageFullSize" : "https://images.josbank.com/is/image/JosBank/68JW_70_1905_BLUE_MAIN?$browse_thumbnail$", "price" : "", "regPrice" : "$99.50", "salePrice" : "$35.00", "label": "sale", "category" : "Big & Tall", "subcategory": "New Arrivals", "stock": 1, "dimension53" : "No" }

{ "451542063" : { "2 X Tall": ["Blue"], "2 X Big": ["Blue"], "4 X Tall": ["Blue"], "3 X Big": ["Blue"], "3 X Tall": ["Blue"], "4 X Big": ["Blue"], "XX Large": ["Blue"] } }

{ "id" : "451542063", "productName" : "1905 Collection Tailored Fit Button Down Collar Plaid Sportshirt with brrr° comfort - Big & Tall", "productItem" : "68JZ", "productDescription" : "From the 1905 Collection, this finely crafted sportshirt features a plaid pattern with built-in stretch for added comfort. This shirt has brrr\u00B0 comfort technology that continually keeps you cooler with natural cooling minerals, a special fiber core that increases moisture wicking, and an enhanced airflow to boost cooling and to keep you feeling fresh. Other features include barrel cuffs, a center back pleat and a locker loop for hanging. 54% responsibly grown cotton, 41% brrr\u00B0 nylon, 5% spandex. Machine washable. Imported.", "promoDescription" : "", "productUrl" : "http://www.gl-green.com/p/1905-collection-tailored-fit-button-down-collar-plaid-sportshirt-with-brrr-comfort-big-tall-68JZ", "productImageUrl" : "https://images.josbank.com/is/image/JosBank/68JY_70_1905_BLUE_MAIN?$browse_thumbnail$", "productImageFullSize" : "https://images.josbank.com/is/image/JosBank/68JY_70_1905_BLUE_MAIN?$browse_thumbnail$", "price" : "", "regPrice" : "$99.50", "salePrice" : "$35.00", "label": "sale", "category" : "Big & Tall", "subcategory": "New Arrivals", "stock": 1, "dimension53" : "No" }

{ "451542075" : { "2 X Tall": ["Blue"], "2 X Big": ["Blue"], "4 X Tall": ["Blue"], "3 X Big": ["Blue"], "3 X Tall": ["Blue"], "4 X Big": ["Blue"], "XX Large": ["Blue"] } }

{ "id" : "451542075", "productName" : "1905 Collection Tailored Fit Point Collar Race Car Print Sportshirt - Big & Tall", "productItem" : "68KC", "productDescription" : "1905 Collection sportshirts feature classic, vintage styling with an on-trend twist. This fine sportshirt features a fun, tiny race car pattern, fabric with a touch of stretch, and ethically sourced cotton that is good for you and the environment. 97% cotton, 3% elastane. Machine washable. Imported.", "promoDescription" : "", "productUrl" : "http://www.gl-green.com/p/1905-collection-tailored-fit-point-collar-race-car-print-sportshirt-big-tall", "productImageUrl" : "https://images.josbank.com/is/image/JosBank/68KA_70_1905_BLUE_MAIN?$browse_thumbnail$", "productImageFullSize" : "https://images.josbank.com/is/image/JosBank/68KA_70_1905_BLUE_MAIN?$browse_thumbnail$", "price" : "", "regPrice" : "$89.50", "salePrice" : "$35.00", "label": "sale", "category" : "Big & Tall", "subcategory": "New Arrivals", "stock": 1, "dimension53" : "No" }
Related Products
Description:
Look your best in this handsome sportshirt crafted from a blend of cotton and cashmere. Incredibly soft, the shirt features a spread collar, front placket, smooth, pocketless front, back side pleats and barrel cuffs. 95% cotton, 5% cashmere. Machine washable. ...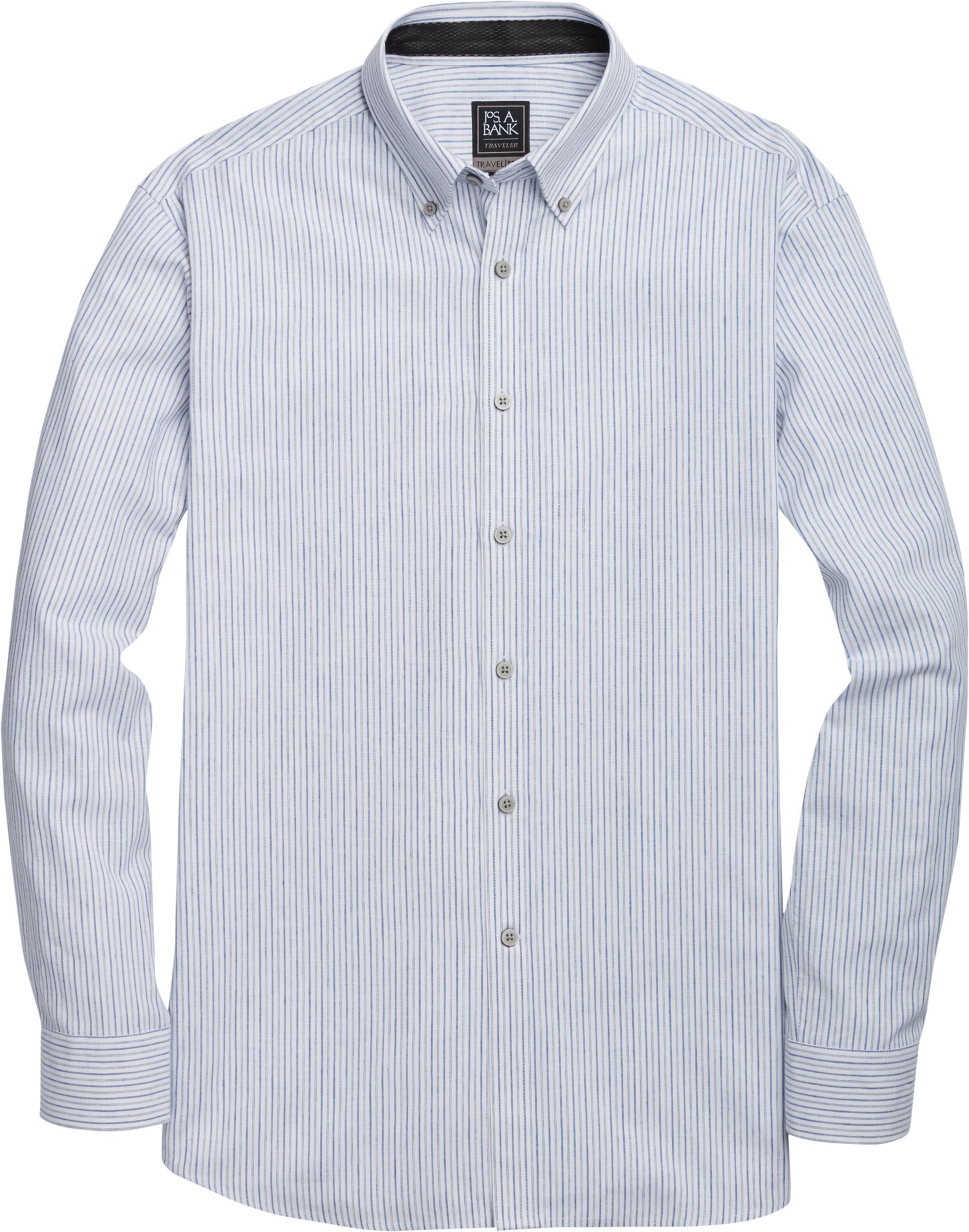 Description:
This woven sportshirt is a wear-with-everything favorite, ideal when paired with khakis or denim. The Travel Tech sportshirt features a unique fabric technology that maintains the optimum microclimate for your body. Named 37.5, it removes moisture at the vapor stage ...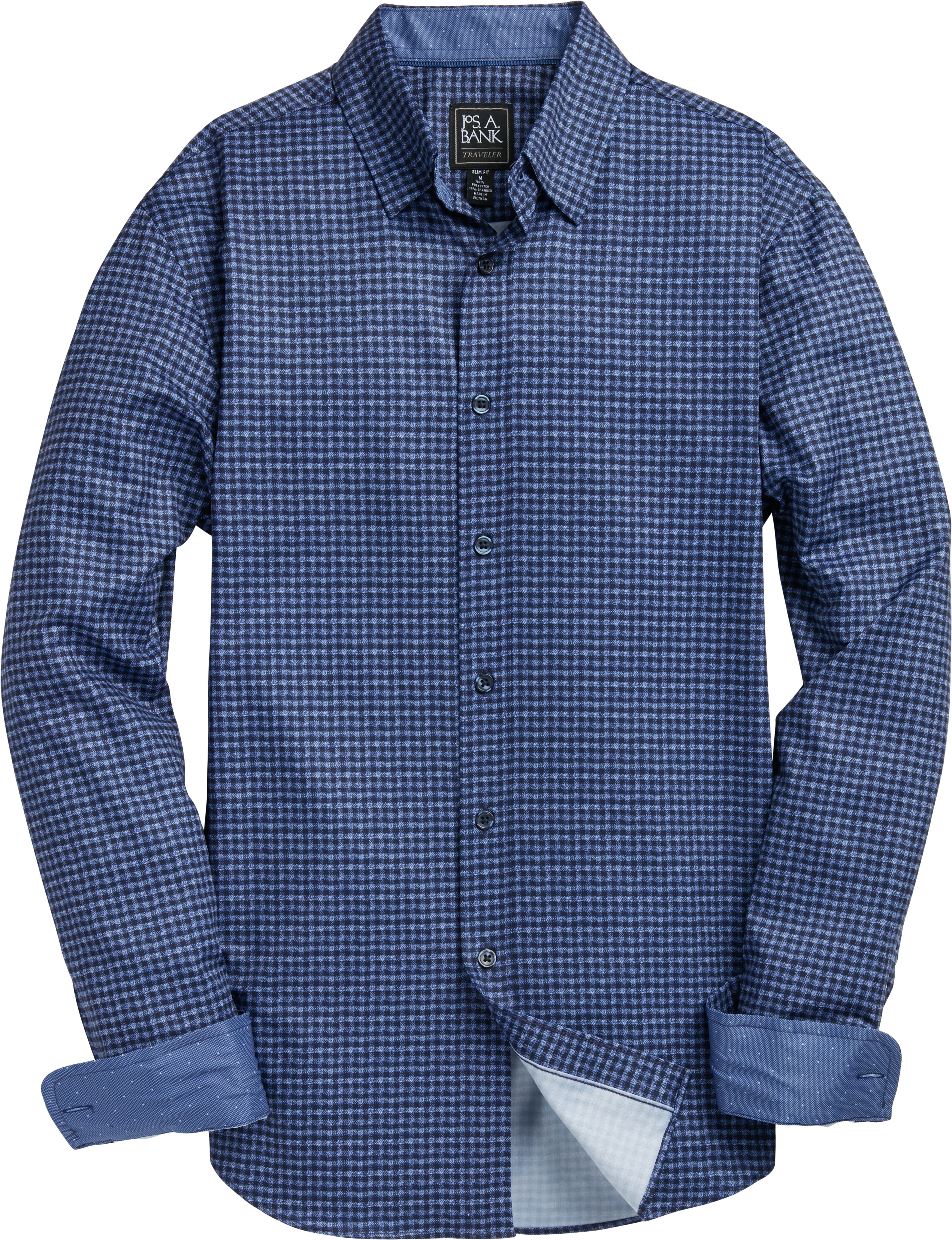 Description:
Feel comfortable all day in this sportshirt that includes four-way stretch spandex for ease of movement. From the Traveler Collection, it has a special finish that not only resists stains but also wicks away moisture so you'll stay dry even ...
Description:
In a soft woven cotton, this sportshirt is both comfortable and easy-care thanks to its special finish that's stain-resistant and non-iron. It includes a left chest pocket, a center back box pleat and barrel cuffs. 100% cotton. Machine washable. Imported. ...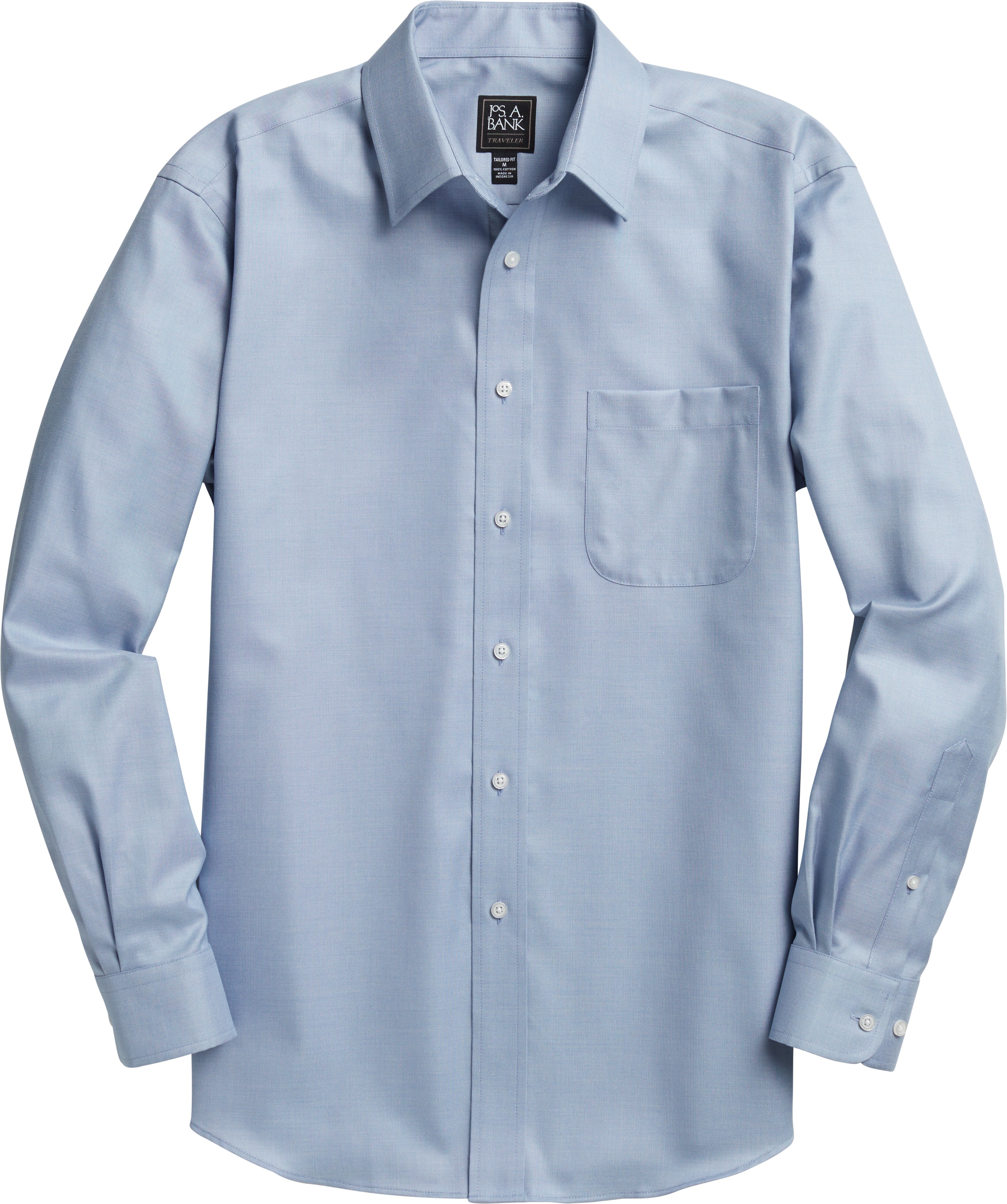 Description:
A sportshirt you can live in. Wear our easy care Traveler Collection sportshirts for work, leisure, and/or casual dress; they stay neat and crisp looking for hours. Non-iron finish. 100% cotton. Machine washable. Imported.