Refine your results
SHOW
Show:

Press enter to collapse or expand the menu. For navigating with in Filter options, press tab. To select Filter options, press enter.

Clear All

Filter

Done

0

Products

Add filter

Reset filters
Product List
{ "450002850" : { "42x36": [ "Black", "Charcoal", "Navy", "Tan" ], "50x29": [ "Black", "Charcoal", "Navy", "Tan" ], "35x32": ["Black"], "38x36": [ "Black", "Navy", "Tan" ], "48x29": [ "Black", "Charcoal", "Navy", "Tan" ], "42x30": ["Navy"], "40x36": [ "Black", "Charcoal", "Navy", "Tan" ], "46x29": [ "Black", "Charcoal", "Navy", "Tan" ], "50x30": [ "Black", "Charcoal", "Navy", "Tan" ], "44x29": [ "Black", "Charcoal", "Navy", "Tan" ], "50x32": [ "Black", "Charcoal", "Navy", "Tan" ], "46x30": [ "Black", "Charcoal", "Navy", "Tan" ], "48x30": [ "Black", "Charcoal", "Navy", "Tan" ], "48x32": [ "Black", "Tan" ], "36x30": ["Tan"], "46x33": ["Tan"], "46x32": [ "Black", "Charcoal", "Navy", "Tan" ], "52x30": [ "Black", "Charcoal", "Navy", "Tan" ], "36x36": [ "Black", "Navy", "Tan" ], "52x32": [ "Black", "Charcoal", "Navy", "Tan" ], "44x32": [ "Black", "Charcoal", "Navy", "Tan" ], "44x30": [ "Black", "Charcoal", "Navy", "Tan" ], "33x30": ["Black"], "52x29": [ "Black", "Charcoal", "Navy", "Tan" ], "34x29": ["Tan"], "44x36": [ "Black", "Charcoal", "Navy", "Tan" ], "44x34": ["Tan"] } }

Buy 1 Get 1 Free! (Of equal or lesser value)

{ "id" : "450002850", "productName" : "Traveler Collection Traditional Fit Pleated Pants Washable Wool Dress Pants - Big & Tall", "productItem" : "2JJC", "productDescription" : "Made of lightweight wool that is machine washable, dryable, and wrinkle resistant, these wool pants are a must-have in every wardrobe. Specially processed to stay smooth and hold a crisp crease even under the pressure of a packed suitcase or a dryer's heat. Easy-entry pockets. Half-lined to the knee. Cuffed hems. Pleated front. 100% wool. Machine washable. Imported.", "promoDescription" : "Buy 1 Get 1 Free! (Of equal or lesser value)", "productUrl" : "http://www.gl-green.com/p/traveler-collection-traditional-fit-pleated-pants-washable-wool-dress-pants-big-tall", "productImageUrl" : "https://images.josbank.com/is/image/JosBank/2JRG_75_TRAVELER_NAVY_MAIN?$browse_thumbnail$", "productImageFullSize" : "https://images.josbank.com/is/image/JosBank/2JRG_75_TRAVELER_NAVY_MAIN?$browse_thumbnail$", "price" : "$220.00", "regPrice" : "", "salePrice" : "", "label": "none", "category" : "Big & Tall", "subcategory": "Traveler Dress Pants", "stock": 1, "dimension53" : "No" }

{ "451480974" : { "44x32": [ "Black", "British Tan", "Navy" ], "48x30": [ "Black", "British Tan", "Navy" ], "46x30": [ "Black", "British Tan", "Navy" ], "46x29": [ "Black", "British Tan", "Navy" ], "44x30": [ "Black", "British Tan", "Navy" ], "48x32": ["Black"], "46x32": [ "Black", "British Tan", "Navy" ], "44x29": [ "Black", "British Tan", "Navy" ] } }

Going Fast

Buy 1 Get 1 Free! (Of equal or lesser value)

{ "id" : "451480974", "productName" : "Traveler Collection Traditional Fit Twill Flat Front Dress Pant - Big & Tall", "productItem" : "21GC", "productDescription" : "Elevate your dress-casual look with these fine cotton twill pants from the Traveler Collection. Flat front. Traditional Fit. Unlined. Finished hem. Sits higher on the waist. 100% cotton. Machine washable. Imported.", "promoDescription" : "Buy 1 Get 1 Free! (Of equal or lesser value)", "productUrl" : "http://www.gl-green.com/p/traveler-collection-traditional-fit-twill-flat-front-dress-pant-big-tall", "productImageUrl" : "https://images.josbank.com/is/image/JosBank/21GA_01_TRAVELER_BLACK_MAIN?$browse_thumbnail$", "productImageFullSize" : "https://images.josbank.com/is/image/JosBank/21GA_01_TRAVELER_BLACK_MAIN?$browse_thumbnail$", "price" : "$119.50", "regPrice" : "", "salePrice" : "", "label": "none", "category" : "Big & Tall", "subcategory": "New Arrivals", "stock": 1, "dimension53" : "No" }

{ "451480976" : { "44x32": [ "Black", "British Tan", "Navy" ], "46x30": [ "Black", "British Tan", "Navy" ], "46x29": [ "Black", "British Tan", "Navy" ], "44x30": [ "Black", "British Tan", "Navy" ], "46x32": [ "British Tan", "Navy" ], "48x29": ["Navy"], "44x29": [ "Black", "British Tan", "Navy" ] } }

Going Fast

Buy 1 Get 1 Free! (Of equal or lesser value)

{ "id" : "451480976", "productName" : "Traveler Collection Original Fit Twill Pleated Front Dress Pant - Big & Tall", "productItem" : "21GE", "productDescription" : "Elevate your dress-casual look with these fine cotton twill pants from the Traveler Collection. Pleated front. Original Fit - our most generous fit. Sits higher on the waist, roomy seat, and straight leg. Unlined. Finished hem. 100% cotton. Machine washable. Imported.", "promoDescription" : "Buy 1 Get 1 Free! (Of equal or lesser value)", "productUrl" : "http://www.gl-green.com/p/traveler-collection-original-fit-twill-pleated-front-dress-pant-big-tall", "productImageUrl" : "https://images.josbank.com/is/image/JosBank/21GD_01_TRAVELER_BLACK_MAIN?$browse_thumbnail$", "productImageFullSize" : "https://images.josbank.com/is/image/JosBank/21GD_01_TRAVELER_BLACK_MAIN?$browse_thumbnail$", "price" : "$119.50", "regPrice" : "", "salePrice" : "", "label": "none", "category" : "Big & Tall", "subcategory": "New Arrivals", "stock": 1, "dimension53" : "No" }

{ "451482901" : { "46 Regular": [ "Bright Blue", "Dark Brown", "Sage" ], "46 Long": [ "Bright Blue", "Dark Brown", "Sage" ], "44 Long": [ "Bright Blue", "Dark Brown", "Sage" ], "48 Regular": [ "Bright Blue", "Dark Brown", "Sage" ], "44 Regular": [ "Bright Blue", "Dark Brown", "Sage" ] } }

Buy 1 Get 1 Free! (Of equal or lesser value)

{ "id" : "451482901", "productName" : "Executive Collection Tailored Fit Flat Front Dress Pants - Big & Tall", "productItem" : "21GG", "productDescription" : "These Executive Collection slacks are fashioned from fine wool in a smooth, plain weave. Flat front. Button-through back besom pockets. Half-lined to the knee. Unfinished hems for tailoring. 100% wool. Dry clean only. Imported.", "promoDescription" : "Buy 1 Get 1 Free! (Of equal or lesser value)", "productUrl" : "http://www.gl-green.com/p/executive-collection-tailored-fit-flat-front-dress-pants-big-tall-21GG", "productImageUrl" : "https://images.josbank.com/is/image/JosBank/21GF_84_EXECUTIVE_SAGE_MAIN?$browse_thumbnail$", "productImageFullSize" : "https://images.josbank.com/is/image/JosBank/21GF_84_EXECUTIVE_SAGE_MAIN?$browse_thumbnail$", "price" : "$200.00", "regPrice" : "", "salePrice" : "", "label": "none", "category" : "Big & Tall", "subcategory": "New Arrivals", "stock": 1, "dimension53" : "No" }

{ "450001927" : { "46 Regular": ["Black"], "46 Long": ["Black"], "50 Regular": ["Black"], "44 Long": ["Black"], "48 Regular": ["Black"], "50 Long": ["Black"], "44 Regular": ["Black"], "52 Long": ["Black"], "52 Regular": ["Black"] } }

{ "id" : "450001927", "productName" : "Signature Collection Traditional Fit Pleated Front Dress Pants - Big & Tall", "productItem" : "2AGV", "productDescription" : "The Signature Collection is an expertly tailored line in select fabrics for the man who dresses to impress every day. Gabardine wool so soft and fine it drapes with ease. Premium Italian cotton pocketing, half-lined to the knee. Unfinished bottoms for altering ease. Pleated front. 100% wool. Dry clean only. Imported.", "promoDescription" : "", "productUrl" : "http://www.gl-green.com/p/signature-collection-traditional-fit-pleated-front-dress-pants-big-tall-2AGV", "productImageUrl" : "https://images.josbank.com/is/image/JosBank/27422_001_main?$browse_thumbnail$", "productImageFullSize" : "https://images.josbank.com/is/image/JosBank/27422_001_main?$browse_thumbnail$", "price" : "", "regPrice" : "$220.00", "salePrice" : "$89.00", "label": "sale", "category" : "Big & Tall", "subcategory": "Signature Dress Pants", "stock": 1, "dimension53" : "No" }

{ "450001926" : { "46 Regular": ["Cambridge Grey"], "46 Long": ["Cambridge Grey"], "44 Long": ["Cambridge Grey"], "48 Regular": ["Cambridge Grey"], "50 Long": ["Cambridge Grey"], "44 Regular": ["Cambridge Grey"] } }

{ "id" : "450001926", "productName" : "Signature Collection Traditional Fit Pleated Front Dress Pants - Big & Tall", "productItem" : "2AGU", "productDescription" : "The Signature Collection is an expertly tailored line in select fabrics for the man who dresses to impress every day. Gabardine wool so soft and fine it drapes with ease. Premium Italian cotton pocketing, half-lined to the knee. Unfinished bottoms for altering ease. Pleated front. 100% wool. Dry clean only. Imported.<br\/>", "promoDescription" : "", "productUrl" : "http://www.gl-green.com/p/signature-collection-traditional-fit-pleated-front-dress-pants-big-tall-2AGU", "productImageUrl" : "https://images.josbank.com/is/image/JosBank/2J9V_07_CAMBRIDGE_GREY_MAIN?$browse_thumbnail$", "productImageFullSize" : "https://images.josbank.com/is/image/JosBank/2J9V_07_CAMBRIDGE_GREY_MAIN?$browse_thumbnail$", "price" : "", "regPrice" : "$220.00", "salePrice" : "$89.00", "label": "sale", "category" : "Big & Tall", "subcategory": "Signature Dress Pants", "stock": 1, "dimension53" : "No" }

{ "450002062" : { "46 Regular": ["Charcoal"], "46 Long": ["Charcoal"], "44 Long": ["Charcoal"], "48 Regular": ["Charcoal"], "44 Regular": ["Charcoal"] } }

{ "id" : "450002062", "productName" : "Signature Collection Traditional Fit Pleated Front Dress Pants - Big & Tall", "productItem" : "2AM6", "productDescription" : "The Signature Collection is an expertly tailored line in select fabrics for the man who dresses to impress every day. Gabardine wool so soft and fine it drapes with ease. Premium Italian cotton pocketing, half-lined to the knee. Unfinished bottoms for altering ease. Pleated front. 100% wool. Dry clean only. Imported.<br\/>", "promoDescription" : "", "productUrl" : "http://www.gl-green.com/p/signature-collection-traditional-fit-pleated-front-dress-pants-big-tall-2AM6", "productImageUrl" : "https://images.josbank.com/is/image/JosBank/2J9U_06_CHARCOAL_MAIN?$browse_thumbnail$", "productImageFullSize" : "https://images.josbank.com/is/image/JosBank/2J9U_06_CHARCOAL_MAIN?$browse_thumbnail$", "price" : "", "regPrice" : "$220.00", "salePrice" : "$89.00", "label": "sale", "category" : "Big & Tall", "subcategory": "Signature Dress Pants", "stock": 1, "dimension53" : "No" }

{ "450001930" : { "46 Regular": ["Navy"], "46 Long": ["Navy"], "50 Regular": ["Navy"], "44 Long": ["Navy"], "48 Regular": ["Navy"], "50 Long": ["Navy"], "44 Regular": ["Navy"], "52 Long": ["Navy"], "52 Regular": ["Navy"], "48 Long": ["Navy"] } }

{ "id" : "450001930", "productName" : "Signature Collection Traditional Fit Pleated Front Dress Pants - Big & Tall", "productItem" : "2AGY", "productDescription" : "The Signature Collection is an expertly tailored line in select fabrics for the man who dresses to impress every day. Gabardine wool so soft and fine it drapes with ease. Premium Italian cotton pocketing, half-lined to the knee. Unfinished bottoms for altering ease. Pleated front. 100% wool. Dry clean only. Imported.", "promoDescription" : "", "productUrl" : "http://www.gl-green.com/p/signature-collection-traditional-fit-pleated-front-dress-pants-big-tall-2AGY", "productImageUrl" : "https://images.josbank.com/is/image/JosBank/27422_041_main?$browse_thumbnail$", "productImageFullSize" : "https://images.josbank.com/is/image/JosBank/27422_041_main?$browse_thumbnail$", "price" : "", "regPrice" : "$220.00", "salePrice" : "$89.00", "label": "sale", "category" : "Big & Tall", "subcategory": "Signature Dress Pants", "stock": 1, "dimension53" : "No" }

{ "450002176" : { "46x30": [ "Charcoal", "Tan" ], "48x30": [ "Charcoal", "Tan" ], "48x32": [ "Charcoal", "Tan" ], "48x34": [ "Charcoal", "Tan" ], "42x36": [ "Charcoal", "Tan" ], "50x29": [ "Charcoal", "Tan" ], "46x32": [ "Charcoal", "Tan" ], "52x30": [ "Charcoal", "Tan" ], "38x36": [ "Charcoal", "Tan" ], "36x36": [ "Charcoal", "Tan" ], "52x32": [ "Charcoal", "Tan" ], "44x32": [ "Charcoal", "Tan" ], "40x36": [ "Charcoal", "Tan" ], "44x30": [ "Charcoal", "Tan" ], "46x29": [ "Charcoal", "Tan" ], "52x29": ["Tan"], "50x30": [ "Charcoal", "Tan" ], "44x36": [ "Charcoal", "Tan" ], "44x29": [ "Charcoal", "Tan" ], "50x32": [ "Charcoal", "Tan" ] } }

Buy 1 Get 1 Free! (Of equal or lesser value)

{ "id" : "450002176", "productName" : "Traveler Collection Tailored Fit Flat Front Washable Wool Dress Pants - Big & Tall", "productItem" : "2ARX", "productDescription" : "Made of lightweight wool that is machine washable, dryable, and wrinkle resistant, these washable wool pants are a must-have in every wardrobe. Specially processed to stay smooth and hold a crisp crease even under the pressure of a packed suitcase or a dryer&#39;s heat. Easy-entry pockets. Half-lined to the knee. Finished bottoms. Flat front. 100% wool. Machine washable. Imported. <br\/>", "promoDescription" : "Buy 1 Get 1 Free! (Of equal or lesser value)", "productUrl" : "http://www.gl-green.com/p/traveler-collection-tailored-fit-flat-front-washable-wool-dress-pants-big-tall", "productImageUrl" : "https://images.josbank.com/is/image/JosBank/2AVW_16_TRAVELER_TAN_MAIN?$browse_thumbnail$", "productImageFullSize" : "https://images.josbank.com/is/image/JosBank/2AVW_16_TRAVELER_TAN_MAIN?$browse_thumbnail$", "price" : "$220.00", "regPrice" : "", "salePrice" : "", "label": "none", "category" : "Big & Tall", "subcategory": "Traveler Dress Pants", "stock": 1, "dimension53" : "No" }

{ "450001924" : { "46 Regular": ["British Tan"], "46 Long": ["British Tan"], "44 Long": ["British Tan"], "48 Regular": ["British Tan"], "44 Regular": ["British Tan"], "48 Long": ["British Tan"] } }

{ "id" : "450001924", "productName" : "Signature Collection Traditional Fit Pleated Front Pants - Big & Tall", "productItem" : "2AGR", "productDescription" : "The Signature Collection features expertly tailored pants in select fabrics. These gabardine wool dress pants are tailored from fabric so soft and fine that they drape with ease. Premium Italian cotton pocketing, half-lined to the knee. Unfinished bottoms for altering ease. Pleated front. 100% wool. Dry clean only. Imported.", "promoDescription" : "", "productUrl" : "http://www.gl-green.com/p/signature-collection-traditional-fit-pleated-front-pants-big-tall-2AGR", "productImageUrl" : "https://images.josbank.com/is/image/JosBank/2J9T_19_SIGNATURE_BRITISH_TAN_MAIN?$browse_thumbnail$", "productImageFullSize" : "https://images.josbank.com/is/image/JosBank/2J9T_19_SIGNATURE_BRITISH_TAN_MAIN?$browse_thumbnail$", "price" : "", "regPrice" : "$220.00", "salePrice" : "$89.00", "label": "sale", "category" : "Big & Tall", "subcategory": "Signature Dress Pants", "stock": 1, "dimension53" : "No" }

{ "450002258" : { "46 Regular": ["Dark Grey"], "46 Long": ["Dark Grey"], "50 Regular": ["Dark Grey"], "44 Long": ["Dark Grey"], "48 Regular": ["Dark Grey"], "50 Long": ["Dark Grey"], "44 Regular": ["Dark Grey"], "52 Regular": ["Dark Grey"], "48 Long": ["Dark Grey"] } }

Buy 1 Get 1 Free! (Of equal or lesser value)

{ "id" : "450002258", "productName" : "Executive Collection Tailored Fit Flat Front Dress Pants - Big & Tall", "productItem" : "2AVK", "productDescription" : "These fine wool gabardine slacks are a must for your professional wardrobe. The gabardine weave fabric has natural stretch for comfort and ease of movement. Half-lined to the knee. Flat front. 100% wool. Dry clean only. Imported.", "promoDescription" : "Buy 1 Get 1 Free! (Of equal or lesser value)", "productUrl" : "http://www.gl-green.com/p/executive-collection-tailored-fit-flat-front-dress-pants-big-tall-2AVK", "productImageUrl" : "https://images.josbank.com/is/image/JosBank/2AUJ_05_EXECUTIVE_DARK_GREY_MAIN?$browse_thumbnail$", "productImageFullSize" : "https://images.josbank.com/is/image/JosBank/2AUJ_05_EXECUTIVE_DARK_GREY_MAIN?$browse_thumbnail$", "price" : "$200.00", "regPrice" : "", "salePrice" : "", "label": "none", "category" : "Big & Tall", "subcategory": "Executive Dress Pants", "stock": 1, "dimension53" : "No" }

{ "450001952" : { "46 Regular": ["Black"], "46 Long": ["Black"], "50 Regular": ["Black"], "44 Long": ["Black"], "48 Regular": ["Black"], "50 Long": ["Black"], "44 Regular": ["Black"], "52 Long": ["Black"], "52 Regular": ["Black"], "48 Long": ["Black"] } }

{ "id" : "450001952", "productName" : "Signature Collection Tailored Fit Dress Pants - Big & Tall", "productItem" : "2AHM", "productDescription" : "The Signature Collection features expertly tailored pants in select fabrics. These gabardine wool pants are tailored from fabric so soft and fine that they drape with ease. Premium Italian cotton pocketing, half-lined to the knee. Unfinished hems for altering ease. Flat front. 100% wool. Dry clean only. Imported.", "promoDescription" : "", "productUrl" : "http://www.gl-green.com/p/signature-collection-tailored-fit-dress-pants-big-tall", "productImageUrl" : "https://images.josbank.com/is/image/JosBank/2J70_01_SIGNATURE_BLACK_MAIN?$browse_thumbnail$", "productImageFullSize" : "https://images.josbank.com/is/image/JosBank/2J70_01_SIGNATURE_BLACK_MAIN?$browse_thumbnail$", "price" : "", "regPrice" : "$220.00", "salePrice" : "$89.00", "label": "sale", "category" : "Big & Tall", "subcategory": "Signature Dress Pants", "stock": 1, "dimension53" : "No" }

{ "450002219" : { "46 Regular": ["Black"], "46 Long": ["Black"], "50 Regular": ["Black"], "44 Long": ["Black"], "48 Regular": ["Black"], "50 Long": ["Black"], "44 Regular": ["Black"], "52 Long": ["Black"], "52 Regular": ["Black"], "48 Long": ["Black"] } }

Buy 1 Get 1 Free! (Of equal or lesser value)

{ "id" : "450002219", "productName" : "Executive Collection Tailored Fit Dress Pants - Big & Tall", "productItem" : "2AU9", "productDescription" : "These fine wool gabardine pants are a must for your professional wardrobe. The gabardine weave fabric has a natural stretch for comfort and ease of movement. Half-lined to the knee. Flat front. Unfinished hemsfor altering ease. 100% wool. Dry clean only. Imported.", "promoDescription" : "Buy 1 Get 1 Free! (Of equal or lesser value)", "productUrl" : "http://www.gl-green.com/p/executive-collection-tailored-fit-dress-pants-big-tall-2AU9", "productImageUrl" : "https://images.josbank.com/is/image/JosBank/2AT7_01_EXECUTIVE_BLACK_MAIN?$browse_thumbnail$", "productImageFullSize" : "https://images.josbank.com/is/image/JosBank/2AT7_01_EXECUTIVE_BLACK_MAIN?$browse_thumbnail$", "price" : "$200.00", "regPrice" : "", "salePrice" : "", "label": "none", "category" : "Big & Tall", "subcategory": "Executive Dress Pants", "stock": 1, "dimension53" : "No" }

{ "451528291" : { "46 Regular": [ "Brown", "Dark Blue", "Dark Tan" ], "46 Long": [ "Brown", "Dark Blue", "Dark Tan" ], "44 Long": [ "Brown", "Dark Blue", "Dark Tan" ], "48 Regular": [ "Brown", "Dark Blue", "Dark Tan" ], "44 Regular": [ "Brown", "Dark Blue", "Dark Tan" ] } }

{ "id" : "451528291", "productName" : "Signature Collection Tailored Fit Flat Front Dress Pants - Big & Tall", "productItem" : "21RX", "productDescription" : "These Signature dress pants feature smooth wool fabric that is lightweight, comfortable, and durable. Their smooth tailored style is ideal for professional and dress wear. Tailored fit. Plain front. Unhemmed for ease of tailoring to your measurements. 100% wool. Dry clean only. Imported.", "promoDescription" : "", "productUrl" : "http://www.gl-green.com/p/signature-collection-tailored-fit-flat-front-dress-pants-big-tall-21RX", "productImageUrl" : "https://images.josbank.com/is/image/JosBank/21RW_38_SIGNATURE_BROWN_MAIN?$browse_thumbnail$", "productImageFullSize" : "https://images.josbank.com/is/image/JosBank/21RW_38_SIGNATURE_BROWN_MAIN?$browse_thumbnail$", "price" : "", "regPrice" : "$220.00", "salePrice" : "$89.00", "label": "sale", "category" : "Big & Tall", "subcategory": "New Arrivals", "stock": 1, "dimension53" : "No" }

{ "451497944" : { "46 Regular": [ "Charcoal", "Grey", "Light Blue", "Navy" ], "46 Long": [ "Charcoal", "Grey", "Light Blue", "Navy" ], "44 Long": [ "Charcoal", "Grey", "Light Blue", "Navy" ], "48 Regular": [ "Charcoal", "Grey", "Light Blue", "Navy" ], "44 Regular": [ "Charcoal", "Grey", "Light Blue", "Navy" ] } }

Buy 1 Get 1 Free! (Of equal or lesser value)

{ "id" : "451497944", "productName" : "Reserve Collection Tailored Fit Flat Front Dress Pants - Big & Tall", "productItem" : "21MX", "productDescription" : "These Reserve Collection dress slacks are a refined and stylish addition to your wardrobe that will help achieve the ideal professional and dress-wear looks. Tailored Fit. Flat front. Unhemmed for tailoring. Lined to the knee. 100% wool. Made with Italian Wool. Dry clean only. Imported.", "promoDescription" : "Buy 1 Get 1 Free! (Of equal or lesser value)", "productUrl" : "http://www.gl-green.com/p/reserve-collection-tailored-fit-flat-front-dress-pants-big-tall-21MX", "productImageUrl" : "https://images.josbank.com/is/image/JosBank/21MW_75_JOS_A_BANK_RESERVE_NAVY_MAIN?$browse_thumbnail$", "productImageFullSize" : "https://images.josbank.com/is/image/JosBank/21MW_75_JOS_A_BANK_RESERVE_NAVY_MAIN?$browse_thumbnail$", "price" : "$320.00", "regPrice" : "", "salePrice" : "", "label": "none", "category" : "Big & Tall", "subcategory": "All Big & Tall", "stock": 1, "dimension53" : "No" }

{ "450002253" : { "46 Regular": ["British Tan"], "46 Long": ["British Tan"], "50 Regular": ["British Tan"], "44 Long": ["British Tan"], "48 Regular": ["British Tan"], "44 Regular": ["British Tan"], "48 Long": ["British Tan"] } }

Buy 1 Get 1 Free! (Of equal or lesser value)

{ "id" : "450002253", "productName" : "Executive Collection Tailored Fit Flat Front Dress Pants - Big & Tall", "productItem" : "2AVE", "productDescription" : "These fine wool gabardine slacks are a must for your professional wardrobe. The gabardine weave fabric has a natural stretch for comfort and ease of movement. Unhemmed for altering ease. Half-lined to the knee. Flat front. 100% wool. Dry clean only. Imported.", "promoDescription" : "Buy 1 Get 1 Free! (Of equal or lesser value)", "productUrl" : "http://www.gl-green.com/p/executive-collection-tailored-fit-flat-front-dress-pants-big-tall-2AVE", "productImageUrl" : "https://images.josbank.com/is/image/JosBank/2AUA_19_EXECUTIVE_BRITISH_TAN_MAIN?$browse_thumbnail$", "productImageFullSize" : "https://images.josbank.com/is/image/JosBank/2AUA_19_EXECUTIVE_BRITISH_TAN_MAIN?$browse_thumbnail$", "price" : "$200.00", "regPrice" : "", "salePrice" : "", "label": "none", "category" : "Big & Tall", "subcategory": "Executive Dress Pants", "stock": 1, "dimension53" : "No" }

{ "451524296" : { "46 Regular": [ "Bright Navy", "Grey", "Tan" ], "46 Long": [ "Bright Navy", "Grey", "Tan" ], "44 Long": [ "Bright Navy", "Grey", "Tan" ], "48 Regular": [ "Bright Navy", "Grey", "Tan" ], "44 Regular": [ "Bright Navy", "Grey", "Tan" ] } }

Buy 1 Get 1 Free! (Of equal or lesser value)

{ "id" : "451524296", "productName" : "Reserve Collection Tailored Fit Flat Front SustainaWool? Dress Pants - Big & Tall", "productItem" : "21PU", "productDescription" : "These Reserve Collection dress slacks are a refined and stylish addition to your wardrobe that will help achieve your ideal professional and dress-wear looks. Tailored Fit. Flat front. Unhemmed for tailoring. Lined to the knee. Made from sustainable wool. 100% wool. Made with Italian Wool. Dry clean only. Imported.", "promoDescription" : "Buy 1 Get 1 Free! (Of equal or lesser value)", "productUrl" : "http://www.gl-green.com/p/reserve-collection-tailored-fit-flat-front-sustainawool-dress-pants-big-tall", "productImageUrl" : "https://images.josbank.com/is/image/JosBank/21PT_16_JOS_A_BANK_RESERVE_TAN_MAIN?$browse_thumbnail$", "productImageFullSize" : "https://images.josbank.com/is/image/JosBank/21PT_16_JOS_A_BANK_RESERVE_TAN_MAIN?$browse_thumbnail$", "price" : "$320.00", "regPrice" : "", "salePrice" : "", "label": "none", "category" : "Big & Tall", "subcategory": "New Arrivals", "stock": 1, "dimension53" : "No" }

{ "451327007" : { "46 Regular": [ "Bright Navy", "Charcoal", "Light Grey", "Tan" ], "46 Long": [ "Bright Navy", "Charcoal", "Light Grey", "Tan" ], "50 Regular": [ "Bright Navy", "Charcoal", "Light Grey", "Tan" ], "44 Long": [ "Bright Navy", "Charcoal", "Light Grey", "Tan" ], "48 Regular": [ "Bright Navy", "Charcoal", "Light Grey", "Tan" ], "44 Regular": [ "Bright Navy", "Charcoal", "Light Grey", "Tan" ], "52 Regular": [ "Bright Navy", "Charcoal", "Light Grey", "Tan" ], "48 Long": [ "Bright Navy", "Charcoal", "Light Grey", "Tan" ] } }

Buy 1 Get 1 Free! (Of equal or lesser value)

{ "id" : "451327007", "productName" : "Reserve Collection Tailored Fit Flat Front Dress Pants - Big & Tall", "productItem" : "21CU", "productDescription" : "These Reserve Collection dress slacks are a refined and stylish addition to your wardrobe that will help achieve the ideal professional and dress-wear looks. Tailored Fit. Flat front. Unhemmed for tailoring. Lined to the knee. 100% virgin wool. &nbsp;Made with Italian Wool.&nbsp;Dry clean only. Imported.", "promoDescription" : "Buy 1 Get 1 Free! (Of equal or lesser value)", "productUrl" : "http://www.gl-green.com/p/reserve-collection-tailored-fit-flat-front-dress-pants-big-tall-21CU", "productImageUrl" : "https://images.josbank.com/is/image/JosBank/21CT_76_JOS_A_BANK_RESERVE_BRIGHT_NAVY_MAIN?$browse_thumbnail$", "productImageFullSize" : "https://images.josbank.com/is/image/JosBank/21CT_76_JOS_A_BANK_RESERVE_BRIGHT_NAVY_MAIN?$browse_thumbnail$", "price" : "$320.00", "regPrice" : "", "salePrice" : "", "label": "none", "category" : "Big & Tall", "subcategory": "All Big & Tall", "stock": 1, "dimension53" : "No" }

{ "450001953" : { "46 Regular": ["Navy"], "46 Long": ["Navy"], "50 Regular": ["Navy"], "44 Long": ["Navy"], "48 Regular": ["Navy"], "50 Long": ["Navy"], "44 Regular": ["Navy"], "52 Long": ["Navy"], "52 Regular": ["Navy"], "48 Long": ["Navy"] } }

{ "id" : "450001953", "productName" : "Signature Collection Tailored Fit Flat Front Pants - Big & Tall", "productItem" : "2AHN", "productDescription" : "The Signature Collection is an expertly tailored line of clothing in select fabrics. These gabardine wool pants are tailored from fabric so soft and fine that they drape with ease. Premium Italian cotton pocketing, half-lined to the knee. Unfinished hems for altering ease. Flat front. 100% wool. Dry clean only. Imported.", "promoDescription" : "", "productUrl" : "http://www.gl-green.com/p/signature-collection-tailored-fit-flat-front-pants-big-tall-2AHN", "productImageUrl" : "https://images.josbank.com/is/image/JosBank/2J71_75_SIGNATURE_NAVY_MAIN?$browse_thumbnail$", "productImageFullSize" : "https://images.josbank.com/is/image/JosBank/2J71_75_SIGNATURE_NAVY_MAIN?$browse_thumbnail$", "price" : "", "regPrice" : "$220.00", "salePrice" : "$89.00", "label": "sale", "category" : "Big & Tall", "subcategory": "Signature Dress Pants", "stock": 1, "dimension53" : "No" }

{ "451193758" : { "46 Regular": ["Bright Blue"], "46 Long": ["Bright Blue"], "44 Long": ["Bright Blue"], "48 Regular": ["Bright Blue"], "44 Regular": ["Bright Blue"], "48 Long": ["Bright Blue"] } }

{ "id" : "451193758", "productName" : "Signature Collection Tailored Fit Flat Front Dress Pants - Big & Tall", "productItem" : "214T", "productDescription" : "Featuring a finely woven wool fabric with a subtle sheen and silky hand, these Signature Collection dress pants are a stylish choice. Trim Tailored Fit. Flat front, lined to the knee. Unhemmed for tailoring. 100% wool. Imported. Dry clean.", "promoDescription" : "", "productUrl" : "http://www.gl-green.com/p/signature-collection-tailored-fit-flat-front-dress-pants-big-tall-214T", "productImageUrl" : "https://images.josbank.com/is/image/JosBank/214R_73_SIGNATURE_BRIGHT_BLUE_MAIN?$browse_thumbnail$", "productImageFullSize" : "https://images.josbank.com/is/image/JosBank/214R_73_SIGNATURE_BRIGHT_BLUE_MAIN?$browse_thumbnail$", "price" : "", "regPrice" : "$220.00", "salePrice" : "$89.00", "label": "sale", "category" : "Big & Tall", "subcategory": "Signature Dress Pants", "stock": 1, "dimension53" : "No" }

{ "451356234" : { "46 Regular": [ "Charcoal", "Navy", "Tan" ], "46 Long": [ "Charcoal", "Navy", "Tan" ], "50 Regular": [ "Navy", "Tan" ], "44 Long": [ "Charcoal", "Navy", "Tan" ], "48 Regular": [ "Charcoal", "Navy", "Tan" ], "44 Regular": [ "Charcoal", "Navy", "Tan" ], "52 Regular": [ "Charcoal", "Navy", "Tan" ], "48 Long": [ "Charcoal", "Navy", "Tan" ], "38 Regular": ["Tan"] } }

Buy 1 Get 1 Free! (Of equal or lesser value)

{ "id" : "451356234", "productName" : "Travel Tech Slim Fit Flat Front Pants - Big & Tall", "productItem" : "21DZ", "productDescription" : "These Travel Tech pants impart comfort and flexibility in a crisp look designed for travel. These slacks feature a fine wool blend with a touch of stretch and a smooth drape. Nano-technology for water and stain resistance. Comfort-range waistband with self-adjusting stretch for ease. Quarter-top pockets. Button-through back besom pockets. Unfinished hems for altering ease. Half-lined to the knee. Flat front. 71% wool, 25% 37.5 polyester, 4% spandex. Dry clean only. Imported.", "promoDescription" : "Buy 1 Get 1 Free! (Of equal or lesser value)", "productUrl" : "http://www.gl-green.com/p/travel-tech-slim-fit-flat-front-pants-big-tall-21DZ", "productImageUrl" : "https://images.josbank.com/is/image/JosBank/21DY_06_TRAVELER_CHARCOAL_MAIN?$browse_thumbnail$", "productImageFullSize" : "https://images.josbank.com/is/image/JosBank/21DY_06_TRAVELER_CHARCOAL_MAIN?$browse_thumbnail$", "price" : "$220.00", "regPrice" : "", "salePrice" : "", "label": "none", "category" : "Big & Tall", "subcategory": "Traveler Dress Pants", "stock": 1, "dimension53" : "No" }

{ "450001956" : { "46 Regular": ["British Tan"], "46 Long": ["British Tan"], "50 Regular": ["British Tan"], "44 Long": ["British Tan"], "48 Regular": ["British Tan"], "50 Long": ["British Tan"], "44 Regular": ["British Tan"], "52 Long": ["British Tan"], "52 Regular": ["British Tan"], "48 Long": ["British Tan"] } }

{ "id" : "450001956", "productName" : "Signature Collection Tailored Fit Flat Front Pants - Big & Tall", "productItem" : "2AHT", "productDescription" : "The Signature Collection is an expertly tailored line in select fabrics for the man who dresses to impress every day. These slacks are tailored in gabardine wool so soft and fine it drapes with ease. Premium Italian cotton pocketing, half-lined to the knee. Unfinished hems for altering ease. Flat front. 100% wool. Dry clean only. Imported.", "promoDescription" : "", "productUrl" : "http://www.gl-green.com/p/signature-collection-tailored-fit-flat-front-pants-big-tall-2AHT", "productImageUrl" : "https://images.josbank.com/is/image/JosBank/2J74_19_SIGNATURE_BRITISH_TAN_MAIN?$browse_thumbnail$", "productImageFullSize" : "https://images.josbank.com/is/image/JosBank/2J74_19_SIGNATURE_BRITISH_TAN_MAIN?$browse_thumbnail$", "price" : "", "regPrice" : "$220.00", "salePrice" : "$89.00", "label": "sale", "category" : "Big & Tall", "subcategory": "Signature Dress Pants", "stock": 1, "dimension53" : "No" }

{ "450001955" : { "46 Regular": ["Charcoal"], "46 Long": ["Charcoal"], "50 Regular": ["Charcoal"], "44 Long": ["Charcoal"], "48 Regular": ["Charcoal"], "50 Long": ["Charcoal"], "44 Regular": ["Charcoal"], "52 Long": ["Charcoal"], "52 Regular": ["Charcoal"], "48 Long": ["Charcoal"] } }

{ "id" : "450001955", "productName" : "Signature Collection Tailored Fit Flat Front Pants - Big & Tall", "productItem" : "2AHR", "productDescription" : "The Signature Collection is an expertly tailored line of clothing in select fabrics. These gabardine wool pants are tailored from fabric so soft and fine that they drape with ease. Premium Italian cotton pocketing, half-lined to the knee. Unfinished hems for altering ease. Flat front. 100% wool. Dry clean only. Imported.", "promoDescription" : "", "productUrl" : "http://www.gl-green.com/p/signature-collection-tailored-fit-flat-front-pants-big-tall-2AHR", "productImageUrl" : "https://images.josbank.com/is/image/JosBank/2J73_06_SIGNATURE_CHARCOAL_MAIN?$browse_thumbnail$", "productImageFullSize" : "https://images.josbank.com/is/image/JosBank/2J73_06_SIGNATURE_CHARCOAL_MAIN?$browse_thumbnail$", "price" : "", "regPrice" : "$220.00", "salePrice" : "$89.00", "label": "sale", "category" : "Big & Tall", "subcategory": "Signature Dress Pants", "stock": 1, "dimension53" : "No" }

{ "451524298" : { "46 Regular": [ "Charcoal", "Navy" ], "48 Regular": [ "Charcoal", "Navy" ], "44 Regular": [ "British Tan", "Charcoal", "Navy" ] } }

Buy 1 Get 1 Free! (Of equal or lesser value)

{ "id" : "451524298", "productName" : "Travel Tech Slim Fit Flat Front Dress Pants - Big & Tall", "productItem" : "21RR", "productDescription" : "These Slim Fit suit pants feature a unique fabric technology that maintains the optimum microclimate for your body. Named 37.5, it removes moisture at the vapor stage before sweat can form. 37.5 acts like a thermostat by removing moisture when you are hot and retaining warmth when you are cold. It absorbs and traps odor molecules that are washed away when cleaned. The flat-front pants are half-lined to the knee and are unhemmed for tailoring. Suit separates allow you to choose pants and coat sizes separately for an ideal fit. 71% wool, 25% 37.5 polyester, 4% spandex. Dry clean only. Imported.", "promoDescription" : "Buy 1 Get 1 Free! (Of equal or lesser value)", "productUrl" : "http://www.gl-green.com/p/travel-tech-slim-fit-flat-front-dress-pants-big-tall-21RR", "productImageUrl" : "https://images.josbank.com/is/image/JosBank/21RP_19_TRAVELTECH_BRITISH_TAN_MAIN?$browse_thumbnail$", "productImageFullSize" : "https://images.josbank.com/is/image/JosBank/21RP_19_TRAVELTECH_BRITISH_TAN_MAIN?$browse_thumbnail$", "price" : "$220.00", "regPrice" : "", "salePrice" : "", "label": "none", "category" : "Big & Tall", "subcategory": "New Arrivals", "stock": 1, "dimension53" : "No" }
Related Products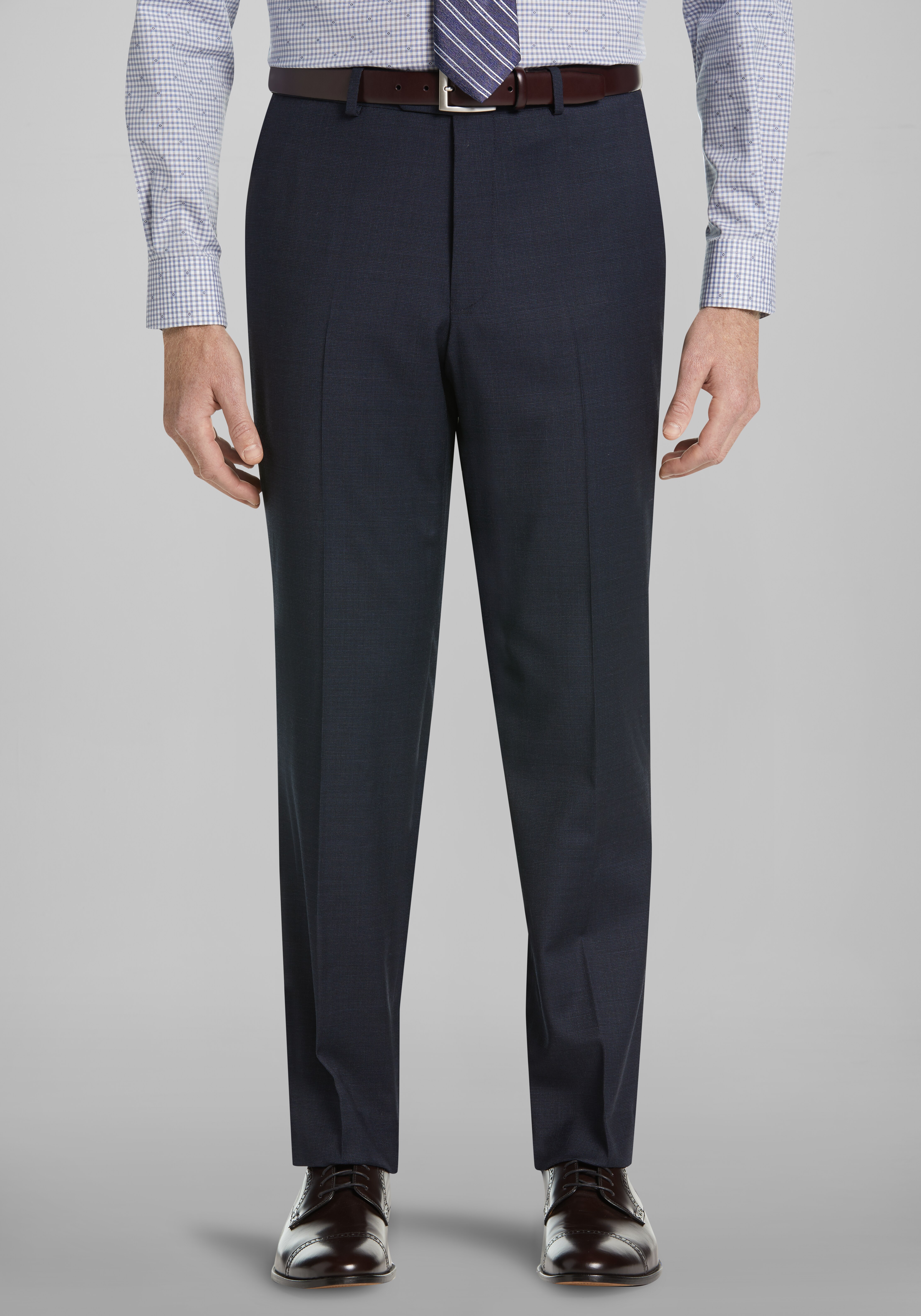 Description:
These pants feature a flat front and are made using brrr? comfort technology, which offers a unique cooling effect as it wicks moisture away. Fully lined to the knee. Unhemmed for personalized alteration. 97% wool, 3% spandex. Dry clean. Imported. ...
Description:
The ideal suit for the busy man. This wool-blend suit by Jos. A. Bank is washable for easy, no-fuss care and looks and feels like a fine, classic suit. Jacket has a two-button closure, side vents and notch lapel. Jacket ...
Description:
The Signature Collection is an expertly tailored line in select fabrics for the man who dresses to impress every day. Gabardine wool so soft and fine it drapes with ease. Premium Italian cotton pocketing, half-lined to the knee. Unfinished bottoms ...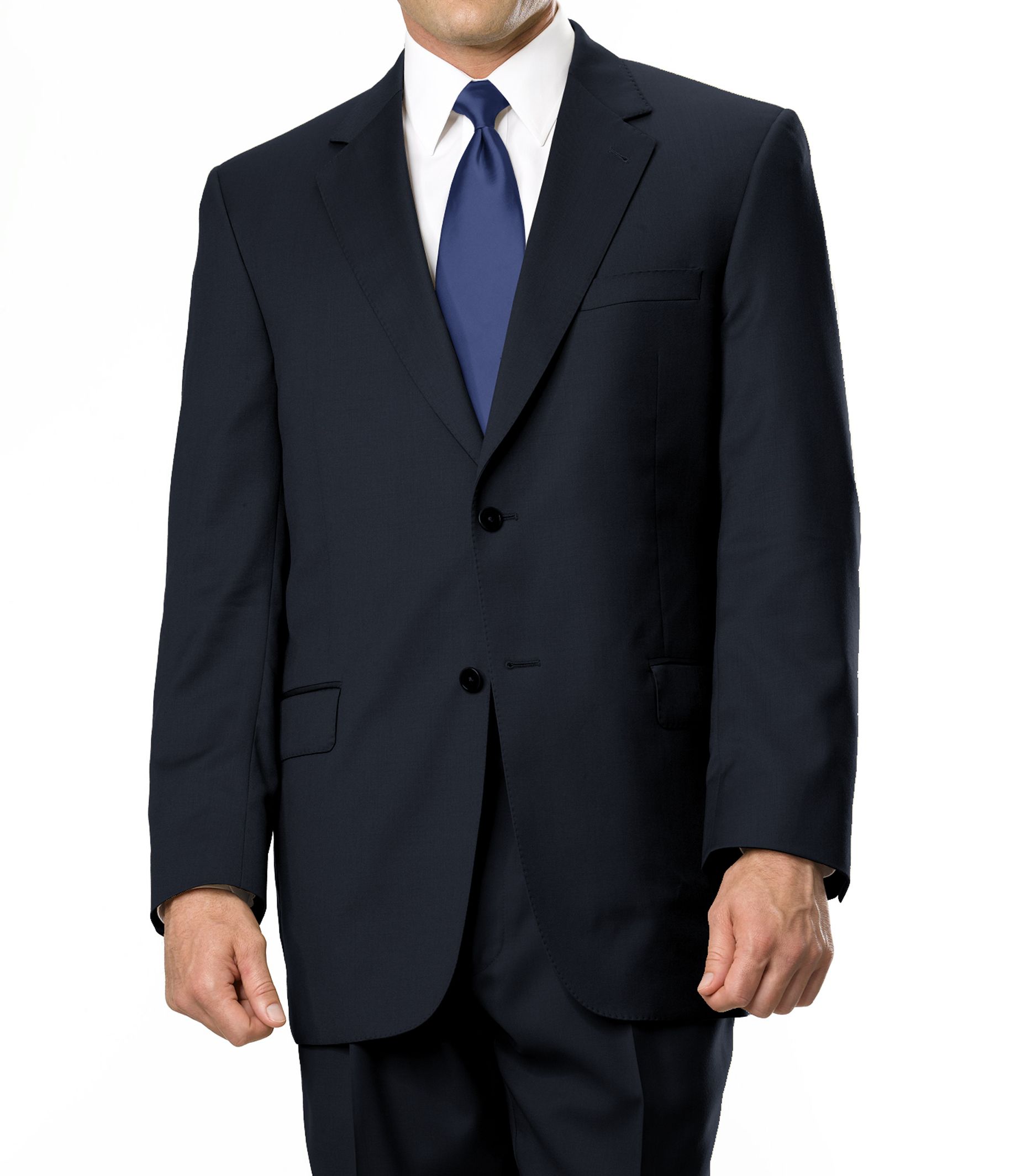 Description:
Year-round fabric has fluid drape and rich hand, center-vent jacket for classic styling, sleeves constructed for the addition of custom working buttonholes, tailored shoulders and pick-stitched detailing and premier jacquard signature Bemberg lining. Half-canvas chest piece and padded lapels for ...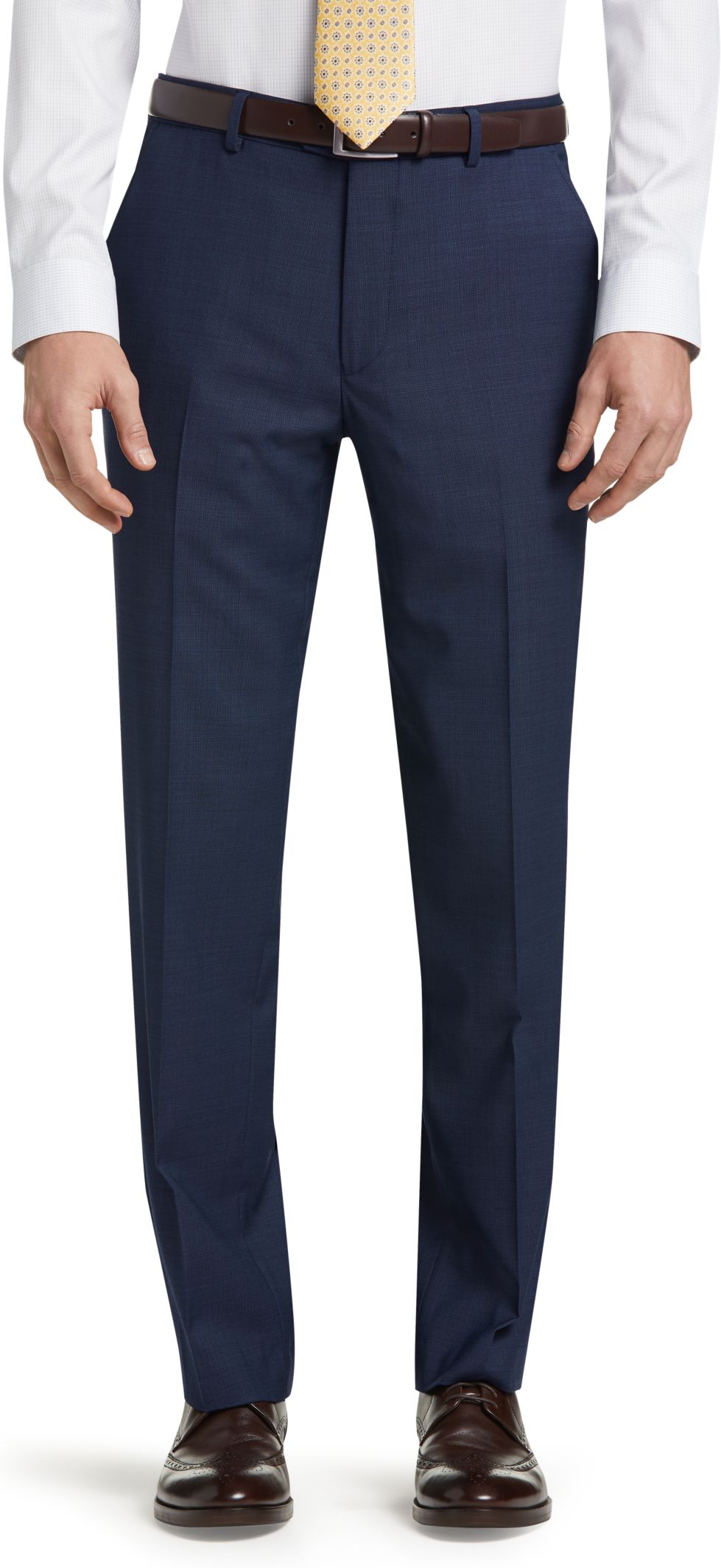 Description:
These slim-fit suit pants feature a unique fabric technology that maintains the optimum microclimate for your body. Named 37.5, it removes moisture at the vapor stage before sweat can form. 37.5 acts like a thermostat by removing moisture when you ...