Refine your results
SHOW
Show:

Press enter to collapse or expand the menu. For navigating with in Filter options, press tab. To select Filter options, press enter.

Clear All

Filter

Done

0

Products

Add filter

Reset filters
Product List
{ "450000940" : { "58 Long": ["Navy"], "54 Regular": ["Navy"], "56 Long": ["Navy"], "54 Long": ["Navy"], "50 Long": ["Navy"], "46 X Long": ["Navy"], "52 Long": ["Navy"], "60 Long": ["Navy"], "52 Regular": ["Navy"], "42 X Long": ["Navy"], "44 X Long": ["Navy"], "48 Long": ["Navy"], "56 X Long": ["Navy"], "50 Regular": ["Navy"], "48 Regular": ["Navy"], "60 Regular": ["Navy"], "56 Regular": ["Navy"], "58 Regular": ["Navy"], "48 X Long": ["Navy"], "50 X Long": ["Navy"] } }

{ "id" : "450000940", "productName" : "Executive Collection Traditional Fit Blazer - Big & Tall", "productItem" : "1J50", "productDescription" : "Classic and refined, our Executive Collection blazers feature the highest quality craftsmanship and timeless style you've been seeking. Our super 100s wool is engineered with natural stretch for ease of movement and comfort. Tailored with smooth seams and clean lines for a better fit. Traditional Fit. Distinctive gold buttons. Center vent, natural shoulders. Fully lined. 100% wool. Dry clean. Imported.", "promoDescription" : "", "productUrl" : "http://www.gl-green.com/p/executive-collection-traditional-fit-blazer-big-tall-1J50", "productImageUrl" : "https://images.josbank.com/is/image/JosBank/1JDC_75_EXECUTIVE_NAVY_MAIN?$browse_thumbnail$", "productImageFullSize" : "https://images.josbank.com/is/image/JosBank/1JDC_75_EXECUTIVE_NAVY_MAIN?$browse_thumbnail$", "price" : "", "regPrice" : "$438.00", "salePrice" : "$179.00", "label": "sale", "category" : "Big & Tall", "subcategory": "All Big & Tall", "stock": 1, "dimension53" : "No" }

{ "450000764" : { "58 Long": ["Black"], "54 Regular": ["Navy"], "56 Long": [ "Black", "Navy" ], "54 Long": [ "Black", "Navy" ], "54 X Long": ["Black"], "50 Long": [ "Black", "Navy" ], "46 X Long": [ "Black", "Navy" ], "52 Long": [ "Black", "Navy" ], "60 Long": ["Black"], "52 Regular": [ "Black", "Navy" ], "42 X Long": ["Navy"], "44 X Long": [ "Black", "Navy" ], "48 Long": [ "Black", "Navy" ], "56 X Long": ["Black"], "46 Regular": ["Navy"], "50 Regular": [ "Black", "Navy" ], "48 Regular": [ "Black", "Navy" ], "60 Regular": ["Black"], "56 Regular": [ "Black", "Navy" ], "58 Regular": [ "Black", "Navy" ], "48 X Long": [ "Black", "Navy" ], "50 X Long": [ "Black", "Navy" ] } }

Buy 1 Get 1 Free! (Of equal or lesser value)

{ "id" : "450000764", "productName" : "Signature Collection Traditional Fit Solid Blazer - Big & Tall", "productItem" : "1AZ6", "productDescription" : "This Signature Collection blazer has classic Jos. A. Bank style, and is a wardrobe essential. Fine worsted wool features a soft hand and drape. Traditional Fit. Two button, side vents, notch lapel. All season weight fabric. Gold-tone buttons. Detailed with natural shoulders, scalloped facing, superior Bemberg lining. 100% wool. Dry clean only. Imported.", "promoDescription" : "Buy 1 Get 1 Free! (Of equal or lesser value)", "productUrl" : "http://www.gl-green.com/p/signature-collection-traditional-fit-solid-blazer-big-tall", "productImageUrl" : "https://images.josbank.com/is/image/JosBank/1AWA_01_SIGNATURE_BLACK_N_MAIN?$browse_thumbnail$", "productImageFullSize" : "https://images.josbank.com/is/image/JosBank/1AWA_01_SIGNATURE_BLACK_N_MAIN?$browse_thumbnail$", "price" : "$638.00", "regPrice" : "", "salePrice" : "", "label": "none", "category" : "Big & Tall", "subcategory": "All Big & Tall", "stock": 1, "dimension53" : "No" }

{ "451322330" : { "50 Regular": ["Tan"], "48 Regular": ["Tan"], "50 Long": ["Tan"], "52 Long": ["Tan"], "52 Regular": ["Tan"], "48 Long": ["Tan"] } }

{ "id" : "451322330", "productName" : "Executive Collection Traditional Fit Houndstooth Windowpane Sportcoat - Big & Tall", "productItem" : "12ND", "productDescription" : "Crafted from the finest wool, this Reserve Collection sportcoat has a silky smooth finish and a classic pattern. Traditional Fit. Fully lined. Two button side vents, notch lapel. Interior pockets. 100% wool. Dry clean only. Imported.", "promoDescription" : "", "productUrl" : "http://www.gl-green.com/p/executive-collection-traditional-fit-houndstooth-windowpane-sportcoat-big-tall", "productImageUrl" : "https://images.josbank.com/is/image/JosBank/12NC_16_EXECUTIVE_TAN_MAIN?$browse_thumbnail$", "productImageFullSize" : "https://images.josbank.com/is/image/JosBank/12NC_16_EXECUTIVE_TAN_MAIN?$browse_thumbnail$", "price" : "", "regPrice" : "$438.00", "salePrice" : "$179.00", "label": "sale", "category" : "Big & Tall", "subcategory": "New Arrivals", "stock": 1, "dimension53" : "No" }

{ "451521546" : { "54 Regular": ["Charcoal"], "50 Regular": ["Charcoal"], "48 Regular": ["Charcoal"], "50 Long": ["Charcoal"], "46 X Long": ["Charcoal"], "52 Long": ["Charcoal"], "52 Regular": ["Charcoal"], "44 X Long": ["Charcoal"], "48 Long": ["Charcoal"] } }

{ "id" : "451521546", "productName" : "Executive Collection Traditional Fit Check Sportcoat - Big & Tall", "productItem" : "145N", "productDescription" : "Classic and refined, our Executive Collection sportcoats feature the highest quality craftsmanship and timeless style you've been seeking. This fine coat is tailored with a two-button closure, notch lapel, and side vents in a flattering Traditional Fit. A subtle mini check pattern completes your distinguished look. Fully lined. 100% wool. Dry clean only. Imported.", "promoDescription" : "", "productUrl" : "http://www.gl-green.com/p/executive-collection-traditional-fit-check-sportcoat-big-tall-145N", "productImageUrl" : "https://images.josbank.com/is/image/JosBank/145M_06_EXECUTIVE_CHARCOAL_MAIN?$browse_thumbnail$", "productImageFullSize" : "https://images.josbank.com/is/image/JosBank/145M_06_EXECUTIVE_CHARCOAL_MAIN?$browse_thumbnail$", "price" : "", "regPrice" : "$438.00", "salePrice" : "$179.00", "label": "sale", "category" : "Big & Tall", "subcategory": "New Arrivals", "stock": 1, "dimension53" : "No" }

{ "451521545" : { "50 Regular": ["Blue"], "48 Regular": ["Blue"], "50 Long": ["Blue"], "52 Long": ["Blue"], "52 Regular": ["Blue"], "44 X Long": ["Blue"], "48 Long": ["Blue"], "48 X Long": ["Blue"] } }

{ "id" : "451521545", "productName" : "Executive Collection Traditional Fit Plaid Sportcoat - Big & Tall", "productItem" : "145L", "productDescription" : "Classic and refined, our Executive Collection sportcoats feature the highest quality craftsmanship and timeless style you've been seeking. This fine coat is tailored with a two-button closure, notch lapel, and side vents in a flattering Traditional Fit. A subtle mini check pattern completes your distinguished look. Fully lined. 100% wool. Dry clean only. Imported.", "promoDescription" : "", "productUrl" : "http://www.gl-green.com/p/executive-collection-traditional-fit-plaid-sportcoat-big-tall-145L", "productImageUrl" : "https://images.josbank.com/is/image/JosBank/145K_70_EXECUTIVE_BLUE_MAIN?$browse_thumbnail$", "productImageFullSize" : "https://images.josbank.com/is/image/JosBank/145K_70_EXECUTIVE_BLUE_MAIN?$browse_thumbnail$", "price" : "", "regPrice" : "$438.00", "salePrice" : "$179.00", "label": "sale", "category" : "Big & Tall", "subcategory": "New Arrivals", "stock": 1, "dimension53" : "No" }

{ "451322329" : { "48 Regal Short": ["Grey"], "44 Regal Short": ["Grey"], "42 Regal Regular": ["Grey"], "50 Regal Short": ["Grey"], "50 Regal Regular": ["Grey"], "48 Regal Regular": ["Grey"], "46 Regal Regular": ["Grey"], "52 Regal Regular": ["Grey"], "46 Regal Short": ["Grey"], "44 Regal Regular": ["Grey"], "42 Regal Short": ["Grey"], "54 Regal Regular": ["Grey"] } }

{ "id" : "451322329", "productName" : "Executive Collection Regal Fit Mini Houndstooth Sportcoat", "productItem" : "12NA", "productDescription" : "Achieve a refined stylish look with this fine Executive Collection Sportcoat. Fully lined. Two button, notch lapel, side vents. Interior pockets. Classic check pattern. 100% wool. Dry clean only. Imported.", "promoDescription" : "", "productUrl" : "http://www.gl-green.com/p/executive-collection-regal-fit-mini-houndstooth-sportcoat", "productImageUrl" : "https://images.josbank.com/is/image/JosBank/12N8_03_EXECUTIVE_GREY_MAIN?$browse_thumbnail$", "productImageFullSize" : "https://images.josbank.com/is/image/JosBank/12N8_03_EXECUTIVE_GREY_MAIN?$browse_thumbnail$", "price" : "", "regPrice" : "$438.00", "salePrice" : "$179.00", "label": "sale", "category" : "Big & Tall", "subcategory": "All Big & Tall", "stock": 1, "dimension53" : "No" }

{ "451515558" : { "50 Regular": ["Charcoal"], "48 Regular": ["Charcoal"], "50 Long": ["Charcoal"], "46 X Long": ["Charcoal"], "52 Long": ["Charcoal"], "52 Regular": ["Charcoal"], "44 X Long": ["Charcoal"], "48 Long": ["Charcoal"] } }

Going Fast

Buy 1 Get 1 Free! (Of equal or lesser value)

{ "id" : "451515558", "productName" : "Traveler Collection Traditional Fit Plaid Sportcoat - Big & Tall", "productItem" : "13YW", "productDescription" : "Ideal for the busy professional, this Traveler Collection sportcoat is wrinkle, stain, and water resistant to keep you looking your best no matter how hectic your schedule. This smooth sportcoat features a two-button closure, notch lapel, side vents, and a subtle, classic plaid pattern. Fully lined. Wool with natural stretch. 100% wool. Dry clean only. Imported.", "promoDescription" : "Buy 1 Get 1 Free! (Of equal or lesser value)", "productUrl" : "http://www.gl-green.com/p/traveler-collection-traditional-fit-plaid-sportcoat-big-tall-13YW", "productImageUrl" : "https://images.josbank.com/is/image/JosBank/13YV_06_TRAVELER_CHARCOAL_MAIN?$browse_thumbnail$", "productImageFullSize" : "https://images.josbank.com/is/image/JosBank/13YV_06_TRAVELER_CHARCOAL_MAIN?$browse_thumbnail$", "price" : "$638.00", "regPrice" : "", "salePrice" : "", "label": "none", "category" : "Big & Tall", "subcategory": "All Big & Tall", "stock": 1, "dimension53" : "No" }

{ "451521544" : { "54 Regular": ["Brown"], "50 Regular": ["Brown"], "48 Regular": ["Brown"], "50 Long": ["Brown"], "46 X Long": ["Brown"], "52 Long": ["Brown"], "52 Regular": ["Brown"], "44 X Long": ["Brown"], "48 Long": ["Brown"], "48 X Long": ["Brown"] } }

{ "id" : "451521544", "productName" : "Executive Collection Traditional Fit Check Sportcoat - Big & Tall", "productItem" : "145J", "productDescription" : "Classic and refined, our Executive Collection sportcoats feature the highest quality craftsmanship and timeless style you've been seeking. This fine coat is tailored with a two-button closure, notch lapel, and side vents in a flattering Traditional Fit. A subtle mini check pattern completes your distinguished look. Fully lined. 100% wool. Dry clean only. Imported.", "promoDescription" : "", "productUrl" : "http://www.gl-green.com/p/executive-collection-traditional-fit-check-sportcoat-big-tall-145J", "productImageUrl" : "https://images.josbank.com/is/image/JosBank/145H_38_EXECUTIVE_BROWN_MAIN?$browse_thumbnail$", "productImageFullSize" : "https://images.josbank.com/is/image/JosBank/145H_38_EXECUTIVE_BROWN_MAIN?$browse_thumbnail$", "price" : "", "regPrice" : "$438.00", "salePrice" : "$179.00", "label": "sale", "category" : "Big & Tall", "subcategory": "New Arrivals", "stock": 1, "dimension53" : "No" }

{ "451536986" : { "50 Regular": ["Grey"], "48 Regular": ["Grey"], "50 Long": ["Grey"], "52 Regular": ["Grey"], "48 Long": ["Grey"] } }

{ "id" : "451536986", "productName" : "1905 Collection Tailored Fit Windowpane Plaid Sportcoat - Big & Tall", "productItem" : "14FM", "productDescription" : "Complete your dress- and professional-wear wardrobe with this 1905 Collection sportcoat in a classic windowpane plaid pattern. Two button, notch lapel, side vents. Fully lined with interior pockets. 100% wool. Dry clean only. Imported.", "promoDescription" : "", "productUrl" : "http://www.gl-green.com/p/1905-collection-tailored-fit-windowpane-plaid-sportcoat-big-tall-14FM", "productImageUrl" : "https://images.josbank.com/is/image/JosBank/14FL_03_1905_GREY_MAIN?$browse_thumbnail$", "productImageFullSize" : "https://images.josbank.com/is/image/JosBank/14FL_03_1905_GREY_MAIN?$browse_thumbnail$", "price" : "", "regPrice" : "$538.00", "salePrice" : "$179.00", "label": "sale", "category" : "Big & Tall", "subcategory": "All Big & Tall", "stock": 1, "dimension53" : "No" }

{ "451322331" : { "54 Regular": ["Bright Blue"], "50 Regular": ["Bright Blue"], "48 Regular": ["Bright Blue"], "50 Long": ["Bright Blue"], "46 X Long": ["Bright Blue"], "52 Long": ["Bright Blue"], "52 Regular": ["Bright Blue"], "44 X Long": ["Bright Blue"], "48 Long": ["Bright Blue"], "48 X Long": ["Bright Blue"] } }

{ "id" : "451322331", "productName" : "Executive Collection Traditional Fit Houndstooth Sportcoat - Big & Tall", "productItem" : "12NF", "productDescription" : "Achieve a refined and stylish look with this Reserve Collection Sportcoat. Traditional Fit. Fully lined. Two button, side vents, notch lapel. Interior pockets. 100% wool. Dry clean only. Imported.", "promoDescription" : "", "productUrl" : "http://www.gl-green.com/p/executive-collection-traditional-fit-houndstooth-sportcoat-big-tall", "productImageUrl" : "https://images.josbank.com/is/image/JosBank/12NE_73_EXECUTIVE_BRIGHT_BLUE_MAIN?$browse_thumbnail$", "productImageFullSize" : "https://images.josbank.com/is/image/JosBank/12NE_73_EXECUTIVE_BRIGHT_BLUE_MAIN?$browse_thumbnail$", "price" : "", "regPrice" : "$438.00", "salePrice" : "$179.00", "label": "sale", "category" : "Big & Tall", "subcategory": "New Arrivals", "stock": 1, "dimension53" : "No" }

{ "451322326" : { "54 Regular": ["Bright Navy"], "56 Long": ["Bright Navy"], "54 Long": ["Bright Navy"], "50 Long": ["Bright Navy"], "46 X Long": ["Bright Navy"], "52 Long": ["Bright Navy"], "52 Regular": ["Bright Navy"], "44 X Long": ["Bright Navy"], "48 Long": ["Bright Navy"], "50 Regular": ["Bright Navy"], "48 Regular": ["Bright Navy"], "50 X Long": ["Bright Navy"], "48 X Long": ["Bright Navy"] } }

{ "id" : "451322326", "productName" : "Executive Collection Traditional Fit Check Sportcoat - Big & Tall", "productItem" : "12N6", "productDescription" : "Achieve a refined stylish look with this fine Reserve Collection Sportcoat. Fully lined. Two button, notch lapel, side vents. Interior pockets. Classic check pattern. 100% wool. Dry clean only. Imported.", "promoDescription" : "", "productUrl" : "http://www.gl-green.com/p/executive-collection-traditional-fit-check-sportcoat-big-tall-12N6", "productImageUrl" : "https://images.josbank.com/is/image/JosBank/12N5_76_EXECUTIVE_BRIGHT_NAVY_MAIN?$browse_thumbnail$", "productImageFullSize" : "https://images.josbank.com/is/image/JosBank/12N5_76_EXECUTIVE_BRIGHT_NAVY_MAIN?$browse_thumbnail$", "price" : "", "regPrice" : "$438.00", "salePrice" : "$179.00", "label": "sale", "category" : "Big & Tall", "subcategory": "All Big & Tall", "stock": 1, "dimension53" : "No" }

{ "450000084" : { "48 Regal Short": ["Navy"], "44 Regal Short": [ "Black", "Navy" ], "50 Regal Short": [ "Black", "Navy" ], "50 Regal Regular": [ "Black", "Navy" ], "Misc": [ "Black", "Navy" ], "46 Regal Long": ["Navy"], "46 Regal Short": [ "Black", "Navy" ], "46 X Long": ["Navy"], "44 Regal Regular": [ "Black", "Navy" ], "56 Regal Regular": [ "Black", "Navy" ], "62 RGL LONG": [ "Black", "Navy" ], "52 Regal Long": ["Navy"], "44 X Long": ["Navy"], "42 X Long": ["Navy"], "54 Regal Long": [ "Black", "Navy" ], "62 RGL REG": ["Navy"], "60 Regal Regular": [ "Black", "Navy" ], "42 Regal Regular": ["Navy"], "56 Regal Long": ["Navy"], "46 Regal Regular": ["Navy"], "48 Regal Regular": [ "Black", "Navy" ], "52 Regal Regular": ["Navy"], "58 Regal Regular": [ "Black", "Navy" ], "60 Regal Long": [ "Black", "Navy" ], "58 Regal Long": [ "Black", "Navy" ], "42 Regal Short": ["Navy"], "54 Regal Regular": [ "Black", "Navy" ], "48 Regal Long": ["Navy"], "50 Regal Long": ["Navy"] } }

Buy 1 Get 1 Free! (Of equal or lesser value)

{ "id" : "450000084", "productName" : "Signature Collection Regal Fit Blazer", "productItem" : "1A2M", "productDescription" : "The Signature Collection defines the luxurious classic Jos. A. Bank style, essential to every man's wardrobe. Fine worsted wool has the soft hand and drape of a superior garment that elevates this business basic to executive level status at an excellent price. Detailed with natural shoulders, notch lapel, superior lining and center vent. Regal Fit. 100% wool. Dry clean. Imported.", "promoDescription" : "Buy 1 Get 1 Free! (Of equal or lesser value)", "productUrl" : "http://www.gl-green.com/p/signature-collection-regal-fit-blazer-1A2M", "productImageUrl" : "https://images.josbank.com/is/image/JosBank/1A2M_01_SIGNATURE_BLACK_MAIN?$browse_thumbnail$", "productImageFullSize" : "https://images.josbank.com/is/image/JosBank/1A2M_01_SIGNATURE_BLACK_MAIN?$browse_thumbnail$", "price" : "$638.00", "regPrice" : "", "salePrice" : "", "label": "none", "category" : "Big & Tall", "subcategory": "All Big & Tall", "stock": 1, "dimension53" : "No" }

{ "451322328" : { "54 Regular": ["Grey"], "50 Regular": ["Grey"], "48 Regular": ["Grey"], "50 Long": ["Grey"], "52 Long": ["Grey"], "52 Regular": ["Grey"], "48 Long": ["Grey"] } }

{ "id" : "451322328", "productName" : "Executive Collection Traditional Fit Mini Houndstooth Sportcoat - Big & Tall", "productItem" : "12N9", "productDescription" : "Achieve a refined stylish look with this fine Reserve Collection Sportcoat. Fully lined. Two button, notch lapel, side vents. Interior pockets. Mini houndstooth pattern. 100% wool. Dry clean only. Imported.", "promoDescription" : "", "productUrl" : "http://www.gl-green.com/p/executive-collection-traditional-fit-mini-houndstooth-sportcoat-big-tall", "productImageUrl" : "https://images.josbank.com/is/image/JosBank/12N8_03_EXECUTIVE_GREY_MAIN?$browse_thumbnail$", "productImageFullSize" : "https://images.josbank.com/is/image/JosBank/12N8_03_EXECUTIVE_GREY_MAIN?$browse_thumbnail$", "price" : "", "regPrice" : "$438.00", "salePrice" : "$179.00", "label": "sale", "category" : "Big & Tall", "subcategory": "New Arrivals", "stock": 1, "dimension53" : "No" }

{ "451520204" : { "50 Regular": ["Blue"], "48 Regular": ["Blue"], "50 Long": ["Blue"], "52 Long": ["Blue"], "52 Regular": ["Blue"], "44 X Long": ["Blue"], "48 Long": ["Blue"] } }

{ "id" : "451520204", "productName" : "1905 Collection Tailored Fit Glen Plaid Sportcoat with brrr° comfort - Big & Tall", "productItem" : "141T", "productDescription" : "This 1905 Collection sportcoat has a classic Glen plaid pattern in brrr? comfort fabric. It has a notch lapel, two-button closure and combines wool with brrr? technology, offering a touch of stretch plus a unique cooling effect as it wicks moisture away. Fully lined with four interior pockets. 97% wool, 3% spandex. Dry clean only. Imported.", "promoDescription" : "", "productUrl" : "http://www.gl-green.com/p/1905-collection-tailored-fit-glen-plaid-sportcoat-with-brrr-comfort-big-tall-141T", "productImageUrl" : "https://images.josbank.com/is/image/JosBank/141R_70_1905_BLUE_MAIN?$browse_thumbnail$", "productImageFullSize" : "https://images.josbank.com/is/image/JosBank/141R_70_1905_BLUE_MAIN?$browse_thumbnail$", "price" : "", "regPrice" : "$538.00", "salePrice" : "$179.00", "label": "sale", "category" : "Big & Tall", "subcategory": "New Arrivals", "stock": 1, "dimension53" : "No" }

{ "451515576" : { "54 Regular": ["Blue"], "50 Long": ["Blue"], "52 X Long": ["Blue"], "46 X Long": ["Blue"], "52 Long": ["Blue"], "52 Regular": ["Blue"], "44 X Long": ["Blue"], "42 X Long": ["Blue"], "48 Long": ["Blue"], "50 Regular": ["Blue"], "48 Regular": ["Blue"], "50 X Long": ["Blue"], "48 X Long": ["Blue"] } }

{ "id" : "451515576", "productName" : "Executive Collection Traditional Fit Mini Check Sportcoat - Big & Tall", "productItem" : "13ZF", "productDescription" : "Classic and refined, our Executive Collection sportcoats feature the highest quality craftsmanship and timeless style you've been seeking. This fine coat is tailored with a two-button closure, notch lapel, and side vents in a flattering Traditional Fit. A subtle mini check pattern completes your distinguished look. Fully lined. 100% wool. Dry clean only. Imported.", "promoDescription" : "", "productUrl" : "http://www.gl-green.com/p/executive-collection-traditional-fit-mini-check-sportcoat-big-tall", "productImageUrl" : "https://images.josbank.com/is/image/JosBank/13ZE_70_EXECUTIVE_BLUE_MAIN?$browse_thumbnail$", "productImageFullSize" : "https://images.josbank.com/is/image/JosBank/13ZE_70_EXECUTIVE_BLUE_MAIN?$browse_thumbnail$", "price" : "", "regPrice" : "$438.00", "salePrice" : "$179.00", "label": "sale", "category" : "Big & Tall", "subcategory": "New Arrivals", "stock": 1, "dimension53" : "No" }

{ "450000329" : { "44 Regal Short": ["Navy"], "48 Regal Short": ["Navy"], "50 Regal Short": ["Navy"], "50 Regal Regular": ["Navy"], "Misc": ["Navy"], "46 Regal Long": ["Navy"], "46 Regal Short": ["Navy"], "44 Regal Regular": ["Navy"], "62 RGL LONG": ["Navy"], "56 Regal Regular": ["Navy"], "52 Regal Long": ["Navy"], "54 Regal Long": ["Navy"], "62 RGL REG": ["Navy"], "60 Regal Regular": ["Navy"], "56 Regal Long": ["Navy"], "46 Regal Regular": ["Navy"], "48 Regal Regular": ["Navy"], "52 Regal Regular": ["Navy"], "58 Regal Regular": ["Navy"], "60 Regal Long": ["Navy"], "58 Regal Long": ["Navy"], "42 Regal Short": ["Navy"], "54 Regal Regular": ["Navy"], "48 Regal Long": ["Navy"], "50 Regal Long": ["Navy"] } }

{ "id" : "450000329", "productName" : "Executive Collection Regal Fit Blazer", "productItem" : "1AH3", "productDescription" : "While others simply boast about the quality of their blazers, ours is, in fact, a best-seller, time and again. Fine Super 100s wool is engineered with natural stretch for added ease and comfort. We have updated the look with distinctive new gold buttons. Tailored with smooth seams, clean lines and a better fit than most. Center vent, natural shoulders. Fully lined. 100% wool. Dry clean. Imported.", "promoDescription" : "", "productUrl" : "http://www.gl-green.com/p/executive-collection-regal-fit-blazer", "productImageUrl" : "https://images.josbank.com/is/image/JosBank/1JDC_75_EXECUTIVE_NAVY_MAIN?$browse_thumbnail$", "productImageFullSize" : "https://images.josbank.com/is/image/JosBank/1JDC_75_EXECUTIVE_NAVY_MAIN?$browse_thumbnail$", "price" : "", "regPrice" : "$438.00", "salePrice" : "$179.00", "label": "sale", "category" : "Big & Tall", "subcategory": "All Big & Tall", "stock": 1, "dimension53" : "No" }

{ "451322327" : { "48 Regal Short": ["Bright Navy"], "44 Regal Short": ["Bright Navy"], "42 Regal Regular": ["Bright Navy"], "50 Regal Short": ["Bright Navy"], "50 Regal Regular": ["Bright Navy"], "48 Regal Regular": ["Bright Navy"], "46 Regal Regular": ["Bright Navy"], "52 Regal Regular": ["Bright Navy"], "46 Regal Short": ["Bright Navy"], "44 Regal Regular": ["Bright Navy"], "42 Regal Short": ["Bright Navy"], "54 Regal Regular": ["Bright Navy"] } }

{ "id" : "451322327", "productName" : "Executive Collection Regal Fit Check Sportcoat", "productItem" : "12N7", "productDescription" : "Achieve a refined stylish look with this fine Executive Collection Sportcoat. Fully lined. Two button, notch lapel, side vents. Interior pockets. Classic check pattern. 100% wool. Dry clean only. Imported.", "promoDescription" : "", "productUrl" : "http://www.gl-green.com/p/executive-collection-regal-fit-check-sportcoat", "productImageUrl" : "https://images.josbank.com/is/image/JosBank/12N5_76_EXECUTIVE_BRIGHT_NAVY_MAIN?$browse_thumbnail$", "productImageFullSize" : "https://images.josbank.com/is/image/JosBank/12N5_76_EXECUTIVE_BRIGHT_NAVY_MAIN?$browse_thumbnail$", "price" : "", "regPrice" : "$438.00", "salePrice" : "$179.00", "label": "sale", "category" : "Big & Tall", "subcategory": "All Big & Tall", "stock": 1, "dimension53" : "No" }

{ "451515548" : { "50 Regular": ["Olive"], "48 Regular": ["Olive"], "50 Long": ["Olive"], "52 Regular": ["Olive"], "48 Long": ["Olive"] } }

{ "id" : "451515548", "productName" : "1905 Collection Tailored Fit Glen Plaid Sportcoat with brrr° comfort - Big & Tall", "productItem" : "13Y9", "productDescription" : "This fine Glen plaid and comes with notch lapels, a two-button closure, two flap pockets, and three interior pockets. It s crafted using brrr? comfort technology that continually keeps you cooler with natural-cooling minerals, a special fiber core that increases moisture wicking, and an enhanced airflow to boost cooling so you feel fresh. This sportcoat comes fully lined and features side vents. Fabric has woven in stretch. 98% wool, 2% spandex. Dry clean only. Imported.", "promoDescription" : "", "productUrl" : "http://www.gl-green.com/p/1905-collection-tailored-fit-glen-plaid-sportcoat-with-brrr-comfort-big-tall-13Y9", "productImageUrl" : "https://images.josbank.com/is/image/JosBank/13XZ_85_1905_OLIVE_MAIN?$browse_thumbnail$", "productImageFullSize" : "https://images.josbank.com/is/image/JosBank/13XZ_85_1905_OLIVE_MAIN?$browse_thumbnail$", "price" : "", "regPrice" : "$538.00", "salePrice" : "$179.00", "label": "sale", "category" : "Big & Tall", "subcategory": "All Big & Tall", "stock": 1, "dimension53" : "No" }

{ "451509007" : { "50 Regular": ["Blue"], "48 Regular": ["Blue"] } }

Buy 1 Get 1 Free! (Of equal or lesser value)

{ "id" : "451509007", "productName" : "Traveler Collection Traditional Fit Plaid Sportcoat - Big & Tall", "productItem" : "13W1", "productDescription" : "This Traveler's Collection sportcoat is ideal for your busy life, with a flattering Traditional Fit and water and stain resistance that keeps you looking sharp and neat longer. Two button, side vents. Fully lined. 100% wool. Dry clean only. Imported.", "promoDescription" : "Buy 1 Get 1 Free! (Of equal or lesser value)", "productUrl" : "http://www.gl-green.com/p/traveler-collection-traditional-fit-plaid-sportcoat-big-tall-13W1", "productImageUrl" : "https://images.josbank.com/is/image/JosBank/13W0_70_TRAVELER_BLUE_MAIN?$browse_thumbnail$", "productImageFullSize" : "https://images.josbank.com/is/image/JosBank/13W0_70_TRAVELER_BLUE_MAIN?$browse_thumbnail$", "price" : "$638.00", "regPrice" : "", "salePrice" : "", "label": "none", "category" : "Big & Tall", "subcategory": "All Big & Tall", "stock": 1, "dimension53" : "No" }

{ "451534661" : { "50 Regular": ["Blue"], "48 Regular": ["Blue"], "50 Long": ["Blue"], "48 Long": ["Blue"] } }

{ "id" : "451534661", "productName" : "Jos. A. Bank Tailored Fit Tonal Paisley Formal Dinner Jacket - Big & Tall", "productItem" : "14CG", "productDescription" : "With a rich paisley pattern this fine formal jacket will be the perfect choice for your special occasions. Fully lined. Interior pockets. One button closure. Satin peak lapel. Paisley patterned. 55% wool, 45% cotton. Dry clean only. Imported.", "promoDescription" : "", "productUrl" : "http://www.gl-green.com/p/jos-a-bank-tailored-fit-tonal-paisley-formal-dinner-jacket-big-tall-14CG", "productImageUrl" : "https://images.josbank.com/is/image/JosBank/14CF_70_JOSEPH_A_BANK_BLUE_MAIN?$browse_thumbnail$", "productImageFullSize" : "https://images.josbank.com/is/image/JosBank/14CF_70_JOSEPH_A_BANK_BLUE_MAIN?$browse_thumbnail$", "price" : "", "regPrice" : "$438.00", "salePrice" : "$179.00", "label": "sale", "category" : "Big & Tall", "subcategory": "New Arrivals", "stock": 1, "dimension53" : "No" }

{ "451536990" : null }

{ "id" : "451536990", "productName" : "1905 Collection Tailored Fit Plaid Sportcoat - Big & Tall", "productItem" : "14FT", "productDescription" : "Fashion forward with vintage appeal, this 1905 Collection sportcoat has a classic plaid pattern and a Tailored Fit. Two button, notch lapel, side vents. Fully lined, with interior pockets. 100% wool. Dry clean only. Imported.", "promoDescription" : "", "productUrl" : "http://www.gl-green.com/p/1905-collection-tailored-fit-plaid-sportcoat-big-tall-14FT", "productImageUrl" : "https://images.josbank.com/is/image/JosBank/14FR_38_1905_BROWN_MAIN?$browse_thumbnail$", "productImageFullSize" : "https://images.josbank.com/is/image/JosBank/14FR_38_1905_BROWN_MAIN?$browse_thumbnail$", "price" : "", "regPrice" : "$538.00", "salePrice" : "$179.00", "label": "sale", "category" : "Big & Tall", "subcategory": "All Big & Tall", "stock": 1, "dimension53" : "No" }

{ "451509003" : { "50 Regular": ["Brown"], "48 Regular": ["Brown"], "50 Long": ["Brown"], "48 Long": ["Brown"] } }

Buy 1 Get 1 Free! (Of equal or lesser value)

{ "id" : "451509003", "productName" : "Traveler Collection Traditional Fit Windowpane Sportcoat - Big & Tall", "productItem" : "13VX", "productDescription" : "This Traveler's Collection sportcoat is ideal for your busy life, with a flattering Traditional Fit and water and stain resistance that keeps you looking sharp and neat longer. Two button, notch lapel, side vents. Interior pockets. 100% wool. Dry clean only. Imported.", "promoDescription" : "Buy 1 Get 1 Free! (Of equal or lesser value)", "productUrl" : "http://www.gl-green.com/p/traveler-collection-traditional-fit-windowpane-sportcoat-big-tall-13VX", "productImageUrl" : "https://images.josbank.com/is/image/JosBank/13VW_38_TRAVELER_BROWN_MAIN?$browse_thumbnail$", "productImageFullSize" : "https://images.josbank.com/is/image/JosBank/13VW_38_TRAVELER_BROWN_MAIN?$browse_thumbnail$", "price" : "$638.00", "regPrice" : "", "salePrice" : "", "label": "none", "category" : "Big & Tall", "subcategory": "All Big & Tall", "stock": 1, "dimension53" : "No" }

{ "451211614" : { "54 Regular": ["Navy"], "56 Long": ["Navy"], "50 Regular": ["Navy"], "48 Regular": ["Navy"], "50 Long": ["Navy"], "56 Regular": ["Navy"], "52 Long": ["Navy"], "52 Regular": ["Navy"], "44 X Long": ["Navy"], "42 X Long": ["Navy"], "48 Long": ["Navy"] } }

Buy 1 Get 1 Free! (Of equal or lesser value)

{ "id" : "451211614", "productName" : "Reserve Collection Tailored Fit Blazer - Big & Tall", "productItem" : "11YW", "productDescription" : "Create a classic look with this trim, Tailored Fit blazer from the Reserve Collection. Two-button, side vents. notch lapel. Patterned Bemberg lining. Chest piece --1\/2 canvas construction best enables garment to mold to body. Three-inch lapel. 100% wool. Dry clean. Imported.", "promoDescription" : "Buy 1 Get 1 Free! (Of equal or lesser value)", "productUrl" : "http://www.gl-green.com/p/reserve-collection-tailored-fit-blazer-big-tall", "productImageUrl" : "https://images.josbank.com/is/image/JosBank/11YV_75_JOS_A_BANK_RESERVE_NAVY_MAIN?$browse_thumbnail$", "productImageFullSize" : "https://images.josbank.com/is/image/JosBank/11YV_75_JOS_A_BANK_RESERVE_NAVY_MAIN?$browse_thumbnail$", "price" : "$738.00", "regPrice" : "", "salePrice" : "", "label": "none", "category" : "Big & Tall", "subcategory": "All Big & Tall", "stock": 1, "dimension53" : "No" }

{ "451515556" : { "50 Regular": ["Bright Blue"], "48 Regular": ["Bright Blue"], "50 Long": ["Bright Blue"], "52 Long": ["Bright Blue"], "52 Regular": ["Bright Blue"], "44 X Long": ["Bright Blue"], "48 Long": ["Bright Blue"] } }

Buy 1 Get 1 Free! (Of equal or lesser value)

{ "id" : "451515556", "productName" : "Traveler Collection Tailored Fit Check Sportcoat - Big & Tall", "productItem" : "13YU", "productDescription" : "Traveler Collection sportcoats are stain, water, and wrinkle resistant -- ideal for the busy professional. Wool fabric is woven with comfortable stretch. Two button, notch lapel, side vents. Fully lined. Interior pockets. Straight flap pockets. Check pattern. 100% wool. Dry clean only. Imported.", "promoDescription" : "Buy 1 Get 1 Free! (Of equal or lesser value)", "productUrl" : "http://www.gl-green.com/p/traveler-collection-tailored-fit-check-sportcoat-big-tall-13YU", "productImageUrl" : "https://images.josbank.com/is/image/JosBank/13YT_73_TRAVELER_BRIGHT_BLUE_MAIN?$browse_thumbnail$", "productImageFullSize" : "https://images.josbank.com/is/image/JosBank/13YT_73_TRAVELER_BRIGHT_BLUE_MAIN?$browse_thumbnail$", "price" : "$638.00", "regPrice" : "", "salePrice" : "", "label": "none", "category" : "Big & Tall", "subcategory": "New Arrivals", "stock": 1, "dimension53" : "No" }
Related Products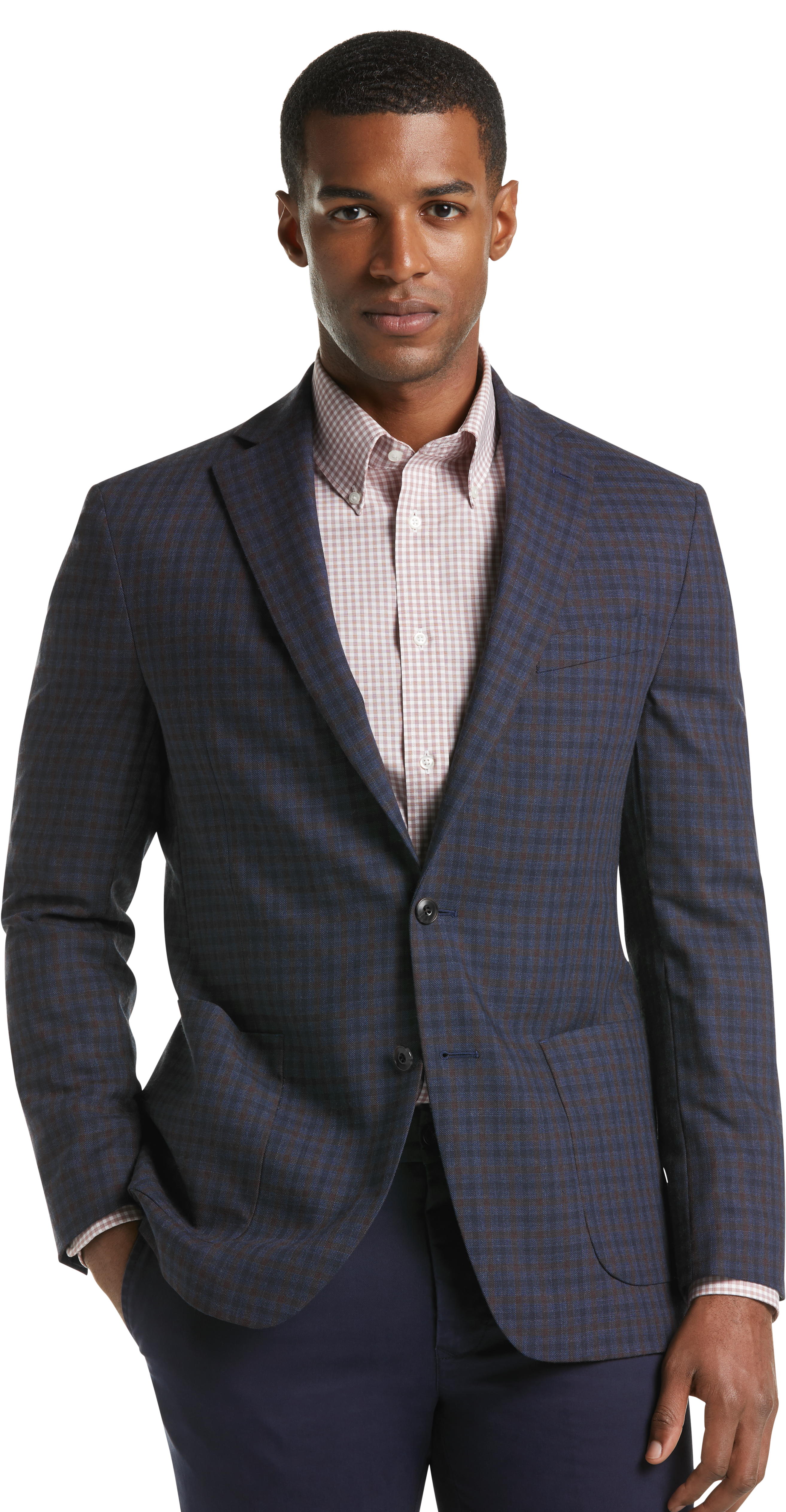 Description:
Our 1905 Collection sportcoats feature fine vintage details with a modern approach creating updated classic looks. This stylish sportcoat has a rich Tattersall pattern in fine wool. Two button, notch lapel, side vents. Fully lined, with interior pockets. 100% wool. ...
Description:
Classic and refined, our Executive Collection blazers feature the highest quality craftsmanship and timeless style you've been seeking. Our super 100s wool is engineered with natural stretch for ease of movement and comfort. Tailored with smooth seams and clean lines ...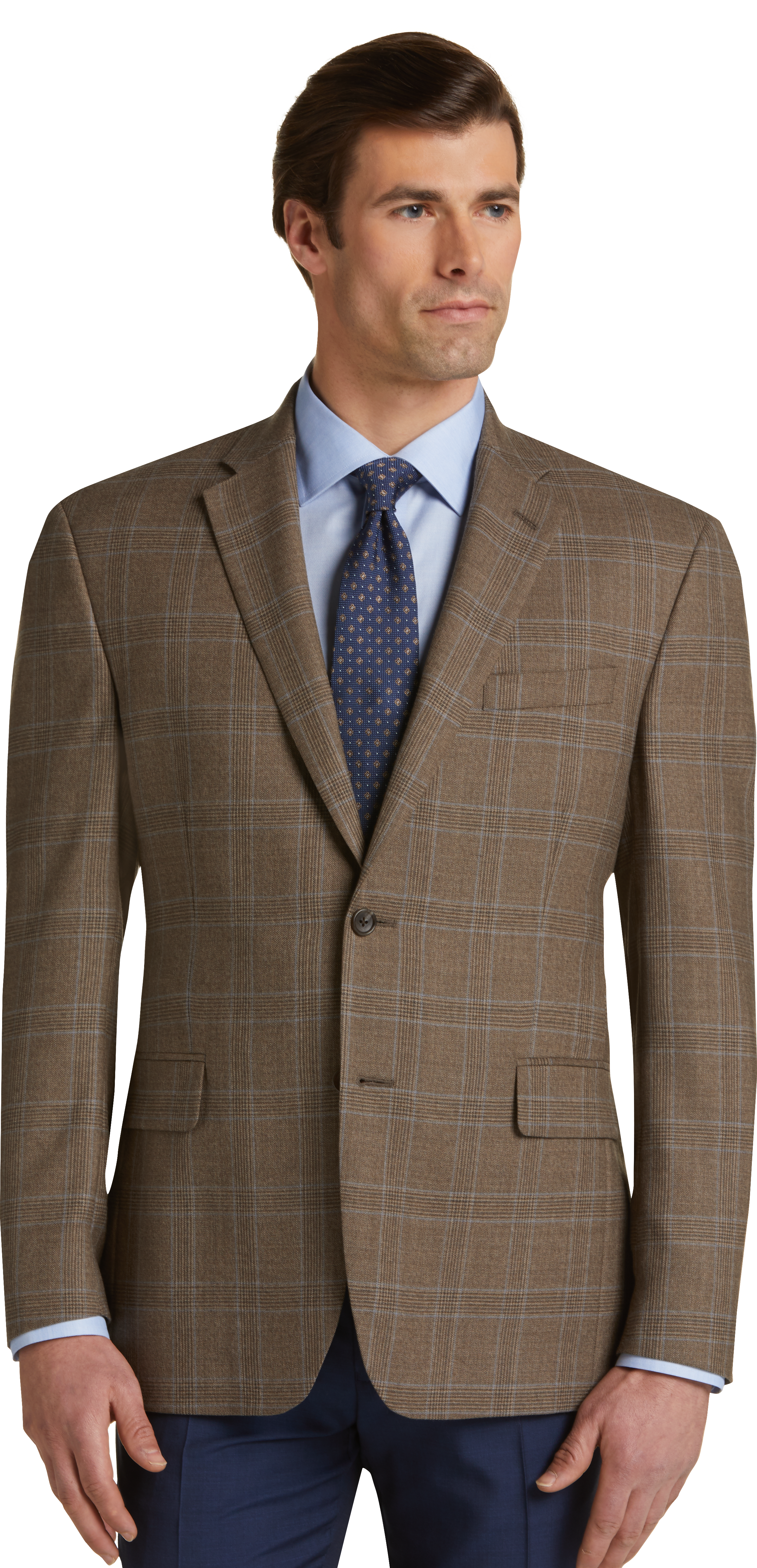 Description:
Make your mark with this stylish, fine wool sportcoat from the Signature Collection. Traditional Fit. Two button, side vents, notch lapel. Bemberg solid lining. No canvas chest piece - garment uses modern fusing technology. Sleeves constructed for the addition of ...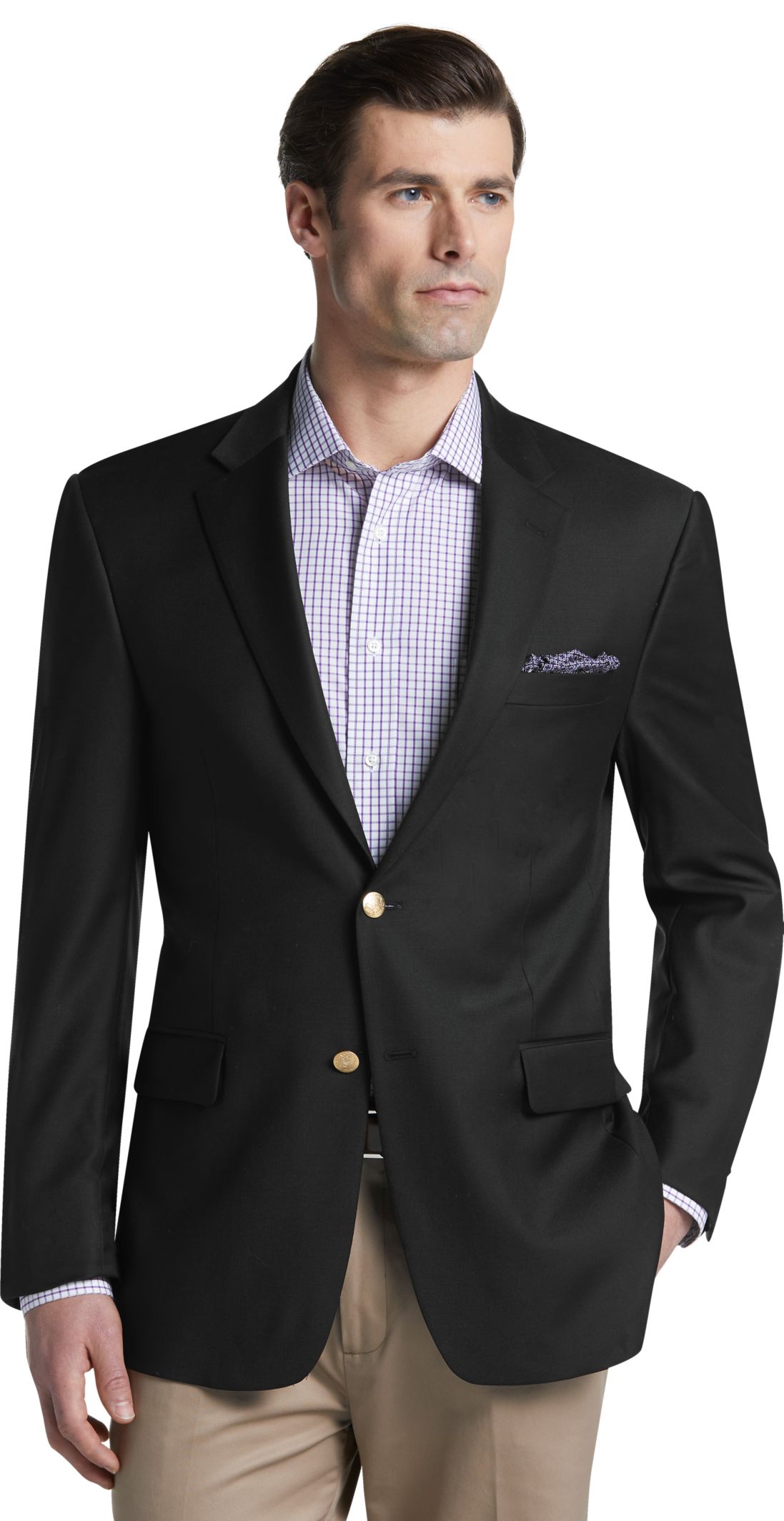 Description:
This Signature Collection blazer has classic Jos. A. Bank style, and is a wardrobe essential. Fine worsted wool features a soft hand and drape. Traditional Fit. Two button, side vents, notch lapel. All season weight fabric. Gold-tone buttons. Detailed with ...
Description:
This Travel Tech sportcoat features a unique fabric technology that maintains the optimum microclimate for your body. Named 37.5, it removes moisture at the vapor stage before sweat can form. 37.5 acts like a thermostat by removing moisture when you ...