Refine your results
SHOW
Show:

Press enter to collapse or expand the menu. For navigating with in Filter options, press tab. To select Filter options, press enter.

Clear All

Filter

Done

0

Products

Add filter

Reset filters
Product List
{ "450022549" : { "2 X Tall": [ "Charcoal", "Light Grey", "Navy", "Navy Heather", "Olive", "Plum", "Purple", "Rust", "Tan", "Violet", "Wine" ], "2 X Big": [ "Light Grey", "Plum", "Purple", "Tan", "Violet" ], "4 X Tall": [ "Light Grey", "Plum", "Rust", "Tan", "Wine" ], "3 X Big": [ "Light Grey", "Violet" ], "3 X Tall": [ "Charcoal", "Light Grey", "Navy", "Navy Heather", "Olive", "Plum", "Purple", "Rust", "Tan", "Violet", "Wine" ], "4 X Big": [ "Light Grey", "Navy", "Olive", "Plum", "Purple", "Tan" ], "XX Large": [ "Charcoal", "Light Grey", "Navy Heather", "Olive", "Plum", "Purple", "Rust", "Tan", "Violet", "Wine" ] } }

{ "id" : "450022549", "productName" : "Traveler Collection Merino Wool Quarter Zip Mock-Neck Sweater - Big & Tall", "productItem" : "6F6P", "productDescription" : "This easy-care merino wool sweater has a luxurious hand feel and a smooth knit. It easily slides on with a quarter zip placket, and a mock neck for warmth. It is fade and pill resistant in a vibrant, classic hue. 100% merino wool. Machine washable. Imported.", "promoDescription" : "", "productUrl" : "http://www.gl-green.com/p/traveler-collection-merino-wool-quarter-zip-mock-neck-sweater-big-tall", "productImageUrl" : "https://images.josbank.com/is/image/JosBank/30928_003_main?$browse_thumbnail$", "productImageFullSize" : "https://images.josbank.com/is/image/JosBank/30928_003_main?$browse_thumbnail$", "price" : "", "regPrice" : "$159.50", "salePrice" : "$49.00", "label": "sale", "category" : "Big & Tall", "subcategory": "New Arrivals", "stock": 1, "dimension53" : "No" }

{ "451244851" : { "2 X Tall": [ "Burgundy", "Charcoal", "Dark Blue", "Purple", "Tan" ], "2 X Big": [ "Berry", "Burgundy", "Charcoal", "Dark Blue", "Dark Wash", "Light Grey", "Tan" ], "4 X Tall": [ "Burgundy", "Dark Blue", "Tan" ], "XX Large": [ "Aqua", "Berry", "Black", "Burgundy", "Charcoal", "Dark Blue", "Dark Wash", "Light Grey", "Navy", "Oatmeal", "Purple", "Tan" ] } }

{ "id" : "451244851", "productName" : "Traveler Collection Pima Cotton V-Neck Sweater - Big & Tall", "productItem" : "62X3", "productDescription" : "Woven in fine Pima cotton, this soft sweater features a traditional ribbed V-neck, cuffs, and hem. Smooth and not bulky, it makes an ideal layering piece. 100% cotton. Machine washable. Imported.", "promoDescription" : "", "productUrl" : "http://www.gl-green.com/p/traveler-collection-pima-cotton-v-neck-sweater-big-tall", "productImageUrl" : "https://images.josbank.com/is/image/JosBank/62X2_75_TRAVELER_NAVY_MAIN?$browse_thumbnail$", "productImageFullSize" : "https://images.josbank.com/is/image/JosBank/62X2_75_TRAVELER_NAVY_MAIN?$browse_thumbnail$", "price" : "", "regPrice" : "$119.50", "salePrice" : "$39.00", "label": "sale", "category" : "Big & Tall", "subcategory": "Traveler Sweaters", "stock": 1, "dimension53" : "No" }

{ "451258135" : { "2 X Tall": ["Tan"], "2 X Big": [ "Dark Blue", "Oatmeal", "Tan" ], "XX Large": [ "Dark Blue", "Oatmeal", "Tan" ], "Small": ["Oatmeal"] } }

{ "id" : "451258135", "productName" : "Traveler Collection Pima Cotton Quarter-Zip Sweater - Big & Tall", "productItem" : "63AV", "productDescription" : "This handsome sweater from the Traveler Collection is woven from 100% pima cotton for the ultimate in softness. Pill- and fade-resistant. Quarter-zip. Machine washable. Imported.", "promoDescription" : "", "productUrl" : "http://www.gl-green.com/p/traveler-collection-pima-cotton-quarter-zip-sweater-big-tall", "productImageUrl" : "https://images.josbank.com/is/image/JosBank/63AU_72_TRAVELER_DARK_BLUE_MAIN?$browse_thumbnail$", "productImageFullSize" : "https://images.josbank.com/is/image/JosBank/63AU_72_TRAVELER_DARK_BLUE_MAIN?$browse_thumbnail$", "price" : "", "regPrice" : "$129.50", "salePrice" : "$39.00", "label": "sale", "category" : "Big & Tall", "subcategory": "Traveler Sweaters", "stock": 1, "dimension53" : "No" }

{ "451522280" : { "2 X Tall": [ "Charcoal", "Dark Navy", "Light Grey", "Light Purple", "Olive" ], "2 X Big": [ "Light Grey", "Light Purple", "Olive" ], "3 X Tall": [ "Light Grey", "Light Purple", "Olive" ], "4 X Big": ["Light Purple"], "XX Large": [ "Charcoal", "Light Grey", "Light Purple", "Olive" ] } }

{ "id" : "451522280", "productName" : "Travel Tech Merino Wool Blend Quarter Zip Mock Neck Sweater - Big & Tall", "productItem" : "67LR", "productDescription" : "An easy care and wear classic pullover is a cool weather essential. This smooth-knit sweater creates a comfortable micro-climate for your body by removing excess moisture before you even begin to sweat. The built-in fabric technology doesn't wash out. Layer your Travel Tech pieces for more effective moisture wicking and comfort. 65% extra fine merino wool, 35% 37.5 polyester. Quarter zip mock neck. Machine washable. Imported.", "promoDescription" : "", "productUrl" : "http://www.gl-green.com/p/travel-tech-merino-wool-blend-quarter-zip-mock-neck-sweater-big-tall", "productImageUrl" : "https://images.josbank.com/is/image/JosBank/67LP_06_TRAVEL_TECH_CHARCOAL_MAIN?$browse_thumbnail$", "productImageFullSize" : "https://images.josbank.com/is/image/JosBank/67LP_06_TRAVEL_TECH_CHARCOAL_MAIN?$browse_thumbnail$", "price" : "", "regPrice" : "$159.50", "salePrice" : "$49.00", "label": "sale", "category" : "Big & Tall", "subcategory": "Traveler Sweaters", "stock": 1, "dimension53" : "No" }

{ "450022545" : { "Medium": ["Red"], "2 X Tall": [ "Black", "Bright Blue", "Charcoal", "Light Blue", "Light Grey", "Navy", "Navy Heather", "Olive", "Plum", "Purple", "Red", "Rust", "Tan", "Teal", "Turquoise", "Violet", "Walnut", "Wine" ], "2 X Big": [ "Black", "Bright Blue", "Charcoal", "French Blue", "Light Blue", "Light Grey", "Navy", "Navy Heather", "Olive", "Plum", "Purple", "Red", "Rust", "Tan", "Turquoise", "Violet", "Walnut", "Wine" ], "4 X Tall": [ "Black", "Bright Blue", "Brown", "Charcoal", "Dark Red", "French Blue", "Light Blue", "Light Grey", "Navy", "Navy Heather", "Olive", "Plum", "Purple", "Red", "Rust", "Tan", "Teal", "Turquoise", "Violet", "Walnut", "Wine" ], "3 X Big": [ "Navy", "Navy Heather", "Olive", "Plum", "Purple", "Red", "Rust", "Tan", "Violet", "Walnut" ], "3 X Tall": [ "Black", "Charcoal", "Dark Red", "Light Grey", "Navy", "Navy Heather", "Olive", "Plum", "Purple", "Red", "Rust", "Tan", "Teal", "Turquoise", "Violet", "Walnut", "Wine" ], "4 X Big": [ "Bright Blue", "Charcoal", "French Blue", "Light Blue", "Light Grey", "Navy", "Navy Heather", "Plum", "Purple", "Red", "Rust", "Tan", "Teal", "Turquoise", "Violet", "Wine" ], "XX Large": [ "Black", "Bright Blue", "Charcoal", "French Blue", "Light Blue", "Light Grey", "Navy", "Navy Heather", "Olive", "Plum", "Purple", "Red", "Rust", "Turquoise", "Violet", "Walnut", "Wine" ], "Small": ["Red"] } }

{ "id" : "450022545", "productName" : "Traveler Collection Merino Wool V-Neck Sweater - Big & Tall", "productItem" : "6F6K", "productDescription" : "Combining the ultimate in comfort and ease-of-care, this long-sleeve sweater sports a classic V-neck cut. Fade-resistant, it has a soft, luxurious feel. 100% merino wool. Machine wash. Imported.", "promoDescription" : "", "productUrl" : "http://www.gl-green.com/p/traveler-collection-washable-merino-wool-v-neck-sweater-big-tall", "productImageUrl" : "https://images.josbank.com/is/image/JosBank/6F6F_69_TRAVELER_TURQUOISE_MAIN?$browse_thumbnail$", "productImageFullSize" : "https://images.josbank.com/is/image/JosBank/6F6F_69_TRAVELER_TURQUOISE_MAIN?$browse_thumbnail$", "price" : "", "regPrice" : "$139.50", "salePrice" : "$49.00", "label": "sale", "category" : "Big & Tall", "subcategory": "New Arrivals", "stock": 1, "dimension53" : "No" }

{ "450023380" : { "4 X Tall": [ "Black", "Charcoal", "Tan", "Wine" ], "3 X Tall": [ "Black", "Navy" ], "4 X Big": ["Tan"] } }

{ "id" : "450023380", "productName" : "Traveler Collection Washable Merino Wool Sweater Vest - Big & Tall", "productItem" : "6GET", "productDescription" : "The superior softness, exceptional lightness and uncompromising quality of pure merino wool makes this vest an ideal choice. It is ultra-soft, fade-resistant and styled with traditional V-neck. 100% merino wool. Machine washable. Imported.", "promoDescription" : "", "productUrl" : "http://www.gl-green.com/p/traveler-collection-washable-merino-wool-sweater-vest-big-tall", "productImageUrl" : "https://images.josbank.com/is/image/JosBank/30940_041_main?$browse_thumbnail$", "productImageFullSize" : "https://images.josbank.com/is/image/JosBank/30940_041_main?$browse_thumbnail$", "price" : "", "regPrice" : "$129.50", "salePrice" : "$49.00", "label": "sale", "category" : "Big & Tall", "subcategory": "Traveler Sweaters", "stock": 1, "dimension53" : "No" }

{ "451521553" : { "2 X Tall": [ "Charcoal", "Navy", "Plum" ], "2 X Big": ["Navy"], "4 X Tall": ["Charcoal"], "3 X Tall": [ "Charcoal", "Navy" ], "XX Large": [ "Charcoal", "Navy" ] } }

{ "id" : "451521553", "productName" : "Traveler Collection Merino Wool Mock Neck Sweater - Big & Tall", "productItem" : "67KZ", "productDescription" : "This fine mock-neck sweater is woven with the superior softness, exceptional lightness and the uncompromising quality of pure merino wool. Machine Wash. Imported.", "promoDescription" : "", "productUrl" : "http://www.gl-green.com/p/traveler-collection-merino-wool-mock-neck-sweater-big-tall", "productImageUrl" : "https://images.josbank.com/is/image/JosBank/67KY_65_TRAVELER_PLUM_MAIN?$browse_thumbnail$", "productImageFullSize" : "https://images.josbank.com/is/image/JosBank/67KY_65_TRAVELER_PLUM_MAIN?$browse_thumbnail$", "price" : "", "regPrice" : "$159.50", "salePrice" : "$49.00", "label": "sale", "category" : "Big & Tall", "subcategory": "New Arrivals", "stock": 1, "dimension53" : "No" }

{ "451522278" : { "XX Large": ["Navy"] } }

{ "id" : "451522278", "productName" : "1905 Collection Cotton & Cashmere Blend Full-Zip Sweater - Big & Tall", "productItem" : "67LJ", "productDescription" : "Soft, thick and cozy, this full-zip sweater from the 1905 Collection is sure to become a go-to favorite. Layer it into your favorite casual looks. Made with ethically sourced cotton. 55% cotton, 25% nylon, 15% modal, 5% cashmere. Dry clean only. Imported.", "promoDescription" : "", "productUrl" : "http://www.gl-green.com/p/1905-collection-cotton-cashmere-blend-full-zip-sweater-big-tall", "productImageUrl" : "https://images.josbank.com/is/image/JosBank/67LH_75_1905_NAVY_MAIN?$browse_thumbnail$", "productImageFullSize" : "https://images.josbank.com/is/image/JosBank/67LH_75_1905_NAVY_MAIN?$browse_thumbnail$", "price" : "", "regPrice" : "$189.50", "salePrice" : "$49.00", "label": "sale", "category" : "Big & Tall", "subcategory": "New Arrivals", "stock": 1, "dimension53" : "No" }

{ "450022547" : { "XX Large": [ "Blue", "Brown", "Charcoal", "Green", "Light Green", "Light Grey", "Navy", "Peach", "Plum", "Purple", "Red", "Rust", "Tan", "Teal" ] } }

{ "id" : "450022547", "productName" : "Traveler Washable Merino Wool V Neck Sweater - Big & Tall", "productItem" : "6F6M", "productDescription" : "The superior softness, exceptional lightness and uncompromising quality of pure merino wool. Machine Washable. Imported.", "promoDescription" : "", "productUrl" : "http://www.gl-green.com/p/traveler-washable-merino-wool-v-neck-sweater-big-tall", "productImageUrl" : "https://images.josbank.com/is/image/JosBank/30924_040_main?$browse_thumbnail$", "productImageFullSize" : "https://images.josbank.com/is/image/JosBank/30924_040_main?$browse_thumbnail$", "price" : "", "regPrice" : "$139.50", "salePrice" : "$49.00", "label": "sale", "category" : "Big & Tall", "subcategory": "Traveler Sweaters", "stock": 1, "dimension53" : "No" }

{ "450023395" : { "2 X Tall": [ "Bright Blue", "Light Blue" ], "2 X Big": [ "Bright Blue", "Light Blue" ], "4 X Tall": ["Light Blue"], "3 X Tall": [ "Bright Blue", "Light Blue" ], "XX Large": [ "Bright Blue", "Light Blue" ] } }

{ "id" : "450023395", "productName" : "Traveler Collection Quarter Zip Merino Wool Sweater - Big & Tall", "productItem" : "6GF8", "productDescription" : "The superior softness, exceptional lightness and uncompromising quality of pure merino wool defines this ultra-soft, long-sleeve sweater. Pill- and fade-resistant, it's also machine washable. 100% merino wool. Imported.", "promoDescription" : "", "productUrl" : "http://www.gl-green.com/p/traveler-collection-quarter-zip-merino-wool-sweater-big-tall", "productImageUrl" : "https://images.josbank.com/is/image/JosBank/6GE4_71_TRAVELER_LIGHT_BLUE_MAIN?$browse_thumbnail$", "productImageFullSize" : "https://images.josbank.com/is/image/JosBank/6GE4_71_TRAVELER_LIGHT_BLUE_MAIN?$browse_thumbnail$", "price" : "", "regPrice" : "$159.50", "salePrice" : "$49.00", "label": "sale", "category" : "Big & Tall", "subcategory": "Traveler Sweaters", "stock": 1, "dimension53" : "No" }

{ "451521556" : { "XX Large": ["Charcoal"] } }

{ "id" : "451521556", "productName" : "Traveler Collection Pima Cotton Mock Neck Sweater - Big & Tall", "productItem" : "67L3", "productDescription" : "These smoothly woven sweater from the Traveler Collection is a classic look that layers well under sportcoats and jackets for a stylish look. Easy care. Ribbed knit cuffs, collar, and hem. Mock neck. 100% Pima cotton. Machine washable. Imported. Size XXL and all Tall sizes come in Tailored Fit. All other sizes come in Traditional Fit.", "promoDescription" : "", "productUrl" : "http://www.gl-green.com/p/traveler-collection-pima-cotton-mock-neck-sweater-big-tall", "productImageUrl" : "https://images.josbank.com/is/image/JosBank/65VN_06_TRAVELER_CHARCOAL_MAIN?$browse_thumbnail$", "productImageFullSize" : "https://images.josbank.com/is/image/JosBank/65VN_06_TRAVELER_CHARCOAL_MAIN?$browse_thumbnail$", "price" : "", "regPrice" : "$129.50", "salePrice" : "$39.00", "label": "sale", "category" : "Big & Tall", "subcategory": "Traveler Sweaters", "stock": 1, "dimension53" : "No" }

{ "451524191" : { "2 X Tall": [ "Grey", "Navy" ], "2 X Big": [ "Grey", "Navy" ], "3 X Tall": [ "Grey", "Navy" ], "XX Large": [ "Grey", "Navy" ] } }

{ "id" : "451524191", "productName" : "Traveler Collection Merino Wool Turtleneck Sweater - Big & Tall", "productItem" : "67LU", "productDescription" : "This luxuriously soft classic is finely woven in extra fine merino wool for the ultimate in softness and comfort. It's styled with a trim, flattering fit, a turtle neck, and ribbed cuffs and hem. 100% extra fine merino wool. Machine Washable. Imported.", "promoDescription" : "", "productUrl" : "http://www.gl-green.com/p/traveler-collection-merino-wool-turtleneck-sweater-big-tall", "productImageUrl" : "https://images.josbank.com/is/image/JosBank/67LT_75_TRAVELER_NAVY_MAIN?$browse_thumbnail$", "productImageFullSize" : "https://images.josbank.com/is/image/JosBank/67LT_75_TRAVELER_NAVY_MAIN?$browse_thumbnail$", "price" : "", "regPrice" : "$159.50", "salePrice" : "$49.00", "label": "sale", "category" : "Big & Tall", "subcategory": "Traveler Sweaters", "stock": 1, "dimension53" : "No" }

{ "450023391" : { "2 X Tall": ["Light Blue"], "2 X Big": ["Light Blue"], "4 X Tall": ["Light Blue"], "3 X Tall": ["Light Blue"], "4 X Big": ["Light Blue"], "XX Large": ["Light Blue"] } }

{ "id" : "450023391", "productName" : "Traveler Collection Washable Merino Wool Sweater - Big & Tall", "productItem" : "6GF4", "productDescription" : "The superior softness, exceptional lightness and uncompromising quality of pure merino wool defines this ultra-soft, fade-resistant traditional V-neck sweater. Ribbed knit collar and cuffs. 100% merino wool. Machine washable. Imported.", "promoDescription" : "", "productUrl" : "http://www.gl-green.com/p/traveler-collection-washable-merino-wool-sweater-big-tall", "productImageUrl" : "https://images.josbank.com/is/image/JosBank/30927_045_main?$browse_thumbnail$", "productImageFullSize" : "https://images.josbank.com/is/image/JosBank/30927_045_main?$browse_thumbnail$", "price" : "", "regPrice" : "$139.50", "salePrice" : "$49.00", "label": "sale", "category" : "Big & Tall", "subcategory": "Traveler Sweaters", "stock": 1, "dimension53" : "No" }

{ "451526916" : { "2 X Big": ["Olive"], "XX Large": ["Olive"] } }

{ "id" : "451526916", "productName" : "Traveler Collection Traditional Fit Button-Down Collar Plaid Sportshirt - Big & Tall", "productItem" : "67VX", "productDescription" : "In a soft woven cotton, this sportshirt is both comfortable and easy-care thanks to its special finish that's stain-resistant and non-iron. It includes a left chest pocket, a center back box pleat and barrel cuffs. 100% cotton. Machine washable. Imported.", "promoDescription" : "", "productUrl" : "http://www.gl-green.com/p/traveler-collection-traditional-fit-button-down-collar-plaid-sportshirt-big-tall-67VX", "productImageUrl" : "https://images.josbank.com/is/image/JosBank/67VW_85_TRAVELER_OLIVE_MAIN?$browse_thumbnail$", "productImageFullSize" : "https://images.josbank.com/is/image/JosBank/67VW_85_TRAVELER_OLIVE_MAIN?$browse_thumbnail$", "price" : "", "regPrice" : "$99.50", "salePrice" : "$45.00", "label": "sale", "category" : "Big & Tall", "subcategory": "New Arrivals", "stock": 1, "dimension53" : "No" }
Related Products
Description:
Layer your look with this classic cardigan from the 1905 Collection. This sweater features a thick cotton-blend weave that is smooth and tightly woven. It has a full button closure, notch lapel, front flap pockets, and suede elbow patches. Reinforced ...
Description:
Our 1905 Collection features pieces that are classic yet updated for coordinating with on-trend looks. This ribbed knit mock neck has woven details like elbow patch details, a comfortable quarter-zip placket, and a thick, soft weave that is never scratchy. ...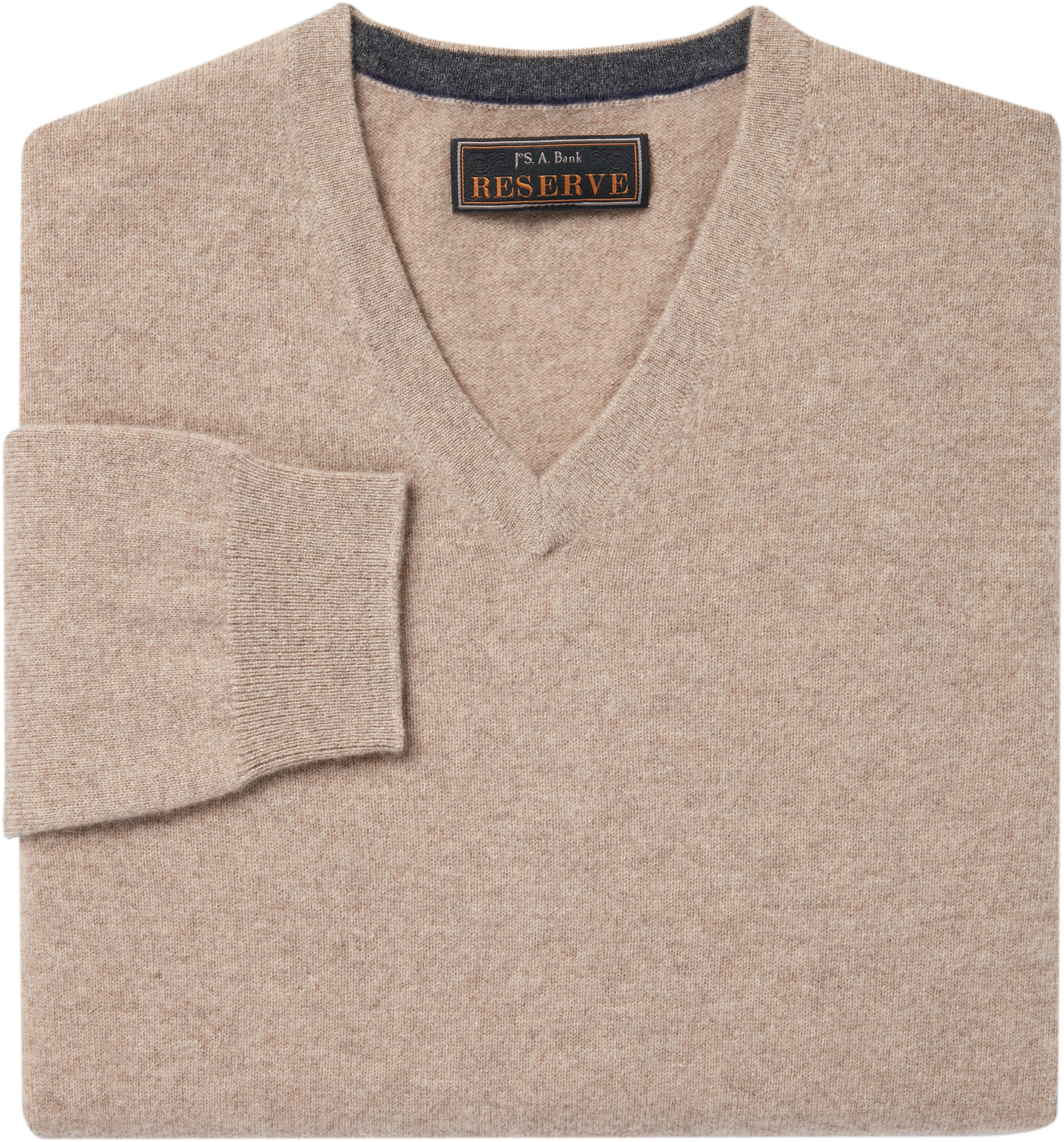 Description:
Luxuriously soft, with just the right weight for layering into your look, this fine cashmere sweater is tightly woven for a silky feel. It is styled with a V-neck, ribbed cuffs and hem, and a rich, classic hue. 100% cashmere. ...
Description:
This fine crewneck from the Reserve Collection features a woven basket weave pattern in a cotton and silk blend. Tailored Fit. 90% cotton, 10% silk. Dry clean only. Imported.
Description:
Weather resistant and warm, this quarter-zip pullover has a smooth knit that keeps inclement weather at bay. This casual-wear favorite is finished with micro-suede piping details at the zipper, banded cuffs, and a straight hem. 78% cotton, 17% polyester, 5% ...