Refine your results
SHOW
Show:

Press enter to collapse or expand the menu. For navigating with in Filter options, press tab. To select Filter options, press enter.

Clear All

Filter

Done

0

Products

Add filter

Reset filters
Product List
{ "451491018" : { "11 D Width": [ "Black", "Brown" ], "8.5 D Width": [ "Black", "Brown" ], "9.5 D Width": [ "Black", "Brown" ], "13 D Width": [ "Black", "Brown" ], "12 D Width": [ "Black", "Brown" ], "14 D Width": [ "Black", "Brown" ], "10.5 D Width": [ "Black", "Brown" ], "8 D Width": [ "Black", "Brown" ], "10 D Width": [ "Black", "Brown" ], "9 D Width": [ "Black", "Brown" ] } }

Buy 1 Get 1 50% Off (Of equal or lesser value)

{ "id" : "451491018", "productName" : "Joseph Abboud Morrison Plain Toe Derbys", "productItem" : "41GT", "productDescription" : "Subtly stylish, the Morrison by Joseph Abboud features a matte finish on soft full grain leather and a plain toe. A fully cushioned insole provides all-day comfort. Four-eye lace ups. Manmade outsole. Spot clean. Genuine leather. Imported.", "promoDescription" : "Buy 1 Get 1 50% Off (Of equal or lesser value)", "productUrl" : "http://www.gl-green.com/p/joseph-abboud-morrison-plain-toe-derbys", "productImageUrl" : "https://images.josbank.com/is/image/JosBank/41GT_40_JOSEPH_ABBOUD_HERITAGE_BROWN_MAIN?$browse_thumbnail$", "productImageFullSize" : "https://images.josbank.com/is/image/JosBank/41GT_40_JOSEPH_ABBOUD_HERITAGE_BROWN_MAIN?$browse_thumbnail$", "price" : "$110.00", "regPrice" : "", "salePrice" : "", "label": "none", "category" : "Shoes", "subcategory": "Joseph Abboud", "stock": 1, "dimension53" : "No" }

{ "451375265" : { "11 D Width": ["Cognac"], "8.5 D Width": ["Cognac"], "9.5 D Width": ["Cognac"], "13 D Width": ["Cognac"], "12 D Width": ["Cognac"], "10.5 D Width": ["Cognac"], "8 D Width": ["Cognac"], "10 D Width": ["Cognac"], "9 D Width": ["Cognac"] } }

Going Fast

Buy 1 Get 1 50% Off (Of equal or lesser value)

{ "id" : "451375265", "productName" : "Joseph Abboud Carmel Cap Toe Sneakers", "productItem" : "41ET", "productDescription" : "Complete a stylish casual look with these fine leather sneakers from Joseph Abboud. Polished waxy leather upper with textured detail. Cushioned memory foam footbed. Pig suede sock liner. Large metal round eyelets. Off-white rubber outsole. Spot clean. Genuine leather. Imported.", "promoDescription" : "Buy 1 Get 1 50% Off (Of equal or lesser value)", "productUrl" : "http://www.gl-green.com/p/joseph-abboud-carmel-cap-toe-sneakers", "productImageUrl" : "https://images.josbank.com/is/image/JosBank/41ET_16_JOSEPH_ABBOUD_HERITAGE_COGNAC_MAIN?$browse_thumbnail$", "productImageFullSize" : "https://images.josbank.com/is/image/JosBank/41ET_16_JOSEPH_ABBOUD_HERITAGE_COGNAC_MAIN?$browse_thumbnail$", "price" : "$99.00", "regPrice" : "", "salePrice" : "", "label": "none", "category" : "Shoes", "subcategory": "Joseph Abboud", "stock": 1, "dimension53" : "No" }

{ "451267606" : { "11 D Width": ["Tan"], "8.5 D Width": ["Tan"], "9.5 D Width": ["Tan"], "13 D Width": ["Tan"], "12 D Width": ["Tan"], "14 D Width": ["Tan"], "10.5 D Width": ["Tan"], "10 D Width": ["Tan"], "9 D Width": ["Tan"] } }

Going Fast

Buy 1 Get 1 50% Off (Of equal or lesser value)

{ "id" : "451267606", "productName" : "Joseph Abboud Cabrillo Chelsea Boots", "productItem" : "419E", "productDescription" : "Smooth and polished, these fine ankle boots feature brogued detailing at the ankle and durable, rugged rubber outsoles. Fully cushioned\/padded insole. All leather uppers. Spot clean. Imported.", "promoDescription" : "Buy 1 Get 1 50% Off (Of equal or lesser value)", "productUrl" : "http://www.gl-green.com/p/joseph-abboud-cabrillo-chelsea-boots", "productImageUrl" : "https://images.josbank.com/is/image/JosBank/419E_16_JOSEPH_ABBOUD_HERITAGE_TAN_MAIN?$browse_thumbnail$", "productImageFullSize" : "https://images.josbank.com/is/image/JosBank/419E_16_JOSEPH_ABBOUD_HERITAGE_TAN_MAIN?$browse_thumbnail$", "price" : "$110.00", "regPrice" : "", "salePrice" : "", "label": "none", "category" : "Featured", "subcategory": "Ready for Anything", "stock": 1, "dimension53" : "No" }

{ "451452105" : { "11 D Width": [ "Black", "Blue", "Bourbon Suede/I", "British Tan", "Light Grey", "Mocha", "Moss", "Navy Suede/Ivor" ], "11.5 D Width": [ "Black", "Bourbon Suede/I", "British Tan", "Light Grey", "Navy Suede/Ivor" ], "8.5 D Width": [ "Black", "Blue", "Bourbon Suede/I", "British Tan", "Light Grey", "Mocha", "Navy Suede/Ivor" ], "9.5 D Width": [ "Black", "Blue", "Bourbon Suede/I", "British Tan", "Light Grey", "Mocha", "Moss", "Navy Suede/Ivor" ], "13 D Width": [ "Black", "Blue", "Bourbon Suede/I", "British Tan", "Light Grey", "Mocha", "Moss", "Navy Suede/Ivor" ], "12 D Width": [ "Black", "Blue", "Bourbon Suede/I", "British Tan", "Light Grey", "Mocha", "Moss", "Navy Suede/Ivor" ], "14 D Width": [ "Bourbon Suede/I", "British Tan" ], "10.5 D Width": [ "Black", "Blue", "Bourbon Suede/I", "British Tan", "Light Grey", "Mocha", "Moss", "Navy Suede/Ivor" ], "8 D Width": [ "Black", "Blue", "Mocha" ], "10 D Width": [ "Black", "Blue", "Bourbon Suede/I", "British Tan", "Light Grey", "Mocha", "Moss", "Navy Suede/Ivor" ], "9 D Width": [ "Black", "Blue", "Bourbon Suede/I", "British Tan", "Light Grey", "Mocha", "Moss", "Navy Suede/Ivor" ] } }

{ "id" : "451452105", "productName" : "Cole Haan Zerogrand Navy Suede Wingtip Oxfords", "productItem" : "41F7", "productDescription" : "A stylish combo of casual and dress, these Zerogrand shoes by Cole Haan have brogued wingtip details and a flexible, segmented rubber sole. Softly cushioned, they'll provide a spring to your step. Genuine leather upper, lining and trim. Lace up. Rubber sole. Spot clean. Imported.", "promoDescription" : "", "productUrl" : "http://www.gl-green.com/p/cole-haan-zerogrand-navy-suede-wingtip-oxfords", "productImageUrl" : "https://images.josbank.com/is/image/JosBank/41F7_75_NAVY_SUEDE_IVOR_MAIN?$browse_thumbnail$", "productImageFullSize" : "https://images.josbank.com/is/image/JosBank/41F7_75_NAVY_SUEDE_IVOR_MAIN?$browse_thumbnail$", "price" : "$190.00", "regPrice" : "", "salePrice" : "", "label": "none", "category" : "Shoes", "subcategory": "Cole Haan", "stock": 1, "dimension53" : "No" }

{ "451492786" : { "11 D Width": [ "Black", "Cognac" ], "8.5 D Width": [ "Black", "Cognac" ], "9.5 D Width": [ "Black", "Cognac" ], "13 D Width": [ "Black", "Cognac" ], "12 D Width": [ "Black", "Cognac" ], "10.5 D Width": [ "Black", "Cognac" ], "10 D Width": [ "Black", "Cognac" ], "9 D Width": [ "Black", "Cognac" ] } }

Buy 1 Get 1 50% Off (Of equal or lesser value)

{ "id" : "451492786", "productName" : "Joseph Abboud Travel Tech Fletcher Moc Toe Lace Up Shoes", "productItem" : "41H0", "productDescription" : "These classic moc toe lace ups feature a highly polished upper and a soft, non-slip rubber outsole. Cushioned insole with arch cookie and gel pad technology. 37.5 fabric technology built into the linings creates a microclimate comfort system for feet. Leather lined. Genuine leather upper. Spot clean. Imported.", "promoDescription" : "Buy 1 Get 1 50% Off (Of equal or lesser value)", "productUrl" : "http://www.gl-green.com/p/joseph-abboud-travel-tech-fletcher-moc-toe-lace-up-shoes", "productImageUrl" : "https://images.josbank.com/is/image/JosBank/41H0_16_JOSEPH_ABBOUD_HERITAGE_COGNAC_MAIN?$browse_thumbnail$", "productImageFullSize" : "https://images.josbank.com/is/image/JosBank/41H0_16_JOSEPH_ABBOUD_HERITAGE_COGNAC_MAIN?$browse_thumbnail$", "price" : "$175.00", "regPrice" : "", "salePrice" : "", "label": "none", "category" : "Featured", "subcategory": "Ready for Anything", "stock": 1, "dimension53" : "No" }

{ "451432128" : { "11 D Width": [ "Black", "Ironstone", "Navy", "White" ], "8.5 D Width": [ "Ironstone", "Navy" ], "9.5 D Width": [ "Black", "Ironstone", "Navy" ], "13 D Width": [ "Black", "Ironstone", "Navy" ], "12 D Width": [ "Black", "Ironstone", "Navy" ], "10.5 D Width": [ "Black", "Ironstone", "Navy", "White" ], "10 D Width": [ "Black", "Ironstone", "Navy" ], "9 D Width": [ "Black", "Ironstone", "Navy" ] } }

{ "id" : "451432128", "productName" : "Cole Haan Zerogrand Stitchlite Sneakers", "productItem" : "41F0", "productDescription" : "Lightweight and flexible, these Cole Haan casual shoes are a stylish way to be comfortable and on trend. The textile knit upper features wingtip details with maximum breathability and comfort. Sock-like fit. Wear with anything design. Segmented rubber outsole is supremely flexible, perfect for active, on-the-go wear. Soft cushioned insole. Spot clean. Textile upper. Man-made outsole. Imported.", "promoDescription" : "", "productUrl" : "http://www.gl-green.com/p/cole-haan-zerogrand-stitchlite-sneakers-41F0", "productImageUrl" : "https://images.josbank.com/is/image/JosBank/41F0_75_COLE_HAAN_NAVY_MAIN?$browse_thumbnail$", "productImageFullSize" : "https://images.josbank.com/is/image/JosBank/41F0_75_COLE_HAAN_NAVY_MAIN?$browse_thumbnail$", "price" : "$180.00", "regPrice" : "", "salePrice" : "", "label": "none", "category" : "Shoes", "subcategory": "Cole Haan", "stock": 1, "dimension53" : "No" }

{ "451531134" : { "11 D Width": ["Coffee"], "8.5 D Width": ["Coffee"], "9.5 D Width": ["Coffee"], "13 D Width": ["Coffee"], "12 D Width": ["Coffee"], "10.5 D Width": ["Coffee"], "10 D Width": ["Coffee"], "9 D Width": ["Coffee"] } }

Going Fast

Buy 1 Get 1 50% Off (Of equal or lesser value)

{ "id" : "451531134", "productName" : "Joseph Abboud Crawford Wing Tip Chukka Boots", "productItem" : "41MM", "productDescription" : "Sleek and stylish, these chukka-style boots have handsome burnished leather uppers, classic wingtip toes and fully cushioned insoles for maximum comfort. Fully leather lined. Durable manmade rubber outsoles. Imported.", "promoDescription" : "Buy 1 Get 1 50% Off (Of equal or lesser value)", "productUrl" : "http://www.gl-green.com/p/joseph-abboud-crawford-wing-tip-chukka-boots", "productImageUrl" : "https://images.josbank.com/is/image/JosBank/41MM_42_JOSEPH_ABBOUD_HERITAGE_COFFEE_MAIN?$browse_thumbnail$", "productImageFullSize" : "https://images.josbank.com/is/image/JosBank/41MM_42_JOSEPH_ABBOUD_HERITAGE_COFFEE_MAIN?$browse_thumbnail$", "price" : "$155.00", "regPrice" : "", "salePrice" : "", "label": "none", "category" : "Shoes", "subcategory": "Joseph Abboud", "stock": 1, "dimension53" : "No" }

{ "451516569" : { "11 D Width": [ "British Tan", "Taupe" ], "11.5 D Width": ["British Tan"], "8.5 D Width": [ "British Tan", "Taupe" ], "9.5 D Width": [ "British Tan", "Taupe" ], "13 D Width": ["British Tan"], "12 D Width": ["British Tan"], "14 D Width": ["Taupe"], "10.5 D Width": [ "British Tan", "Taupe" ], "10 D Width": [ "British Tan", "Taupe" ], "9 D Width": [ "British Tan", "Taupe" ] } }

Going Fast

Buy 1 Get 1 50% Off (Of equal or lesser value)

{ "id" : "451516569", "productName" : "Cole Haan Morris Plain Toe Oxfords", "productItem" : "41L0", "productDescription" : "These fine leather derbys by Cole Haan have matte finished uppers with fine stitched details throughout and smooth plain toes. A leather and textile covered molded footbed provides comfort and flexibility. The soft rubber outsole has a textured surface that will give you comfortable grip and traction for non-slip wear. Spot clean. Genuine leather. Imported.", "promoDescription" : "Buy 1 Get 1 50% Off (Of equal or lesser value)", "productUrl" : "http://www.gl-green.com/p/cole-haan-morris-plain-toe-oxfords", "productImageUrl" : "https://images.josbank.com/is/image/JosBank/41L0_19_BRITISH_TAN_MAIN?$browse_thumbnail$", "productImageFullSize" : "https://images.josbank.com/is/image/JosBank/41L0_19_BRITISH_TAN_MAIN?$browse_thumbnail$", "price" : "$150.00", "regPrice" : "", "salePrice" : "", "label": "none", "category" : "Shoes", "subcategory": "Cole Haan", "stock": 1, "dimension53" : "No" }

{ "451260696" : { "11 D Width": [ "Black", "Woodbury" ], "8.5 D Width": [ "Black", "Woodbury" ], "9.5 D Width": [ "Black", "Woodbury" ], "13 D Width": [ "Black", "Woodbury" ], "12 D Width": [ "Black", "Woodbury" ], "10.5 D Width": [ "Black", "Woodbury" ], "10 D Width": [ "Black", "Woodbury" ], "9 D Width": [ "Black", "Woodbury" ] } }

Going Fast

Buy 1 Get 1 50% Off (Of equal or lesser value)

{ "id" : "451260696", "productName" : "Cole Haan Watson Casual Wingtip Oxfords", "productItem" : "414W", "productDescription" : "These classic wingtip Oxfords feature brogued detailing on the toes and vamp, and a softly cushioned insole. Suede and leather lined. Lace up. Genuine leather uppers. Spot clean. Imported.", "promoDescription" : "Buy 1 Get 1 50% Off (Of equal or lesser value)", "productUrl" : "http://www.gl-green.com/p/cole-haan-watson-casual-wingtip-oxfords", "productImageUrl" : "https://images.josbank.com/is/image/JosBank/414W_16_COLE_HAAN_WOODBURY_MAIN?$browse_thumbnail$", "productImageFullSize" : "https://images.josbank.com/is/image/JosBank/414W_16_COLE_HAAN_WOODBURY_MAIN?$browse_thumbnail$", "price" : "$150.00", "regPrice" : "", "salePrice" : "", "label": "none", "category" : "Shoes", "subcategory": "Cole Haan", "stock": 1, "dimension53" : "No" }

{ "451486976" : { "11 D Width": ["Black"], "8.5 D Width": ["Black"], "9.5 D Width": ["Black"], "13 D Width": ["Black"], "12 D Width": ["Black"], "10.5 D Width": ["Black"], "10 D Width": ["Black"], "9 D Width": ["Black"] } }

Buy 1 Get 1 50% Off (Of equal or lesser value)

{ "id" : "451486976", "productName" : "J. Murphy by Johnston & Murphy Harmon Chelsea Boots", "productItem" : "41G3", "productDescription" : "These finely crafted Chelsea boots feature a smooth polished upper with elastic side gussets for comfortable, easy wear. Leather lined. Bondwelt construction. Leather outsole. Soft calf leather upper. Spot clean. Imported.", "promoDescription" : "Buy 1 Get 1 50% Off (Of equal or lesser value)", "productUrl" : "http://www.gl-green.com/p/j-murphy-by-johnston-murphy-harmon-chelsea-boots", "productImageUrl" : "https://images.josbank.com/is/image/JosBank/41G3_01_J_MURPHY_BLACK_MAIN?$browse_thumbnail$", "productImageFullSize" : "https://images.josbank.com/is/image/JosBank/41G3_01_J_MURPHY_BLACK_MAIN?$browse_thumbnail$", "price" : "$170.00", "regPrice" : "", "salePrice" : "", "label": "none", "category" : "Featured", "subcategory": "Ready for Anything", "stock": 1, "dimension53" : "No" }

{ "451260235" : { "11 D Width": [ "Black/Ironstone", "Blue/Ironstone", "Ch Chestnut Nub", "Magnet Nubuck/P", "Woodbury", "Woodbury/Java" ], "11.5 D Width": [ "Blue/Ironstone", "Woodbury", "Woodbury/Java" ], "8.5 D Width": [ "Black/Ironstone", "Blue/Ironstone", "Ch Chestnut Nub", "Magnet Nubuck/P", "Woodbury", "Woodbury/Java" ], "9.5 D Width": [ "Blue/Ironstone", "Ch Chestnut Nub", "Magnet Nubuck/P", "Woodbury", "Woodbury/Java" ], "13 D Width": [ "Black/Ironstone", "Blue/Ironstone", "Magnet Nubuck/P", "Woodbury", "Woodbury/Java" ], "12 D Width": [ "Black/Ironstone", "Blue/Ironstone", "Ch Chestnut Nub", "Magnet Nubuck/P", "Woodbury", "Woodbury/Java" ], "14 D Width": [ "Ch Chestnut Nub", "Woodbury", "Woodbury/Java" ], "7.5 D Width": ["Woodbury"], "10.5 D Width": [ "Black/Ironstone", "Blue/Ironstone", "Ch Chestnut Nub", "Magnet Nubuck/P", "Woodbury", "Woodbury/Java" ], "8 D Width": ["Woodbury"], "15 D Width": ["Ch Chestnut Nub"], "10 D Width": [ "Black/Ironstone", "Blue/Ironstone", "Ch Chestnut Nub", "Magnet Nubuck/P", "Woodbury", "Woodbury/Java" ], "9 D Width": [ "Black/Ironstone", "Blue/Ironstone", "Ch Chestnut Nub", "Magnet Nubuck/P", "Woodbury", "Woodbury/Java" ] } }

{ "id" : "451260235", "productName" : "Cole Haan Original Grand Wingtip Oxfords", "productItem" : "414T", "productDescription" : "These classic wingtips have a sporty feel with a soft rubber outsole for added comfort. Smooth leather with smart brogue details on the upper provide a polished look. Cushioned insole. Leather and manmade lining. Imported.", "promoDescription" : "", "productUrl" : "http://www.gl-green.com/p/cole-haan-original-grand-wingtip-oxfords", "productImageUrl" : "https://images.josbank.com/is/image/JosBank/414T_03_MAGNET_NUBUCK_P_MAIN?$browse_thumbnail$", "productImageFullSize" : "https://images.josbank.com/is/image/JosBank/414T_03_MAGNET_NUBUCK_P_MAIN?$browse_thumbnail$", "price" : "$150.00", "regPrice" : "", "salePrice" : "", "label": "none", "category" : "Shoes", "subcategory": "Cole Haan", "stock": 1, "dimension53" : "No" }

{ "450008575" : { "7 D Width": ["Brown"], "11 D Width": ["Brown"], "11.5 D Width": ["Brown"], "8.5 D Width": ["Brown"], "9.5 D Width": ["Brown"], "13 D Width": ["Brown"], "14 D Width": ["Brown"], "7.5 D Width": ["Brown"], "8 D Width": ["Brown"], "15 D Width": ["Brown"], "10 D Width": ["Brown"], "9 D Width": ["Brown"] } }

Buy 1 Get 1 50% Off (Of equal or lesser value)

{ "id" : "450008575", "productName" : "Tucker Venetian Shoes by Cole Haan", "productItem" : "4A80", "productDescription" : "Slip-on made of soft, flexible leather. Partially leather lined, durable Vibram rubber outsole. Imported.", "promoDescription" : "Buy 1 Get 1 50% Off (Of equal or lesser value)", "productUrl" : "http://www.gl-green.com/p/tucker-venetian-shoes-by-cole-haan-4A80", "productImageUrl" : "https://images.josbank.com/is/image/JosBank/4A80_38_COLE_HAAN_FRENCH_ROAST_MAIN?$browse_thumbnail$", "productImageFullSize" : "https://images.josbank.com/is/image/JosBank/4A80_38_COLE_HAAN_FRENCH_ROAST_MAIN?$browse_thumbnail$", "price" : "$148.00", "regPrice" : "", "salePrice" : "", "label": "none", "category" : "Shoes", "subcategory": "Cole Haan", "stock": 1, "dimension53" : "No" }

{ "451094075" : { "11 D Width": ["Brown Oiled"], "8.5 D Width": ["Brown Oiled"], "9.5 D Width": ["Brown Oiled"], "13 D Width": ["Brown Oiled"], "12 D Width": ["Brown Oiled"], "10.5 D Width": ["Brown Oiled"], "10 D Width": ["Brown Oiled"], "9 D Width": ["Brown Oiled"] } }

Going Fast

Buy 1 Get 1 50% Off (Of equal or lesser value)

{ "id" : "451094075", "productName" : "Joseph Abboud Lodi Chukka Boots", "productItem" : "40RV", "productDescription" : "Casually classic, these chukka boots feature a three-eye lace-up closure and a soft, oiled suede finish. Leather lined. Man-made soles. Genuine suede uppers. Spot clean only. Imported.", "promoDescription" : "Buy 1 Get 1 50% Off (Of equal or lesser value)", "productUrl" : "http://www.gl-green.com/p/joseph-abboud-lodi-chukka-boots", "productImageUrl" : "https://images.josbank.com/is/image/JosBank/40RV_40_JOSEPH_ABBOUD_HERITAGE_BROWN_OILED_MAIN?$browse_thumbnail$", "productImageFullSize" : "https://images.josbank.com/is/image/JosBank/40RV_40_JOSEPH_ABBOUD_HERITAGE_BROWN_OILED_MAIN?$browse_thumbnail$", "price" : "$125.00", "regPrice" : "", "salePrice" : "", "label": "none", "category" : "Shoes", "subcategory": "Joseph Abboud", "stock": 1, "dimension53" : "No" }

{ "451260698" : { "11 D Width": [ "Black", "Woodbury" ], "11.5 D Width": [ "Black", "Woodbury" ], "8.5 D Width": [ "Black", "Woodbury" ], "9.5 D Width": [ "Black", "Woodbury" ], "13 D Width": [ "Black", "Woodbury" ], "12 D Width": [ "Black", "Woodbury" ], "10.5 D Width": [ "Black", "Woodbury" ], "8 D Width": [ "Black", "Woodbury" ], "10 D Width": [ "Black", "Woodbury" ], "9 D Width": [ "Black", "Woodbury" ] } }

Buy 1 Get 1 50% Off (Of equal or lesser value)

{ "id" : "451260698", "productName" : "Cole Haan Pinch Friday Penny Loafers", "productItem" : "414Y", "productDescription" : "A classic favorite for dress-casual wear. These Cole Haan penny loafers feature hand sewn pinch moccasin construction. Partially leather lined. Veneered rubber unit outsole with textured forefoot for traction and comfort. Spot clean. Imported.", "promoDescription" : "Buy 1 Get 1 50% Off (Of equal or lesser value)", "productUrl" : "http://www.gl-green.com/p/cole-haan-pinch-friday-penny-loafers", "productImageUrl" : "https://images.josbank.com/is/image/JosBank/414Y_16_COLE_HAAN_WOODBURY_MAIN?$browse_thumbnail$", "productImageFullSize" : "https://images.josbank.com/is/image/JosBank/414Y_16_COLE_HAAN_WOODBURY_MAIN?$browse_thumbnail$", "price" : "$130.00", "regPrice" : "", "salePrice" : "", "label": "none", "category" : "Shoes", "subcategory": "Cole Haan", "stock": 1, "dimension53" : "No" }

{ "451531741" : { "11 D Width": ["Mocha"], "8.5 D Width": ["Mocha"], "9.5 D Width": ["Mocha"], "13 D Width": ["Mocha"], "12 D Width": ["Mocha"], "10.5 D Width": ["Mocha"], "10 D Width": ["Mocha"], "9 D Width": ["Mocha"] } }

Buy 1 Get 1 50% Off (Of equal or lesser value)

{ "id" : "451531741", "productName" : "Johnston & Murphy Lockhard Chukka Boot", "productItem" : "41N4", "productDescription" : "These classic chukka boots by Johnston & Murphy feature soft oil leather uppers with piped edges and leather quarter lining. A genuine crepe rubber sole imparts surefooted comfort to each step. Bondwelt construction. Genuine leather upper. Spot clean. Imported.", "promoDescription" : "Buy 1 Get 1 50% Off (Of equal or lesser value)", "productUrl" : "http://www.gl-green.com/p/johnston-murphy-lockhard-chukka-boot", "productImageUrl" : "https://images.josbank.com/is/image/JosBank/41N4_45_JOHNSTON_MURPHY_MOCHA_MAIN?$browse_thumbnail$", "productImageFullSize" : "https://images.josbank.com/is/image/JosBank/41N4_45_JOHNSTON_MURPHY_MOCHA_MAIN?$browse_thumbnail$", "price" : "$160.00", "regPrice" : "", "salePrice" : "", "label": "none", "category" : "Shoes", "subcategory": "Johnston & Murphy", "stock": 1, "dimension53" : "No" }

{ "450008436" : { "11 D Width": ["Black"], "11.5 D Width": ["Black"], "8.5 D Width": ["Black"], "9.5 D Width": ["Black"], "13 D Width": ["Black"], "12 D Width": ["Black"], "14 D Width": ["Black"], "10.5 D Width": ["Black"], "15 D Width": ["Black"], "10 D Width": ["Black"], "9 D Width": ["Black"] } }

Going Fast

Buy 1 Get 1 50% Off (Of equal or lesser value)

{ "id" : "450008436", "productName" : "Tucker Venetian Shoes by Cole Haan", "productItem" : "4A3H", "productDescription" : "Slip-on made of soft, flexible leather. Partially leather lined, durable Vibram rubber outsole. Imported.", "promoDescription" : "Buy 1 Get 1 50% Off (Of equal or lesser value)", "productUrl" : "http://www.gl-green.com/p/tucker-venetian-shoes-by-cole-haan-4A3H", "productImageUrl" : "https://images.josbank.com/is/image/JosBank/7364_001_main?$browse_thumbnail$", "productImageFullSize" : "https://images.josbank.com/is/image/JosBank/7364_001_main?$browse_thumbnail$", "price" : "$148.00", "regPrice" : "", "salePrice" : "", "label": "none", "category" : "Shoes", "subcategory": "Cole Haan", "stock": 1, "dimension53" : "No" }

{ "451529330" : { "11 D Width": [ "Black", "Cognac", "Dark Grey" ], "11.5 D Width": [ "Black", "Cognac", "Dark Grey" ], "8.5 D Width": [ "Black", "Cognac", "Dark Grey" ], "9.5 D Width": [ "Black", "Cognac", "Dark Grey" ], "13 D Width": [ "Black", "Cognac", "Dark Grey" ], "12 D Width": [ "Black", "Cognac", "Dark Grey" ], "10.5 D Width": [ "Black", "Cognac", "Dark Grey" ], "8 D Width": [ "Black", "Cognac", "Dark Grey" ], "10 D Width": [ "Black", "Cognac", "Dark Grey" ], "9 D Width": [ "Black", "Cognac", "Dark Grey" ] } }

{ "id" : "451529330", "productName" : "HP by Hush Puppies Colby Suede Causal Lace-Up Oxfords", "productItem" : "41M7", "productDescription" : "In soft, supple suede, these lace-up oxfords from HP by Hush Puppies are a casual menswear favorite. Detailed for stylish comfort, they have cushioned insoles and flexible segmented outsoles in a contrasting color. Genuine suede leather upper. Manmade outsole. Spot clean. Imported.", "promoDescription" : "", "productUrl" : "http://www.gl-green.com/p/hp-by-hush-puppies-colby-suede-causal-lace-up-oxfords", "productImageUrl" : "https://images.josbank.com/is/image/JosBank/41M7_01_HUSH_PUPPIES_BLACK_MAIN?$browse_thumbnail$", "productImageFullSize" : "https://images.josbank.com/is/image/JosBank/41M7_01_HUSH_PUPPIES_BLACK_MAIN?$browse_thumbnail$", "price" : "", "regPrice" : "$110.00", "salePrice" : "$79.00", "label": "sale", "category" : "Shoes", "subcategory": "All Shoes", "stock": 1, "dimension53" : "No" }

{ "451480978" : { "11 D Width": [ "Black Smooth", "Brandy Smooth" ], "11.5 D Width": [ "Black Smooth", "Brandy Smooth" ], "8.5 D Width": [ "Black Smooth", "Brandy Smooth" ], "9.5 D Width": [ "Black Smooth", "Brandy Smooth" ], "13 D Width": [ "Black Smooth", "Brandy Smooth" ], "12 D Width": [ "Black Smooth", "Brandy Smooth" ], "14 D Width": ["Black Smooth"], "7.5 D Width": ["Black Smooth"], "10.5 D Width": [ "Black Smooth", "Brandy Smooth" ], "8 D Width": ["Black Smooth"], "15 D Width": ["Black Smooth"], "10 D Width": [ "Black Smooth", "Brandy Smooth" ], "9 D Width": [ "Black Smooth", "Brandy Smooth" ] } }

Buy 1 Get 1 50% Off (Of equal or lesser value)

{ "id" : "451480978", "productName" : "Joseph Abboud Leland Chukka Boots", "productItem" : "41FT", "productDescription" : "Featuring a smooth, polished leather upper, these classic chukka boots can easily be dressed up or down. Pair them with your dress-casual work wear for a new look. Rubber outsole. Genuine leather. Spot clean. Imported.", "promoDescription" : "Buy 1 Get 1 50% Off (Of equal or lesser value)", "productUrl" : "http://www.gl-green.com/p/joseph-abboud-leland-chukka-boots", "productImageUrl" : "https://images.josbank.com/is/image/JosBank/41FT_18_JOSEPH_ABBOUD_HERITAGE_BRANDY_SMOOTH_MAIN?$browse_thumbnail$", "productImageFullSize" : "https://images.josbank.com/is/image/JosBank/41FT_18_JOSEPH_ABBOUD_HERITAGE_BRANDY_SMOOTH_MAIN?$browse_thumbnail$", "price" : "$155.00", "regPrice" : "", "salePrice" : "", "label": "none", "category" : "Featured", "subcategory": "Ready for Anything", "stock": 1, "dimension53" : "No" }

{ "451492785" : { "11 D Width": ["Grey"], "8.5 D Width": ["Grey"], "9.5 D Width": ["Grey"], "13 D Width": ["Grey"], "12 D Width": ["Grey"], "10.5 D Width": ["Grey"], "10 D Width": ["Grey"], "9 D Width": ["Grey"] } }

Going Fast

Buy 1 Get 1 50% Off (Of equal or lesser value)

{ "id" : "451492785", "productName" : "Joseph Abboud Travel Tech Cannon Plain Toe Suede Derby Shoes", "productItem" : "41GZ", "productDescription" : "In a soft, textured suede these Joseph Abboud derbys are understated and versatile. 37.5 fabric technology built into the linings creates a microclimate comfort system for feet. Cushioned insole with arch cookie support and gel pad technology provides maximum support. Rubber outsole. Blucher upper. Genuine suede upper with leather edge at ankle. Spot clean. Imported.", "promoDescription" : "Buy 1 Get 1 50% Off (Of equal or lesser value)", "productUrl" : "http://www.gl-green.com/p/joseph-abboud-travel-tech-cannon-plain-toe-suede-derby-shoes", "productImageUrl" : "https://images.josbank.com/is/image/JosBank/41GZ_03_JOSEPH_ABBOUD_HERITAGE_GREY_MAIN?$browse_thumbnail$", "productImageFullSize" : "https://images.josbank.com/is/image/JosBank/41GZ_03_JOSEPH_ABBOUD_HERITAGE_GREY_MAIN?$browse_thumbnail$", "price" : "$135.00", "regPrice" : "", "salePrice" : "", "label": "none", "category" : "Featured", "subcategory": "Ready for Anything", "stock": 1, "dimension53" : "No" }

{ "451534489" : { "11 D Width": ["Tobacco"], "8.5 D Width": ["Tobacco"], "9.5 D Width": [ "Black", "Tobacco" ], "12 D Width": [ "Black", "Tobacco" ], "10.5 D Width": [ "Black", "Tobacco" ], "10 D Width": [ "Black", "Tobacco" ], "9 D Width": [ "Black", "Tobacco" ] } }

{ "id" : "451534489", "productName" : "Johnston & Murphy Bryson Zip & Gore Wingtip Ankle Boot", "productItem" : "41NW", "productDescription" : "Lightweight and comfortable, these classic ankle boots have unique styling with wingtip details throughout and a combination zip and gore build. They have a tubular moccasin construction that imparts extreme flexibility. Soft sheepskin linings and full length padded footbeds with sheepskin coverings provide plush comfort throughout your day. Spot clean. Genuine leather. Flexible rubber outsole. Imported.", "promoDescription" : "", "productUrl" : "http://www.gl-green.com/p/johnston-murphy-bryson-zip-gore-wingtip-ankle-boot", "productImageUrl" : "https://images.josbank.com/is/image/JosBank/41NW_01_JOHNSTON_MURPHY_BLACK_MAIN?$browse_thumbnail$", "productImageFullSize" : "https://images.josbank.com/is/image/JosBank/41NW_01_JOHNSTON_MURPHY_BLACK_MAIN?$browse_thumbnail$", "price" : "", "regPrice" : "$298.00", "salePrice" : "$219.00", "label": "sale", "category" : "Shoes", "subcategory": "Johnston & Murphy", "stock": 1, "dimension53" : "No" }

{ "451505294" : { "11 D Width": [ "Black", "Navy", "Taupe" ], "8.5 D Width": ["Navy"], "9.5 D Width": [ "Navy", "Taupe" ], "13 D Width": [ "Navy", "Taupe" ], "12 D Width": ["Black"], "10.5 D Width": [ "Black", "Navy", "Taupe" ], "10 D Width": ["Navy"], "9 D Width": [ "Navy", "Taupe" ] } }

25% Off! (Price reflects discount)

{ "id" : "451505294", "productName" : "Hush Puppies Bracco Moccasin Toe Lace Ups", "productItem" : "41J6", "productDescription" : "These soft suede lace ups from Hush Puppies feature a worry-free suede protective coating that resists scuffs, stains, and water. Genuine suede sock linings. Removable soft latex and foam footbeds provide added cushioning. Lightweight and flexible multi density molded EVA outsoles provide traction and durability. Genuine suede uppers. Spot clean. Imported.", "promoDescription" : "25% Off! (Price reflects discount)", "productUrl" : "http://www.gl-green.com/p/hush-puppies-bracco-moccasin-toe-lace-ups", "productImageUrl" : "https://images.josbank.com/is/image/JosBank/41J6_01_HUSH_PUPPIES_BLACK_MAIN?$browse_thumbnail$", "productImageFullSize" : "https://images.josbank.com/is/image/JosBank/41J6_01_HUSH_PUPPIES_BLACK_MAIN?$browse_thumbnail$", "price" : "", "regPrice" : "$100.00", "salePrice" : "$75.00", "label": "sale", "category" : "Shoes", "subcategory": "All Shoes", "stock": 1, "dimension53" : "No" }

{ "451276933" : { "11 D Width": [ "Cognac", "Navy" ], "8.5 D Width": [ "Cognac", "Navy" ], "9.5 D Width": [ "Cognac", "Navy" ], "13 D Width": [ "Cognac", "Navy" ], "12 D Width": [ "Cognac", "Navy" ], "10.5 D Width": [ "Cognac", "Navy" ], "8 D Width": [ "Cognac", "Navy" ], "10 D Width": [ "Cognac", "Navy" ], "9 D Width": [ "Cognac", "Navy" ] } }

Buy 1 Get 1 50% Off (Of equal or lesser value)

{ "id" : "451276933", "productName" : "Joseph Abboud Daytona Textured Oxfords", "productItem" : "41AP", "productDescription" : "This modern, stylish lace-up dress shoe features a richly textured leather upper with derby lacing and a soft rubber outsole. A soft cushioned insole provides all-day comfort. Genuine leather upper. Spot clean. Imported.", "promoDescription" : "Buy 1 Get 1 50% Off (Of equal or lesser value)", "productUrl" : "http://www.gl-green.com/p/joseph-abboud-daytona-textured-oxfords", "productImageUrl" : "https://images.josbank.com/is/image/JosBank/41AP_16_JOSEPH_ABBOUD_HERITAGE_COGNAC_MAIN?$browse_thumbnail$", "productImageFullSize" : "https://images.josbank.com/is/image/JosBank/41AP_16_JOSEPH_ABBOUD_HERITAGE_COGNAC_MAIN?$browse_thumbnail$", "price" : "$125.00", "regPrice" : "", "salePrice" : "", "label": "none", "category" : "Featured", "subcategory": "Ready for Anything", "stock": 1, "dimension53" : "No" }

{ "451226389" : { "11 D Width": ["Grey"], "11.5 D Width": [ "Grey", "Navy" ], "8.5 D Width": [ "Grey", "Navy" ], "9.5 D Width": ["Navy"], "13 D Width": ["Navy"], "12 D Width": [ "Grey", "Navy" ], "10.5 D Width": [ "Grey", "Navy" ], "8 D Width": [ "Grey", "Navy" ], "10 D Width": [ "Grey", "Navy" ], "9 D Width": ["Navy"] } }

{ "id" : "451226389", "productName" : "Johnston & Murphy McGuffey Slip-On Loafers", "productItem" : "410K", "productDescription" : "Lightweight, with an athletic comfort construction, these loafers are a perfect choice for all-day wear. Perforated uppers. Leather skeletal linings. Padded sheepskin and fabric-covered footbed. Lightly padded collar. Contrast leather heel accent. Rubber outsole. Genuine leather uppers. Spot clean. Imported.", "promoDescription" : "", "productUrl" : "http://www.gl-green.com/p/johnston-murphy-mcguffey-slip-on-loafers", "productImageUrl" : "https://images.josbank.com/is/image/JosBank/410K_75_JOHNSTON_MURPHY_NAVY_MAIN?$browse_thumbnail$", "productImageFullSize" : "https://images.josbank.com/is/image/JosBank/410K_75_JOHNSTON_MURPHY_NAVY_MAIN?$browse_thumbnail$", "price" : "$125.00", "regPrice" : "", "salePrice" : "", "label": "none", "category" : "Shoes", "subcategory": "Johnston & Murphy", "stock": 1, "dimension53" : "No" }

{ "451212310" : { "11 D Width": ["Brown"], "8.5 D Width": ["Brown"], "9.5 D Width": ["Brown"], "13 D Width": ["Brown"], "12 D Width": ["Brown"], "10.5 D Width": ["Brown"], "10 D Width": ["Brown"], "9 D Width": ["Brown"] } }

Going Fast

Buy 1 Get 1 50% Off (Of equal or lesser value)

{ "id" : "451212310", "productName" : "Joseph Abboud Laguna Slip Ons", "productItem" : "40YR", "productDescription" : "These comfortable, casual loafers feature a woven pattern in genuine leather and a soft cushioned insole for all-day wear. Fully leather lined. Joseph Abboud. Cushioned footbed. Elastic goring for easy slip on and off. Durable rubber sole. Genuine leather upper. Spot clean. Imported.", "promoDescription" : "Buy 1 Get 1 50% Off (Of equal or lesser value)", "productUrl" : "http://www.gl-green.com/p/joseph-abboud-laguna-slip-ons", "productImageUrl" : "https://images.josbank.com/is/image/JosBank/40YR_42_JOSEPH_ABBOUD_HERITAGE_BROWN_MAIN?$browse_thumbnail$", "productImageFullSize" : "https://images.josbank.com/is/image/JosBank/40YR_42_JOSEPH_ABBOUD_HERITAGE_BROWN_MAIN?$browse_thumbnail$", "price" : "$89.00", "regPrice" : "", "salePrice" : "", "label": "none", "category" : "Featured", "subcategory": "Ready for Anything", "stock": 1, "dimension53" : "No" }
Related Products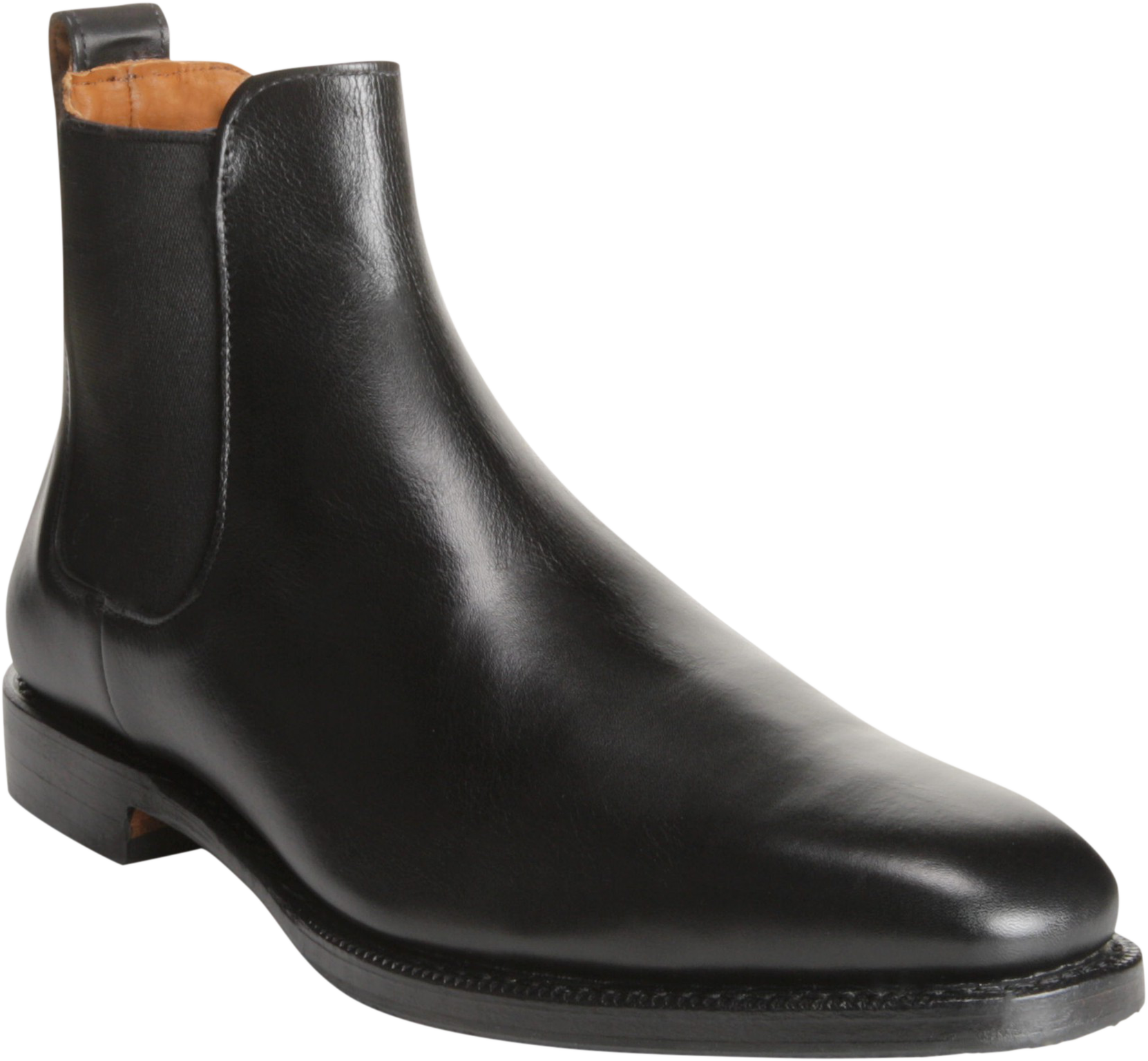 Description:
In smooth, fine leather, these Chelsea boots by Allen Edmonds are an updated menswear classic. Fully leather lined. Custom cork insole. Genuine leather uppers. Spot clean. Made in USA. Matching Belts: #88KM - Black, Walnut #88KR - Dark Brown
Description:
Stylish, yet casual these full-grain leather boots have fine stitched details, a cap-toe style, and four eyelet-lacing. Soft cushioned ankles. Plaid cloth linings. Removable footbeds. Steel shanks. Thermal plastic rubber outsoles. Full grain cow leather uppers. Spot clean. Imported.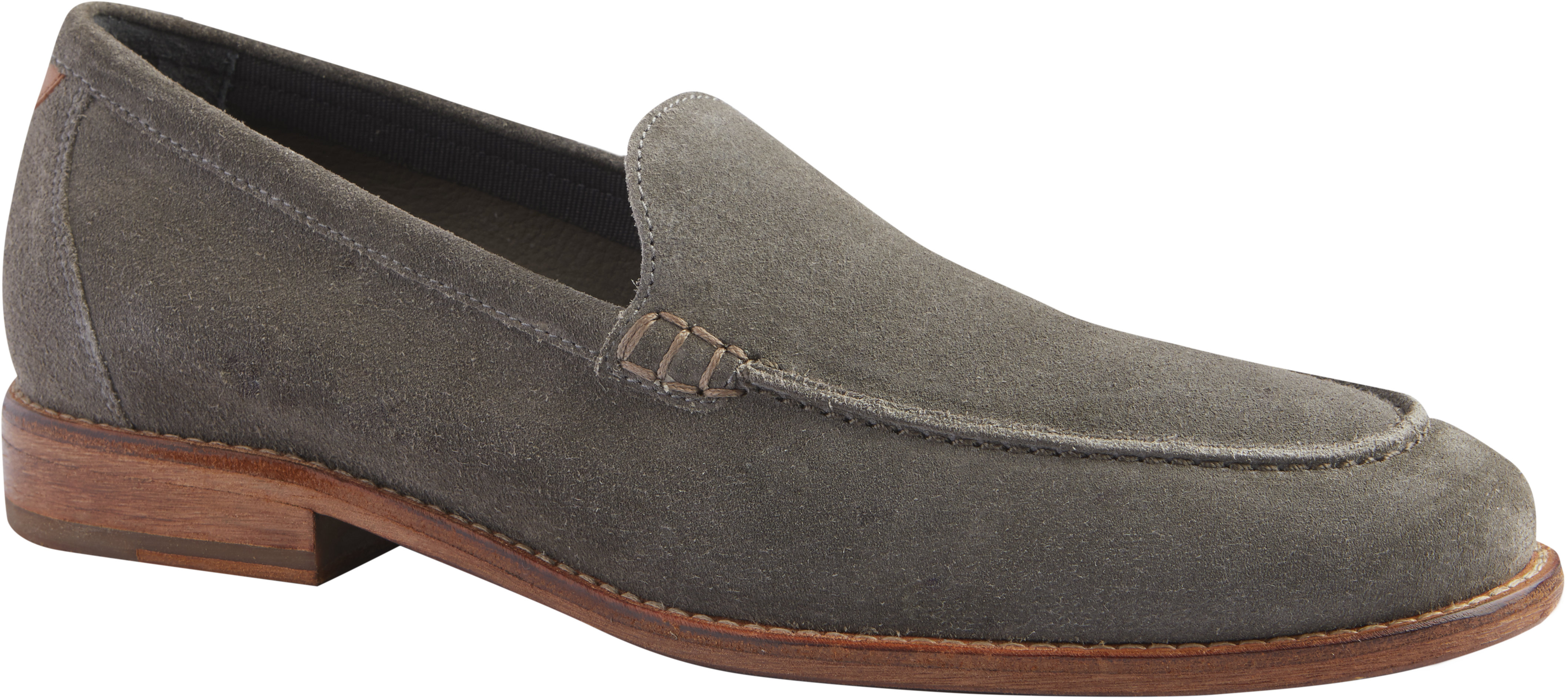 Description:
Crafted from soft and fine textured suede, these moc toe loafers feature signature Grand.Os technology for all-day cushioning and arch support. Leather and textile lining. Innovative rubber outsole. Flexible foam lightweight cushioning. Spot clean. Genuine suede leather. Imported.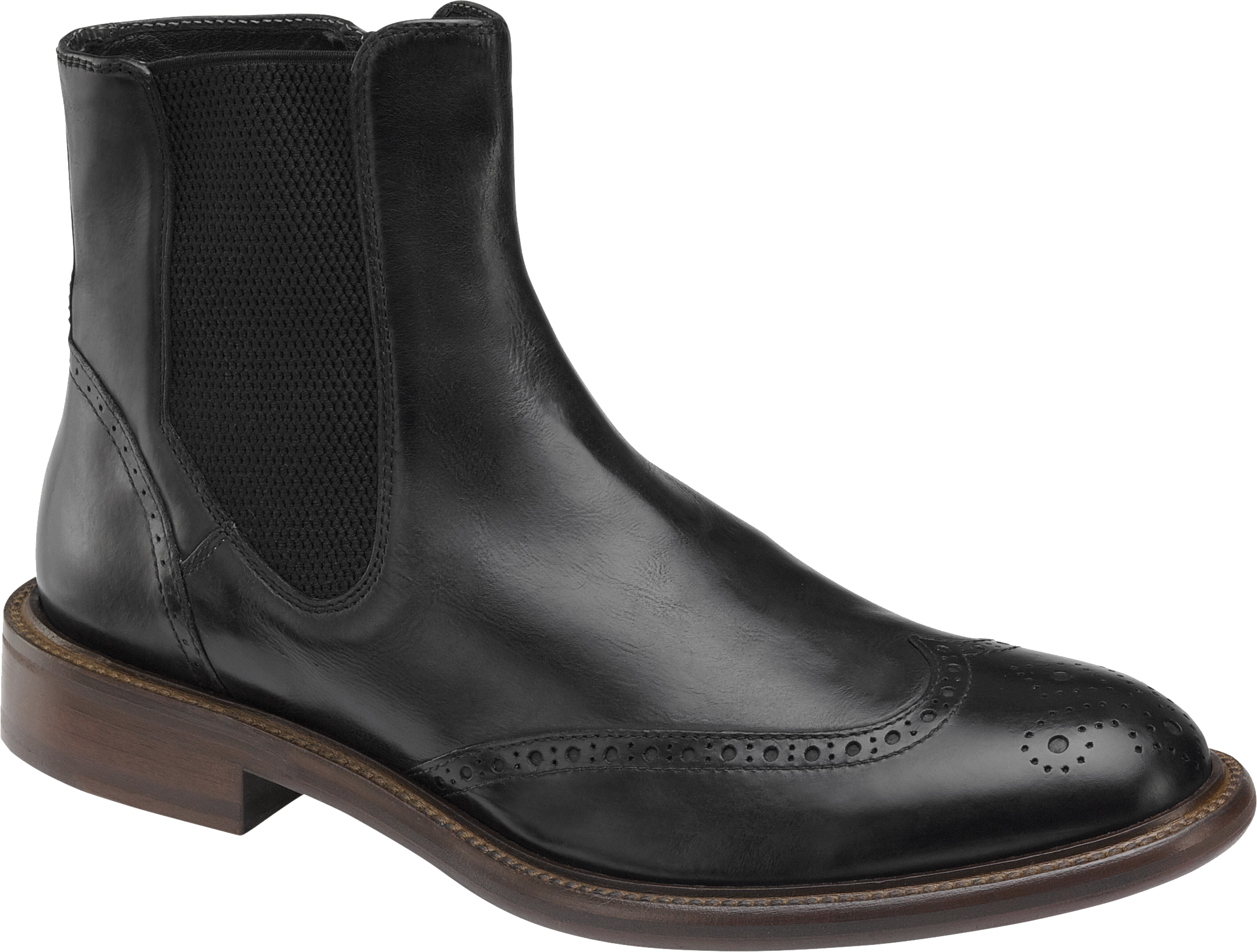 Description:
Lightweight and comfortable, these classic ankle boots have unique styling with wingtip details throughout and a combination zip and gore build. They have a tubular moccasin construction that imparts extreme flexibility. Soft sheepskin linings and full length padded footbeds with ...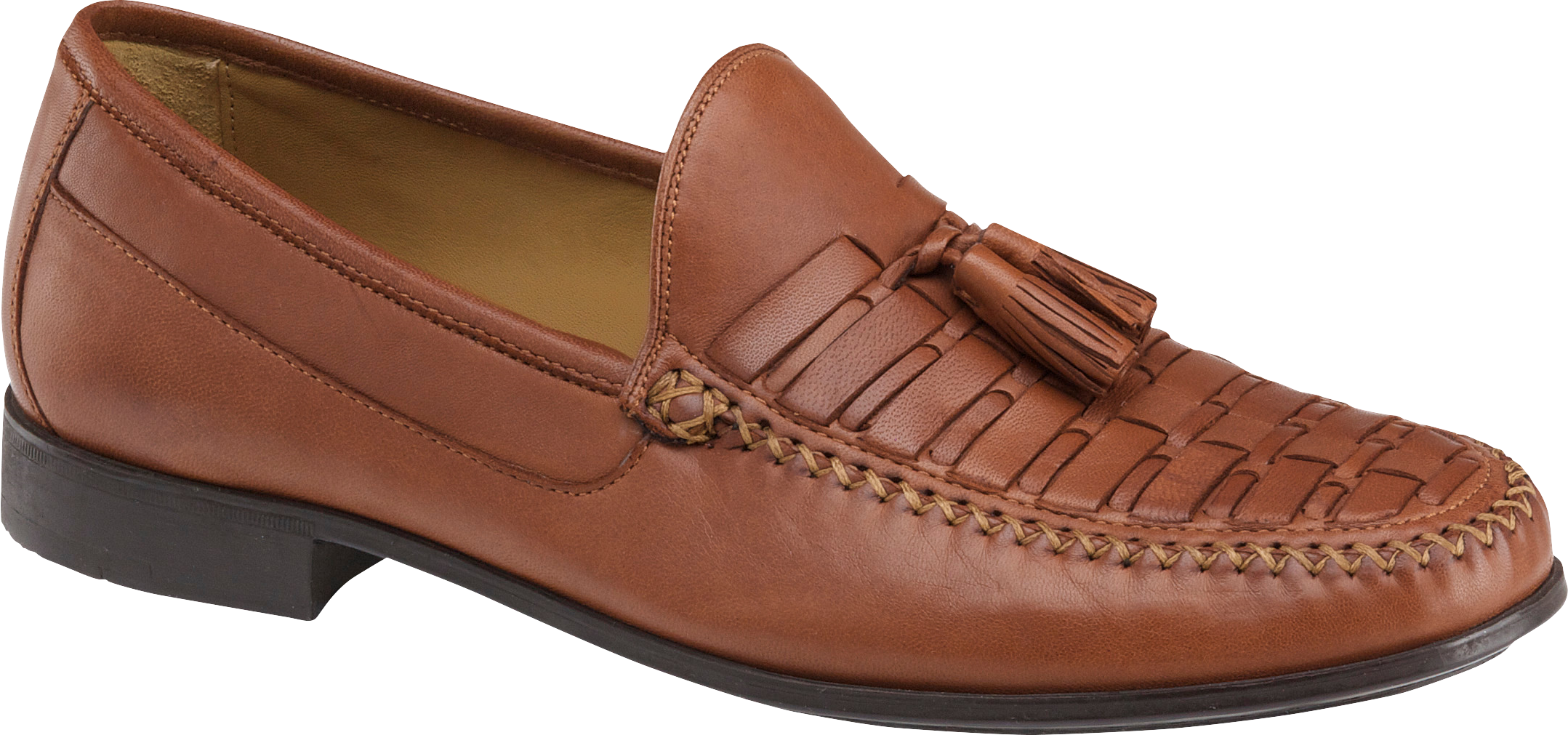 Description:
Supremely comfortable, these moc-toe tassel loafers feature tubular moccasin construction that provides extreme flexibility. Woven leather details. Lightweight. Soft sheepskin linings. Full-length padded footbed with sheepskin covering. Flexible rubber outsole. Genuine leather upper. Spot clean. Imported.