Refine your results
SHOW
Show:

Press enter to collapse or expand the menu. For navigating with in Filter options, press tab. To select Filter options, press enter.

Clear All

Filter

Done

0

Products

Add filter

Reset filters
Product List
{ "451560324" : { "SIZE 38": ["Cognac"] } }

{ "id" : "451560324", "productName" : "Jos. A. Bank Embossed Edge Leather Dress Belt CLEARANCE", "productItem" : "87Y9", "productDescription" : "Featuring smooth, polished leather this fine dress belt has embossed edges and a silver-tone buckle. 35mm width. Embossed edge details. Single leather keeper loop. Genuine leather. Made in Italy.", "promoDescription" : "", "productUrl" : "http://www.gl-green.com/p/jos-a-bank-embossed-edge-leather-dress-belt-clearance", "productImageUrl" : "https://images.josbank.com/is/image/JosBank/87Y9_16_JOSEPH_A_BANK_COGNAC_MAIN?$browse_thumbnail$", "productImageFullSize" : "https://images.josbank.com/is/image/JosBank/87Y9_16_JOSEPH_A_BANK_COGNAC_MAIN?$browse_thumbnail$", "price" : "", "regPrice" : "$69.50", "salePrice" : "$34.98", "label": "clearance", "category" : "Special Categories", "subcategory": "$14 Belts & $9 Ties", "stock": 1, "dimension53" : "No" }

{ "451560325" : { "One Size": [ "Cognac", "Navy" ] } }

{ "id" : "451560325", "productName" : "Jos. A. Bank Leather Notebook CLEARANCE", "productItem" : "87R5", "productDescription" : "The perfect place to keep your thoughts and notes. This fine leather notebook has a smooth, flexible leather cover and can be refilled with note pages of your choice. Measures 7 x 9-1\/4 inches. Notebook included is spiral bound and has 144 perforated pages. Made in USA.", "promoDescription" : "", "productUrl" : "http://www.gl-green.com/p/jos-a-bank-leather-notebook-clearance", "productImageUrl" : "https://images.josbank.com/is/image/JosBank/87R5_16_JOSEPH_A_BANK_COGNAC_MAIN?$browse_thumbnail$", "productImageFullSize" : "https://images.josbank.com/is/image/JosBank/87R5_16_JOSEPH_A_BANK_COGNAC_MAIN?$browse_thumbnail$", "price" : "", "regPrice" : "$89.50", "salePrice" : "$44.98", "label": "clearance", "category" : "Clearance", "subcategory": "All Clearance", "stock": 1, "dimension53" : "No" }

{ "451560345" : { "One Size": ["Tan"] } }

$245.00 $179.98

clearance

{ "id" : "451560345", "productName" : "Jos. A Bank Leather Portfolio CLEARANCE", "productItem" : "886H", "productDescription" : "Sleek and stylish, this fine leather portfolio features rolled leather handles, a soft leather exterior, and spacious interior with spaces and pockets for your documents and personal items. 15 wide x 11-1\/2 tall x 1 inch wide. Genuine leather. Imported.", "promoDescription" : "", "productUrl" : "http://www.gl-green.com/p/jos-a-bank-leather-portfolio-clearance-886HC", "productImageUrl" : "https://images.josbank.com/is/image/JosBank/886H_16_JOSEPH_A_BANK_TAN_MAIN?$browse_thumbnail$", "productImageFullSize" : "https://images.josbank.com/is/image/JosBank/886H_16_JOSEPH_A_BANK_TAN_MAIN?$browse_thumbnail$", "price" : "", "regPrice" : "$245.00", "salePrice" : "$179.98", "label": "clearance", "category" : "Clearance", "subcategory": "All Clearance", "stock": 1, "dimension53" : "No" }

{ "451560390" : { "One Size": ["Cognac"] } }

{ "id" : "451560390", "productName" : "Jos. A. Bank Canvas & Leather Backpack CLEARANCE", "productItem" : "87FF", "productDescription" : "Finely crafted, this canvas and leather backpack is the ideal size for daily use for work, school, or even travel. Canvas construction with leather details throughout. Large flap closure with snap and magnet closures. Large zippered main compartment with smaller zippered front pouches. Inner sleeve for laptop or tablet. Leather and canvas construction. Spot clean. Imported. 12\"W x 14.75\"H x 4\"D", "promoDescription" : "", "productUrl" : "http://www.gl-green.com/p/jos-a-bank-canvas-leather-backpack-clearance", "productImageUrl" : "https://images.josbank.com/is/image/JosBank/87FF_16_JOSEPH_A_BANK_COGNAC_MAIN?$browse_thumbnail$", "productImageFullSize" : "https://images.josbank.com/is/image/JosBank/87FF_16_JOSEPH_A_BANK_COGNAC_MAIN?$browse_thumbnail$", "price" : "", "regPrice" : "$245.00", "salePrice" : "$179.98", "label": "clearance", "category" : "Clearance", "subcategory": "All Clearance", "stock": 1, "dimension53" : "No" }

{ "451560396" : { "One Size": ["Tan"] } }

{ "id" : "451560396", "productName" : "Jos. A. Bank Cross Body Bag CLEARANCE", "productItem" : "886J", "productDescription" : "Finely crafted in genuine leather, this cross body bag has multiple internal pockets, a secure zippered main compartment and a durable, seat belt style long strap. Genuine leather. Spot clean. Imported.", "promoDescription" : "", "productUrl" : "http://www.gl-green.com/p/jos-a-bank-cross-body-bag-clearance", "productImageUrl" : "https://images.josbank.com/is/image/JosBank/886J_16_JOSEPH_A_BANK_TAN_MAIN?$browse_thumbnail$", "productImageFullSize" : "https://images.josbank.com/is/image/JosBank/886J_16_JOSEPH_A_BANK_TAN_MAIN?$browse_thumbnail$", "price" : "", "regPrice" : "$245.00", "salePrice" : "$179.98", "label": "clearance", "category" : "Clearance", "subcategory": "All Clearance", "stock": 1, "dimension53" : "No" }

{ "451552343" : { "One Size": ["Black"] } }

{ "id" : "451552343", "productName" : "Joseph A. Bank Leather Travel Tray CLEARANCE", "productItem" : "882H", "productDescription" : "Keep your valuables safe and organized, even when you travel with this fine leather tray. Snap closures at corners form tray. Pebble leather. Base measures 6 x 4.5 inches. Spot clean. Imported.", "promoDescription" : "", "productUrl" : "http://www.gl-green.com/p/joseph-a-bank-leather-travel-tray-clearance", "productImageUrl" : "https://images.josbank.com/is/image/JosBank/882H_01_JOSEPH_A_BANK_BLACK_MAIN?$browse_thumbnail$", "productImageFullSize" : "https://images.josbank.com/is/image/JosBank/882H_01_JOSEPH_A_BANK_BLACK_MAIN?$browse_thumbnail$", "price" : "", "regPrice" : "$59.50", "salePrice" : "$29.98", "label": "clearance", "category" : "Clearance", "subcategory": "All Clearance", "stock": 1, "dimension53" : "No" }

{ "451533458" : { "LONG": ["Taupe"] } }

{ "id" : "451533458", "productName" : "Traveler Collection Check Tie - Long CLEARANCE", "productItem" : "84TV", "productDescription" : "A modern take on a classic design, this 100% silk tie from the Traveler Collection is enhanced by a stain-resistant finish. 3 3\/8-inches wide. Dry clean only. Imported.", "promoDescription" : "", "productUrl" : "http://www.gl-green.com/p/traveler-collection-check-tie-long-clearance-84TVC", "productImageUrl" : "https://images.josbank.com/is/image/JosBank/84TE_22_TRAVELER_TAUPE_MAIN?$browse_thumbnail$", "productImageFullSize" : "https://images.josbank.com/is/image/JosBank/84TE_22_TRAVELER_TAUPE_MAIN?$browse_thumbnail$", "price" : "", "regPrice" : "$74.50", "salePrice" : "$37.98", "label": "clearance", "category" : "Special Categories", "subcategory": "$14 Belts & $9 Ties", "stock": 1, "dimension53" : "No" }

{ "451537927" : { "SIZE 44": ["Brown"] } }

{ "id" : "451537927", "productName" : "Jos. A. Bank Casual Belt - Long CLEARANCE", "productItem" : "82XF", "productDescription" : "This handcrafted leather belt has rugged, casual good looks with a stitched edge and a distressed silver- tone buckle. Single loop. Burnished silver- tone buckle. Genuine leather. Made in Italy.", "promoDescription" : "", "productUrl" : "http://www.gl-green.com/p/jos-a-bank-casual-belt-long-clearance", "productImageUrl" : "https://images.josbank.com/is/image/JosBank/82XE_38_JOSEPH_A_BANK_BROWN_MAIN?$browse_thumbnail$", "productImageFullSize" : "https://images.josbank.com/is/image/JosBank/82XE_38_JOSEPH_A_BANK_BROWN_MAIN?$browse_thumbnail$", "price" : "", "regPrice" : "$89.50", "salePrice" : "$39.98", "label": "clearance", "category" : "Special Categories", "subcategory": "$14 Belts & $9 Ties", "stock": 1, "dimension53" : "No" }

{ "451560316" : { "One Size": ["Cognac"] } }

{ "id" : "451560316", "productName" : "Jos. A. Bank Leather Portfolio CLEARANCE", "productItem" : "87R9", "productDescription" : "Crafted from fine, smooth, genuine leather, this portfolio is ideal to hold your important papers and notes. Measures 12-1\/2 x 10-1\/2 inches and holds an 8-1\/2 x 11 inch notepad. Snap closure. Made in USA.", "promoDescription" : "", "productUrl" : "http://www.gl-green.com/p/jos-a-bank-leather-portfolio-clearance", "productImageUrl" : "https://images.josbank.com/is/image/JosBank/87R9_16_JOSEPH_A_BANK_COGNAC_MAIN?$browse_thumbnail$", "productImageFullSize" : "https://images.josbank.com/is/image/JosBank/87R9_16_JOSEPH_A_BANK_COGNAC_MAIN?$browse_thumbnail$", "price" : "", "regPrice" : "$89.50", "salePrice" : "$44.98", "label": "clearance", "category" : "Clearance", "subcategory": "All Clearance", "stock": 1, "dimension53" : "No" }

{ "451560186" : { "Mid Calf": ["Black"] } }

{ "id" : "451560186", "productName" : "Jos. A. Bank Argyle Mid-Calf Socks, One-Pair CLEARANCE", "productItem" : "886N", "productDescription" : "Wear our cotton-blend socks in patterns and colors specifically chosen to mix and match with our suits and casual wear. Natural weave to promote airflow and movement. Reinforced toe and heel. 66% cotton, 32% nylon, 2% spandex. Machine washable. One-pair pack. Imported.", "promoDescription" : "", "productUrl" : "http://www.gl-green.com/p/jos-a-bank-argyle-mid-calf-socks-one-pair-clearance-886NC", "productImageUrl" : "https://images.josbank.com/is/image/JosBank/886N_01_JOSEPH_A_BANK_BLACK_MAIN?$browse_thumbnail$", "productImageFullSize" : "https://images.josbank.com/is/image/JosBank/886N_01_JOSEPH_A_BANK_BLACK_MAIN?$browse_thumbnail$", "price" : "", "regPrice" : "$15.50", "salePrice" : "$7.98", "label": "clearance", "category" : "Clearance", "subcategory": "All Clearance", "stock": 1, "dimension53" : "No" }

{ "451560305" : { "One Size": [ "Burgundy", "Navy" ] } }

{ "id" : "451560305", "productName" : "Jos. A. Bank Stripe Button-In Suspenders CLEARANCE", "productItem" : "86K2", "productDescription" : "These stylish suspenders feature classic hues that coordinate with our dress-wear favorites. With silver-tone hardware and button-in attachments. 70% polyester, 30% elastic. Leather tabs. Imported.", "promoDescription" : "", "productUrl" : "http://www.gl-green.com/p/jos-a-bank-stripe-button-in-suspenders-clearance-86K2C", "productImageUrl" : "https://images.josbank.com/is/image/JosBank/86K2_75_JOSEPH_A_BANK_NAVY_MAIN?$browse_thumbnail$", "productImageFullSize" : "https://images.josbank.com/is/image/JosBank/86K2_75_JOSEPH_A_BANK_NAVY_MAIN?$browse_thumbnail$", "price" : "", "regPrice" : "$65.00", "salePrice" : "$32.98", "label": "clearance", "category" : "Clearance", "subcategory": "All Clearance", "stock": 1, "dimension53" : "No" }

{ "451538022" : { "SIZE 44": ["Multi"] } }

{ "id" : "451538022", "productName" : "Jos. A. Bank Reversible Leather Dress Belt - Long CLEARANCE", "productItem" : "86RY", "productDescription" : "Understated and classic, this fine leather belt is reversible to match with a variety of dress-wear options. Twist buckle to reverse. Silver-tone metal. 32mm width. Plaque buckle. Genuine leather. Handmade in Italy.", "promoDescription" : "", "productUrl" : "http://www.gl-green.com/p/jos-a-bank-reversible-leather-dress-belt-long-clearance-86RYC", "productImageUrl" : "https://images.josbank.com/is/image/JosBank/86RX_99_JOSEPH_A_BANK_MULTI_MAIN?$browse_thumbnail$", "productImageFullSize" : "https://images.josbank.com/is/image/JosBank/86RX_99_JOSEPH_A_BANK_MULTI_MAIN?$browse_thumbnail$", "price" : "", "regPrice" : "$79.50", "salePrice" : "$39.98", "label": "clearance", "category" : "Special Categories", "subcategory": "$14 Belts & $9 Ties", "stock": 1, "dimension53" : "No" }

{ "451533384" : { "LONG": ["Fuchsia"] } }

{ "id" : "451533384", "productName" : "Traveler Collection Thin Stripes Tie - Long CLEARANCE", "productItem" : "84XP", "productDescription" : "A classic design rendered in textured silk, this striped tie mixes and matches with ease. Stain-resistant finish. 3-3\/8 inches wide. 100% silk. Dry clean. Imported.", "promoDescription" : "", "productUrl" : "http://www.gl-green.com/p/traveler-collection-thin-stripes-tie-long-clearance", "productImageUrl" : "https://images.josbank.com/is/image/JosBank/84Y1_53_TRAVELER_FUCHSIA_MAIN?$browse_thumbnail$", "productImageFullSize" : "https://images.josbank.com/is/image/JosBank/84Y1_53_TRAVELER_FUCHSIA_MAIN?$browse_thumbnail$", "price" : "", "regPrice" : "$74.50", "salePrice" : "$37.98", "label": "clearance", "category" : "Special Categories", "subcategory": "$14 Belts & $9 Ties", "stock": 1, "dimension53" : "No" }

{ "451541931" : { "SIZE 34": [ "Pink", "Red" ], "SIZE 36": [ "Pink", "Red" ], "SIZE 38": [ "Pink", "Red" ], "SIZE 40": [ "Pink", "Red" ], "SIZE 32": [ "Pink", "Red" ], "SIZE 42": [ "Pink", "Red" ], "SIZE 30": [ "Pink", "Red" ] } }

{ "id" : "451541931", "productName" : "Jos. A. Bank Woven Belt CLEARANCE", "productItem" : "88Z2", "productDescription" : "This casual belt is woven in elastic stretch webbing for the ultimate in a great fit and comfort. It's finished with genuine leather details and a nickel-finished buckle. 35 mm width. Imported.", "promoDescription" : "", "productUrl" : "http://www.gl-green.com/p/jos-a-bank-woven-belt-clearance", "productImageUrl" : "https://images.josbank.com/is/image/JosBank/88Z2_50_JOSEPH_A_BANK_PINK_MAIN?$browse_thumbnail$", "productImageFullSize" : "https://images.josbank.com/is/image/JosBank/88Z2_50_JOSEPH_A_BANK_PINK_MAIN?$browse_thumbnail$", "price" : "", "regPrice" : "$69.50", "salePrice" : "$34.98", "label": "clearance", "category" : "Special Categories", "subcategory": "$14 Belts & $9 Ties", "stock": 1, "dimension53" : "No" }

{ "451538063" : { "LONG": ["Purple"] } }

{ "id" : "451538063", "productName" : "Reserve Collection Paisley & Stripe Tie - Long CLEARANCE", "productItem" : "85RK", "productDescription" : "With classic paisley and herringbone stripes, this Reserve Collection tie creates a handsome, regal look for professional ensembles. Long length. 3-3\/8 inches wide. 100% silk. Dry clean only. Imported.", "promoDescription" : "", "productUrl" : "http://www.gl-green.com/p/reserve-collection-paisley-stripe-tie-long-clearance", "productImageUrl" : "https://images.josbank.com/is/image/JosBank/83YE_62_JOS_A_BANK_RESERVE_PURPLE_MAIN?$browse_thumbnail$", "productImageFullSize" : "https://images.josbank.com/is/image/JosBank/83YE_62_JOS_A_BANK_RESERVE_PURPLE_MAIN?$browse_thumbnail$", "price" : "", "regPrice" : "$84.50", "salePrice" : "$41.98", "label": "clearance", "category" : "Special Categories", "subcategory": "$14 Belts & $9 Ties", "stock": 1, "dimension53" : "No" }

{ "451533491" : { "LONG": ["Red"] } }

{ "id" : "451533491", "productName" : "Traveler Collection Stripe Tie - Long CLEARANCE", "productItem" : "85DK", "productDescription" : "This fine silk tie from the Traveler Collection features the added benefit of stain resistance and a classic stripe pattern. 3-3\/8 inches wide. 100% silk. Dry clean. Imported.", "promoDescription" : "", "productUrl" : "http://www.gl-green.com/p/traveler-collection-stripe-tie-long-clearance-85DKC", "productImageUrl" : "https://images.josbank.com/is/image/JosBank/85D5_54_TRAVELER_RED_MAIN?$browse_thumbnail$", "productImageFullSize" : "https://images.josbank.com/is/image/JosBank/85D5_54_TRAVELER_RED_MAIN?$browse_thumbnail$", "price" : "", "regPrice" : "$74.50", "salePrice" : "$37.98", "label": "clearance", "category" : "Special Categories", "subcategory": "$14 Belts & $9 Ties", "stock": 1, "dimension53" : "No" }

{ "451537975" : { "SIZE 32": ["Brown"], "SIZE 42": ["Brown"], "SIZE 30": ["Brown"] } }

{ "id" : "451537975", "productName" : "Jos. A. Bank Casual Belt CLEARANCE", "productItem" : "82XE", "productDescription" : "This handcrafted leather belt has rugged, casual good looks with a stitched edge and a distressed silver-tone buckle. Single loop. Burnished silver-tone buckle. Genuine leather. Made in Italy.", "promoDescription" : "", "productUrl" : "http://www.gl-green.com/p/jos-a-bank-casual-belt-clearance", "productImageUrl" : "https://images.josbank.com/is/image/JosBank/82XE_38_JOSEPH_A_BANK_BROWN_MAIN?$browse_thumbnail$", "productImageFullSize" : "https://images.josbank.com/is/image/JosBank/82XE_38_JOSEPH_A_BANK_BROWN_MAIN?$browse_thumbnail$", "price" : "", "regPrice" : "$79.50", "salePrice" : "$39.98", "label": "clearance", "category" : "Special Categories", "subcategory": "$14 Belts & $9 Ties", "stock": 1, "dimension53" : "No" }

{ "451538040" : { "SIZE 38": ["Multi"], "SIZE 40": ["Multi"] } }

{ "id" : "451538040", "productName" : "Jos. A. Bank Reversible Leather Dress Belt CLEARANCE", "productItem" : "86RX", "productDescription" : "Understated and classic, this fine leather belt is reversible to match with a variety of dress-wear options. Twist buckle to reverse. Silver-tone metal. 32mm width. Plaque buckle. Genuine leather. Handmade in Italy.", "promoDescription" : "", "productUrl" : "http://www.gl-green.com/p/jos-a-bank-reversible-leather-dress-belt-clearance", "productImageUrl" : "https://images.josbank.com/is/image/JosBank/86RX_99_JOSEPH_A_BANK_MULTI_MAIN?$browse_thumbnail$", "productImageFullSize" : "https://images.josbank.com/is/image/JosBank/86RX_99_JOSEPH_A_BANK_MULTI_MAIN?$browse_thumbnail$", "price" : "", "regPrice" : "$69.50", "salePrice" : "$34.98", "label": "clearance", "category" : "Special Categories", "subcategory": "$14 Belts & $9 Ties", "stock": 1, "dimension53" : "No" }

{ "451552408" : { "One Size": [ "Black", "Cognac" ] } }

{ "id" : "451552408", "productName" : "Jos. A. Bank Leather Luggage Tag CLEARANCE", "productItem" : "87R3", "productDescription" : "Keep you and your luggage together while traveling with this fine leather luggage tag. Polished metal hardware. Measures 6 1\/4 X 2 1\/2 inches. Imported.", "promoDescription" : "", "productUrl" : "http://www.gl-green.com/p/jos-a-bank-leather-luggage-tag-clearance", "productImageUrl" : "https://images.josbank.com/is/image/JosBank/87R3_01_JOSEPH_A_BANK_BLACK_MAIN?$browse_thumbnail$", "productImageFullSize" : "https://images.josbank.com/is/image/JosBank/87R3_01_JOSEPH_A_BANK_BLACK_MAIN?$browse_thumbnail$", "price" : "", "regPrice" : "$34.50", "salePrice" : "$17.98", "label": "clearance", "category" : "Clearance", "subcategory": "All Clearance", "stock": 1, "dimension53" : "No" }

{ "451552354" : { "One Size": [ "French Blue", "Fuchsia", "Light Pink", "Plum", "Silver" ] } }

{ "id" : "451552354", "productName" : "Jos. A. Bank Pre-Folded Pocket Square CLEARANCE", "productItem" : "868K", "productDescription" : "Add the perfect finishing touch to your look with this standout cotton pocket square. Pre folded. 100% cotton. Dry clean only. Imported.", "promoDescription" : "", "productUrl" : "http://www.gl-green.com/p/jos-a-bank-pre-folded-pocket-square-clearance-868KC", "productImageUrl" : "https://images.josbank.com/is/image/JosBank/868K_74_JOSEPH_A_BANK_FRENCH_BLUE_MAIN?$browse_thumbnail$", "productImageFullSize" : "https://images.josbank.com/is/image/JosBank/868K_74_JOSEPH_A_BANK_FRENCH_BLUE_MAIN?$browse_thumbnail$", "price" : "", "regPrice" : "$19.50", "salePrice" : "$9.98", "label": "clearance", "category" : "Clearance", "subcategory": "All Clearance", "stock": 1, "dimension53" : "No" }

{ "451560394" : { "One Size": ["Black"] } }

{ "id" : "451560394", "productName" : "Jos. A. Bank Paisley Formal Tie CLEARANCE", "productItem" : "82PA", "productDescription" : "Featuring a rich woven paisley pattern, this fine silk tie is an ideal way to complete your formalwear look. Regular length. 3-1\/4 inches wide. Boxed. 100% silk. Dry clean only. Imported.", "promoDescription" : "", "productUrl" : "http://www.gl-green.com/p/jos-a-bank-paisley-formal-tie-clearance", "productImageUrl" : "https://images.josbank.com/is/image/JosBank/82PA_01_JOSEPH_A_BANK_BLACK_MAIN?$browse_thumbnail$", "productImageFullSize" : "https://images.josbank.com/is/image/JosBank/82PA_01_JOSEPH_A_BANK_BLACK_MAIN?$browse_thumbnail$", "price" : "", "regPrice" : "$69.50", "salePrice" : "$34.98", "label": "clearance", "category" : "Clearance", "subcategory": "All Clearance", "stock": 1, "dimension53" : "No" }

{ "451560372" : { "One Size": ["Black"] } }

{ "id" : "451560372", "productName" : "Jos. A. Bank Dot Cummerbund & Bow Tie Set CLEARANCE", "productItem" : "82P8", "productDescription" : "Complete your formalwear look with this classic cummerbund and bow tie set. Boxed. Pre-tied. 100% silk. Dry clean only. Imported.", "promoDescription" : "", "productUrl" : "http://www.gl-green.com/p/jos-a-bank-dot-cummerbund-bow-tie-set-clearance", "productImageUrl" : "https://images.josbank.com/is/image/JosBank/82P8_01_JOSEPH_A_BANK_BLACK_MAIN?$browse_thumbnail$", "productImageFullSize" : "https://images.josbank.com/is/image/JosBank/82P8_01_JOSEPH_A_BANK_BLACK_MAIN?$browse_thumbnail$", "price" : "", "regPrice" : "$95.00", "salePrice" : "$47.98", "label": "clearance", "category" : "Clearance", "subcategory": "All Clearance", "stock": 1, "dimension53" : "No" }

{ "451541954" : { "LONG": [ "Pink", "Purple" ] } }

{ "id" : "451541954", "productName" : "1905 Collection Paisley Tie - Long CLEARANCE", "productItem" : "88XA", "productDescription" : "This tie is classic in looks with its large and small paisley pattern and soft sheen. Regular length. 3-3\/8 inches. 100% silk. Dry clean only. Imported.", "promoDescription" : "", "productUrl" : "http://www.gl-green.com/p/1905-collection-paisley-tie-long-clearance-88XAC", "productImageUrl" : "https://images.josbank.com/is/image/JosBank/88X5_62_1905_PURPLE_MAIN?$browse_thumbnail$", "productImageFullSize" : "https://images.josbank.com/is/image/JosBank/88X5_62_1905_PURPLE_MAIN?$browse_thumbnail$", "price" : "", "regPrice" : "$74.50", "salePrice" : "$37.98", "label": "clearance", "category" : "Special Categories", "subcategory": "$14 Belts & $9 Ties", "stock": 1, "dimension53" : "No" }

{ "451531782" : { "SIZE 42": ["Dark Green"] } }

{ "id" : "451531782", "productName" : "Jos. A. Bank Braided Textile & Leather Belt CLEARANCE", "productItem" : "85TN", "productDescription" : "This casual belt is woven from braided cloth with elastic stretch and finished with genuine leather accents. Complete your look with this texture rich, comfortable accessory. Braided cloth belt. Leather accents. Silver-tone hardware. Made in Italy.", "promoDescription" : "", "productUrl" : "http://www.gl-green.com/p/jos-a-bank-braided-textile-leather-belt-clearance", "productImageUrl" : "https://images.josbank.com/is/image/JosBank/85TN_81_JOSEPH_A_BANK_DARK_GREEN_MAIN?$browse_thumbnail$", "productImageFullSize" : "https://images.josbank.com/is/image/JosBank/85TN_81_JOSEPH_A_BANK_DARK_GREEN_MAIN?$browse_thumbnail$", "price" : "", "regPrice" : "$69.50", "salePrice" : "$16.97", "label": "clearance", "category" : "Special Categories", "subcategory": "$14 Belts & $9 Ties", "stock": 1, "dimension53" : "No" }
Related Products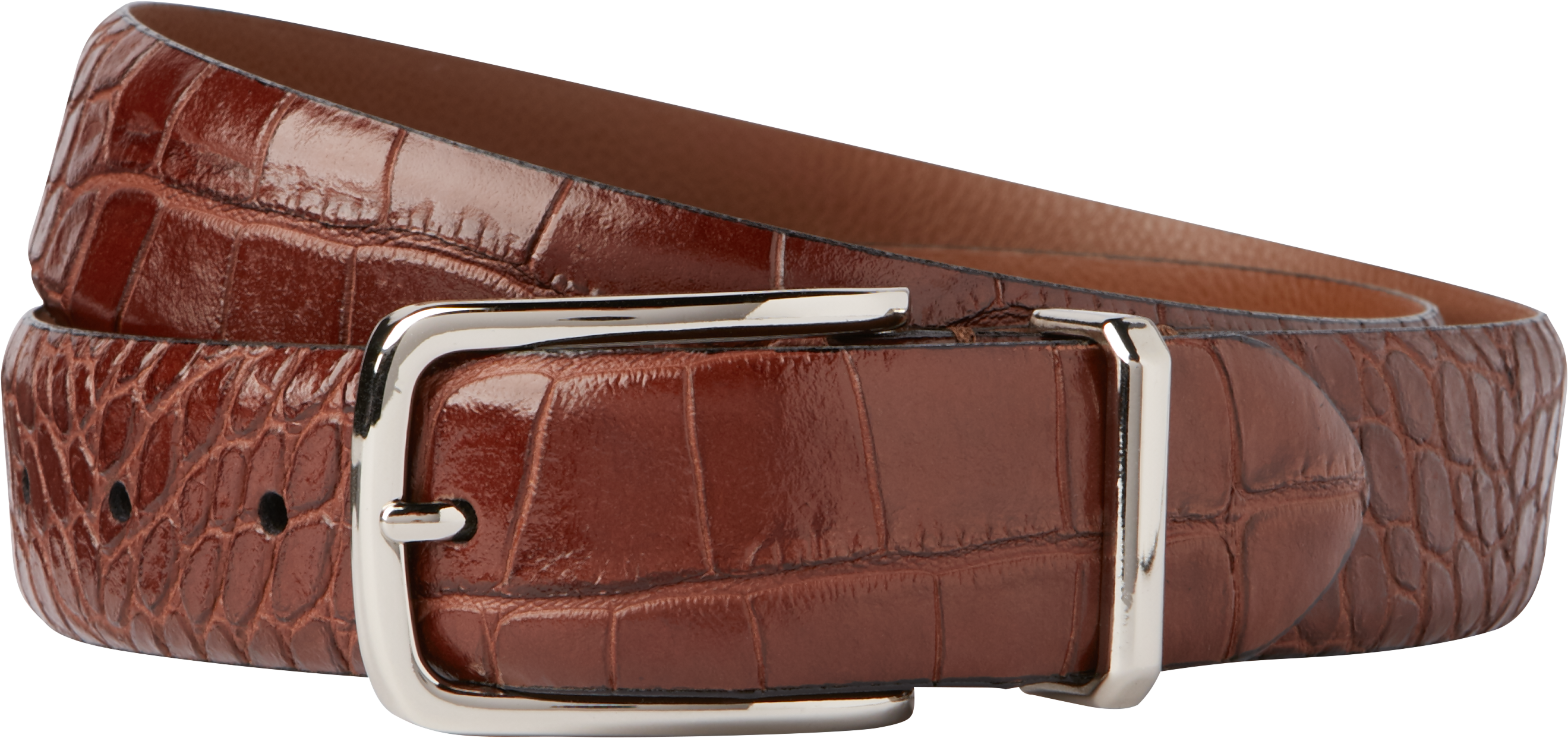 Description:
Finely handcrafted in Italy, this genuine leather belt stands out with a crocodile embossed finish. 32mm wide. Feather edge stitching. Silver-tone buckle. Metal loop.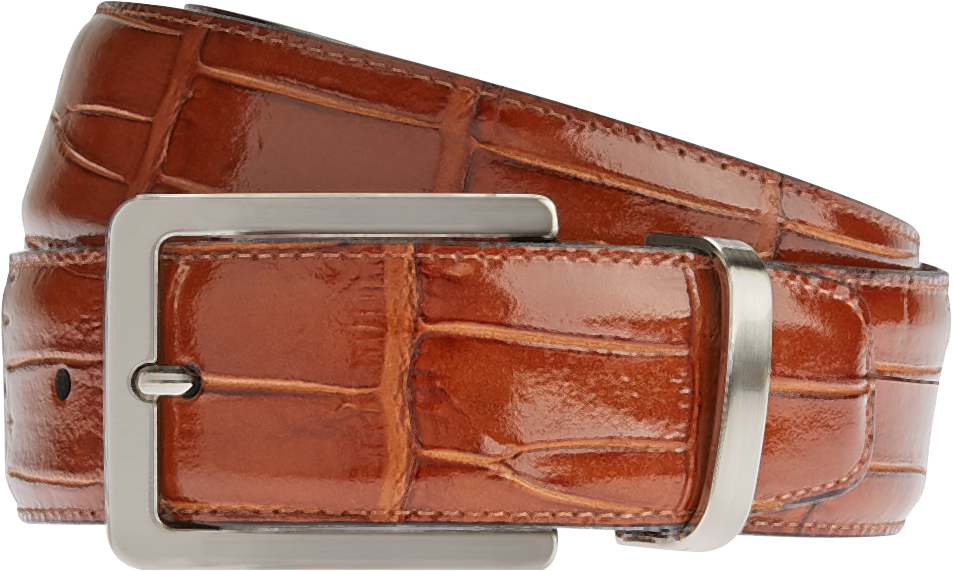 Description:
This fine leather belt features a rich crocodile embossed finish and brushed silver-tone hardware. 35mm wide. Genuine leather. Handcrafted. Made in Italy.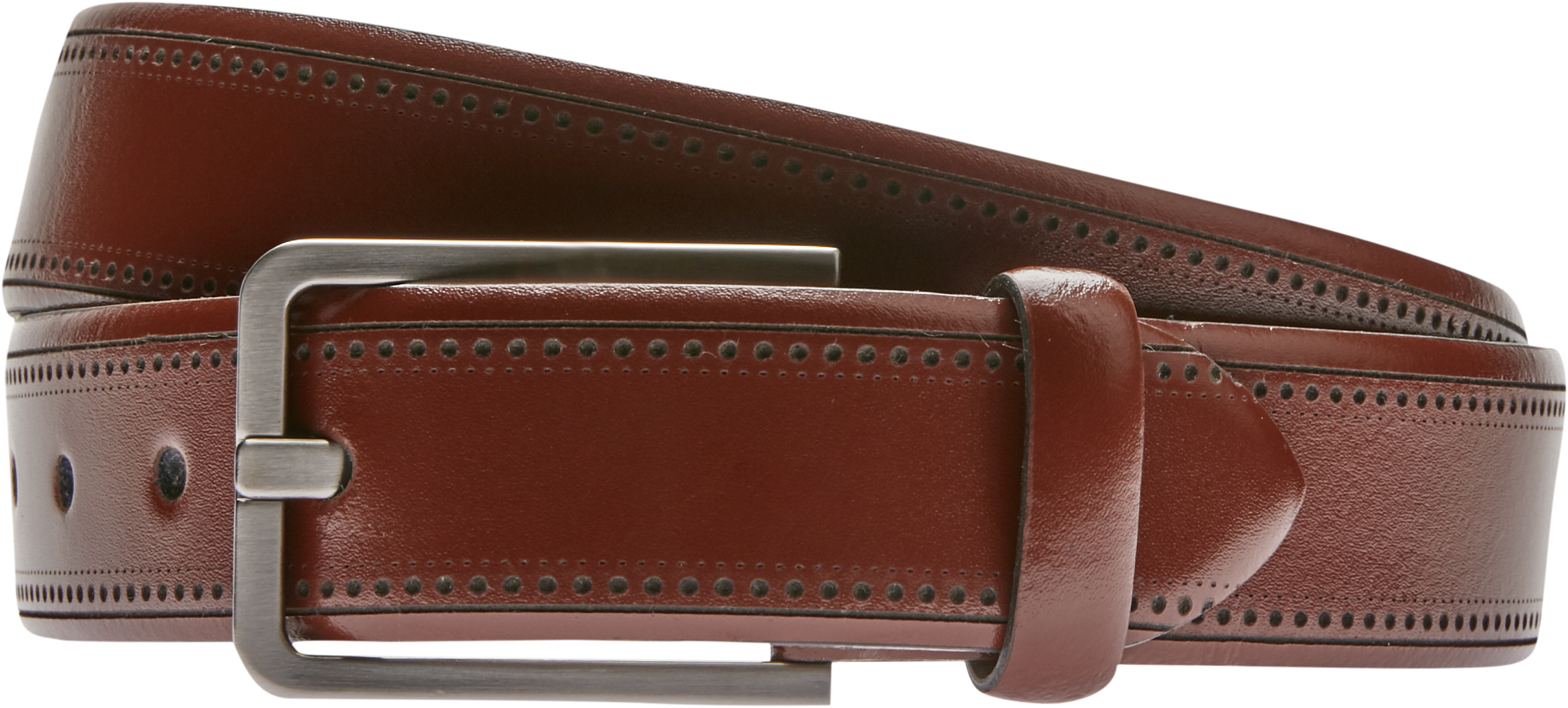 Description:
Featuring smooth, polished leather this fine dress belt has embossed edges and a silver-tone buckle. 35mm width. Embossed edge details. Single leather keeper loop. Genuine leather. Made in Italy.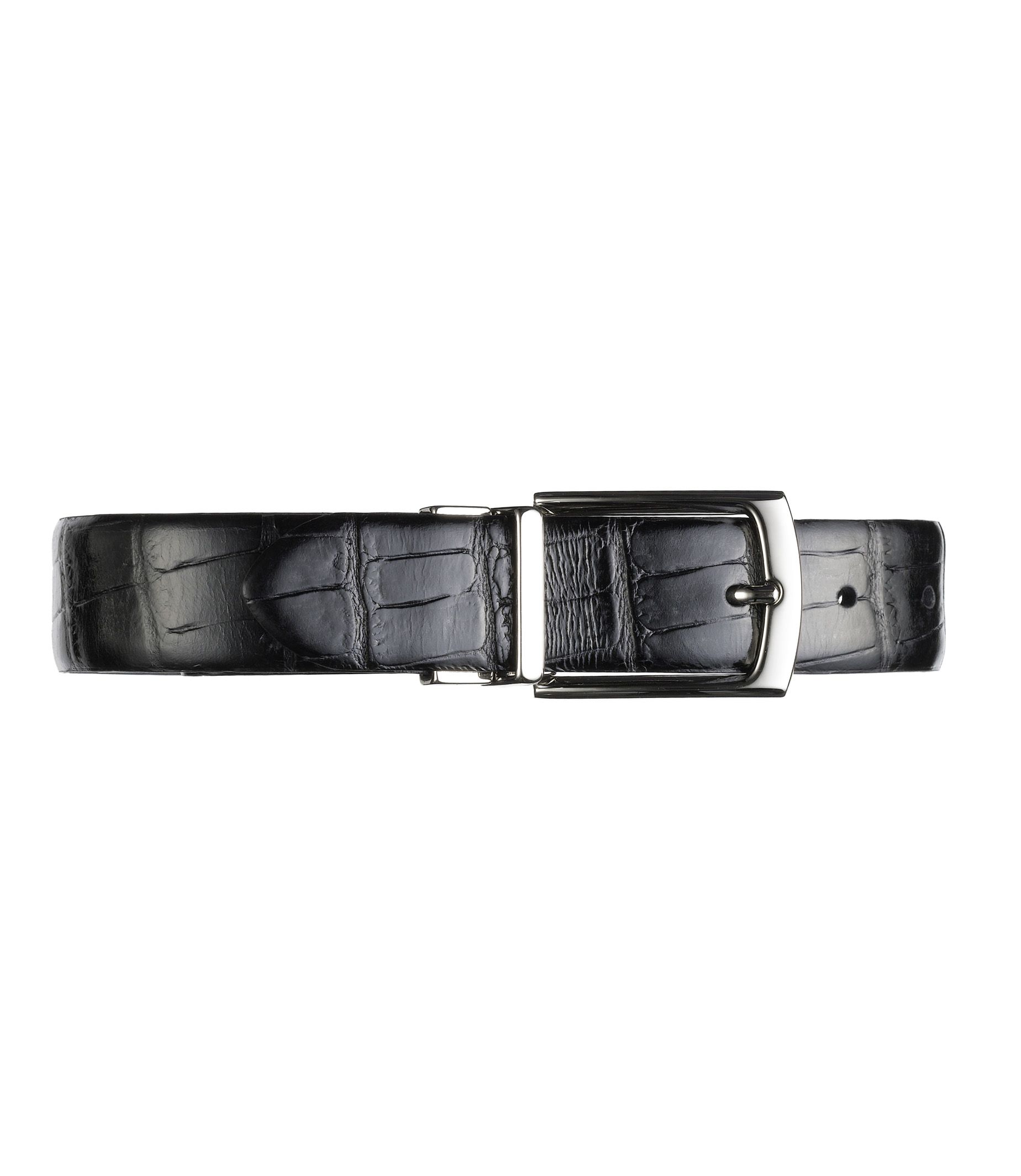 Description:
Crafted in fine Italian leather, this crocodile-embossed belt reverses to a brown hue for versatile wear. Silver-tone twist flip buckle. 1 1/8 inches wide. Imported.