Refine your results
SHOW
Show:

Press enter to collapse or expand the menu. For navigating with in Filter options, press tab. To select Filter options, press enter.

Clear All

Filter

Done

0

Products

Add filter

Reset filters
Product List
{ "451560194" : { "Medium": [ "Blue", "Brown" ], "X Large": [ "Blue", "Brown" ], "Large": [ "Blue", "Brown" ], "Small": [ "Blue", "Brown" ] } }

$99.96 - $129.96

clearance

{ "id" : "451560194", "productName" : "Travel Tech Tailored Fit Diamond Quilted Vest CLEARANCE", "productItem" : "70HP", "productDescription" : "Keep foul weather at bay with this cozy quilted vest ideal for active, casual wear. This classic vest has side zippered pockets, a drawstring waist, and a standup collar. 100% polyester. Machine washable. Imported.", "promoDescription" : "", "productUrl" : "http://www.gl-green.com/p/travel-tech-tailored-fit-diamond-quilted-vest-clearance", "productImageUrl" : "https://images.josbank.com/is/image/JosBank/70HP_70_TRAVELTECH_BLUE_MAIN?$browse_thumbnail$", "productImageFullSize" : "https://images.josbank.com/is/image/JosBank/70HP_70_TRAVELTECH_BLUE_MAIN?$browse_thumbnail$", "price" : "", "regPrice" : "$295.00", "salePrice" : "$129.96", "label": "clearance", "category" : "Clearance", "subcategory": "All Clearance", "stock": 1, "dimension53" : "No" }

{ "451561985" : { "Medium": ["Tan"], "X Large": ["Tan"], "Large": ["Tan"], "Small": ["Tan"] } }

{ "id" : "451561985", "productName" : "Reserve Collection Traditional Fit Khaki Parka CLEARANCE", "productItem" : "70EL", "productDescription" : "This ruggedly handsome parka has lofty, warm filling, soft fleece interior and multiple ample pockets throughout. Hidden zippered hood. Full-zip with button placket closure. Internal adjustable elastic waistcord. Fill = 100% polyester. Shell = 92% polyester, 8% nylon. Dry clean only. Imported.", "promoDescription" : "", "productUrl" : "http://www.gl-green.com/p/reserve-collection-traditional-fit-khaki-parka-clearance", "productImageUrl" : "https://images.josbank.com/is/image/JosBank/70EL_16_JOS_A_BANK_RESERVE_TAN_MAIN?$browse_thumbnail$", "productImageFullSize" : "https://images.josbank.com/is/image/JosBank/70EL_16_JOS_A_BANK_RESERVE_TAN_MAIN?$browse_thumbnail$", "price" : "", "regPrice" : "$295.00", "salePrice" : "$149.98", "label": "clearance", "category" : "Clearance", "subcategory": "All Clearance", "stock": 1, "dimension53" : "No" }

{ "451560322" : { "Medium": ["Black"], "X Large": ["Black"], "Large": ["Black"], "Small": ["Black"] } }

{ "id" : "451560322", "productName" : "Reserve Traditional Fit Double Breasted Herringbone Wool Blend Coat CLEARANCE", "productItem" : "70JY", "productDescription" : "This classic double breasted coat is ideal for the cool weather ahead. Woven in a wool blend, it has a herringbone pattern, wide lapel, and hand-warmer pockets. Button tabs at cuffs. Fully lined. 52% wool, 40% polyester, 8% other fibers. Dry clean only. Imported.", "promoDescription" : "", "productUrl" : "http://www.gl-green.com/p/reserve-traditional-fit-double-breasted-herringbone-wool-blend-coat-clearance", "productImageUrl" : "https://images.josbank.com/is/image/JosBank/70JY_01_JOS_A_BANK_RESERVE_BLACK_MAIN?$browse_thumbnail$", "productImageFullSize" : "https://images.josbank.com/is/image/JosBank/70JY_01_JOS_A_BANK_RESERVE_BLACK_MAIN?$browse_thumbnail$", "price" : "", "regPrice" : "$495.00", "salePrice" : "$149.96", "label": "clearance", "category" : "Clearance", "subcategory": "All Clearance", "stock": 1, "dimension53" : "No" }

{ "451561898" : { "46 Regular": ["Blue"], "46 Long": ["Blue"], "42 Short": ["Blue"], "44 Long": ["Blue"], "42 Long": ["Blue"], "40 Regular": ["Blue"], "38 Short": ["Blue"], "44 Regular": ["Blue"], "42 Regular": ["Blue"], "38 Regular": ["Blue"], "40 Short": ["Blue"] } }

{ "id" : "451561898", "productName" : "Travel Tech Tailored Fit Herringbone Topcoat CLEARANCE", "productItem" : "70KE", "productDescription" : "Add the perfect final note to your look with this distinguished herringbone topcoat from the Travel Tech collection. This stylish topcoat features performance fabric that creates a comfortable micro-climate for your body by removing excess moisture before you even begin to sweat. Acts like a thermostat by removing moisture when you are hot and retaining warmth when cold. Absorbs and traps odor molecules that are washed away when cleaned. Built-in fabric technology doesn't wash out. Notch lapel Hand-warmer pockets. Modern rubber buttons. Stretch gussets and lining. 56% wool, 25% 37.5 polyester 19% polyester. Dry clean only. Imported.", "promoDescription" : "", "productUrl" : "http://www.gl-green.com/p/travel-tech-tailored-fit-herringbone-topcoat-clearance", "productImageUrl" : "https://images.josbank.com/is/image/JosBank/70KE_70_TRAVELTECH_BLUE_MAIN?$browse_thumbnail$", "productImageFullSize" : "https://images.josbank.com/is/image/JosBank/70KE_70_TRAVELTECH_BLUE_MAIN?$browse_thumbnail$", "price" : "", "regPrice" : "$495.00", "salePrice" : "$199.98", "label": "clearance", "category" : "Clearance", "subcategory": "All Clearance", "stock": 1, "dimension53" : "No" }

{ "451561849" : { "Medium": ["Charcoal"], "X Large": ["Charcoal"], "Large": ["Charcoal"], "Small": ["Charcoal"] } }

{ "id" : "451561849", "productName" : "Traveler Collection Tailored Fit Quilted Vest CLEARANCE", "productItem" : "70GZ", "productDescription" : "This quilted vest is the perfect outerwear piece for a crisp autumn day. The outer knit shell features a soft, breathable knit fabric over a lofty and soft 100% polyester fill. Lined in 100% polyester. Water resistant. Zippered side pockets. Full zip closure. Standup collar. Shell is 65% polyester, 35% rayon. Machine washable. Imported.", "promoDescription" : "", "productUrl" : "http://www.gl-green.com/p/traveler-collection-tailored-fit-quilted-vest-clearance-70GZC", "productImageUrl" : "https://images.josbank.com/is/image/JosBank/70GZ_06_TRAVELER_CHARCOAL_MAIN?$browse_thumbnail$", "productImageFullSize" : "https://images.josbank.com/is/image/JosBank/70GZ_06_TRAVELER_CHARCOAL_MAIN?$browse_thumbnail$", "price" : "", "regPrice" : "$195.00", "salePrice" : "$99.96", "label": "clearance", "category" : "Clearance", "subcategory": "All Clearance", "stock": 1, "dimension53" : "No" }

{ "451561886" : { "Medium": ["Grey"], "X Large": ["Grey"], "Large": ["Grey"], "Small": ["Grey"] } }

{ "id" : "451561886", "productName" : "1905 Collection Tailored Fit Quilted Vest CLEARANCE", "productItem" : "70GR", "productDescription" : "The 1905 Collection features classic styles with an updated edge. This cozy, quilted vest features a trim, Tailored Fit, full zip closure, hand-warmer pockets, and a zippered chest pocket. Decorative piping completes the look. 52% wool, 48% polyester. Dry clean only. Imported.", "promoDescription" : "", "productUrl" : "http://www.gl-green.com/p/1905-collection-tailored-fit-quilted-vest-clearance", "productImageUrl" : "https://images.josbank.com/is/image/JosBank/70GR_03_1905_GREY_MAIN?$browse_thumbnail$", "productImageFullSize" : "https://images.josbank.com/is/image/JosBank/70GR_03_1905_GREY_MAIN?$browse_thumbnail$", "price" : "", "regPrice" : "$195.00", "salePrice" : "$99.96", "label": "clearance", "category" : "Clearance", "subcategory": "All Clearance", "stock": 1, "dimension53" : "No" }

{ "451533297" : { "46 Regular": ["Black"], "42 Short": ["Black"], "44 Long": ["Black"], "42 Long": ["Black"], "40 Regular": ["Black"], "38 Short": ["Black"], "44 Regular": ["Black"], "40 Long": ["Black"], "42 Regular": ["Black"], "38 Regular": ["Black"], "44 Short": ["Black"], "40 Short": ["Black"] } }

$395.00 $199.98

clearance

{ "id" : "451533297", "productName" : "Traveler Collection Traditional Fit Raincoat CLEARANCE", "productItem" : "70EW", "productDescription" : "Keep foul weather at bay with this warm quilted raincoat from the Traveler Collection. Water and stain resistant. Full zip closure with covered button placket. Quilted lining. Hand-warmer pockets. 100% polyester. Dry clean. Imported.", "promoDescription" : "", "productUrl" : "http://www.gl-green.com/p/traveler-collection-traditional-fit-raincoat-clearance-70EWC", "productImageUrl" : "https://images.josbank.com/is/image/JosBank/70EW_01_TRAVELER_BLACK_MAIN?$browse_thumbnail$", "productImageFullSize" : "https://images.josbank.com/is/image/JosBank/70EW_01_TRAVELER_BLACK_MAIN?$browse_thumbnail$", "price" : "", "regPrice" : "$395.00", "salePrice" : "$199.98", "label": "clearance", "category" : "Special Categories", "subcategory": "Flash Sale Outerwear", "stock": 1, "dimension53" : "No" }

{ "451560191" : { "Medium": ["Khaki"], "X Large": ["Khaki"], "Large": ["Khaki"], "Small": ["Khaki"] } }

{ "id" : "451560191", "productName" : "Travel Tech Tailored Fit Trench Coat CLEARANCE", "productItem" : "70KX", "productDescription" : "Amazingly soft and lightweight, this trench coat is water resistant to keep the cold and rain at bay. It features a light and lofty 100% polyester fill, hand-warmer pockets, and a full button-front closure. Interior pockets. Made with 37.5 technology, this fabric creates a comfortable micro-climate for your body by removing excess moisture before you even begin to sweat. The built-in fabric technology doesn't wash out. Layer your Travel Tech pieces for more effective moisture wicking and comfort. 52% polyester, 48% 37.5 polyester. Machine washable. Imported.", "promoDescription" : "", "productUrl" : "http://www.gl-green.com/p/travel-tech-tailored-fit-trench-coat-clearance", "productImageUrl" : "https://images.josbank.com/is/image/JosBank/70KX_16_TRAVELTECH_KHAKI_MAIN?$browse_thumbnail$", "productImageFullSize" : "https://images.josbank.com/is/image/JosBank/70KX_16_TRAVELTECH_KHAKI_MAIN?$browse_thumbnail$", "price" : "", "regPrice" : "$395.00", "salePrice" : "$149.96", "label": "clearance", "category" : "Clearance", "subcategory": "All Clearance", "stock": 1, "dimension53" : "No" }

{ "451560294" : { "Medium": ["Tan"], "X Large": ["Tan"], "Large": ["Tan"], "Small": ["Tan"] } }

{ "id" : "451560294", "productName" : "Traveler Collection Traditional Fit Travelpro Jacket CLEARANCE", "productItem" : "70GJ", "productDescription" : "Lightweight, and water repellent this jacket is warm with a quilted interior and a full-zip closure. A soft microfiber shell gives this sporty jacket a luxurious feel. Elastic hem. Adjustable sleeve tabs. Underarm grommets for breathability. Interior storage system with five pockets and sunglasses tab. 100% polyester. Dry clean only. Imported.", "promoDescription" : "", "productUrl" : "http://www.gl-green.com/p/traveler-collection-traditional-fit-travelpro-jacket-clearance", "productImageUrl" : "https://images.josbank.com/is/image/JosBank/70GJ_16_TRAVELER_TAN_MAIN?$browse_thumbnail$", "productImageFullSize" : "https://images.josbank.com/is/image/JosBank/70GJ_16_TRAVELER_TAN_MAIN?$browse_thumbnail$", "price" : "", "regPrice" : "$295.00", "salePrice" : "$149.96", "label": "clearance", "category" : "Clearance", "subcategory": "All Clearance", "stock": 1, "dimension53" : "No" }

{ "451561960" : { "Medium": ["Navy"], "X Large": ["Navy"], "Large": ["Navy"], "Small": ["Navy"] } }

{ "id" : "451561960", "productName" : "1905 Collection Tailored Fit Windbreaker Bomber Jacket CLEARANCE", "productItem" : "70GU", "productDescription" : "With smooth, Tailored Fit lines this windbreaker jacket is a versatile addition to your casual wear. Standup collar. Full zip closure. Ribbed-knit elastic cuffs. Soft fill. Hand-warmer slash pockets. 100% polyester. Dry clean only. Imported.", "promoDescription" : "", "productUrl" : "http://www.gl-green.com/p/1905-collection-tailored-fit-windbreaker-bomber-jacket-clearance", "productImageUrl" : "https://images.josbank.com/is/image/JosBank/70GU_75_1905_NAVY_MAIN?$browse_thumbnail$", "productImageFullSize" : "https://images.josbank.com/is/image/JosBank/70GU_75_1905_NAVY_MAIN?$browse_thumbnail$", "price" : "", "regPrice" : "$295.00", "salePrice" : "$149.98", "label": "clearance", "category" : "Clearance", "subcategory": "All Clearance", "stock": 1, "dimension53" : "No" }

{ "451541829" : { "Medium": ["Navy"], "X Large": ["Navy"], "Large": ["Navy"] } }

{ "id" : "451541829", "productName" : "1905 Collection Tailored Fit Windbreaker Jacket CLEARANCE", "productItem" : "70FZ", "productDescription" : "Combat the elements with this stylish, zippered windbreaker. The lightweight, water-resistant material ensures you'll stay dry. It's combined with an expandable knit fabric back, cuffs and band around the waist. Two front slash pockets. 100% polyester. Machine washable. Imported.", "promoDescription" : "", "productUrl" : "http://www.gl-green.com/p/1905-collection-tailored-fit-windbreaker-jacket-clearance", "productImageUrl" : "https://images.josbank.com/is/image/JosBank/70FZ_75_1905_NAVY_MAIN?$browse_thumbnail$", "productImageFullSize" : "https://images.josbank.com/is/image/JosBank/70FZ_75_1905_NAVY_MAIN?$browse_thumbnail$", "price" : "", "regPrice" : "$295.00", "salePrice" : "$199.98", "label": "clearance", "category" : "Clearance", "subcategory": "All Clearance", "stock": 1, "dimension53" : "No" }

{ "451561913" : { "46 Regular": ["Tan"], "46 Long": ["Tan"], "42 Short": ["Tan"], "44 Long": ["Tan"], "42 Long": ["Tan"], "40 Regular": ["Tan"], "38 Short": ["Tan"], "44 Regular": ["Tan"], "42 Regular": ["Tan"], "38 Regular": ["Tan"], "40 Short": ["Tan"] } }

$395.00 $199.98

clearance

{ "id" : "451561913", "productName" : "Traveler Collection Traditional Fit Raincoat CLEARANCE", "productItem" : "70KG", "productDescription" : "Keep the cold and wet weather at bay with this raincoat from the Traveler Collection. Wind proof and water resistant, it has a thick quilted lining, hand-warmer pockets, and a button-front closure. 38 inch length. 45% polyester, 39% cotton, 16% nylon. Imported.", "promoDescription" : "", "productUrl" : "http://www.gl-green.com/p/traveler-collection-traditional-fit-raincoat-clearance-70KGC", "productImageUrl" : "https://images.josbank.com/is/image/JosBank/70KG_16_TRAVELER_TAN_MAIN?$browse_thumbnail$", "productImageFullSize" : "https://images.josbank.com/is/image/JosBank/70KG_16_TRAVELER_TAN_MAIN?$browse_thumbnail$", "price" : "", "regPrice" : "$395.00", "salePrice" : "$199.98", "label": "clearance", "category" : "Clearance", "subcategory": "All Clearance", "stock": 1, "dimension53" : "No" }

{ "451525365" : { "Large": ["Black"] } }

{ "id" : "451525365", "productName" : "1905 Collection Traditional Fit Leather Bomber Jacket CLEARANCE", "productItem" : "70CK", "productDescription" : "Ruggedly handsome with a naturally distressed look, this 1905 Collection bomber jacket has vintage styling and classic appeal. Full-zip closure with snap button placket. Dual entry lower front pockets. Knit cuffs and waistband. Lamb skin. 100% genuine leather body shell. 100% cotton lining. 100% polyester sleeve lining. 100% acrylic knit cuffs & hem. Professional leather clean. Imported.", "promoDescription" : "", "productUrl" : "http://www.gl-green.com/p/1905-collection-traditional-fit-leather-bomber-jacket-clearance", "productImageUrl" : "https://images.josbank.com/is/image/JosBank/70CL_01_JOSEPH_A_BANK_BLACK_MAIN?$browse_thumbnail$", "productImageFullSize" : "https://images.josbank.com/is/image/JosBank/70CL_01_JOSEPH_A_BANK_BLACK_MAIN?$browse_thumbnail$", "price" : "", "regPrice" : "$750.00", "salePrice" : "$199.98", "label": "clearance", "category" : "Special Categories", "subcategory": "Flash Sale Outerwear", "stock": 1, "dimension53" : "No" }

{ "451479784" : { "Medium": ["Black"], "Large": ["Black"] } }

{ "id" : "451479784", "productName" : "Jos. A. Bank Tailored Fit Reversible Quilted Vest CLEARANCE", "productItem" : "70CT", "productDescription" : "Versatile and warm, this reversible vest will provide many seasons of wear. This vest features a lofty, thick fill, snap-button front, and snap-button slash pockets. Quilted on charcoal side. 52% wool 48% polyester. Dry clean. Imported.", "promoDescription" : "", "productUrl" : "http://www.gl-green.com/p/jos-a-bank-tailored-fit-reversible-quilted-vest-clearance", "productImageUrl" : "https://images.josbank.com/is/image/JosBank/70CT_01_JOSEPH_A_BANK_BLACK_MAIN?$browse_thumbnail$", "productImageFullSize" : "https://images.josbank.com/is/image/JosBank/70CT_01_JOSEPH_A_BANK_BLACK_MAIN?$browse_thumbnail$", "price" : "", "regPrice" : "$195.00", "salePrice" : "$49.96", "label": "clearance", "category" : "Special Categories", "subcategory": "Flash Sale Outerwear", "stock": 1, "dimension53" : "No" }

{ "451512676" : { "Large": ["Navy"] } }

{ "id" : "451512676", "productName" : "1905 Collection Tailored Fit Donegal Diamond Quilted Vest CLEARANCE", "productItem" : "70CX", "productDescription" : "Find warmth in classic style with this diamond quilted outerwear vest. Fleece lining. Full-zip closure with buttoned side tabs. Buttoned slash pockets. Shell: 51% wool, 43% polyester, 6% other fibers. Lining: 65% polyester, 35% cotton. Sleeve lining: 100% polyester. Dry clean only. Imported.", "promoDescription" : "", "productUrl" : "http://www.gl-green.com/p/1905-collection-tailored-fit-donegal-diamond-quilted-vest-clearance", "productImageUrl" : "https://images.josbank.com/is/image/JosBank/70CX_75_1905_NAVY_MAIN?$browse_thumbnail$", "productImageFullSize" : "https://images.josbank.com/is/image/JosBank/70CX_75_1905_NAVY_MAIN?$browse_thumbnail$", "price" : "", "regPrice" : "$195.00", "salePrice" : "$49.96", "label": "clearance", "category" : "Special Categories", "subcategory": "Flash Sale Outerwear", "stock": 1, "dimension53" : "No" }
Related Products
Description:
Soft jackets feature a body conscious, flattering fit that updates your wardrobe with a stylish touch. This casual jacket features a comfortable stretch knit fabric. Two button, notch lapel, side vents. Patch pockets. Unlined. Heathered pattern. 80% polyester, 16% rayon, ...
Description:
Our 1905 Collection features classic pieces with updated, vintage styling. This timeless bomber jacket is made from soft, fine lambskin leather. It is fully lined with a full zip closure and knit collar, waistband, and cuffs. 100% lambskin leather shell. ...
Description:
With smooth, Tailored Fit lines this windbreaker jacket is a versatile addition to your casual wear. Standup collar. Full zip closure. Ribbed-knit elastic cuffs. Soft fill. Hand-warmer slash pockets. 100% polyester. Dry clean only. Imported.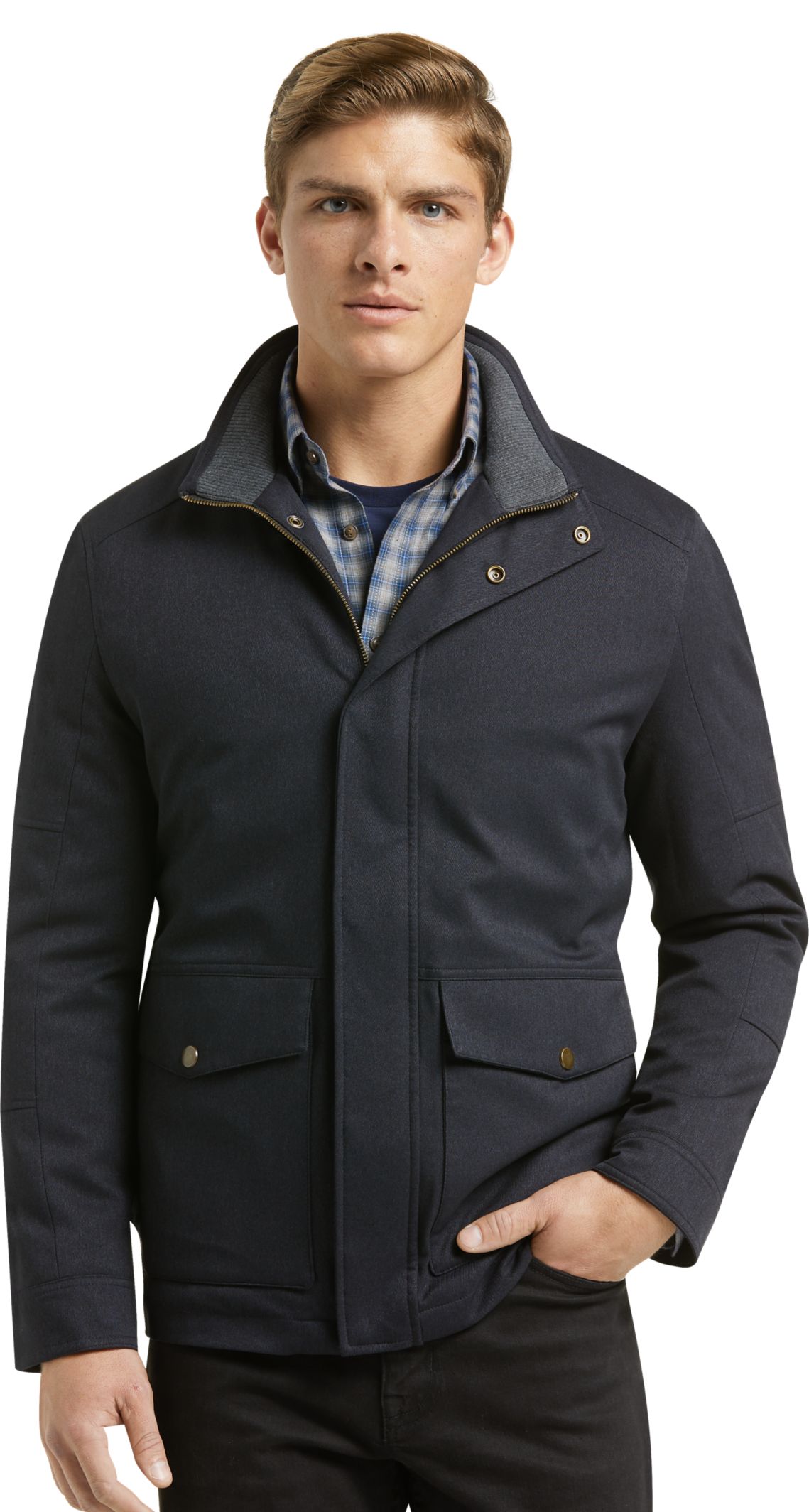 Description:
Ideal for cool days and casual styles this warm twill field jacket features spacious pockets and a warm quilted interior. Combination snap and full-zip closure. 100% polyester fill. Quilted, lined interior. Snap tabs at cuffs. Snap flap patch pockets. 100% ...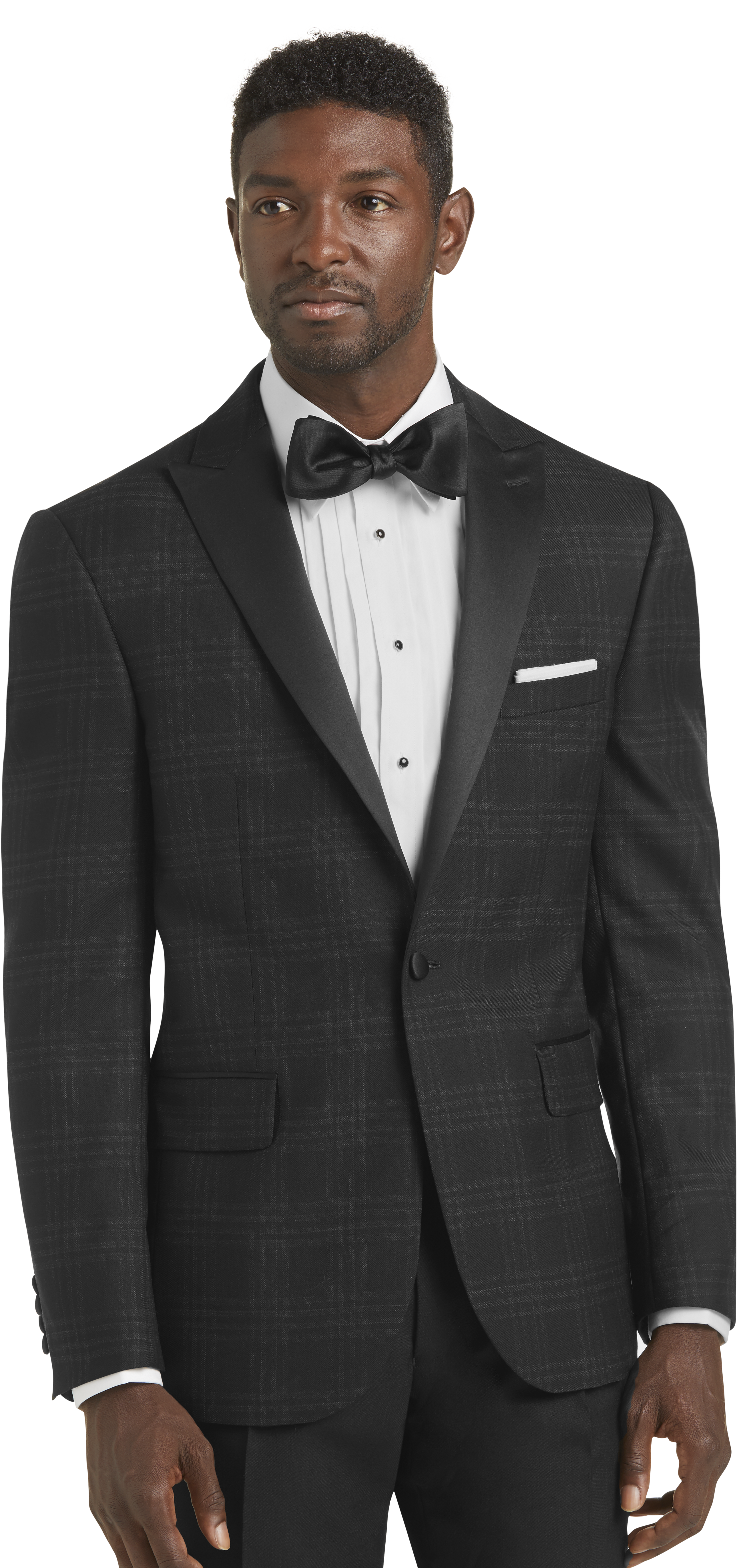 Description:
Understated and refined, this fine wool dinner jacket stands out with a tonal plaid pattern, a satin peak lapel, and a one satin button closure. Fully lined. Flap pockets. Satin piping details. 100% wool. Dry clean only. Imported.