Refine your results
SHOW
Show:

Press enter to collapse or expand the menu. For navigating with in Filter options, press tab. To select Filter options, press enter.

Clear All

Filter

Done

0

Products

Add filter

Reset filters
Product List
{ "451538946" : { "11 D Width": [ "Black", "Burgundy" ], "8.5 D Width": ["Burgundy"], "9.5 D Width": ["Burgundy"], "13 D Width": ["Burgundy"], "12 D Width": ["Burgundy"], "10.5 D Width": [ "Black", "Burgundy" ], "10 D Width": ["Burgundy"], "9 D Width": ["Burgundy"] } }

{ "id" : "451538946", "productName" : "J. Murphy by Johnston & Murphy Harvey Cap Toe Oxfords CLEARANCE", "productItem" : "40WG", "productDescription" : "A polished and smooth leather upper features classic cap-toe styling with brogued details throughout. Brush off leather upper. All leather outsole. Cement construction. Leather quarter linings. Spot clean. Imported.", "promoDescription" : "", "productUrl" : "http://www.gl-green.com/p/j-murphy-by-johnston-murphy-harvey-cap-toe-oxfords-clearance", "productImageUrl" : "https://images.josbank.com/is/image/JosBank/40WG_59_J_MURPHY_BURGUNDY_MAIN?$browse_thumbnail$", "productImageFullSize" : "https://images.josbank.com/is/image/JosBank/40WG_59_J_MURPHY_BURGUNDY_MAIN?$browse_thumbnail$", "price" : "", "regPrice" : "$150.00", "salePrice" : "$69.98", "label": "clearance", "category" : "Clearance", "subcategory": "All Clearance", "stock": 1, "dimension53" : "No" }

{ "451539025" : { "9 EEE Width": ["Cognac"] } }

{ "id" : "451539025", "productName" : "Rockport Style Seeker Penny Loafers CLEARANCE", "productItem" : "40LP", "productDescription" : "This classic penny loafer has a stylishly casual look with a lugged sole and stitched upper. Soft textile lining. Extra lightweight, durable EVA sole. Removable, shock absorbing, anti-microbial foam footbed. Genuine leather. Imported.<br\/>", "promoDescription" : "", "productUrl" : "http://www.gl-green.com/p/rockport-style-seeker-penny-loafers-clearance-40LPC", "productImageUrl" : "https://images.josbank.com/is/image/JosBank/40LP_16_ROCKPORT_COGNAC_MAIN?$browse_thumbnail$", "productImageFullSize" : "https://images.josbank.com/is/image/JosBank/40LP_16_ROCKPORT_COGNAC_MAIN?$browse_thumbnail$", "price" : "", "regPrice" : "$130.00", "salePrice" : "$59.98", "label": "clearance", "category" : "Clearance", "subcategory": "All Clearance", "stock": 1, "dimension53" : "No" }

{ "451533328" : { "8.5 D Width": ["Cognac"], "9.5 D Width": [ "Cognac", "Navy" ], "13 D Width": ["Cognac"], "10.5 D Width": ["Cognac"], "8 D Width": ["Cognac"], "9 D Width": ["Cognac"] } }

$275.00 $129.98

clearance

{ "id" : "451533328", "productName" : "Joseph Abboud Cap Toe Oxfords CLEARANCE", "productItem" : "40YZ", "productDescription" : "A cap toe and brogue detailing add polish to these classic Oxfords by Joseph Abboud. Crafted in Italy from fine leather, they are ideal for dress and career attire. Cushioned insole. Genuine leather and rubber outsole. Imported.", "promoDescription" : "", "productUrl" : "http://www.gl-green.com/p/joseph-abboud-cap-toe-oxfords-clearance", "productImageUrl" : "https://images.josbank.com/is/image/JosBank/40YZ_16_JOSEPH_ABBOUD_HERITAGE_COGNAC_MAIN?$browse_thumbnail$", "productImageFullSize" : "https://images.josbank.com/is/image/JosBank/40YZ_16_JOSEPH_ABBOUD_HERITAGE_COGNAC_MAIN?$browse_thumbnail$", "price" : "", "regPrice" : "$275.00", "salePrice" : "$129.98", "label": "clearance", "category" : "Clearance", "subcategory": "All Clearance", "stock": 1, "dimension53" : "No" }

{ "451531764" : { "11 D Width": ["Grey"], "9.5 D Width": ["Grey"], "13 D Width": ["Grey"], "10.5 D Width": ["Grey"], "10 D Width": ["Grey"], "9 D Width": ["Grey"] } }

{ "id" : "451531764", "productName" : "Hush Puppies Titan Plain Toe Casual Oxfords CLEARANCE", "productItem" : "41AY", "productDescription" : "These smooth, casual Oxfords pair perfectly with jeans or khakis. They have a plain toe, flexible outsole, and a soft cushioned insole. Textile inner linings. Synthetic welt. Wavereflex wave pattern flexible outsole promotes natural foot motion. Genuine leather upper. Spot clean. Imported.", "promoDescription" : "", "productUrl" : "http://www.gl-green.com/p/hush-puppies-titan-plain-toe-casual-oxfords-clearance", "productImageUrl" : "https://images.josbank.com/is/image/JosBank/41AY_03_HUSH_PUPPIES_GREY_MAIN?$browse_thumbnail$", "productImageFullSize" : "https://images.josbank.com/is/image/JosBank/41AY_03_HUSH_PUPPIES_GREY_MAIN?$browse_thumbnail$", "price" : "", "regPrice" : "$120.00", "salePrice" : "$89.98", "label": "clearance", "category" : "Clearance", "subcategory": "All Clearance", "stock": 1, "dimension53" : "No" }

{ "451541918" : { "11 D Width": [ "Black", "Chocolate" ], "8.5 D Width": [ "Black", "Chocolate" ], "9.5 D Width": [ "Black", "Chocolate" ], "13 D Width": [ "Black", "Chocolate" ], "12 D Width": [ "Black", "Chocolate" ], "10.5 D Width": [ "Black", "Chocolate" ], "10 D Width": [ "Black", "Chocolate" ], "9 D Width": [ "Black", "Chocolate" ] } }

{ "id" : "451541918", "productName" : "Joseph Abboud Harry Moc Toe Lace-Ups CLEARANCE", "productItem" : "41F6", "productDescription" : "Easy going style and quality construction set these fine shoes apart from the rest. These dress casual basics feature leather linings, a flexible and durable rubber sole, and soft 8mm thick density latex foam footbeds. Brass eyelets. Genuine leather uppers. Spot clean. Imported.", "promoDescription" : "", "productUrl" : "http://www.gl-green.com/p/joseph-abboud-harry-moc-toe-lace-ups-clearance", "productImageUrl" : "https://images.josbank.com/is/image/JosBank/41F6_01_JOSEPH_ABBOUD_HERITAGE_BLACK_MAIN?$browse_thumbnail$", "productImageFullSize" : "https://images.josbank.com/is/image/JosBank/41F6_01_JOSEPH_ABBOUD_HERITAGE_BLACK_MAIN?$browse_thumbnail$", "price" : "", "regPrice" : "$155.00", "salePrice" : "$74.98", "label": "clearance", "category" : "Clearance", "subcategory": "All Clearance", "stock": 1, "dimension53" : "No" }

{ "451052851" : { "11.5 D Width": ["Tan"], "8.5 D Width": ["Tan"], "9.5 D Width": ["Tan"], "13 D Width": ["Tan"], "12 D Width": ["Tan"], "10.5 D Width": ["Tan"], "10 D Width": ["Tan"], "9 D Width": ["Tan"] } }

{ "id" : "451052851", "productName" : "Larsey Cap Toe Shoe by Johnston & Murphy CLEARANCE", "productItem" : "4FJZ", "productDescription" : "Bondwelt construction. Italian Calfskin leather uppers. Full leather linings. Full length padded footbed. Combination leather and rubber outsole and heel. 100% Leather uppers. Spot clean. Imported.", "promoDescription" : "", "productUrl" : "http://www.gl-green.com/p/larsey-cap-toe-shoe-by-johnston-murphy-clearance-4FJZC", "productImageUrl" : "https://images.josbank.com/is/image/JosBank/17899_024_main?$browse_thumbnail$", "productImageFullSize" : "https://images.josbank.com/is/image/JosBank/17899_024_main?$browse_thumbnail$", "price" : "", "regPrice" : "$139.00", "salePrice" : "$99.98", "label": "clearance", "category" : "Clearance", "subcategory": "All Clearance", "stock": 1, "dimension53" : "No" }

{ "451531801" : { "11 D Width": ["Cognac"], "8.5 D Width": ["Cognac"], "9.5 D Width": ["Cognac"], "10.5 D Width": ["Cognac"], "10 D Width": ["Cognac"], "9 D Width": ["Cognac"] } }

{ "id" : "451531801", "productName" : "Joseph Abboud Will Moc Toe Bluchers CLEARANCE", "productItem" : "41CW", "productDescription" : "Complete a dress-casual look with these stylish bluchers featuring a pebble-grain textured upper and a moc toe. Soft cushioned insole with arch support and gel-pod technology. Genuine leather upper. Leather lined. Rubber outsole. Spot clean. Imported.", "promoDescription" : "", "productUrl" : "http://www.gl-green.com/p/joseph-abboud-will-moc-toe-bluchers-clearance", "productImageUrl" : "https://images.josbank.com/is/image/JosBank/41CW_16_JOSEPH_ABBOUD_HERITAGE_COGNAC_MAIN?$browse_thumbnail$", "productImageFullSize" : "https://images.josbank.com/is/image/JosBank/41CW_16_JOSEPH_ABBOUD_HERITAGE_COGNAC_MAIN?$browse_thumbnail$", "price" : "", "regPrice" : "$165.00", "salePrice" : "$79.98", "label": "clearance", "category" : "Clearance", "subcategory": "All Clearance", "stock": 1, "dimension53" : "No" }

{ "451541816" : { "11 D Width": [ "Black", "Cognac" ], "8.5 D Width": [ "Black", "Cognac" ], "9.5 D Width": ["Black"], "13 D Width": ["Cognac"], "12 D Width": [ "Black", "Cognac" ], "10.5 D Width": [ "Black", "Cognac" ], "10 D Width": [ "Black", "Cognac" ], "9 D Width": [ "Black", "Cognac" ] } }

{ "id" : "451541816", "productName" : "Joseph Abboud Harold Cap Toe Oxfords CLEARANCE", "productItem" : "41F5", "productDescription" : "Crafted in fine leather with a smooth polished cap toe and a natural textured vamp and heel, these stylish lace-ups will complete your favorite dress-casual and casual wear looks. Leather linings. Durable and flexible rubber sole. Brass eyelets. 8mm thick leather covered cushioned footbed. Genuine leather uppers. Spot clean. Imported.", "promoDescription" : "", "productUrl" : "http://www.gl-green.com/p/joseph-abboud-harold-cap-toe-oxfords-clearance", "productImageUrl" : "https://images.josbank.com/is/image/JosBank/41F5_16_JOSEPH_ABBOUD_HERITAGE_COGNAC_MAIN?$browse_thumbnail$", "productImageFullSize" : "https://images.josbank.com/is/image/JosBank/41F5_16_JOSEPH_ABBOUD_HERITAGE_COGNAC_MAIN?$browse_thumbnail$", "price" : "", "regPrice" : "$155.00", "salePrice" : "$74.98", "label": "clearance", "category" : "Clearance", "subcategory": "All Clearance", "stock": 1, "dimension53" : "No" }

{ "451538996" : { "11 D Width": [ "Light Blue", "Taupe" ], "8.5 D Width": ["Taupe"], "10.5 D Width": [ "Light Blue", "Taupe" ], "8 D Width": ["Taupe"], "10 D Width": [ "Light Blue", "Taupe" ], "9 D Width": ["Taupe"] } }

{ "id" : "451538996", "productName" : "Joseph Abboud Casual Slip-On Loafers CLEARANCE", "productItem" : "40K7", "productDescription" : "These casual, comfortable shoes are fashioned in soft, genuine suede leather. Perforated upper. Fabric lining. Cushioned insole. Man-made sole. Imported.", "promoDescription" : "", "productUrl" : "http://www.gl-green.com/p/joseph-abboud-casual-slip-on-loafers-clearance", "productImageUrl" : "https://images.josbank.com/is/image/JosBank/40K7_71_JOSEPH_ABBOUD_HERITAGE_LIGHT_BLUE_MAIN?$browse_thumbnail$", "productImageFullSize" : "https://images.josbank.com/is/image/JosBank/40K7_71_JOSEPH_ABBOUD_HERITAGE_LIGHT_BLUE_MAIN?$browse_thumbnail$", "price" : "", "regPrice" : "$80.00", "salePrice" : "$59.98", "label": "clearance", "category" : "Clearance", "subcategory": "All Clearance", "stock": 1, "dimension53" : "No" }

{ "451486485" : { "11 D Width": ["Tan"], "11.5 D Width": ["Tan"], "8.5 D Width": ["Tan"], "9.5 D Width": ["Tan"], "13 D Width": ["Tan"], "12 D Width": ["Tan"], "14 D Width": ["Tan"], "10.5 D Width": ["Tan"], "10 D Width": ["Tan"], "9 D Width": ["Tan"] } }

{ "id" : "451486485", "productName" : "Joseph Abboud Stevenson Moc Toe Oxfords CLEARANCE", "productItem" : "4HFY", "productDescription" : "These fine Italian leather shoes by Joseph Abboud feature genuine leather uppers with leather linings. Moc split toe. Also has a cushioned footbed with a full rubber outsole for long lasting comfort. 100% leather. Spot Clean.", "promoDescription" : "", "productUrl" : "http://www.gl-green.com/p/joseph-abboud-stevenson-moc-toe-oxfords-clearance", "productImageUrl" : "https://images.josbank.com/is/image/JosBank/30173_024_main?$browse_thumbnail$", "productImageFullSize" : "https://images.josbank.com/is/image/JosBank/30173_024_main?$browse_thumbnail$", "price" : "", "regPrice" : "$170.00", "salePrice" : "$129.98", "label": "clearance", "category" : "Clearance", "subcategory": "All Clearance", "stock": 1, "dimension53" : "No" }

{ "451552149" : { "11 D Width": ["Chestnut"], "11.5 D Width": ["Chestnut"], "8.5 D Width": ["Chestnut"], "9.5 D Width": ["Chestnut"], "13 D Width": ["Chestnut"], "12 D Width": ["Chestnut"], "14 D Width": ["Chestnut"], "10.5 D Width": ["Chestnut"], "10 D Width": ["Chestnut"], "9 D Width": ["Chestnut"] } }

{ "id" : "451552149", "productName" : "Joseph Abboud Glen Double Monk Strap Dress Shoes CLEARANCE", "productItem" : "4HFW", "productDescription" : "Updated double monk strap design in fine Italian leather by Joseph Abboud features genuine leather uppers with leather linings and a cushioned footbed. Full rubber outsoles for long lasting comfort. 100% leather. Spot clean. Imported.", "promoDescription" : "", "productUrl" : "http://www.gl-green.com/p/joseph-abboud-glen-double-monk-strap-dress-shoes-clearance", "productImageUrl" : "https://images.josbank.com/is/image/JosBank/4HFW_40_JOSEPH_ABBOUD_HERITAGE_CHESTNUT_MAIN?$browse_thumbnail$", "productImageFullSize" : "https://images.josbank.com/is/image/JosBank/4HFW_40_JOSEPH_ABBOUD_HERITAGE_CHESTNUT_MAIN?$browse_thumbnail$", "price" : "", "regPrice" : "$165.00", "salePrice" : "$129.98", "label": "clearance", "category" : "Clearance", "subcategory": "All Clearance", "stock": 1, "dimension53" : "No" }

{ "451535199" : { "8.5 D Width": ["Cognac"], "13 D Width": ["Cognac"], "9 D Width": ["Cognac"] } }

{ "id" : "451535199", "productName" : "Joseph Abboud Marco Cap Toe Oxfords CLEARANCE", "productItem" : "40YV", "productDescription" : "These fine classic shoes by Joseph Abboud feature the stylish details of a woven leather upper and broguing. Woven calf skin uppers. Full pig leather lined. 100% hand finished burnished weave. Fully cushioned footbed. Spot clean. Imported.", "promoDescription" : "", "productUrl" : "http://www.gl-green.com/p/joseph-abboud-marco-cap-toe-oxfords-clearance", "productImageUrl" : "https://images.josbank.com/is/image/JosBank/40YV_16_JOSEPH_ABBOUD_HERITAGE_COGNAC_MAIN?$browse_thumbnail$", "productImageFullSize" : "https://images.josbank.com/is/image/JosBank/40YV_16_JOSEPH_ABBOUD_HERITAGE_COGNAC_MAIN?$browse_thumbnail$", "price" : "", "regPrice" : "$150.00", "salePrice" : "$69.98", "label": "clearance", "category" : "Clearance", "subcategory": "All Clearance", "stock": 1, "dimension53" : "No" }

{ "451560177" : { "11 D Width": ["Cognac"], "8.5 D Width": ["Cognac"], "9.5 D Width": ["Cognac"], "13 D Width": ["Cognac"], "12 D Width": ["Cognac"], "10.5 D Width": ["Cognac"], "10 D Width": ["Cognac"], "9 D Width": ["Cognac"] } }

{ "id" : "451560177", "productName" : "Joseph Abboud Dean Leather & Cloth Wingtip Oxfords CLEARANCE", "productItem" : "41NC", "productDescription" : "A distinguished combination of polished leather and tweeded fabric lends a classic air to these dress casual derbys by Joseph Abboud. Wingtip uppers. Leather lined. Cushioned insole. Genuine leather and textile upper. Rubber outsole. Spot clean. Imported.", "promoDescription" : "", "productUrl" : "http://www.gl-green.com/p/joseph-abboud-dean-leather-cloth-wingtip-oxfords-clearance", "productImageUrl" : "https://images.josbank.com/is/image/JosBank/41NC_16_JOSEPH_ABBOUD_HERITAGE_COGNAC_MAIN?$browse_thumbnail$", "productImageFullSize" : "https://images.josbank.com/is/image/JosBank/41NC_16_JOSEPH_ABBOUD_HERITAGE_COGNAC_MAIN?$browse_thumbnail$", "price" : "", "regPrice" : "$150.00", "salePrice" : "$109.98", "label": "clearance", "category" : "Clearance", "subcategory": "All Clearance", "stock": 1, "dimension53" : "No" }

{ "451561939" : { "11 D Width": ["Cinnamon"], "12 D Width": ["Cinnamon"], "10 D Width": ["Cinnamon"], "9 D Width": ["Cinnamon"] } }

{ "id" : "451561939", "productName" : "Jos. A. Bank Oak Park Moccasin Slippers CLEARANCE", "productItem" : "40TX", "productDescription" : "Classic, casual and comfortable, these plush moccasin slippers feature a cushioned fleece lined interior and a slip resistant rubber outsole. Genuine suede leather upper. Plaid lining. Spot clean. Imported.", "promoDescription" : "", "productUrl" : "http://www.gl-green.com/p/jos-a-bank-oak-park-moccasin-slippers-clearance", "productImageUrl" : "https://images.josbank.com/is/image/JosBank/40TX_16_JOSEPH_A_BANK_CINNAMON_MAIN?$browse_thumbnail$", "productImageFullSize" : "https://images.josbank.com/is/image/JosBank/40TX_16_JOSEPH_A_BANK_CINNAMON_MAIN?$browse_thumbnail$", "price" : "", "regPrice" : "$45.00", "salePrice" : "$29.98", "label": "clearance", "category" : "Clearance", "subcategory": "All Clearance", "stock": 1, "dimension53" : "No" }

{ "451560253" : { "11 D Width": ["Walnut"], "8.5 D Width": ["Walnut"], "9.5 D Width": ["Walnut"], "13 D Width": ["Walnut"], "12 D Width": ["Walnut"], "10.5 D Width": ["Walnut"], "10 D Width": ["Walnut"], "9 D Width": ["Walnut"] } }

{ "id" : "451560253", "productName" : "Joseph Abboud Marvin Perforated Cap Toe Oxfords CLEARANCE", "productItem" : "41NA", "productDescription" : "Detailed with traditional brogue patterns and a combination smooth and perforated leather upper, these natty cap toe derbys look great with your stylish casual wear favorites. Lightly burnished finish on toes. Cushioned insole. Leather lined. 100% soft leather upper. 100% rubber outsole. Spot clean. Imported.", "promoDescription" : "", "productUrl" : "http://www.gl-green.com/p/joseph-abboud-marvin-perforated-cap-toe-oxfords-clearance", "productImageUrl" : "https://images.josbank.com/is/image/JosBank/41NA_42_JOSEPH_ABBOUD_HERITAGE_WALNUT_MAIN?$browse_thumbnail$", "productImageFullSize" : "https://images.josbank.com/is/image/JosBank/41NA_42_JOSEPH_ABBOUD_HERITAGE_WALNUT_MAIN?$browse_thumbnail$", "price" : "", "regPrice" : "$150.00", "salePrice" : "$109.98", "label": "clearance", "category" : "Clearance", "subcategory": "All Clearance", "stock": 1, "dimension53" : "No" }

{ "451561905" : { "11 D Width": ["Sage"], "13 D Width": ["Sage"], "12 D Width": ["Sage"], "8 D Width": ["Sage"], "10 D Width": ["Sage"], "9 D Width": ["Sage"] } }

{ "id" : "451561905", "productName" : "Jos. A. Bank Brentwood Sherpa Lined Ankle Boot Slipper CLEARANCE", "productItem" : "41G9", "productDescription" : "Cozy and comfortable these faux sherpa lined slippers have an ankle boot silhouette for extra warmth. A rubber sole allows for indoor and outdoor wear. Genuine suede upper. Faux sherpa lining. Spot clean. Imported.", "promoDescription" : "", "productUrl" : "http://www.gl-green.com/p/jos-a-bank-brentwood-sherpa-lined-ankle-boot-slipper-clearance", "productImageUrl" : "https://images.josbank.com/is/image/JosBank/41G9_84_JOSEPH_A_BANK_SAGE_MAIN?$browse_thumbnail$", "productImageFullSize" : "https://images.josbank.com/is/image/JosBank/41G9_84_JOSEPH_A_BANK_SAGE_MAIN?$browse_thumbnail$", "price" : "", "regPrice" : "$60.00", "salePrice" : "$39.98", "label": "clearance", "category" : "Clearance", "subcategory": "All Clearance", "stock": 1, "dimension53" : "No" }

{ "451492595" : { "16 D Width": ["Brown"], "14 D Width": ["Brown"] } }

{ "id" : "451492595", "productName" : "World Tour Walking Shoes by Rockport CLEARANCE", "productItem" : "40TJ", "productDescription" : "For the ultimate in comfort, these walking shoes by Rockport feature a wide based platform for heel support and flexibility with a soft EVA footed for a personalized fit. A padded collar and tongue prevent blisters and lace bruising. A soft rubber outsole provides a durable grip.", "promoDescription" : "", "productUrl" : "http://www.gl-green.com/p/world-tour-walking-shoes-by-rockport-clearance", "productImageUrl" : "https://images.josbank.com/is/image/JosBank/40TJ_38_BROWN_MAIN?$browse_thumbnail$", "productImageFullSize" : "https://images.josbank.com/is/image/JosBank/40TJ_38_BROWN_MAIN?$browse_thumbnail$", "price" : "", "regPrice" : "$100.00", "salePrice" : "$69.98", "label": "clearance", "category" : "Clearance", "subcategory": "All Clearance", "stock": 1, "dimension53" : "No" }

{ "451561863" : { "11 D Width": ["Sage"], "12 D Width": ["Sage"], "8 D Width": ["Sage"], "10 D Width": ["Sage"], "9 D Width": ["Sage"] } }

{ "id" : "451561863", "productName" : "Jos. A. Bank Woodridge Moccasin Slippers CLEARANCE", "productItem" : "40TY", "productDescription" : "Cozy and warm, these plush moccasin slippers feature a cushioned sherpa lined interior and a slip resistant rubber outsole. Genuine suede leather upper. Spot clean. Imported.", "promoDescription" : "", "productUrl" : "http://www.gl-green.com/p/jos-a-bank-woodridge-moccasin-slippers-clearance", "productImageUrl" : "https://images.josbank.com/is/image/JosBank/40TY_84_JOSEPH_A_BANK_SAGE_MAIN?$browse_thumbnail$", "productImageFullSize" : "https://images.josbank.com/is/image/JosBank/40TY_84_JOSEPH_A_BANK_SAGE_MAIN?$browse_thumbnail$", "price" : "", "regPrice" : "$45.00", "salePrice" : "$29.98", "label": "clearance", "category" : "Clearance", "subcategory": "All Clearance", "stock": 1, "dimension53" : "No" }

{ "451539049" : { "11 D Width": ["Navy"], "10.5 D Width": [ "Burgundy", "Navy" ], "10 D Width": [ "Burgundy", "Navy" ], "9 D Width": [ "Burgundy", "Navy" ] } }

$155.00 $109.98

clearance

{ "id" : "451539049", "productName" : "Belvedere Lionel Cap Toe Derbys CLEARANCE", "productItem" : "41L7", "productDescription" : "These fine cap-toes have smooth, highly polished calfskin leather uppers in rich, classic hues. Leather lined. Durable, stylish rubber sole. 8mm thick leather covered cushioned footbed. Genuine calfskin leather uppers. Spot clean. Imported.", "promoDescription" : "", "productUrl" : "http://www.gl-green.com/p/belvedere-lionel-cap-toe-derbys-clearance", "productImageUrl" : "https://images.josbank.com/is/image/JosBank/41L7_59_JOSEPH_ABBOUD_BURGUNDY_MAIN?$browse_thumbnail$", "productImageFullSize" : "https://images.josbank.com/is/image/JosBank/41L7_59_JOSEPH_ABBOUD_BURGUNDY_MAIN?$browse_thumbnail$", "price" : "", "regPrice" : "$155.00", "salePrice" : "$109.98", "label": "clearance", "category" : "Clearance", "subcategory": "All Clearance", "stock": 1, "dimension53" : "No" }

{ "451561885" : { "11 D Width": ["Light Grey"], "9.5 D Width": ["Light Grey"], "12 D Width": ["Light Grey"], "10.5 D Width": ["Light Grey"], "10 D Width": ["Light Grey"], "9 D Width": ["Light Grey"] } }

{ "id" : "451561885", "productName" : "Hush Puppies Bracco Moccasin Toe Lace Ups CLEARANCE", "productItem" : "41J6", "productDescription" : "These soft suede lace ups from Hush Puppies feature a worry-free suede protective coating that resists scuffs, stains, and water. Genuine suede sock linings. Removable soft latex and foam footbeds provide added cushioning. Lightweight and flexible multi density molded EVA outsoles provide traction and durability. Genuine suede uppers. Spot clean. Imported.", "promoDescription" : "", "productUrl" : "http://www.gl-green.com/p/hush-puppies-bracco-moccasin-toe-lace-ups-clearance", "productImageUrl" : "https://images.josbank.com/is/image/JosBank/41J6_04_HUSH_PUPPIES_LIGHT_GREY_MAIN?$browse_thumbnail$", "productImageFullSize" : "https://images.josbank.com/is/image/JosBank/41J6_04_HUSH_PUPPIES_LIGHT_GREY_MAIN?$browse_thumbnail$", "price" : "", "regPrice" : "$100.00", "salePrice" : "$69.98", "label": "clearance", "category" : "Clearance", "subcategory": "All Clearance", "stock": 1, "dimension53" : "No" }

{ "451561862" : { "11 D Width": [ "Dark Brown", "Light Tan" ], "13 D Width": [ "Dark Brown", "Light Tan" ], "12 D Width": [ "Dark Brown", "Light Tan" ], "8 D Width": [ "Dark Brown", "Light Tan" ], "10 D Width": [ "Dark Brown", "Light Tan" ], "9 D Width": [ "Dark Brown", "Light Tan" ] } }

{ "id" : "451561862", "productName" : "Jos. A Bank Saxon Shearling Lined Moccasin Slippers CLEARANCE", "productItem" : "41GF", "productDescription" : "Luxurious and cozy, these soft moccasin slippers are richly lined in shearling. A rubber sole allows indoor and outdoor wear. Genuine dear leather. Shearling lined. Spot clean. Imported.", "promoDescription" : "", "productUrl" : "http://www.gl-green.com/p/jos-a-bank-saxon-shearling-lined-moccasin-slippers-clearance", "productImageUrl" : "https://images.josbank.com/is/image/JosBank/41GF_17_JOSEPH_A_BANK_LIGHT_TAN_MAIN?$browse_thumbnail$", "productImageFullSize" : "https://images.josbank.com/is/image/JosBank/41GF_17_JOSEPH_A_BANK_LIGHT_TAN_MAIN?$browse_thumbnail$", "price" : "", "regPrice" : "$95.00", "salePrice" : "$69.98", "label": "clearance", "category" : "Clearance", "subcategory": "All Clearance", "stock": 1, "dimension53" : "No" }

{ "451539051" : { "11 D Width": ["Coffee"], "8.5 D Width": ["Coffee"], "9.5 D Width": ["Coffee"], "13 D Width": ["Coffee"], "12 D Width": ["Coffee"], "10.5 D Width": ["Coffee"], "10 D Width": ["Coffee"], "9 D Width": ["Coffee"] } }

{ "id" : "451539051", "productName" : "Joseph Abboud Cannes Cap Toe Oxfords CLEARANCE", "productItem" : "413N", "productDescription" : "These fine leather Oxfords feature a casual matte finish that pairs well with jeans and khakis. Soft leather lining. Soft leather footbed. High density latex foam. Flexible stitched through gel sole. Full grain leather upper. Spot clean. Imported.", "promoDescription" : "", "productUrl" : "http://www.gl-green.com/p/joseph-abboud-cannes-cap-toe-oxfords-clearance", "productImageUrl" : "https://images.josbank.com/is/image/JosBank/413N_41_JOSEPH_ABBOUD_HERITAGE_COFFEE_MAIN?$browse_thumbnail$", "productImageFullSize" : "https://images.josbank.com/is/image/JosBank/413N_41_JOSEPH_ABBOUD_HERITAGE_COFFEE_MAIN?$browse_thumbnail$", "price" : "", "regPrice" : "$150.00", "salePrice" : "$109.98", "label": "clearance", "category" : "Clearance", "subcategory": "All Clearance", "stock": 1, "dimension53" : "No" }

{ "451533318" : { "11 D Width": [ "Black", "Bourbon" ], "9.5 D Width": ["Bourbon"], "12 D Width": [ "Black", "Bourbon" ], "10.5 D Width": ["Black"], "10 D Width": ["Black"] } }

$275.00 $129.98

clearance

{ "id" : "451533318", "productName" : "Joseph Abboud Asti Cap Toe Slip Ons CLEARANCE", "productItem" : "41FV", "productDescription" : "Smooth and understated, these slip on loafers feature a tapered cap toe, elastic gussets at the side, and a smooth, polished, hand-burnished finish. Combination leather and rubber outsole. 100% genuine leather upper. Spot clean. Made in Italy.", "promoDescription" : "", "productUrl" : "http://www.gl-green.com/p/joseph-abboud-asti-cap-toe-slip-ons-clearance", "productImageUrl" : "https://images.josbank.com/is/image/JosBank/41FV_16_JOSEPH_ABBOUD_HERITAGE_BOURBON_MAIN?$browse_thumbnail$", "productImageFullSize" : "https://images.josbank.com/is/image/JosBank/41FV_16_JOSEPH_ABBOUD_HERITAGE_BOURBON_MAIN?$browse_thumbnail$", "price" : "", "regPrice" : "$275.00", "salePrice" : "$129.98", "label": "clearance", "category" : "Clearance", "subcategory": "All Clearance", "stock": 1, "dimension53" : "No" }

{ "451479744" : { "9.5 EE Width": [ "Burgundy", "Tan" ], "14 D Width": ["Black"] } }

{ "id" : "451479744", "productName" : "Joseph Abboud Ashbrook Cap Toe Oxfords CLEARANCE", "productItem" : "40LY", "productDescription" : "Understated and stylish, these Joseph Abboud lace-up shoes feature a smooth polished genuine leather upper and cap toe styling. Cushioned footbed. Rubber outsole. Imported.", "promoDescription" : "", "productUrl" : "http://www.gl-green.com/p/joseph-abboud-ashbrook-cap-toe-oxfords-clearance", "productImageUrl" : "https://images.josbank.com/is/image/JosBank/40LY_59_JOSEPH_ABBOUD_HERITAGE_BURGUNDY_MAIN?$browse_thumbnail$", "productImageFullSize" : "https://images.josbank.com/is/image/JosBank/40LY_59_JOSEPH_ABBOUD_HERITAGE_BURGUNDY_MAIN?$browse_thumbnail$", "price" : "", "regPrice" : "$125.00", "salePrice" : "$29.97", "label": "clearance", "category" : "Clearance", "subcategory": "All Clearance", "stock": 1, "dimension53" : "No" }
Related Products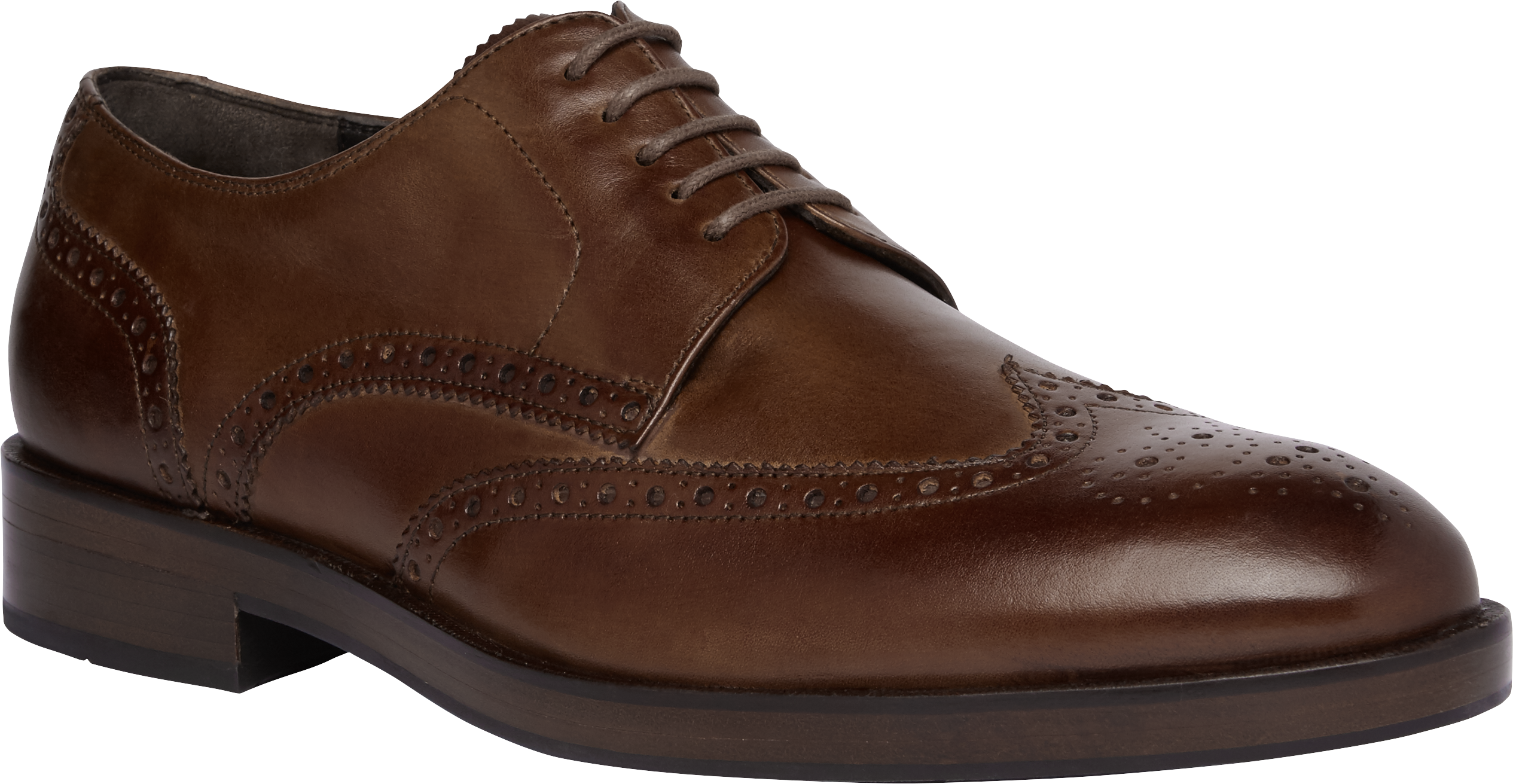 Description:
These classic Oxfords from Cole Haan feature soft, polished leather uppers and brogued wingtip details. Foam cushioned insoles that are light and flexible. Genuine leather uppers lined in sheepskin with innovative rubber inset heels filled with cushioning foam for comfort. Light-weight ...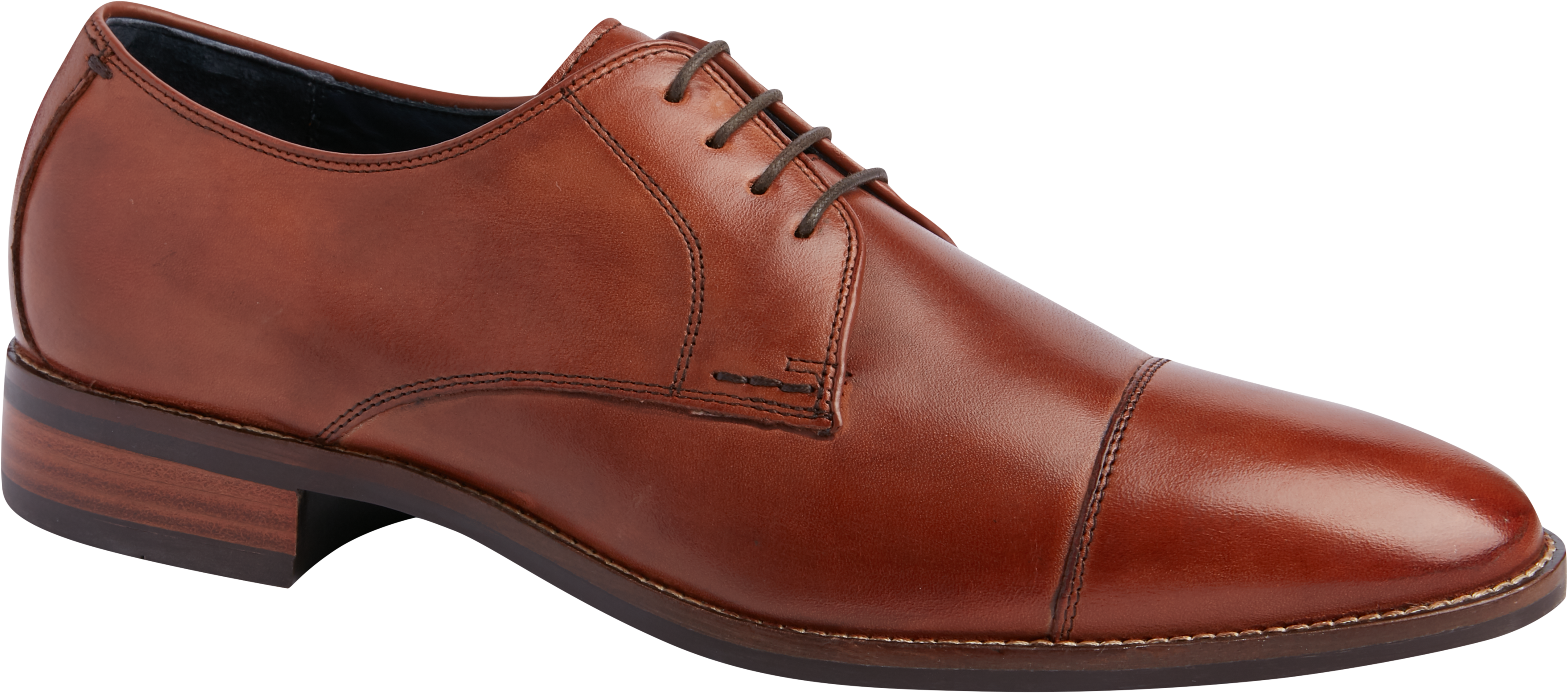 Description:
Sophisticated and understated, these cap-toe derbys will add the perfect finishing touch to your look. Leather lined. Cushioned footbed for all-day comfort. Full rubber outsole. Spot clean. Genuine leather uppers. Imported.
Description:
On-trend and in style, these knit upper Oxfords are flexible, breathable, and cushioned for all-day comfort. Wingtip pattern. Wear-with-anything style. Sock-like fit. Five eye hole lacing. Spot clean. Textile upper. Imported.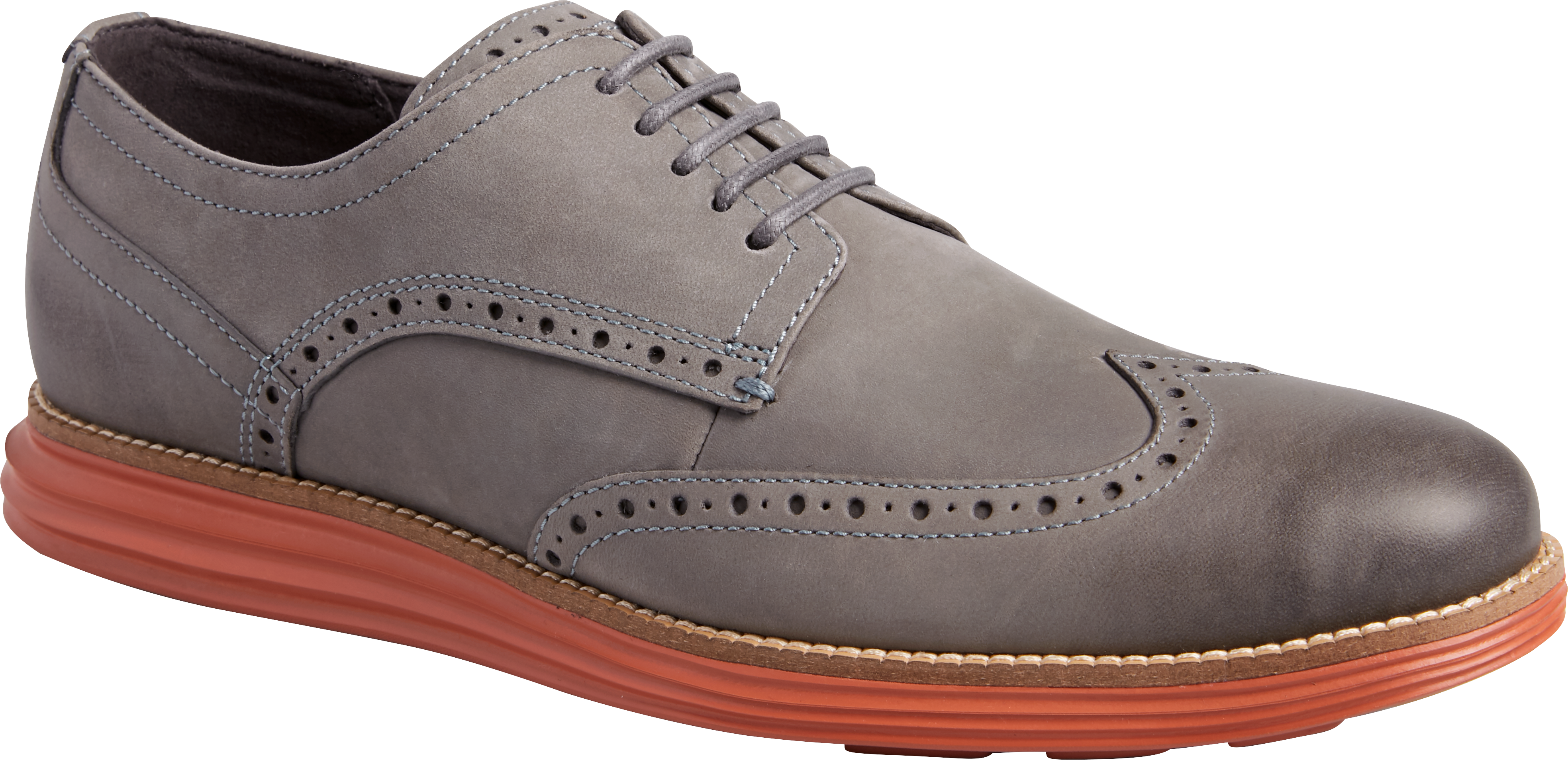 Description:
These classic wingtips have a sporty feel with a soft rubber outsole for added comfort. Smooth leather with smart brogue details on the upper provide a polished look. Cushioned insole. Leather and manmade lining. Imported.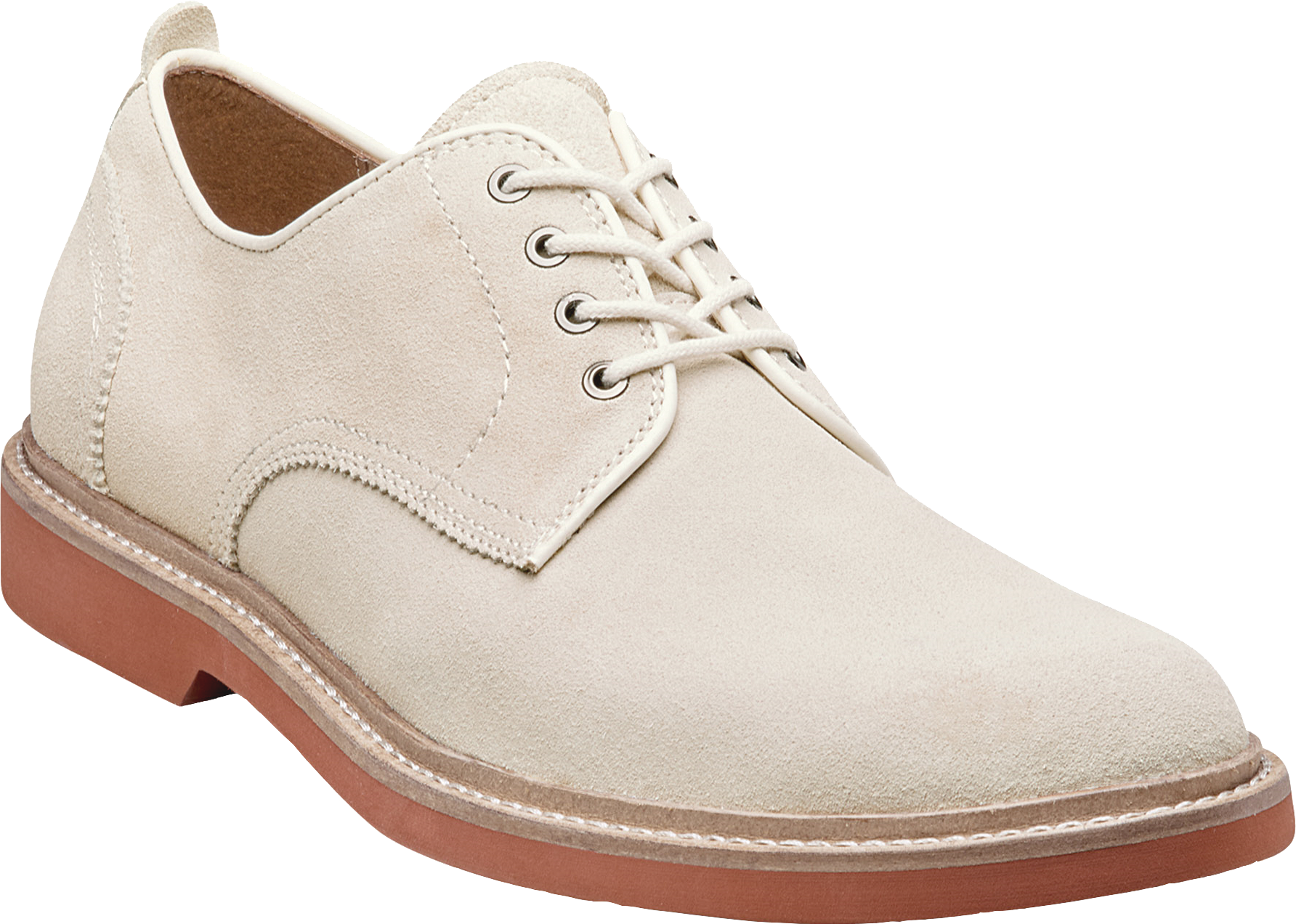 Description:
This fine classic Oxford by Florsheim has understated style with a soft, milled, full-grain suede upper and a smooth plain toe. These comfortable shoes feature a fully cushioned footbed, a breathable leather lining, and a flexible rubber sole. Imported.