Refine your results
SHOW
Show:

Press enter to collapse or expand the menu. For navigating with in Filter options, press tab. To select Filter options, press enter.

Clear All

Filter

Done

0

Products

Add filter

Reset filters
Product List
{ "451510466" : { "11 D Width": ["Dark Tan"], "9.5 D Width": ["Dark Tan"], "13 D Width": ["Dark Tan"], "12 D Width": ["Dark Tan"], "10.5 D Width": ["Dark Tan"], "10 D Width": ["Dark Tan"], "9 D Width": ["Dark Tan"] } }

{ "id" : "451510466", "productName" : "Joseph Abboud Will II Brushed Finish Monk Strap Shoes", "productItem" : "41L6", "productDescription" : "These refined and stylish monk strap shoes have smooth, full-grain leather uppers with a lightly brushed, hand-stained finish. Fine double stitching throughout is both durable and decorative. Leather lined with a memory foam insole. Fully cushioned footbed. Spot clean. Durable long-lasting rubber sole. Imported.", "promoDescription" : "", "productUrl" : "http://www.gl-green.com/p/joseph-abboud-will-ii-brushed-finish-monk-strap-shoes", "productImageUrl" : "https://images.josbank.com/is/image/JosBank/41L6_18_JOSEPH_ABBOUD_HERITAGE_DARK_TAN_MAIN?$browse_thumbnail$", "productImageFullSize" : "https://images.josbank.com/is/image/JosBank/41L6_18_JOSEPH_ABBOUD_HERITAGE_DARK_TAN_MAIN?$browse_thumbnail$", "price" : "$125.00", "regPrice" : "", "salePrice" : "", "label": "none", "category" : "Shoes", "subcategory": "Joseph Abboud", "stock": 1, "dimension53" : "No" }

{ "451452105" : { "11 D Width": [ "Black", "Blue", "Bourbon Suede/I", "British Tan", "Green", "Light Grey", "Mocha", "Navy Suede/Ivor" ], "11.5 D Width": [ "Black", "Bourbon Suede/I", "British Tan", "Light Grey", "Navy Suede/Ivor" ], "8.5 D Width": [ "Black", "Blue", "Bourbon Suede/I", "British Tan", "Light Grey", "Mocha", "Navy Suede/Ivor" ], "9.5 D Width": [ "Black", "Blue", "Bourbon Suede/I", "British Tan", "Green", "Light Grey", "Mocha", "Navy Suede/Ivor" ], "13 D Width": [ "Black", "Blue", "Bourbon Suede/I", "British Tan", "Green", "Light Grey", "Mocha", "Navy Suede/Ivor" ], "12 D Width": [ "Black", "Blue", "Bourbon Suede/I", "British Tan", "Green", "Light Grey", "Mocha", "Navy Suede/Ivor" ], "14 D Width": [ "Black", "Bourbon Suede/I", "British Tan" ], "10.5 D Width": [ "Black", "Blue", "Bourbon Suede/I", "British Tan", "Green", "Light Grey", "Mocha", "Navy Suede/Ivor" ], "8 D Width": [ "Black", "Blue", "Mocha" ], "15 D Width": ["Navy Suede/Ivor"], "10 D Width": [ "Black", "Blue", "Bourbon Suede/I", "British Tan", "Green", "Light Grey", "Mocha", "Navy Suede/Ivor" ], "9 D Width": [ "Black", "Blue", "Bourbon Suede/I", "British Tan", "Green", "Light Grey", "Mocha", "Navy Suede/Ivor" ] } }

{ "id" : "451452105", "productName" : "Cole Haan Zerogrand Navy Suede Wingtip Oxfords", "productItem" : "41F7", "productDescription" : "A stylish combo of casual and dress, these Zerogrand shoes by Cole Haan have brogued wingtip details and a flexible, segmented rubber sole. Softly cushioned, they'll provide a spring to your step. Genuine leather upper, lining and trim. Lace up. Rubber sole. Spot clean. Imported.", "promoDescription" : "", "productUrl" : "http://www.gl-green.com/p/cole-haan-zerogrand-navy-suede-wingtip-oxfords", "productImageUrl" : "https://images.josbank.com/is/image/JosBank/41F7_75_NAVY_SUEDE_IVOR_MAIN?$browse_thumbnail$", "productImageFullSize" : "https://images.josbank.com/is/image/JosBank/41F7_75_NAVY_SUEDE_IVOR_MAIN?$browse_thumbnail$", "price" : "$190.00", "regPrice" : "", "salePrice" : "", "label": "none", "category" : "Shoes", "subcategory": "Cole Haan", "stock": 1, "dimension53" : "No" }

{ "451531741" : { "11 D Width": ["Mocha"], "8.5 D Width": ["Mocha"], "9.5 D Width": ["Mocha"], "13 D Width": ["Mocha"], "12 D Width": ["Mocha"], "10.5 D Width": ["Mocha"], "10 D Width": ["Mocha"], "9 D Width": ["Mocha"] } }

{ "id" : "451531741", "productName" : "Johnston & Murphy Lockhard Chukka Boot", "productItem" : "41N4", "productDescription" : "These classic chukka boots by Johnston & Murphy feature soft oil leather uppers with piped edges and leather quarter lining. A genuine crepe rubber sole imparts surefooted comfort to each step. Bondwelt construction. Genuine leather upper. Spot clean. Imported.", "promoDescription" : "", "productUrl" : "http://www.gl-green.com/p/johnston-murphy-lockhard-chukka-boot", "productImageUrl" : "https://images.josbank.com/is/image/JosBank/41N4_45_JOHNSTON_MURPHY_MOCHA_MAIN?$browse_thumbnail$", "productImageFullSize" : "https://images.josbank.com/is/image/JosBank/41N4_45_JOHNSTON_MURPHY_MOCHA_MAIN?$browse_thumbnail$", "price" : "$160.00", "regPrice" : "", "salePrice" : "", "label": "none", "category" : "Shoes", "subcategory": "Johnston & Murphy", "stock": 1, "dimension53" : "No" }

{ "451516569" : { "11 D Width": [ "British Tan", "Taupe" ], "11.5 D Width": ["British Tan"], "8.5 D Width": [ "British Tan", "Taupe" ], "9.5 D Width": [ "British Tan", "Taupe" ], "13 D Width": ["British Tan"], "12 D Width": ["British Tan"], "14 D Width": ["Taupe"], "10.5 D Width": [ "British Tan", "Taupe" ], "10 D Width": [ "British Tan", "Taupe" ], "9 D Width": [ "British Tan", "Taupe" ] } }

{ "id" : "451516569", "productName" : "Cole Haan Morris Plain Toe Oxfords", "productItem" : "41L0", "productDescription" : "These fine leather derbys by Cole Haan have matte finished uppers with fine stitched details throughout and smooth plain toes. A leather and textile covered molded footbed provides comfort and flexibility. The soft rubber outsole has a textured surface that will give you comfortable grip and traction for non-slip wear. Spot clean. Genuine leather. Imported.", "promoDescription" : "", "productUrl" : "http://www.gl-green.com/p/cole-haan-morris-plain-toe-oxfords", "productImageUrl" : "https://images.josbank.com/is/image/JosBank/41L0_19_BRITISH_TAN_MAIN?$browse_thumbnail$", "productImageFullSize" : "https://images.josbank.com/is/image/JosBank/41L0_19_BRITISH_TAN_MAIN?$browse_thumbnail$", "price" : "$150.00", "regPrice" : "", "salePrice" : "", "label": "none", "category" : "Shoes", "subcategory": "Cole Haan", "stock": 1, "dimension53" : "No" }

{ "451531134" : { "11 D Width": ["Coffee"], "8.5 D Width": ["Coffee"], "9.5 D Width": ["Coffee"], "13 D Width": ["Coffee"], "12 D Width": ["Coffee"], "10.5 D Width": ["Coffee"], "10 D Width": ["Coffee"], "9 D Width": ["Coffee"] } }

{ "id" : "451531134", "productName" : "Joseph Abboud Crawford Wing Tip Chukka Boots", "productItem" : "41MM", "productDescription" : "Sleek and stylish, these chukka-style boots have handsome burnished leather uppers, classic wingtip toes and fully cushioned insoles for maximum comfort. Fully leather lined. Durable manmade rubber outsoles. Imported.", "promoDescription" : "", "productUrl" : "http://www.gl-green.com/p/joseph-abboud-crawford-wing-tip-chukka-boots", "productImageUrl" : "https://images.josbank.com/is/image/JosBank/41MM_42_JOSEPH_ABBOUD_HERITAGE_COFFEE_MAIN?$browse_thumbnail$", "productImageFullSize" : "https://images.josbank.com/is/image/JosBank/41MM_42_JOSEPH_ABBOUD_HERITAGE_COFFEE_MAIN?$browse_thumbnail$", "price" : "$155.00", "regPrice" : "", "salePrice" : "", "label": "none", "category" : "Shoes", "subcategory": "Joseph Abboud", "stock": 1, "dimension53" : "No" }

{ "451260235" : { "11 D Width": [ "Black/Ironstone", "Blue/Ironstone", "Ch Chestnut Nub", "Magnet Nubuck/P", "Woodbury", "Woodbury/Java" ], "11.5 D Width": [ "Blue/Ironstone", "Woodbury", "Woodbury/Java" ], "8.5 D Width": [ "Black/Ironstone", "Blue/Ironstone", "Ch Chestnut Nub", "Magnet Nubuck/P", "Woodbury", "Woodbury/Java" ], "9.5 D Width": [ "Blue/Ironstone", "Ch Chestnut Nub", "Magnet Nubuck/P", "Woodbury", "Woodbury/Java" ], "13 D Width": [ "Black/Ironstone", "Blue/Ironstone", "Magnet Nubuck/P", "Woodbury", "Woodbury/Java" ], "12 D Width": [ "Black/Ironstone", "Blue/Ironstone", "Ch Chestnut Nub", "Magnet Nubuck/P", "Woodbury", "Woodbury/Java" ], "14 D Width": [ "Ch Chestnut Nub", "Magnet Nubuck/P", "Woodbury", "Woodbury/Java" ], "7.5 D Width": ["Woodbury"], "10.5 D Width": [ "Black/Ironstone", "Blue/Ironstone", "Ch Chestnut Nub", "Magnet Nubuck/P", "Woodbury", "Woodbury/Java" ], "8 D Width": ["Woodbury"], "15 D Width": [ "Ch Chestnut Nub", "Magnet Nubuck/P" ], "10 D Width": [ "Black/Ironstone", "Blue/Ironstone", "Ch Chestnut Nub", "Magnet Nubuck/P", "Woodbury", "Woodbury/Java" ], "9 D Width": [ "Black/Ironstone", "Blue/Ironstone", "Ch Chestnut Nub", "Magnet Nubuck/P", "Woodbury", "Woodbury/Java" ] } }

{ "id" : "451260235", "productName" : "Cole Haan Original Grand Wingtip Oxfords", "productItem" : "414T", "productDescription" : "These classic wingtips have a sporty feel with a soft rubber outsole for added comfort. Smooth leather with smart brogue details on the upper provide a polished look. Cushioned insole. Leather and manmade lining. Imported.", "promoDescription" : "", "productUrl" : "http://www.gl-green.com/p/cole-haan-original-grand-wingtip-oxfords", "productImageUrl" : "https://images.josbank.com/is/image/JosBank/414T_03_MAGNET_NUBUCK_P_MAIN?$browse_thumbnail$", "productImageFullSize" : "https://images.josbank.com/is/image/JosBank/414T_03_MAGNET_NUBUCK_P_MAIN?$browse_thumbnail$", "price" : "$150.00", "regPrice" : "", "salePrice" : "", "label": "none", "category" : "Shoes", "subcategory": "Cole Haan", "stock": 1, "dimension53" : "No" }

{ "451533563" : { "11 D Width": ["Dark Brown"], "8.5 D Width": ["Dark Brown"], "9.5 D Width": ["Dark Brown"], "13 D Width": ["Dark Brown"], "12 D Width": ["Dark Brown"], "10.5 D Width": ["Dark Brown"], "10 D Width": ["Dark Brown"], "9 D Width": ["Dark Brown"] } }

{ "id" : "451533563", "productName" : "Joseph Abboud Barry Side Zip Boot", "productItem" : "41NJ", "productDescription" : "A great look for both weekday and weekend wear, these Italian-made boots feature leather uppers, cap toes, and brogued detailing. The lace-up boots also have side zippers for easy on-and-off. Cushioned bands around the tops provide added comfort. Leather uppers with cushioned insoles. Leather lining and manmade outsoles. Imported.", "promoDescription" : "", "productUrl" : "http://www.gl-green.com/p/joseph-abboud-barry-side-zip-boot", "productImageUrl" : "https://images.josbank.com/is/image/JosBank/41NJ_40_GIOVACCHINI_DARK_BROWN_MAIN?$browse_thumbnail$", "productImageFullSize" : "https://images.josbank.com/is/image/JosBank/41NJ_40_GIOVACCHINI_DARK_BROWN_MAIN?$browse_thumbnail$", "price" : "$180.00", "regPrice" : "", "salePrice" : "", "label": "none", "category" : "Shoes", "subcategory": "Giovacchini", "stock": 1, "dimension53" : "No" }

{ "451510467" : { "11 D Width": ["Dark Tan"], "8.5 D Width": ["Dark Tan"], "9.5 D Width": ["Dark Tan"], "13 D Width": ["Dark Tan"], "12 D Width": ["Dark Tan"], "10.5 D Width": ["Dark Tan"], "10 D Width": ["Dark Tan"], "9 D Width": ["Dark Tan"] } }

{ "id" : "451510467", "productName" : "Joseph Abboud Bruno Brushed Finish Medallion Toe Loafers", "productItem" : "41L8", "productDescription" : "These refined loafers have smooth, full-grain leather uppers with a lightly brushed, hand-stained finish. Fine double stitching throughout is both durable and decorative. Leather lined with a memory foam insole. Fully cushioned footbed. Spot clean. Durable long-lasting rubber sole. Imported.", "promoDescription" : "", "productUrl" : "http://www.gl-green.com/p/joseph-abboud-bruno-brushed-finish-medallion-toe-loafers", "productImageUrl" : "https://images.josbank.com/is/image/JosBank/41L8_18_JOSEPH_ABBOUD_HERITAGE_DARK_TAN_MAIN?$browse_thumbnail$", "productImageFullSize" : "https://images.josbank.com/is/image/JosBank/41L8_18_JOSEPH_ABBOUD_HERITAGE_DARK_TAN_MAIN?$browse_thumbnail$", "price" : "$125.00", "regPrice" : "", "salePrice" : "", "label": "none", "category" : "Shoes", "subcategory": "Joseph Abboud", "stock": 1, "dimension53" : "No" }

{ "451529330" : { "11 D Width": [ "Black", "Cognac", "Dark Grey" ], "11.5 D Width": [ "Black", "Cognac", "Dark Grey" ], "8.5 D Width": [ "Black", "Cognac", "Dark Grey" ], "9.5 D Width": [ "Black", "Cognac", "Dark Grey" ], "13 D Width": [ "Black", "Cognac", "Dark Grey" ], "12 D Width": [ "Black", "Cognac", "Dark Grey" ], "10.5 D Width": [ "Black", "Cognac", "Dark Grey" ], "8 D Width": [ "Black", "Cognac", "Dark Grey" ], "10 D Width": [ "Black", "Cognac", "Dark Grey" ], "9 D Width": [ "Black", "Cognac", "Dark Grey" ] } }

{ "id" : "451529330", "productName" : "HP by Hush Puppies Colby Suede Causal Lace-Up Oxfords", "productItem" : "41M7", "productDescription" : "In soft, supple suede, these lace-up oxfords from HP by Hush Puppies are a casual menswear favorite. Detailed for stylish comfort, they have cushioned insoles and flexible segmented outsoles in a contrasting color. Genuine suede leather upper. Manmade outsole. Spot clean. Imported.", "promoDescription" : "", "productUrl" : "http://www.gl-green.com/p/hp-by-hush-puppies-colby-suede-causal-lace-up-oxfords", "productImageUrl" : "https://images.josbank.com/is/image/JosBank/41M7_01_HUSH_PUPPIES_BLACK_MAIN?$browse_thumbnail$", "productImageFullSize" : "https://images.josbank.com/is/image/JosBank/41M7_01_HUSH_PUPPIES_BLACK_MAIN?$browse_thumbnail$", "price" : "", "regPrice" : "$110.00", "salePrice" : "$89.00", "label": "sale", "category" : "Shoes", "subcategory": "All Shoes", "stock": 1, "dimension53" : "No" }

{ "451516570" : { "11 D Width": ["British Tan"], "8.5 D Width": ["British Tan"], "9.5 D Width": ["British Tan"], "13 D Width": ["British Tan"], "12 D Width": ["British Tan"], "10.5 D Width": ["British Tan"], "10 D Width": ["British Tan"], "9 D Width": ["British Tan"] } }

{ "id" : "451516570", "productName" : "Cole Haan Morris Wingtip Oxfords", "productItem" : "41L9", "productDescription" : "These fine leather Oxfords by Cole Haan have polished uppers with fine stitched wingtip details throughout. A leather and textile covered molded footbed provides comfort and flexibility. The soft rubber outsole has an auxetic textured surface that will give you comfortable grip and traction for non-slip wear. EVA midsole. Spot clean. Genuine leather. Imported.", "promoDescription" : "", "productUrl" : "http://www.gl-green.com/p/cole-haan-morris-wingtip-oxfords", "productImageUrl" : "https://images.josbank.com/is/image/JosBank/41L9_19_COLE_HAAN_BRITISH_TAN_MAIN?$browse_thumbnail$", "productImageFullSize" : "https://images.josbank.com/is/image/JosBank/41L9_19_COLE_HAAN_BRITISH_TAN_MAIN?$browse_thumbnail$", "price" : "$150.00", "regPrice" : "", "salePrice" : "", "label": "none", "category" : "Shoes", "subcategory": "Cole Haan", "stock": 1, "dimension53" : "No" }

{ "451534489" : { "11 D Width": ["Tobacco"], "8.5 D Width": ["Tobacco"], "9.5 D Width": [ "Black", "Tobacco" ], "13 D Width": ["Tobacco"], "12 D Width": [ "Black", "Tobacco" ], "10.5 D Width": [ "Black", "Tobacco" ], "10 D Width": [ "Black", "Tobacco" ], "9 D Width": [ "Black", "Tobacco" ] } }

{ "id" : "451534489", "productName" : "Johnston & Murphy Bryson Zip & Gore Wingtip Ankle Boot", "productItem" : "41NW", "productDescription" : "Lightweight and comfortable, these classic ankle boots have unique styling with wingtip details throughout and a combination zip and gore build. They have a tubular moccasin construction that imparts extreme flexibility. Soft sheepskin linings and full length padded footbeds with sheepskin coverings provide plush comfort throughout your day. Spot clean. Genuine leather. Flexible rubber outsole. Imported.", "promoDescription" : "", "productUrl" : "http://www.gl-green.com/p/johnston-murphy-bryson-zip-gore-wingtip-ankle-boot", "productImageUrl" : "https://images.josbank.com/is/image/JosBank/41NW_01_JOHNSTON_MURPHY_BLACK_MAIN?$browse_thumbnail$", "productImageFullSize" : "https://images.josbank.com/is/image/JosBank/41NW_01_JOHNSTON_MURPHY_BLACK_MAIN?$browse_thumbnail$", "price" : "", "regPrice" : "$298.00", "salePrice" : "$219.00", "label": "sale", "category" : "Shoes", "subcategory": "Johnston & Murphy", "stock": 1, "dimension53" : "No" }

{ "451530804" : { "11 D Width": ["Black"], "11.5 D Width": ["Black"], "8.5 D Width": ["Black"], "9.5 D Width": ["Black"], "13 D Width": ["Black"], "12 D Width": ["Black"], "10.5 D Width": ["Black"], "10 EEE Width": ["Black"], "12 EEE Width": ["Black"], "10 D Width": ["Black"], "9 D Width": ["Black"] } }

{ "id" : "451530804", "productName" : "Joseph Abboud Soiree Patent Leather Dress Shoes", "productItem" : "41M8", "productDescription" : "Refined and classic, these formal shoes have polished polyurethane uppers, finely stitched details, and softly cushioned insoles. They are finished with stitched, manmade soles. Fully leather lined. Spot clean. Genuine leather uppers. Imported.", "promoDescription" : "", "productUrl" : "http://www.gl-green.com/p/joseph-abboud-soiree-patent-leather-dress-shoes", "productImageUrl" : "https://images.josbank.com/is/image/JosBank/41M8_01_FLORSHEIM_BLACK_MAIN?$browse_thumbnail$", "productImageFullSize" : "https://images.josbank.com/is/image/JosBank/41M8_01_FLORSHEIM_BLACK_MAIN?$browse_thumbnail$", "price" : "$125.00", "regPrice" : "", "salePrice" : "", "label": "none", "category" : "Shoes", "subcategory": "Joseph Abboud", "stock": 1, "dimension53" : "No" }

{ "451555126" : { "13 EEE Width": [ "Chestnut", "Espresso" ], "11 D Width": [ "Charcoal", "Chestnut", "Espresso" ], "13 D Width": ["Espresso"], "12 D Width": [ "Charcoal", "Espresso" ], "8 EEE Width": ["Espresso"], "9 EEE Width": ["Espresso"], "11 EEE Width": ["Espresso"], "10 EEE Width": [ "Charcoal", "Chestnut", "Espresso" ], "8 D Width": ["Espresso"], "12 EEE Width": [ "Charcoal", "Espresso" ], "10 D Width": [ "Chestnut", "Espresso" ], "9 D Width": ["Espresso"] } }

{ "id" : "451555126", "productName" : "UGG Ascot Suede Slippers", "productItem" : "41N7", "productDescription" : "When it's time to relax slip into these soft suede slippers from UGG that feature the signature UGG pure wool lining. Pretreated to repel moisture and stains. 17mm UGG pure lining. Foam cushioned insole. 2 inch shaft height. Molded rubber outsole for both indoor and outdoor wear. Suede upper. Spot clean. Imported.", "promoDescription" : "", "productUrl" : "http://www.gl-green.com/p/ugg-ascot-suede-slippers", "productImageUrl" : "https://images.josbank.com/is/image/JosBank/41N7_06_UGG_CHARCOAL_MAIN?$browse_thumbnail$", "productImageFullSize" : "https://images.josbank.com/is/image/JosBank/41N7_06_UGG_CHARCOAL_MAIN?$browse_thumbnail$", "price" : "$110.00", "regPrice" : "", "salePrice" : "", "label": "none", "category" : "Shoes", "subcategory": "UGG", "stock": 1, "dimension53" : "No" }

{ "451555125" : { "8 EEE Width": ["China Tea"], "9 EEE Width": ["China Tea"], "10 EEE Width": ["China Tea"], "8 D Width": ["China Tea"], "12 EEE Width": ["China Tea"], "10 D Width": ["China Tea"] } }

{ "id" : "451555125", "productName" : "UGG Ascot Leather Slippers", "productItem" : "41N5", "productDescription" : "When it's time to relax slip into these soft leather slippers from UGG that feature the signature UGG pure wool lining. 17mm UGG pure lining. Foam cushioned insole. 2 inch shaft height. Molded rubber outsole for both indoor and outdoor wear. Genuine full grain leather upper. Spot clean. Imported.", "promoDescription" : "", "productUrl" : "http://www.gl-green.com/p/ugg-ascot-leather-slippers", "productImageUrl" : "https://images.josbank.com/is/image/JosBank/41N5_40_UGG_CHINA_TEA_MAIN?$browse_thumbnail$", "productImageFullSize" : "https://images.josbank.com/is/image/JosBank/41N5_40_UGG_CHINA_TEA_MAIN?$browse_thumbnail$", "price" : "$120.00", "regPrice" : "", "salePrice" : "", "label": "none", "category" : "Shoes", "subcategory": "All Shoes", "stock": 1, "dimension53" : "No" }

{ "451525658" : { "11 D Width": ["Dark Brown"], "11.5 D Width": ["Dark Brown"], "8.5 D Width": ["Dark Brown"], "9.5 D Width": ["Dark Brown"], "13 D Width": ["Dark Brown"], "12 D Width": ["Dark Brown"], "10.5 D Width": ["Dark Brown"], "10 D Width": ["Dark Brown"], "9 D Width": ["Dark Brown"] } }

{ "id" : "451525658", "productName" : "Bostonian Maxton Cap Toe Dress Casual Boot", "productItem" : "41LJ", "productDescription" : "Stylish, yet casual these full-grain leather boots have fine stitched details, a cap-toe style, and four eyelet-lacing. Soft cushioned ankles. Plaid cloth linings. Removable footbeds. Steel shanks. Thermal plastic rubber outsoles. Full grain cow leather uppers. Spot clean. Imported.", "promoDescription" : "", "productUrl" : "http://www.gl-green.com/p/bostonian-maxton-cap-toe-dress-casual-boot", "productImageUrl" : "https://images.josbank.com/is/image/JosBank/41LJ_40_BOSTONIAN_DARK_BROWN_MAIN?$browse_thumbnail$", "productImageFullSize" : "https://images.josbank.com/is/image/JosBank/41LJ_40_BOSTONIAN_DARK_BROWN_MAIN?$browse_thumbnail$", "price" : "$130.00", "regPrice" : "", "salePrice" : "", "label": "none", "category" : "Featured", "subcategory": "Ready for Anything", "stock": 1, "dimension53" : "No" }

{ "451534492" : { "8.5 D Width": [ "Grey", "Navy" ], "9.5 D Width": [ "Grey", "Navy" ], "10.5 D Width": ["Navy"], "10 D Width": ["Navy"], "9 D Width": ["Navy"] } }

{ "id" : "451534492", "productName" : "Johnston & Murphy Chambliss Plain Toe Derbys", "productItem" : "41NZ", "productDescription" : "These derby shoes from Johnston & Murphy have smooth plain-toe styling that is understated and refined. They have a tubular moccasin construction that imparts extreme flexibility. Soft sheepskin linings and full length padded footbeds with sheepskin coverings provide plush comfort throughout your day. Spot clean. Genuine leather. Flexible rubber outsole. Imported.", "promoDescription" : "", "productUrl" : "http://www.gl-green.com/p/johnston-murphy-chambliss-plain-toe-derbys", "productImageUrl" : "https://images.josbank.com/is/image/JosBank/41NZ_03_JOHNSTON_MURPHY_GREY_MAIN?$browse_thumbnail$", "productImageFullSize" : "https://images.josbank.com/is/image/JosBank/41NZ_03_JOHNSTON_MURPHY_GREY_MAIN?$browse_thumbnail$", "price" : "", "regPrice" : "$198.00", "salePrice" : "$149.00", "label": "sale", "category" : "Shoes", "subcategory": "Johnston & Murphy", "stock": 1, "dimension53" : "No" }

{ "451526774" : { "7 D Width": [ "Camel", "Navy" ], "11 D Width": [ "Camel", "Navy" ], "11.5 D Width": [ "Camel", "Navy" ], "8.5 D Width": [ "Black", "Camel", "Navy" ], "9.5 D Width": [ "Camel", "Navy" ], "13 D Width": [ "Camel", "Navy" ], "12 D Width": ["Navy"], "7.5 D Width": [ "Camel", "Navy" ], "10.5 D Width": [ "Camel", "Navy" ], "8 D Width": [ "Camel", "Navy" ], "10 D Width": ["Navy"], "9 D Width": [ "Camel", "Navy" ] } }

{ "id" : "451526774", "productName" : "Hush Puppies Casual Lace-Up Oxfords", "productItem" : "41LL", "productDescription" : "These casual, comfortable oxfords by Hush Puppies feature a soft leather upper and plush cushioned removable insoles. Bounce soft and resilient polyurethane footbeds. Genuine leather upper. Spot clean. Imported.", "promoDescription" : "", "productUrl" : "http://www.gl-green.com/p/hush-puppies-casual-lace-up-oxfords", "productImageUrl" : "https://images.josbank.com/is/image/JosBank/41LL_01_HUSH_PUPPIES_BLACK_MAIN?$browse_thumbnail$", "productImageFullSize" : "https://images.josbank.com/is/image/JosBank/41LL_01_HUSH_PUPPIES_BLACK_MAIN?$browse_thumbnail$", "price" : "", "regPrice" : "$120.00", "salePrice" : "$89.00", "label": "sale", "category" : "Shoes", "subcategory": "All Shoes", "stock": 1, "dimension53" : "No" }

{ "451536778" : { "11 D Width": ["Black"], "8.5 D Width": ["Black"], "10.5 D Width": ["Black"], "10 D Width": ["Black"] } }

{ "id" : "451536778", "productName" : "Magli by Bruno Magli Faveli Bit Loafers", "productItem" : "41NP", "productDescription" : "These fine loafers from Magli by Bruno Magli feature soft leather uppers with a silver bit detail on the vamp. Made in Italy, these loafers are a comfortable classic. Almond toe. Breathable leather lining for all-day comfort. Lightly padded leather covered insole for optimal comfort. Genuine leather upper. Spot clean. Rubber outsole. Made in Italy.", "promoDescription" : "", "productUrl" : "http://www.gl-green.com/p/magli-by-bruno-magli-faveli-bit-loafers", "productImageUrl" : "https://images.josbank.com/is/image/JosBank/41NP_01_BRUNO_MAGLI_BLACK_MAIN?$browse_thumbnail$", "productImageFullSize" : "https://images.josbank.com/is/image/JosBank/41NP_01_BRUNO_MAGLI_BLACK_MAIN?$browse_thumbnail$", "price" : "", "regPrice" : "$340.00", "salePrice" : "$239.00", "label": "sale", "category" : "Shoes", "subcategory": "All Shoes", "stock": 1, "dimension53" : "No" }

{ "451531627" : { "11 D Width": [ "Dark Blue", "Dark Tan" ], "8.5 D Width": [ "Dark Blue", "Dark Tan" ], "9.5 D Width": [ "Dark Blue", "Dark Tan" ], "13 D Width": [ "Dark Blue", "Dark Tan" ], "12 D Width": [ "Dark Blue", "Dark Tan" ], "10.5 D Width": [ "Dark Blue", "Dark Tan" ], "10 D Width": [ "Dark Blue", "Dark Tan" ], "9 D Width": [ "Dark Blue", "Dark Tan" ] } }

{ "id" : "451531627", "productName" : "Joseph Abboud Sao Paulo Plain Toe Lace Ups", "productItem" : "41N0", "productDescription" : "These fine dress shoes from Joseph Abboud feature one-piece genuine natural leather uppers and soft sheepskin lining. These simply styled shoes are a sophisticated addition to your look. Soft sheepskin footbeds. Burnished leather uppers. Air injected rubber soles.", "promoDescription" : "", "productUrl" : "http://www.gl-green.com/p/joseph-abboud-sao-paulo-plain-toe-lace-ups", "productImageUrl" : "https://images.josbank.com/is/image/JosBank/41N0_72_JOSEPH_ABBOUD_HERITAGE_DARK_BLUE_MAIN?$browse_thumbnail$", "productImageFullSize" : "https://images.josbank.com/is/image/JosBank/41N0_72_JOSEPH_ABBOUD_HERITAGE_DARK_BLUE_MAIN?$browse_thumbnail$", "price" : "$165.00", "regPrice" : "", "salePrice" : "", "label": "none", "category" : "Shoes", "subcategory": "Joseph Abboud", "stock": 1, "dimension53" : "No" }

{ "451531132" : { "11 D Width": ["Tan"], "8.5 D Width": [ "Mahogany", "Tan" ], "9.5 D Width": [ "Mahogany", "Tan" ], "13 D Width": [ "Mahogany", "Tan" ], "12 D Width": [ "Mahogany", "Tan" ], "10.5 D Width": [ "Mahogany", "Tan" ], "8 D Width": [ "Mahogany", "Tan" ], "10 D Width": [ "Mahogany", "Tan" ], "9 D Width": [ "Mahogany", "Tan" ] } }

{ "id" : "451531132", "productName" : "Cole Haan Hamlin Grand Venetian Loafers", "productItem" : "41M9", "productDescription" : "Crafted in soft leather, these classic loafers are casually stylish, and uniquely comfortable. They feature a thick, soft foam cushioned insole for many hours of comfort. They are detailed with a moc toe and fine stitching. The manmade outsole features TPU pods in the heel and forefoot for durability and traction. Genuine leather. Spot clean. Imported.", "promoDescription" : "", "productUrl" : "http://www.gl-green.com/p/cole-haan-hamlin-grand-venetian-loafers", "productImageUrl" : "https://images.josbank.com/is/image/JosBank/41M9_56_COLE_HAAN_MAHOGANY_MAIN?$browse_thumbnail$", "productImageFullSize" : "https://images.josbank.com/is/image/JosBank/41M9_56_COLE_HAAN_MAHOGANY_MAIN?$browse_thumbnail$", "price" : "$150.00", "regPrice" : "", "salePrice" : "", "label": "none", "category" : "Shoes", "subcategory": "Cole Haan", "stock": 1, "dimension53" : "No" }

{ "451510573" : { "11 D Width": ["Dark Tan"], "8.5 D Width": ["Dark Tan"], "9.5 D Width": ["Dark Tan"], "13 D Width": ["Dark Tan"], "12 D Width": ["Dark Tan"], "10.5 D Width": ["Dark Tan"], "10 D Width": ["Dark Tan"], "9 D Width": ["Dark Tan"] } }

{ "id" : "451510573", "productName" : "Joseph Abboud Adam Laser Etched Derby Lace Ups", "productItem" : "41KZ", "productDescription" : "Uniquely styled and very finely made, these genuine leather derbys have laser etched perforated details along the vamp and heel. They have a highly polished, hand-stained finish, soft cushioned memory foam insole and a durable, long-lasting rubber sole.", "promoDescription" : "", "productUrl" : "http://www.gl-green.com/p/joseph-abboud-adam-laser-etched-derby-lace-ups", "productImageUrl" : "https://images.josbank.com/is/image/JosBank/41KZ_18_JOSEPH_ABBOUD_HERITAGE_DARK_TAN_MAIN?$browse_thumbnail$", "productImageFullSize" : "https://images.josbank.com/is/image/JosBank/41KZ_18_JOSEPH_ABBOUD_HERITAGE_DARK_TAN_MAIN?$browse_thumbnail$", "price" : "", "regPrice" : "$125.00", "salePrice" : "$99.00", "label": "sale", "category" : "Featured", "subcategory": "Ready for Anything", "stock": 1, "dimension53" : "No" }

{ "451536777" : { "10.5 D Width": ["Brown"], "10 D Width": ["Brown"] } }

{ "id" : "451536777", "productName" : "Magli by Bruno Magli Cicero Penny Loafers", "productItem" : "41NN", "productDescription" : "These fine Italian-made loafers feature smooth leather uppers, a traditional penny strap, and apron toe. This easy, slip-on style has a leather sock lining for smooth comfort. The leather lined insole provides all-day comfort. Leather outsole with rubber heel. Genuine leather upper. Spot clean. Made in Italy.", "promoDescription" : "", "productUrl" : "http://www.gl-green.com/p/magli-by-bruno-magli-cicero-penny-loafers", "productImageUrl" : "https://images.josbank.com/is/image/JosBank/41NN_38_BRUNO_MAGLI_BROWN_MAIN?$browse_thumbnail$", "productImageFullSize" : "https://images.josbank.com/is/image/JosBank/41NN_38_BRUNO_MAGLI_BROWN_MAIN?$browse_thumbnail$", "price" : "", "regPrice" : "$360.00", "salePrice" : "$289.00", "label": "sale", "category" : "Shoes", "subcategory": "All Shoes", "stock": 1, "dimension53" : "No" }

{ "451533561" : { "11 D Width": [ "Brown", "Grey" ], "8.5 D Width": [ "Brown", "Grey" ], "9.5 D Width": [ "Brown", "Grey" ], "13 D Width": [ "Brown", "Grey" ], "12 D Width": [ "Brown", "Grey" ], "10.5 D Width": [ "Brown", "Grey" ], "10 D Width": [ "Brown", "Grey" ], "9 D Width": [ "Brown", "Grey" ] } }

{ "id" : "451533561", "productName" : "Joseph Abboud Wingtip Derbys", "productItem" : "41NG", "productDescription" : "A casual approach to the classic, dressed-up derbys, these soft suede ones will give you the casual workday or weekend style you want with added features like wingtip detailing and padded insoles for comfort all day. Handcrafted in Italy, the shoes feature all-leather suede uppers with antique finish, extra-light flexible rubber soles, and 8mm cushioned insoles. Other highlights include arch supports and soft leather linings. Handcrafted in Italy.", "promoDescription" : "", "productUrl" : "http://www.gl-green.com/p/joseph-abboud-wingtip-derbys", "productImageUrl" : "https://images.josbank.com/is/image/JosBank/41NG_41_GIOVACCHINI_BROWN_MAIN?$browse_thumbnail$", "productImageFullSize" : "https://images.josbank.com/is/image/JosBank/41NG_41_GIOVACCHINI_BROWN_MAIN?$browse_thumbnail$", "price" : "$155.00", "regPrice" : "", "salePrice" : "", "label": "none", "category" : "Shoes", "subcategory": "Joseph Abboud", "stock": 1, "dimension53" : "No" }

{ "451526773" : { "13 D Width": ["Dark Grey"] } }

{ "id" : "451526773", "productName" : "Hush Puppies Davis Suede Chelsea Boots", "productItem" : "41LK", "productDescription" : "Find comfort and style in these classic Chelsea boots by Hush Puppies. These fine slip-ons have soft suede uppers with elastic side panels for ease of wear. They have a removable insole with a breathable mesh sock lining for the ultimate in comfort. Soft and resilient polyurethane footbed. Genuine suede leather upper. Manmade outsole. Spot clean. Imported.", "promoDescription" : "", "productUrl" : "http://www.gl-green.com/p/hush-puppies-davis-suede-chelsea-boots", "productImageUrl" : "https://images.josbank.com/is/image/JosBank/41LK_05_HUSH_PUPPIES_DARK_GREY_MAIN?$browse_thumbnail$", "productImageFullSize" : "https://images.josbank.com/is/image/JosBank/41LK_05_HUSH_PUPPIES_DARK_GREY_MAIN?$browse_thumbnail$", "price" : "", "regPrice" : "$129.00", "salePrice" : "$89.00", "label": "sale", "category" : "Shoes", "subcategory": "All Shoes", "stock": 1, "dimension53" : "No" }
Related Products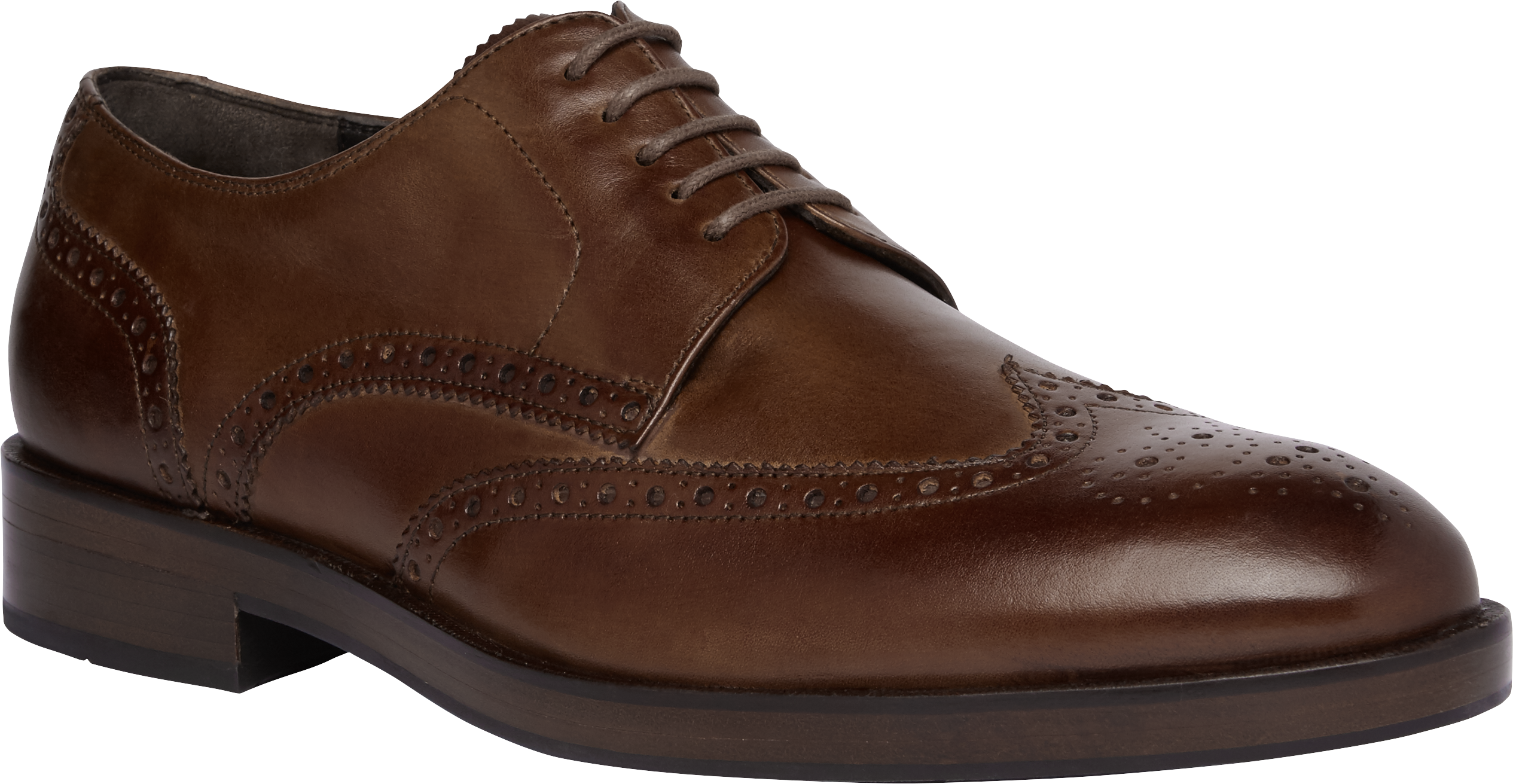 Description:
These classic Oxfords from Cole Haan feature soft, polished leather uppers and brogued wingtip details. Foam cushioned insoles that are light and flexible. Genuine leather uppers lined in sheepskin with innovative rubber inset heels filled with cushioning foam for comfort. Light-weight ...
Description:
The classic Oxford is updated with a lightweight deconstructed leather upper, and perforated details. Traditional craft with modern engineering. Lightweight cushioned energy foam, anatomical footbed, and full-motion outsoles. Combination leather and rubber outsoles. Genuine leather upper. Spot clean. Imported.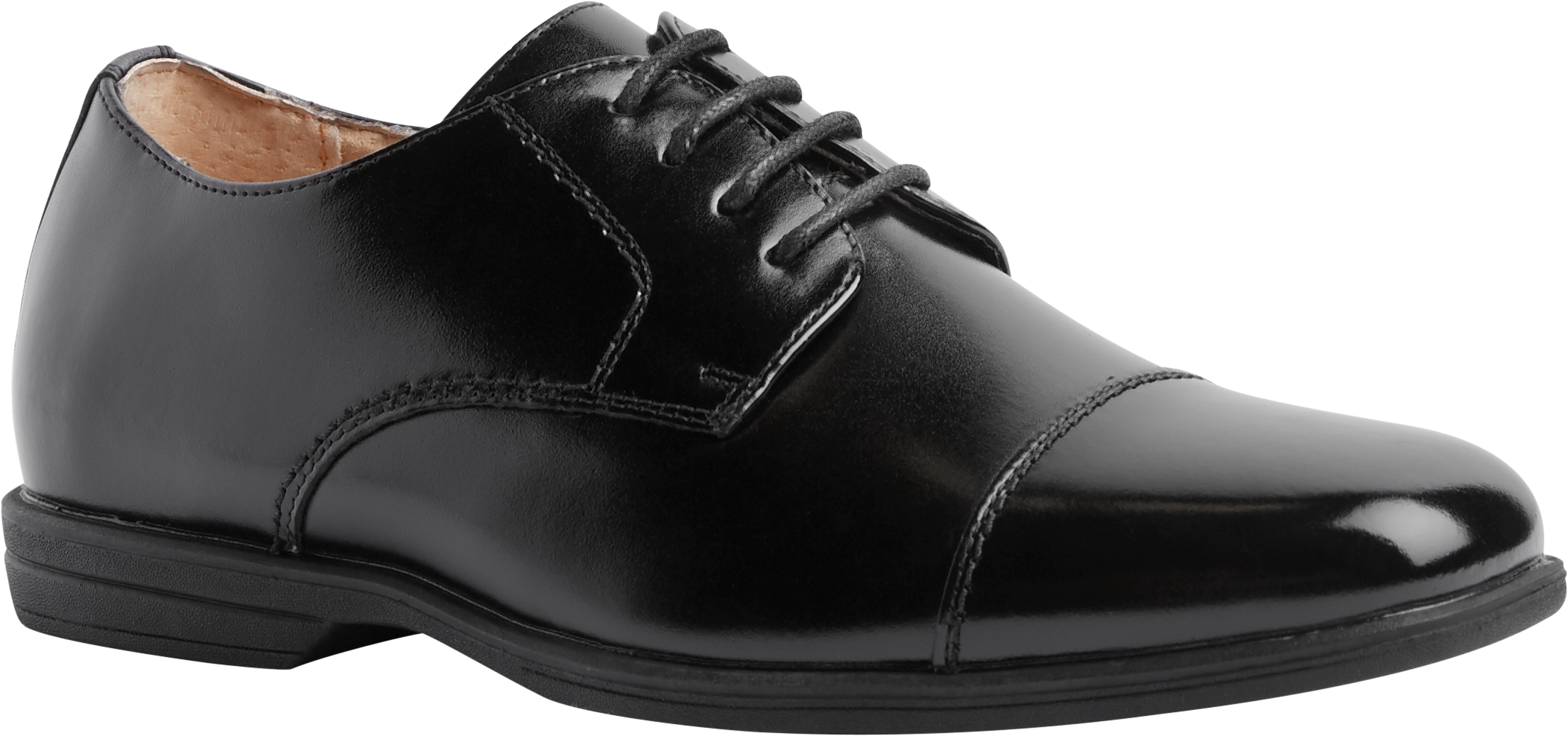 Description:
Have your little gentleman dressed to impress with these fine leather shoes from Florsheim. Featuring polished genuine leather uppers, and cap-toe styling, these classic oxfords are the perfect addition to his dress-wear looks. Leather lined. Fully cushioned insole. Man-made outsole. ...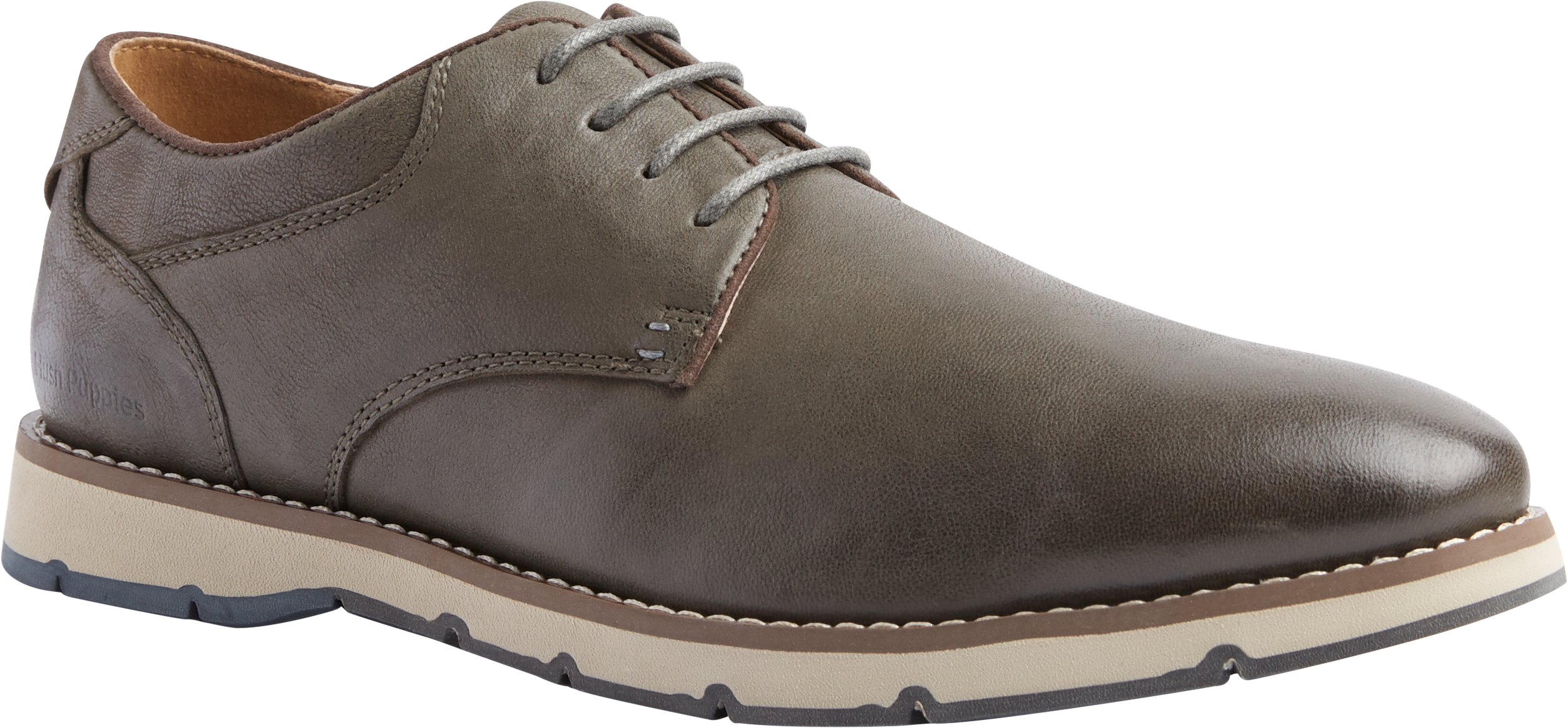 Description:
These smooth, casual Oxfords pair perfectly with jeans or khakis. They have a plain toe, flexible outsole, and a soft cushioned insole. Textile inner linings. Synthetic welt. Wavereflex wave pattern flexible outsole promotes natural foot motion. Genuine leather upper. Spot ...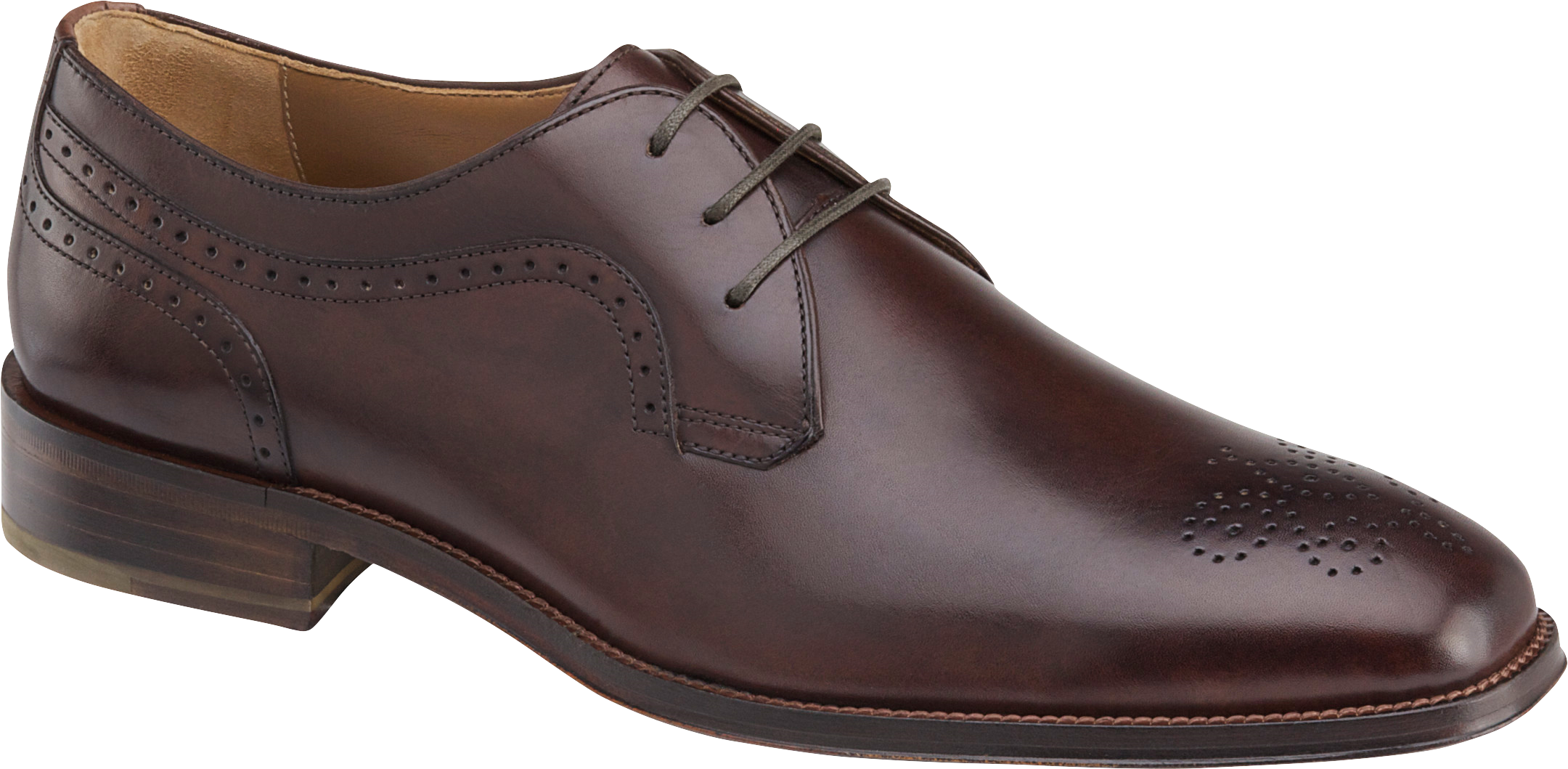 Description:
These fine Oxfords feature a smooth, plain-toe upper with a brogued medallion pattern. Bondwelt construction. Italian calfskin uppers are hand-finished on the last. Soft sheepskin linings. Cushioned sheepskin-covered footbed. Full leather welt. Leather outsole with rubber-injected forepart for traction. Imported. ...