Refine your results
SHOW
Show:

Press enter to collapse or expand the menu. For navigating with in Filter options, press tab. To select Filter options, press enter.

Clear All

Filter

Done

0

Products

Add filter

Reset filters
Product List
{ "451536973" : { "42 Short": ["Brown"], "44 Long": ["Brown"], "42 Long": ["Brown"], "39 Regular": ["Brown"], "42 Regular": ["Brown"], "44 Short": ["Brown"], "46 Regular": ["Brown"], "46 Long": ["Brown"], "43 Regular": ["Brown"], "38 Short": ["Brown"], "40 Regular": ["Brown"], "44 Regular": ["Brown"], "40 Long": ["Brown"], "38 Regular": ["Brown"], "40 Short": ["Brown"] } }

Going Fast

Buy 1 Get 1 for $100 (of equal or lesser value)

{ "id" : "451536973", "productName" : "1905 Collection Slim Fit Windowpane Sportcoat", "productItem" : "14EZ", "productDescription" : "Fashion forward with vintage appeal, this 1905 Collection Sportcoat has a classic windowpane pattern and a Slim Fit. Two button closure, notch lapel, side vents. Fully lined. Interior pockets 100% wool. Dry clean only. Imported.", "promoDescription" : "Buy 1 Get 1 for $100 (of equal or lesser value)", "productUrl" : "http://www.gl-green.com/p/1905-collection-slim-fit-windowpane-sportcoat-14EZ", "productImageUrl" : "https://images.josbank.com/is/image/JosBank/14EZ_38_1905_BROWN_MAIN?$browse_thumbnail$", "productImageFullSize" : "https://images.josbank.com/is/image/JosBank/14EZ_38_1905_BROWN_MAIN?$browse_thumbnail$", "price" : "$498.00", "regPrice" : "", "salePrice" : "", "label": "none", "category" : "SportCoats", "subcategory": "1905 Sportcoats", "stock": 1, "dimension53" : "No" }

{ "451520187" : { "42 Short": ["Blue"], "44 Long": ["Blue"], "46 Short": ["Blue"], "42 Long": ["Blue"], "42 Regular": ["Blue"], "44 Short": ["Blue"], "46 Regular": ["Blue"], "46 Long": ["Blue"], "41 Regular": ["Blue"], "43 Regular": ["Blue"], "40 Regular": ["Blue"], "44 Regular": ["Blue"], "43 Long": ["Blue"], "40 Short": ["Blue"] } }

Buy 1 Get 1 for $100 (of equal or lesser value)

{ "id" : "451520187", "productName" : "1905 Collection Slim Fit Plaid Sportcoat with brrr° comfort", "productItem" : "140N", "productDescription" : "Our 1905 Collection sportcoats feature fine craftsmanship with bolder colors and patterns and a touch of vintage style. Made with brrr? comfort technology, this sportcoat keeps you comfortable with natural cooling minerals, a special fiber core that increases moisture wicking, and enhanced airflow to boost cooling and keep you feeling fresh. 98% wool, 2% spandex. Built-in stretch. Two button, notch lapel, side vents. Straight flap pockets. Interior pockets. 3\/8 lined. Plaid pattern. Dry clean only. Imported.", "promoDescription" : "Buy 1 Get 1 for $100 (of equal or lesser value)", "productUrl" : "http://www.gl-green.com/p/1905-collection-slim-fit-plaid-sportcoat-with-brrr-comfort-140N", "productImageUrl" : "https://images.josbank.com/is/image/JosBank/140N_70_1905_BLUE_MAIN?$browse_thumbnail$", "productImageFullSize" : "https://images.josbank.com/is/image/JosBank/140N_70_1905_BLUE_MAIN?$browse_thumbnail$", "price" : "$498.00", "regPrice" : "", "salePrice" : "", "label": "none", "category" : "SportCoats", "subcategory": "1905 Sportcoats", "stock": 1, "dimension53" : "No" }

{ "451114398" : { "37 Regular": ["Navy"], "42 Short": ["Navy"], "44 Long": ["Navy"], "39 Long": ["Navy"], "42 Long": ["Navy"], "36 Regular": ["Navy"], "39 Regular": ["Navy"], "42 Regular": ["Navy"], "38 Long": ["Navy"], "46 Regular": ["Navy"], "46 Long": ["Navy"], "41 Regular": ["Navy"], "36 Short": ["Navy"], "43 Regular": ["Navy"], "37 Short": ["Navy"], "41 Long": ["Navy"], "38 Short": ["Navy"], "40 Regular": ["Navy"], "44 Regular": ["Navy"], "40 Long": ["Navy"], "35 Regular": ["Navy"], "38 Regular": ["Navy"], "40 Short": ["Navy"] } }

Buy 1 Get 1 for $100 (of equal or lesser value)

{ "id" : "451114398", "productName" : "1905 Collection Slim Fit Blazer", "productItem" : "11P9", "productDescription" : "Two-button blazer with side vents. Slim Fit. Narrower lapel and body. Fulling-lined with scalloped facing details. Soft inner and shoulder construction. 98% wool, 2% spandex. Dry Clean Only. Imported.", "promoDescription" : "Buy 1 Get 1 for $100 (of equal or lesser value)", "productUrl" : "http://www.gl-green.com/p/1905-collection-slim-fit-blazer-11P9", "productImageUrl" : "https://images.josbank.com/is/image/JosBank/31559_041_main?$browse_thumbnail$", "productImageFullSize" : "https://images.josbank.com/is/image/JosBank/31559_041_main?$browse_thumbnail$", "price" : "$498.00", "regPrice" : "", "salePrice" : "", "label": "none", "category" : "SportCoats", "subcategory": "1905 Sportcoats", "stock": 1, "dimension53" : "No" }

{ "451536995" : { "42 Short": ["Blue"], "44 Long": ["Blue"], "42 Long": ["Blue"], "39 Regular": ["Blue"], "42 Regular": ["Blue"], "44 Short": ["Blue"], "46 Regular": ["Blue"], "46 Long": ["Blue"], "43 Regular": ["Blue"], "38 Short": ["Blue"], "40 Regular": ["Blue"], "44 Regular": ["Blue"], "40 Long": ["Blue"], "38 Regular": ["Blue"], "40 Short": ["Blue"] } }

Going Fast

Buy 1 Get 1 for $100 (of equal or lesser value)

{ "id" : "451536995", "productName" : "1905 Collection Slim Fit Windowpane Sportcoat", "productItem" : "14FY", "productDescription" : "Complete your dress- and professional-wear wardrobe with this classic 1905 Collection sportcoat. This fine sportcoat features a luxurious wool and linen blend in a windowpane pattern. Two-button closure with a notch lapel and side vents. Fully lined with interior pockets. 78% wool, 22% linen. Dry clean only. Imported.", "promoDescription" : "Buy 1 Get 1 for $100 (of equal or lesser value)", "productUrl" : "http://www.gl-green.com/p/1905-collection-slim-fit-windowpane-sportcoat-14FY", "productImageUrl" : "https://images.josbank.com/is/image/JosBank/14FY_70_1905_BLUE_MAIN?$browse_thumbnail$", "productImageFullSize" : "https://images.josbank.com/is/image/JosBank/14FY_70_1905_BLUE_MAIN?$browse_thumbnail$", "price" : "$498.00", "regPrice" : "", "salePrice" : "", "label": "none", "category" : "SportCoats", "subcategory": "1905 Sportcoats", "stock": 1, "dimension53" : "No" }

{ "451520209" : { "42 Short": ["Grey"], "44 Long": ["Grey"], "46 Short": ["Grey"], "42 Long": ["Grey"], "42 Regular": ["Grey"], "44 Short": ["Grey"], "46 Regular": ["Grey"], "46 Long": ["Grey"], "41 Regular": ["Grey"], "43 Regular": ["Grey"], "38 Short": ["Grey"], "40 Regular": ["Grey"], "44 Regular": ["Grey"], "43 Long": ["Grey"], "38 Regular": ["Grey"], "40 Short": ["Grey"] } }

Going Fast

Buy 1 Get 1 for $100 (of equal or lesser value)

{ "id" : "451520209", "productName" : "1905 Collection Slim Fit Herringbone Sportcoat with brrr° comfort", "productItem" : "141Y", "productDescription" : "This 1905 Collection sportcoat has a classic herringbone plaid pattern in brrr? comfort fabric. It has a notch lapel, two-button closure and combines wool with brrr? technology, offering a touch of stretch plus a unique cooling effect as it wicks moisture away. Fully lined with four interior pockets. 98% wool, 2% spandex. Dry clean only. Imported.", "promoDescription" : "Buy 1 Get 1 for $100 (of equal or lesser value)", "productUrl" : "http://www.gl-green.com/p/1905-collection-slim-fit-herringbone-sportcoat-with-brrr-comfort-141Y", "productImageUrl" : "https://images.josbank.com/is/image/JosBank/141Y_03_1905_GREY_MAIN?$browse_thumbnail$", "productImageFullSize" : "https://images.josbank.com/is/image/JosBank/141Y_03_1905_GREY_MAIN?$browse_thumbnail$", "price" : "$498.00", "regPrice" : "", "salePrice" : "", "label": "none", "category" : "SportCoats", "subcategory": "1905 Sportcoats", "stock": 1, "dimension53" : "No" }

{ "451536983" : { "42 Short": ["Silver"], "44 Long": ["Silver"], "42 Long": ["Silver"], "39 Regular": ["Silver"], "42 Regular": ["Silver"], "44 Short": ["Silver"], "46 Regular": ["Silver"], "46 Long": ["Silver"], "41 Regular": ["Silver"], "43 Regular": ["Silver"], "38 Short": ["Silver"], "40 Regular": ["Silver"], "44 Regular": ["Silver"], "40 Long": ["Silver"], "38 Regular": ["Silver"], "40 Short": ["Silver"] } }

Buy 1 Get 1 for $100 (of equal or lesser value)

{ "id" : "451536983", "productName" : "1905 Collection Slim Fit Windowpane Plaid Sportcoat", "productItem" : "14FJ", "productDescription" : "The 1905 Collection features updated classics, with vintage appeal. This stylish sportcoat features a fine wool and silk blend, windowpane plaid pattern, and notch lapels. Patch pockets. Fully lined. Dry clean only. Imported.", "promoDescription" : "Buy 1 Get 1 for $100 (of equal or lesser value)", "productUrl" : "http://www.gl-green.com/p/1905-collection-slim-fit-windowpane-plaid-sportcoat", "productImageUrl" : "https://images.josbank.com/is/image/JosBank/14FJ_08_1905_SILVER_MAIN?$browse_thumbnail$", "productImageFullSize" : "https://images.josbank.com/is/image/JosBank/14FJ_08_1905_SILVER_MAIN?$browse_thumbnail$", "price" : "$498.00", "regPrice" : "", "salePrice" : "", "label": "none", "category" : "SportCoats", "subcategory": "1905 Sportcoats", "stock": 1, "dimension53" : "No" }

{ "451536991" : { "42 Short": ["Tan"], "44 Long": ["Tan"], "42 Long": ["Tan"], "39 Regular": ["Tan"], "42 Regular": ["Tan"], "44 Short": ["Tan"], "46 Regular": ["Tan"], "46 Long": ["Tan"], "41 Regular": ["Tan"], "43 Regular": ["Tan"], "38 Short": ["Tan"], "40 Regular": ["Tan"], "44 Regular": ["Tan"], "40 Long": ["Tan"], "38 Regular": ["Tan"], "40 Short": ["Tan"] } }

Going Fast

Buy 1 Get 1 for $100 (of equal or lesser value)

{ "id" : "451536991", "productName" : "1905 Collection Slim Fit Check Sportcoat", "productItem" : "14FU", "productDescription" : "Fashion forward with vintage appeal, this 1905 Collection Sportcoat has a classic check pattern and a Slim Fit. 3\/8 lining. Interior pockets. Two button, notch lapel, side vents. 100% wool. Dry clean only. Imported.", "promoDescription" : "Buy 1 Get 1 for $100 (of equal or lesser value)", "productUrl" : "http://www.gl-green.com/p/1905-collection-slim-fit-check-sportcoat-14FU", "productImageUrl" : "https://images.josbank.com/is/image/JosBank/14FU_16_1905_TAN_MAIN?$browse_thumbnail$", "productImageFullSize" : "https://images.josbank.com/is/image/JosBank/14FU_16_1905_TAN_MAIN?$browse_thumbnail$", "price" : "$498.00", "regPrice" : "", "salePrice" : "", "label": "none", "category" : "SportCoats", "subcategory": "1905 Sportcoats", "stock": 1, "dimension53" : "No" }

{ "451536977" : { "42 Short": ["Blue"], "44 Long": ["Blue"], "42 Long": ["Blue"], "39 Regular": ["Blue"], "42 Regular": ["Blue"], "44 Short": ["Blue"], "46 Regular": ["Blue"], "46 Long": ["Blue"], "41 Regular": ["Blue"], "43 Regular": ["Blue"], "38 Short": ["Blue"], "40 Regular": ["Blue"], "44 Regular": ["Blue"], "40 Long": ["Blue"], "38 Regular": ["Blue"], "40 Short": ["Blue"] } }

Buy 1 Get 1 for $100 (of equal or lesser value)

{ "id" : "451536977", "productName" : "1905 Collection Slim Fit Tattersall Sportcoat", "productItem" : "14FC", "productDescription" : "Our 1905 Collection sportcoats feature fine vintage details with a modern approach creating updated classic looks. This stylish sportcoat has a rich Tattersall pattern in fine wool. Two button, notch lapel, side vents. Fully lined, with interior pockets. 100% wool. Dry clean only. Important.", "promoDescription" : "Buy 1 Get 1 for $100 (of equal or lesser value)", "productUrl" : "http://www.gl-green.com/p/1905-collection-slim-fit-tattersall-sportcoat", "productImageUrl" : "https://images.josbank.com/is/image/JosBank/14FC_70_1905_BLUE_MAIN?$browse_thumbnail$", "productImageFullSize" : "https://images.josbank.com/is/image/JosBank/14FC_70_1905_BLUE_MAIN?$browse_thumbnail$", "price" : "$498.00", "regPrice" : "", "salePrice" : "", "label": "none", "category" : "SportCoats", "subcategory": "1905 Sportcoats", "stock": 1, "dimension53" : "No" }

{ "451533873" : { "46 Regular": ["White"], "46 Long": ["White"], "42 Short": ["White"], "44 Long": ["White"], "42 Long": ["White"], "40 Regular": ["White"], "38 Short": ["White"], "44 Regular": ["White"], "40 Long": ["White"], "42 Regular": ["White"], "44 Short": ["White"], "40 Short": ["White"] } }

Going Fast

Buy 1 Get 1 for $100 (of equal or lesser value)

{ "id" : "451533873", "productName" : "Jos. A. Bank Slim Fit Dinner Jacket", "productItem" : "14CZ", "productDescription" : "Understated and refined, this formal dinner jacket has a one button closure, peak lapel, and a trim, Slim Fit. Fully lined. Interior pockets. 100% wool. Dry clean only. Imported.", "promoDescription" : "Buy 1 Get 1 for $100 (of equal or lesser value)", "productUrl" : "http://www.gl-green.com/p/jos-a-bank-slim-fit-dinner-jacket", "productImageUrl" : "https://images.josbank.com/is/image/JosBank/14CZ_10_JOSEPH_A_BANK_WHITE_MAIN?$browse_thumbnail$", "productImageFullSize" : "https://images.josbank.com/is/image/JosBank/14CZ_10_JOSEPH_A_BANK_WHITE_MAIN?$browse_thumbnail$", "price" : "$398.00", "regPrice" : "", "salePrice" : "", "label": "none", "category" : "SportCoats", "subcategory": "Slim Fit Sportcoats", "stock": 1, "dimension53" : "No" }

{ "451245867" : { "37 Regular": ["Bright Navy"], "42 Short": ["Bright Navy"], "44 Long": ["Bright Navy"], "39 Long": ["Bright Navy"], "46 Short": ["Bright Navy"], "35 Short": ["Bright Navy"], "42 Long": ["Bright Navy"], "39 Regular": ["Bright Navy"], "36 Regular": ["Bright Navy"], "38 Long": ["Bright Navy"], "42 Regular": ["Bright Navy"], "44 Short": ["Bright Navy"], "46 Regular": ["Bright Navy"], "46 Long": ["Bright Navy"], "41 Regular": ["Bright Navy"], "36 Short": ["Bright Navy"], "43 Regular": ["Bright Navy"], "38 Short": ["Bright Navy"], "40 Regular": ["Bright Navy"], "41 Long": ["Bright Navy"], "44 Regular": ["Bright Navy"], "40 Long": ["Bright Navy"], "43 Long": ["Bright Navy"], "38 Regular": ["Bright Navy"], "40 Short": ["Bright Navy"] } }

Buy 1 Get 1 for $100 (of equal or lesser value)

{ "id" : "451245867", "productName" : "Travel Tech Slim Fit Sportcoat", "productItem" : "128D", "productDescription" : "Travel in comfort and style. This Travel Tech sportcoat creates a comfortable micro-climate for your body by removing excess moisture before you even begin to sweat. Built-in fabric technology doesn't wash out. Maintains the optimum microclimate for your body. Stretch mesh fabric is integrated throughout the jacket. Two button, notch lapel, side vents. Zippered utility pockets are strategically placed inside jacket. Performance stretch lining. Slim Fit. 71% wool, 25% 37.5 polyester, 4% spandex. Dry clean only. Imported.", "promoDescription" : "Buy 1 Get 1 for $100 (of equal or lesser value)", "productUrl" : "http://www.gl-green.com/p/travel-tech-slim-fit-sportcoat", "productImageUrl" : "https://images.josbank.com/is/image/JosBank/128D_76_TRAVELER_BRIGHT_NAVY_MAIN?$browse_thumbnail$", "productImageFullSize" : "https://images.josbank.com/is/image/JosBank/128D_76_TRAVELER_BRIGHT_NAVY_MAIN?$browse_thumbnail$", "price" : "$598.00", "regPrice" : "", "salePrice" : "", "label": "none", "category" : "SportCoats", "subcategory": "Travel Tech Sportcoats", "stock": 1, "dimension53" : "No" }

{ "451536993" : { "42 Short": ["Blue"], "44 Long": ["Blue"], "42 Long": ["Blue"], "39 Regular": ["Blue"], "42 Regular": ["Blue"], "44 Short": ["Blue"], "46 Regular": ["Blue"], "46 Long": ["Blue"], "41 Regular": ["Blue"], "43 Regular": ["Blue"], "38 Short": ["Blue"], "40 Regular": ["Blue"], "44 Regular": ["Blue"], "40 Long": ["Blue"], "38 Regular": ["Blue"], "40 Short": ["Blue"] } }

Buy 1 Get 1 for $100 (of equal or lesser value)

{ "id" : "451536993", "productName" : "1905 Collection Slim Fit Check Sportcoat", "productItem" : "14FW", "productDescription" : "Fashion forward with vintage appeal, this 1905 Collection Sportcoat has a classic check pattern and a Slim Fit. 3\/8 lining. Interior pockets. Two button, notch lapel, side vents. 100% wool. Dry clean only. Imported.", "promoDescription" : "Buy 1 Get 1 for $100 (of equal or lesser value)", "productUrl" : "http://www.gl-green.com/p/1905-collection-slim-fit-check-sportcoat-14FW", "productImageUrl" : "https://images.josbank.com/is/image/JosBank/14FW_70_1905_BLUE_MAIN?$browse_thumbnail$", "productImageFullSize" : "https://images.josbank.com/is/image/JosBank/14FW_70_1905_BLUE_MAIN?$browse_thumbnail$", "price" : "$498.00", "regPrice" : "", "salePrice" : "", "label": "none", "category" : "SportCoats", "subcategory": "1905 Sportcoats", "stock": 1, "dimension53" : "No" }

{ "451533867" : { "42 Short": ["Burgundy"], "44 Long": ["Burgundy"], "46 Short": ["Burgundy"], "42 Long": ["Burgundy"], "42 Regular": ["Burgundy"], "44 Short": ["Burgundy"], "46 Regular": ["Burgundy"], "46 Long": ["Burgundy"], "41 Regular": ["Burgundy"], "43 Regular": ["Burgundy"], "38 Short": ["Burgundy"], "40 Regular": ["Burgundy"], "44 Regular": ["Burgundy"], "40 Long": ["Burgundy"], "43 Long": ["Burgundy"], "38 Regular": ["Burgundy"], "40 Short": ["Burgundy"] } }

Going Fast

Buy 1 Get 1 for $100 (of equal or lesser value)

{ "id" : "451533867", "productName" : "Jos. A. Bank Slim Fit Tonal Floral Pattern Dinner Jacket", "productItem" : "14CK", "productDescription" : "With a rich, scrolling floral pattern this fine dinner jacket will be the perfect choice for your special occasions. Fully lined. Interior pockets. One button closure. Satin shawl lapel. Scroll patterned. 55% wool, 45% polyester. Dry clean only. Imported.", "promoDescription" : "Buy 1 Get 1 for $100 (of equal or lesser value)", "productUrl" : "http://www.gl-green.com/p/jos-a-bank-slim-fit-tonal-floral-pattern-dinner-jacket-14CK", "productImageUrl" : "https://images.josbank.com/is/image/JosBank/14CK_59_JOSEPH_A_BANK_BURGUNDY_MAIN?$browse_thumbnail$", "productImageFullSize" : "https://images.josbank.com/is/image/JosBank/14CK_59_JOSEPH_A_BANK_BURGUNDY_MAIN?$browse_thumbnail$", "price" : "$398.00", "regPrice" : "", "salePrice" : "", "label": "none", "category" : "SportCoats", "subcategory": "Slim Fit Sportcoats", "stock": 1, "dimension53" : "No" }

{ "451536969" : { "42 Short": ["Navy"], "44 Long": ["Navy"], "42 Long": ["Navy"], "39 Regular": ["Navy"], "42 Regular": ["Navy"], "44 Short": ["Navy"], "46 Regular": ["Navy"], "46 Long": ["Navy"], "41 Regular": ["Navy"], "43 Regular": ["Navy"], "38 Short": ["Navy"], "40 Regular": ["Navy"], "44 Regular": ["Navy"], "40 Long": ["Navy"], "38 Regular": ["Navy"], "40 Short": ["Navy"] } }

Buy 1 Get 1 for $100 (of equal or lesser value)

{ "id" : "451536969", "productName" : "1905 Collection Slim Fit Plaid Sportcoat", "productItem" : "14EV", "productDescription" : "Fashion forward with vintage appeal, this 1905 Collection Sportcoat has a classic plaid pattern and a Slim Fit. Two button, notch lapel, side vents. Fully lined, with interior pockets. 78% wool, 22% linen. Dry clean only. Imported.", "promoDescription" : "Buy 1 Get 1 for $100 (of equal or lesser value)", "productUrl" : "http://www.gl-green.com/p/1905-collection-slim-fit-plaid-sportcoat-14EV", "productImageUrl" : "https://images.josbank.com/is/image/JosBank/14EV_75_1905_NAVY_MAIN?$browse_thumbnail$", "productImageFullSize" : "https://images.josbank.com/is/image/JosBank/14EV_75_1905_NAVY_MAIN?$browse_thumbnail$", "price" : "$498.00", "regPrice" : "", "salePrice" : "", "label": "none", "category" : "SportCoats", "subcategory": "1905 Sportcoats", "stock": 1, "dimension53" : "No" }

{ "451520898" : { "42 Short": ["Grey"], "44 Long": ["Grey"], "42 Long": ["Grey"], "36 Regular": ["Grey"], "39 Regular": ["Grey"], "42 Regular": ["Grey"], "44 Short": ["Grey"], "46 Regular": ["Grey"], "46 Long": ["Grey"], "41 Regular": ["Grey"], "43 Regular": ["Grey"], "38 Short": ["Grey"], "40 Regular": ["Grey"], "41 Long": ["Grey"], "44 Regular": ["Grey"], "40 Long": ["Grey"], "43 Long": ["Grey"], "38 Regular": ["Grey"], "40 Short": ["Grey"] } }

Buy 1 Get 1 for $100 (of equal or lesser value)

{ "id" : "451520898", "productName" : "Travel Tech Slim Fit Mini Check Sportcoat", "productItem" : "145V", "productDescription" : "This Travel Tech sportcoat features a unique fabric technology that maintains the optimum microclimate for your body. Named 37.5, it removes moisture at the vapor stage before sweat can form. 37.5 acts like a thermostat by removing moisture when you are hot and retaining warmth when cold. It absorbs and traps odor molecules that are washed away when cleaned. Fully lined. Two button. Notch lapel. Stain resistant. Water resistant. Wrinkle resistant. Fully lined. 71% wool, 25% 37.5 polyester, 4% spandex. Dry clean only. Imported.", "promoDescription" : "Buy 1 Get 1 for $100 (of equal or lesser value)", "productUrl" : "http://www.gl-green.com/p/travel-tech-slim-fit-mini-check-sportcoat", "productImageUrl" : "https://images.josbank.com/is/image/JosBank/145V_03_TRAVELER_GREY_MAIN?$browse_thumbnail$", "productImageFullSize" : "https://images.josbank.com/is/image/JosBank/145V_03_TRAVELER_GREY_MAIN?$browse_thumbnail$", "price" : "$598.00", "regPrice" : "", "salePrice" : "", "label": "none", "category" : "SportCoats", "subcategory": "Travel Tech Sportcoats", "stock": 1, "dimension53" : "No" }

{ "451533871" : { "42 Short": ["Teal"], "44 Long": ["Teal"], "42 Long": ["Teal"], "39 Regular": ["Teal"], "42 Regular": ["Teal"], "44 Short": ["Teal"], "46 Regular": ["Teal"], "46 Long": ["Teal"], "41 Regular": ["Teal"], "43 Regular": ["Teal"], "38 Short": ["Teal"], "40 Regular": ["Teal"], "44 Regular": ["Teal"], "40 Long": ["Teal"], "38 Regular": ["Teal"], "40 Short": ["Teal"] } }

Going Fast

Buy 1 Get 1 for $100 (of equal or lesser value)

{ "id" : "451533871", "productName" : "Jos. A. Bank Slim Fit Tonal Paisley Dinner Jacket", "productItem" : "14CV", "productDescription" : "Richly hued, textured and patterned, this fine dinner jacket has a sophisticated style that will set you apart. Fully lined. Interior pockets. One button closure. Satin shawl lapel. Paisley patterned. 55% wool, 45% polyester. Dry clean only. Imported.", "promoDescription" : "Buy 1 Get 1 for $100 (of equal or lesser value)", "productUrl" : "http://www.gl-green.com/p/jos-a-bank-slim-fit-tonal-paisley-dinner-jacket", "productImageUrl" : "https://images.josbank.com/is/image/JosBank/14CV_68_JOSEPH_A_BANK_TEAL_MAIN?$browse_thumbnail$", "productImageFullSize" : "https://images.josbank.com/is/image/JosBank/14CV_68_JOSEPH_A_BANK_TEAL_MAIN?$browse_thumbnail$", "price" : "$398.00", "regPrice" : "", "salePrice" : "", "label": "none", "category" : "SportCoats", "subcategory": "Slim Fit Sportcoats", "stock": 1, "dimension53" : "No" }

{ "451542023" : { "42 Short": ["Brown"], "44 Long": ["Brown"], "46 Short": ["Brown"], "42 Long": ["Brown"], "36 Regular": ["Brown"], "38 Long": ["Brown"], "42 Regular": ["Brown"], "44 Short": ["Brown"], "46 Regular": ["Brown"], "46 Long": ["Brown"], "36 Short": ["Brown"], "41 Regular": ["Brown"], "43 Regular": ["Brown"], "38 Short": ["Brown"], "40 Regular": ["Brown"], "44 Regular": ["Brown"], "40 Long": ["Brown"], "38 Regular": ["Brown"], "40 Short": ["Brown"] } }

Buy 1 Get 1 for $100 (of equal or lesser value)

{ "id" : "451542023", "productName" : "1905 Collection Slim Fit Windowpane Check Sportcoat with brrr° comfort", "productItem" : "14J0", "productDescription" : "The 1905 Collection features updated classics, with vintage appeal. This handsome sportcoat is tailored from a smooth linen-wool blend, windowpane check pattern, and notch lapel. Slim Fit. Interior pockets. Fully lined. It is crafted using brrr\u00B0 comfort technology that continually keeps you cooler with natural-cooling minerals, a special fiber core that increases moisture wicking, and an enhanced airflow to boost cooling so you feel fresh. 3\/8 lining. 52% linen, 48% wool. Dry clean only. Imported.", "promoDescription" : "Buy 1 Get 1 for $100 (of equal or lesser value)", "productUrl" : "http://www.gl-green.com/p/1905-collection-slim-fit-windowpane-check-sportcoat-with-brrr-comfort", "productImageUrl" : "https://images.josbank.com/is/image/JosBank/14J0_38_1905_BROWN_MAIN?$browse_thumbnail$", "productImageFullSize" : "https://images.josbank.com/is/image/JosBank/14J0_38_1905_BROWN_MAIN?$browse_thumbnail$", "price" : "$498.00", "regPrice" : "", "salePrice" : "", "label": "none", "category" : "SportCoats", "subcategory": "1905 Sportcoats", "stock": 1, "dimension53" : "No" }

{ "451520899" : { "42 Short": ["Navy"], "44 Long": ["Navy"], "42 Long": ["Navy"], "36 Regular": ["Navy"], "39 Regular": ["Navy"], "42 Regular": ["Navy"], "44 Short": ["Navy"], "46 Regular": ["Navy"], "46 Long": ["Navy"], "41 Regular": ["Navy"], "43 Regular": ["Navy"], "38 Short": ["Navy"], "40 Regular": ["Navy"], "44 Regular": ["Navy"], "40 Long": ["Navy"], "38 Regular": ["Navy"], "40 Short": ["Navy"] } }

Buy 1 Get 1 for $100 (of equal or lesser value)

{ "id" : "451520899", "productName" : "Travel Tech Collection Slim Fit Check Sportcoat", "productItem" : "145X", "productDescription" : "This Travel Tech sportcoat features a unique fabric technology that maintains the optimum microclimate for your body. Named 37.5, it removes moisture at the vapor stage before sweat can form. 37.5 acts like a thermostat by removing moisture when you are hot and retaining warmth when cold. It absorbs and traps odor molecules that are washed away when cleaned. Fully lined. Two button. Notch lapel. Stain resistant. Water resistant. Wrinkle resistant. Fully lined. 71% wool, 25% 37.5 polyester, 4% spandex. Dry clean only. Imported.", "promoDescription" : "Buy 1 Get 1 for $100 (of equal or lesser value)", "productUrl" : "http://www.gl-green.com/p/travel-tech-collection-slim-fit-check-sportcoat-145X", "productImageUrl" : "https://images.josbank.com/is/image/JosBank/145X_75_TRAVELER_NAVY_MAIN?$browse_thumbnail$", "productImageFullSize" : "https://images.josbank.com/is/image/JosBank/145X_75_TRAVELER_NAVY_MAIN?$browse_thumbnail$", "price" : "$598.00", "regPrice" : "", "salePrice" : "", "label": "none", "category" : "SportCoats", "subcategory": "Travel Tech Sportcoats", "stock": 1, "dimension53" : "No" }

{ "451520900" : { "42 Short": ["Charcoal"], "44 Long": ["Charcoal"], "42 Long": ["Charcoal"], "42 Regular": ["Charcoal"], "44 Short": ["Charcoal"], "46 Regular": ["Charcoal"], "46 Long": ["Charcoal"], "40 Regular": ["Charcoal"], "38 Short": ["Charcoal"], "44 Regular": ["Charcoal"], "40 Long": ["Charcoal"], "38 Regular": ["Charcoal"], "40 Short": ["Charcoal"] } }

Buy 1 Get 1 for $100 (of equal or lesser value)

{ "id" : "451520900", "productName" : "Travel Tech Collection Slim Fit Check Sportcoat", "productItem" : "145Z", "productDescription" : "This Travel Tech sportcoat features a unique fabric technology that maintains the optimum microclimate for your body. Named 37.5, it removes moisture at the vapor stage before sweat can form. 37.5 acts like a thermostat by removing moisture when you are hot and retaining warmth when cold. It absorbs and traps odor molecules that are washed away when cleaned. Fully lined. Two button. Notch lapel. Stain resistant. Water resistant. Wrinkle resistant. Fully lined. 71% wool, 25% 37.5 polyester, 4% spandex. Dry clean only. Imported.", "promoDescription" : "Buy 1 Get 1 for $100 (of equal or lesser value)", "productUrl" : "http://www.gl-green.com/p/travel-tech-collection-slim-fit-check-sportcoat-145Z", "productImageUrl" : "https://images.josbank.com/is/image/JosBank/145Z_06_TRAVELER_CHARCOAL_MAIN?$browse_thumbnail$", "productImageFullSize" : "https://images.josbank.com/is/image/JosBank/145Z_06_TRAVELER_CHARCOAL_MAIN?$browse_thumbnail$", "price" : "$598.00", "regPrice" : "", "salePrice" : "", "label": "none", "category" : "SportCoats", "subcategory": "Travel Tech Sportcoats", "stock": 1, "dimension53" : "No" }

{ "451533868" : { "42 Short": ["Charcoal"], "44 Long": ["Charcoal"], "46 Short": ["Charcoal"], "42 Long": ["Charcoal"], "39 Regular": ["Charcoal"], "42 Regular": ["Charcoal"], "44 Short": ["Charcoal"], "46 Regular": ["Charcoal"], "46 Long": ["Charcoal"], "41 Regular": ["Charcoal"], "43 Regular": ["Charcoal"], "38 Short": ["Charcoal"], "40 Regular": ["Charcoal"], "44 Regular": ["Charcoal"], "40 Long": ["Charcoal"], "43 Long": ["Charcoal"], "38 Regular": ["Charcoal"], "40 Short": ["Charcoal"] } }

Buy 1 Get 1 for $100 (of equal or lesser value)

{ "id" : "451533868", "productName" : "Jos. A. Bank Slim Fit Tonal Floral Pattern Dinner Jacket", "productItem" : "14CM", "productDescription" : "Add this to your wardrobe for the most stylish look in formal wear. This fine coat features a detailed, woven, tone-on-tone scrolling floral pattern and a classic satin peak lapel. Covered satin one-button closure. Fully lined. Interior pockets. 55% wool, 45% polyester. Dry clean only. Imported.", "promoDescription" : "Buy 1 Get 1 for $100 (of equal or lesser value)", "productUrl" : "http://www.gl-green.com/p/jos-a-bank-slim-fit-tonal-floral-pattern-dinner-jacket-14CM", "productImageUrl" : "https://images.josbank.com/is/image/JosBank/14CM_06_JOSEPH_A_BANK_CHARCOAL_MAIN?$browse_thumbnail$", "productImageFullSize" : "https://images.josbank.com/is/image/JosBank/14CM_06_JOSEPH_A_BANK_CHARCOAL_MAIN?$browse_thumbnail$", "price" : "$398.00", "regPrice" : "", "salePrice" : "", "label": "none", "category" : "SportCoats", "subcategory": "Slim Fit Sportcoats", "stock": 1, "dimension53" : "No" }

{ "451533869" : { "42 Short": ["Green"], "44 Long": ["Green"], "42 Long": ["Green"], "42 Regular": ["Green"], "44 Short": ["Green"], "46 Regular": ["Green"], "46 Long": ["Green"], "41 Regular": ["Green"], "43 Regular": ["Green"], "38 Short": ["Green"], "40 Regular": ["Green"], "44 Regular": ["Green"], "40 Long": ["Green"], "38 Regular": ["Green"], "40 Short": ["Green"] } }

Buy 1 Get 1 for $100 (of equal or lesser value)

{ "id" : "451533869", "productName" : "Jos. A. Bank Slim Fit Tonal Floral Dinner Jacket", "productItem" : "14CP", "productDescription" : "Create a look that is both on trend and timeless. This fine dinner jacket from Jos. A. Bank features a subtle tonal floral pattern, satin shawl lapel and one-button closure. Fully lined. Interior pockets. 100% wool. Dry clean only. Imported.", "promoDescription" : "Buy 1 Get 1 for $100 (of equal or lesser value)", "productUrl" : "http://www.gl-green.com/p/jos-a-bank-slim-fit-tonal-floral-dinner-jacket", "productImageUrl" : "https://images.josbank.com/is/image/JosBank/14CP_79_JOSEPH_A_BANK_GREEN_MAIN?$browse_thumbnail$", "productImageFullSize" : "https://images.josbank.com/is/image/JosBank/14CP_79_JOSEPH_A_BANK_GREEN_MAIN?$browse_thumbnail$", "price" : "$398.00", "regPrice" : "", "salePrice" : "", "label": "none", "category" : "SportCoats", "subcategory": "Slim Fit Sportcoats", "stock": 1, "dimension53" : "No" }

{ "451543285" : { "42 Short": ["Grey"], "44 Long": ["Grey"], "46 Short": ["Grey"], "42 Long": ["Grey"], "36 Regular": ["Grey"], "42 Regular": ["Grey"], "44 Short": ["Grey"], "46 Regular": ["Grey"], "46 Long": ["Grey"], "41 Regular": ["Grey"], "38 Short": ["Grey"], "40 Regular": ["Grey"], "44 Regular": ["Grey"], "40 Long": ["Grey"], "38 Regular": ["Grey"], "40 Short": ["Grey"] } }

Buy 1 Get 1 for $100 (of equal or lesser value)

{ "id" : "451543285", "productName" : "Travel Tech Collection Slim Fit Windowpane Sportcoat", "productItem" : "14H6", "productDescription" : "Travel in comfort and style. This Travel Tech sportcoat creates a comfortable micro-climate for your body by removing excess moisture before you even begin to sweat. Built-in fabric technology doesn't wash out. Maintains the optimum microclimate for your body. Stretch mesh fabric is integrated throughout the jacket. Two button, notch lapel, side vents. Zippered utility pockets are strategically placed inside jacket. Performance stretch lining. 72% wool, 25% 37.5® polyester, 3% spandex. Machine washable. Imported.", "promoDescription" : "Buy 1 Get 1 for $100 (of equal or lesser value)", "productUrl" : "http://www.gl-green.com/p/travel-tech-collection-slim-fit-windowpane-sportcoat-14H6", "productImageUrl" : "https://images.josbank.com/is/image/JosBank/14H6_03_TRAVEL_TECH_GREY_MAIN?$browse_thumbnail$", "productImageFullSize" : "https://images.josbank.com/is/image/JosBank/14H6_03_TRAVEL_TECH_GREY_MAIN?$browse_thumbnail$", "price" : "$598.00", "regPrice" : "", "salePrice" : "", "label": "none", "category" : "SportCoats", "subcategory": "Travel Tech Sportcoats", "stock": 1, "dimension53" : "No" }

{ "451543286" : { "42 Short": ["Blue"], "44 Long": ["Blue"], "46 Short": ["Blue"], "42 Long": ["Blue"], "36 Regular": ["Blue"], "39 Regular": ["Blue"], "42 Regular": ["Blue"], "44 Short": ["Blue"], "46 Regular": ["Blue"], "46 Long": ["Blue"], "41 Regular": ["Blue"], "38 Short": ["Blue"], "40 Regular": ["Blue"], "44 Regular": ["Blue"], "40 Long": ["Blue"], "38 Regular": ["Blue"], "40 Short": ["Blue"] } }

Buy 1 Get 1 for $100 (of equal or lesser value)

{ "id" : "451543286", "productName" : "Travel Tech Collection Slim Fit Windowpane Sportcoat", "productItem" : "14H8", "productDescription" : "Travel in comfort and style. This Travel Tech sportcoat creates a comfortable micro-climate for your body by removing excess moisture before you even begin to sweat. Built-in fabric technology doesn't wash out. Maintains the optimum microclimate for your body. Stretch mesh fabric is integrated throughout the jacket. Two button, notch lapel, side vents. Zippered utility pockets are strategically placed inside jacket. Performance stretch lining. 72% wool, 25% 37.5® polyester, 3% spandex. Machine washable. Imported.", "promoDescription" : "Buy 1 Get 1 for $100 (of equal or lesser value)", "productUrl" : "http://www.gl-green.com/p/travel-tech-collection-slim-fit-windowpane-sportcoat-14H8", "productImageUrl" : "https://images.josbank.com/is/image/JosBank/14H8_70_TRAVEL_TECH_BLUE_MAIN?$browse_thumbnail$", "productImageFullSize" : "https://images.josbank.com/is/image/JosBank/14H8_70_TRAVEL_TECH_BLUE_MAIN?$browse_thumbnail$", "price" : "$598.00", "regPrice" : "", "salePrice" : "", "label": "none", "category" : "SportCoats", "subcategory": "Travel Tech Sportcoats", "stock": 1, "dimension53" : "No" }
Related Products
Description:
From the 1905 Collection, this linen and wool sportcoat features a classic plaid pattern, notch collar and flap pockets. It s crafted using brrr? comfort technology that continually keeps you cooler with natural-cooling minerals, a special fiber core that increases ...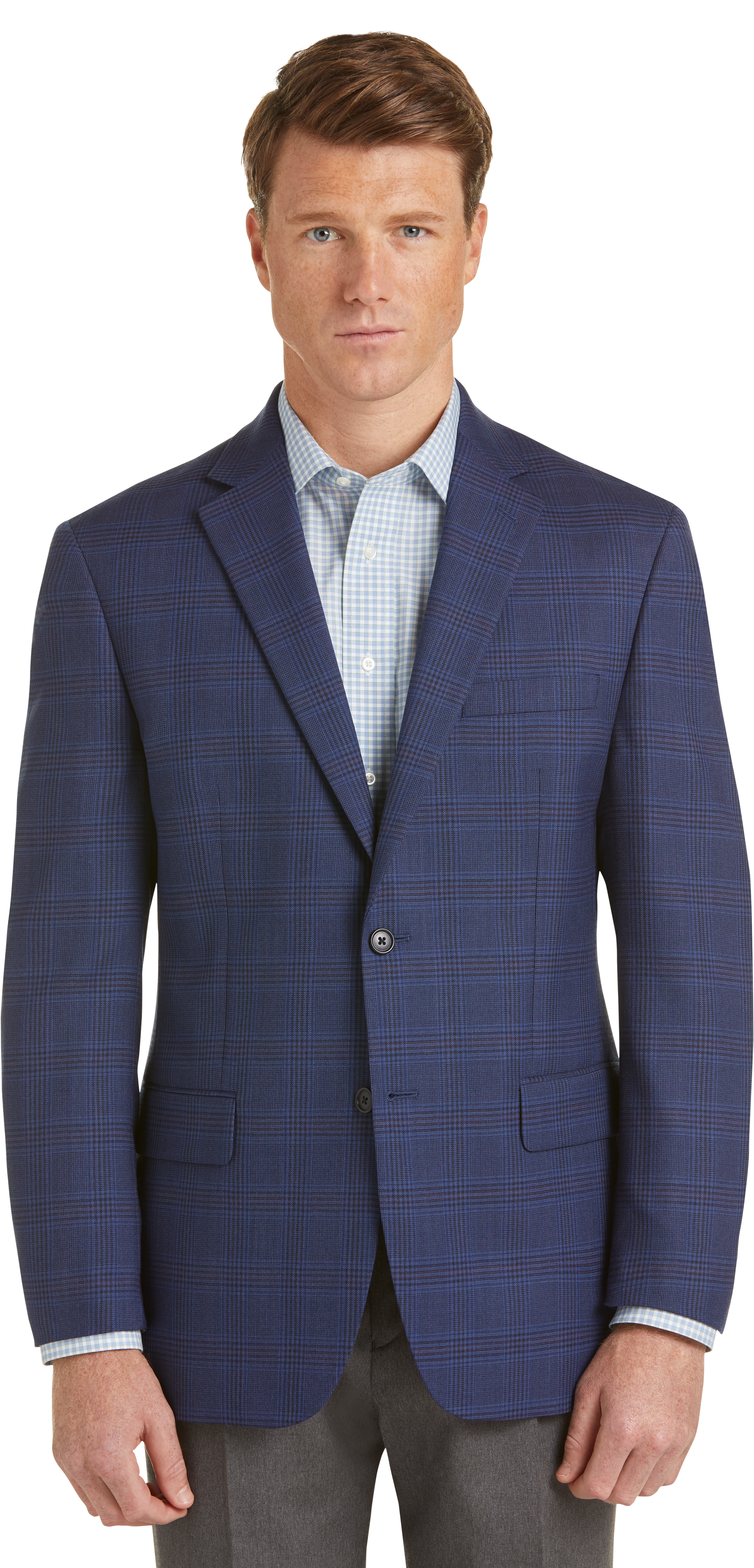 Description:
Classic and refined, our Executive Collection sportcoats feature the highest quality craftsmanship and timeless style you've been seeking. This fine coat is tailored with a two-button closure, notch lapel, and side vents in a flattering Traditional Fit. A subtle mini ...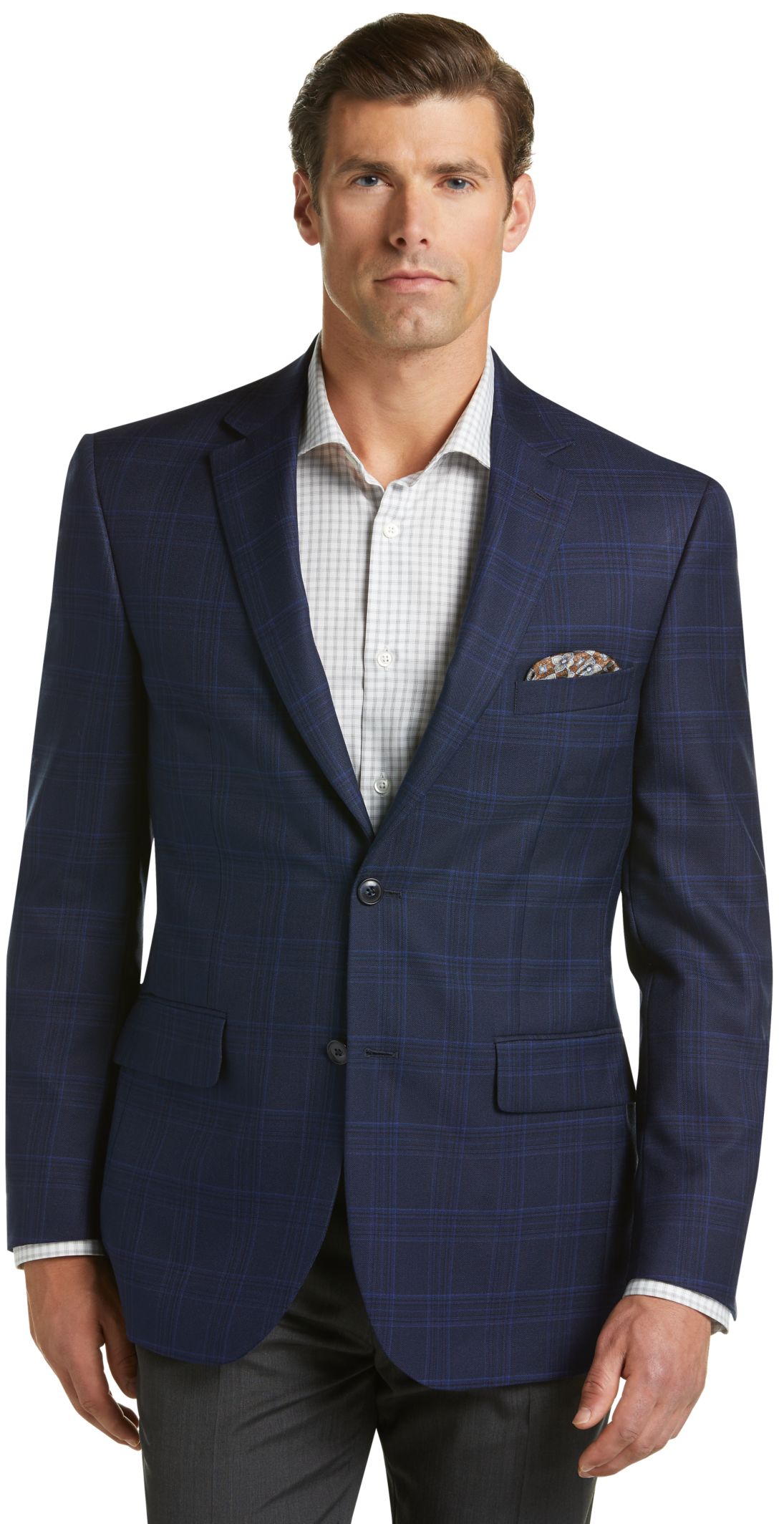 Description:
Crafted from the finest Italian fabric, our Reserve Collection sportcoats feature the most exquisite tailoring for an ideal fit. Two button, notch lapel, side vents. Fully lined with interior pockets. 52% silk, 48% wool. Dry clean only. Imported.
Description:
Achieve the refined and stylish look you've been seeking with this Reserve Collection Sportcoat. This fine coat is styled with a two-button closure, notch lapel, and side vents. It is fully lined with interior pockets. 100% wool. Dry clean only. ...
Description:
Crafted from a fine wool blend, this Reserve Collection sportcoat has a silky smooth finish and a classic plaid pattern. Traditional Fit. Imperial blend. Side vents, two button, notch lapel. Patterned Bemberg lining, silk, breathable. Chest piece- 1/2 canvas construction ...
The Slim Look
Expand your definition of classic style with Slim-fit blazer sportcoats.
Slim-fit blazer sportcoats are a modern mainstay of our collections, as are sportcoats in Traditional and Tailored fits. Our Slim cut offers slightly narrower shoulders and higher armholes that ensure a fit that contours neatly to a man's build. The lapels of this jacket style are often slimmer as well, creating a visually slimming and perfectly on-trend look. While sophisticated style is the obvious reason to choose a Slim fit, careful craftsmanship ensures a sportcoat that's every bit as comfortable as it is handsome—even for men who rarely remove their jackets. Our tailors craft every seam and stitch of Slim-fit sportcoats so that they work well for a surprisingly large number of customers. They're roomy where they need to be without bunching or constricting movement. Many Slim-fit blazers are made with 100 percent imported wool and canvas construction to maintain the jacket's shape. You'll also find Slim-fit blazers for men in wool blends that include lighter linen or silk for greater comfort in spring and summer. For those who love simplicity, jackets in performance-minded fabrics employ nanotechnology that's resistant to both water damage and staining. Depending on your intended use, there's a Slim fit option that fits not only your build, but also your style and budget.