Refine your results
SHOW
Show:

Press enter to collapse or expand the menu. For navigating with in Filter options, press tab. To select Filter options, press enter.

Clear All

Filter

Done

0

Products

Add filter

Reset filters
Product List
{ "451149400" : { "37 Regular": [ "Bright Navy", "Navy" ], "42 Short": [ "Bright Navy", "Navy" ], "44 Long": [ "Bright Navy", "Navy" ], "46 Short": [ "Bright Navy", "Navy" ], "42 Long": [ "Bright Navy", "Navy" ], "36 Regular": [ "Bright Navy", "Navy" ], "39 Regular": [ "Bright Navy", "Navy" ], "42 Regular": [ "Bright Navy", "Navy" ], "38 Long": [ "Bright Navy", "Navy" ], "44 Short": [ "Bright Navy", "Navy" ], "46 Regular": [ "Bright Navy", "Navy" ], "46 Long": [ "Bright Navy", "Navy" ], "41 Regular": [ "Bright Navy", "Navy" ], "43 Regular": [ "Bright Navy", "Navy" ], "38 Short": [ "Bright Navy", "Navy" ], "40 Regular": [ "Bright Navy", "Navy" ], "41 Long": [ "Bright Navy", "Navy" ], "44 Regular": [ "Bright Navy", "Navy" ], "40 Long": [ "Bright Navy", "Navy" ], "43 Long": [ "Bright Navy", "Navy" ], "38 Regular": [ "Bright Navy", "Navy" ], "40 Short": [ "Bright Navy", "Navy" ] } }

{ "id" : "451149400", "productName" : "Traveler Collection Tailored Fit Utility Sportcoat", "productItem" : "11T0", "productDescription" : "Comfort and style set this sportcoat from the Travelers Collection apart from the rest. Water repellant and stain resistant. Tailored Fit. Two button. Notch lapel. Side vents. Natural stretch wool. Narrower lapel. Zippered and media pockets ideal for travel. Gusset armholes for breathable comfort. Poly stretch lining for added comfort. No canvas chest piece, garment uses modern fusing technology. 100% wool. Dry clean. Imported.", "promoDescription" : "", "productUrl" : "http://www.gl-green.com/p/traveler-collection-tailored-fit-utility-sportcoat", "productImageUrl" : "https://images.josbank.com/is/image/JosBank/11T0_76_TRAVELER_BRIGHT_NAVY_MAIN?$browse_thumbnail$", "productImageFullSize" : "https://images.josbank.com/is/image/JosBank/11T0_76_TRAVELER_BRIGHT_NAVY_MAIN?$browse_thumbnail$", "price" : "", "regPrice" : "$598.00", "salePrice" : "$199.00", "label": "sale", "category" : "SportCoats", "subcategory": "Traveler Sportcoats", "stock": 1, "dimension53" : "No" }

{ "451509002" : { "46 Regular": ["Brown"], "46 Long": ["Brown"], "42 Short": ["Brown"], "44 Long": ["Brown"], "42 Long": ["Brown"], "40 Regular": ["Brown"], "44 Regular": ["Brown"], "42 Regular": ["Brown"], "44 Short": ["Brown"], "40 Short": ["Brown"] } }

{ "id" : "451509002", "productName" : "Traveler Collection Traditional Fit Windowpane Sportcoat", "productItem" : "13VW", "productDescription" : "This Traveler's Collection sportcoat is ideal for your busy life, with a flattering Traditional Fit and water and stain resistance that keeps you looking sharp and neat longer. Two button, notch lapel, side vents. Interior pockets. 100% wool. Dry clean only. Imported.", "promoDescription" : "", "productUrl" : "http://www.gl-green.com/p/traveler-collection-traditional-fit-windowpane-sportcoat-13VW", "productImageUrl" : "https://images.josbank.com/is/image/JosBank/13VW_38_TRAVELER_BROWN_MAIN?$browse_thumbnail$", "productImageFullSize" : "https://images.josbank.com/is/image/JosBank/13VW_38_TRAVELER_BROWN_MAIN?$browse_thumbnail$", "price" : "", "regPrice" : "$598.00", "salePrice" : "$199.00", "label": "sale", "category" : "SportCoats", "subcategory": "Traveler Sportcoats", "stock": 1, "dimension53" : "No" }

{ "451515557" : { "46 Regular": ["Charcoal"], "46 Long": ["Charcoal"], "42 Short": ["Charcoal"], "44 Long": ["Charcoal"], "46 Short": ["Charcoal"], "43 Regular": ["Charcoal"], "42 Long": ["Charcoal"], "40 Regular": ["Charcoal"], "44 Regular": ["Charcoal"], "42 Regular": ["Charcoal"], "44 Short": ["Charcoal"], "40 Short": ["Charcoal"] } }

{ "id" : "451515557", "productName" : "Traveler Collection Traditional Fit Plaid Sportcoat", "productItem" : "13YV", "productDescription" : "Ideal for the busy professional, this Traveler Collection sportcoat is wrinkle, stain, and water resistant to keep you looking your best no matter how hectic your schedule. This smooth sportcoat features a two-button closure, notch lapel, side vents, and a subtle, classic plaid pattern. Fully lined. Wool with natural stretch. 100% wool. Dry clean only. Imported.", "promoDescription" : "", "productUrl" : "http://www.gl-green.com/p/traveler-collection-traditional-fit-plaid-sportcoat-13YV", "productImageUrl" : "https://images.josbank.com/is/image/JosBank/13YV_06_TRAVELER_CHARCOAL_MAIN?$browse_thumbnail$", "productImageFullSize" : "https://images.josbank.com/is/image/JosBank/13YV_06_TRAVELER_CHARCOAL_MAIN?$browse_thumbnail$", "price" : "", "regPrice" : "$598.00", "salePrice" : "$199.00", "label": "sale", "category" : "Featured", "subcategory": "Ready for Anything", "stock": 1, "dimension53" : "No" }

{ "451515555" : { "42 Short": ["Bright Blue"], "44 Long": ["Bright Blue"], "46 Short": ["Bright Blue"], "42 Long": ["Bright Blue"], "42 Regular": ["Bright Blue"], "44 Short": ["Bright Blue"], "46 Regular": ["Bright Blue"], "46 Long": ["Bright Blue"], "41 Regular": ["Bright Blue"], "43 Regular": ["Bright Blue"], "40 Regular": ["Bright Blue"], "41 Long": ["Bright Blue"], "38 Short": ["Bright Blue"], "44 Regular": ["Bright Blue"], "40 Long": ["Bright Blue"], "43 Long": ["Bright Blue"], "38 Regular": ["Bright Blue"], "40 Short": ["Bright Blue"] } }

{ "id" : "451515555", "productName" : "Traveler Collection Tailored Fit Check Sportcoat", "productItem" : "13YT", "productDescription" : "Traveler Collection sportcoats are stain, water, and wrinkle resistant -- ideal for the busy professional. Wool fabric is woven with comfortable stretch. Two button, notch lapel, side vents. Fully lined. Interior pockets. Straight flap pockets. Check pattern. 100% wool. Dry clean only. Imported.", "promoDescription" : "", "productUrl" : "http://www.gl-green.com/p/traveler-collection-tailored-fit-check-sportcoat-13YT", "productImageUrl" : "https://images.josbank.com/is/image/JosBank/13YT_73_TRAVELER_BRIGHT_BLUE_MAIN?$browse_thumbnail$", "productImageFullSize" : "https://images.josbank.com/is/image/JosBank/13YT_73_TRAVELER_BRIGHT_BLUE_MAIN?$browse_thumbnail$", "price" : "", "regPrice" : "$598.00", "salePrice" : "$199.00", "label": "sale", "category" : "Featured", "subcategory": "Ready for Anything", "stock": 1, "dimension53" : "No" }

{ "451477662" : { "42 Short": ["Bright Blue"], "44 Long": ["Bright Blue"], "46 Short": ["Bright Blue"], "42 Long": ["Bright Blue"], "42 Regular": ["Bright Blue"], "44 Short": ["Bright Blue"], "46 Regular": ["Bright Blue"], "46 Long": ["Bright Blue"], "41 Regular": ["Bright Blue"], "43 Regular": ["Bright Blue"], "38 Short": ["Bright Blue"], "40 Regular": ["Bright Blue"], "44 Regular": ["Bright Blue"], "40 Long": ["Bright Blue"], "38 Regular": ["Bright Blue"], "40 Short": ["Bright Blue"] } }

{ "id" : "451477662", "productName" : "Traveler Collection Tailored Fit Plaid Sportcoat", "productItem" : "12Y3", "productDescription" : "Ideal for travel and daily wear, this Traveler Collection sportcoat is water, wrinkle and stain resistant for effortless style. Two button, notch lapel, side vents. Fully lined. 100% wool, Dry clean Imported.", "promoDescription" : "", "productUrl" : "http://www.gl-green.com/p/traveler-collection-tailored-fit-plaid-sportcoat-12Y3", "productImageUrl" : "https://images.josbank.com/is/image/JosBank/12Y3_73_TRAVELER_BRIGHT_BLUE_MAIN?$browse_thumbnail$", "productImageFullSize" : "https://images.josbank.com/is/image/JosBank/12Y3_73_TRAVELER_BRIGHT_BLUE_MAIN?$browse_thumbnail$", "price" : "", "regPrice" : "$598.00", "salePrice" : "$199.00", "label": "sale", "category" : "SportCoats", "subcategory": "Traveler Sportcoats", "stock": 1, "dimension53" : "No" }

{ "451520221" : { "46 Regular": ["Blue"], "46 Long": ["Blue"], "42 Short": ["Blue"], "44 Long": ["Blue"], "42 Long": ["Blue"], "40 Regular": ["Blue"], "38 Short": ["Blue"], "44 Regular": ["Blue"], "42 Regular": ["Blue"], "38 Regular": ["Blue"], "44 Short": ["Blue"], "40 Short": ["Blue"] } }

{ "id" : "451520221", "productName" : "Traveler Collection Tailored Fit Windowpane Sportcoat", "productItem" : "142R", "productDescription" : "Traveler Collection sportcoats are stain, water, and wrinkle resistant -- ideal for the busy professional. Two button, notch lapel, side vents. Fully lined. Straight flap pockets. Windowpane pattern. 100% wool. Dry clean only. Imported.", "promoDescription" : "", "productUrl" : "http://www.gl-green.com/p/traveler-collection-tailored-fit-windowpane-sportcoat-142R", "productImageUrl" : "https://images.josbank.com/is/image/JosBank/142R_70_TRAVELER_BLUE_MAIN?$browse_thumbnail$", "productImageFullSize" : "https://images.josbank.com/is/image/JosBank/142R_70_TRAVELER_BLUE_MAIN?$browse_thumbnail$", "price" : "", "regPrice" : "$598.00", "salePrice" : "$199.00", "label": "sale", "category" : "SportCoats", "subcategory": "Traveler Sportcoats", "stock": 1, "dimension53" : "No" }

{ "451520225" : { "46 Regular": ["Brown"], "46 Long": ["Brown"], "42 Short": ["Brown"], "44 Long": ["Brown"], "42 Long": ["Brown"], "40 Regular": ["Brown"], "38 Short": ["Brown"], "44 Regular": ["Brown"], "42 Regular": ["Brown"], "38 Regular": ["Brown"], "44 Short": ["Brown"], "40 Short": ["Brown"] } }

{ "id" : "451520225", "productName" : "Traveler Collection Tailored Fit Tic Sportcoat", "productItem" : "142Y", "productDescription" : "Ideal for travel and daily wear, this Traveler Collection sportcoat is water and stain resistant. Tailored Fit. Wrinkle resistant. Fully lined. Two button, side vents, notch lapel. 100% wool. Dry clean only. Imported.", "promoDescription" : "", "productUrl" : "http://www.gl-green.com/p/traveler-collection-tailored-fit-tic-sportcoat", "productImageUrl" : "https://images.josbank.com/is/image/JosBank/142Y_38_TRAVELER_BROWN_MAIN?$browse_thumbnail$", "productImageFullSize" : "https://images.josbank.com/is/image/JosBank/142Y_38_TRAVELER_BROWN_MAIN?$browse_thumbnail$", "price" : "", "regPrice" : "$598.00", "salePrice" : "$199.00", "label": "sale", "category" : "SportCoats", "subcategory": "Traveler Sportcoats", "stock": 1, "dimension53" : "No" }

{ "451543292" : { "42 Short": ["Blue"], "44 Long": ["Blue"], "46 Short": ["Blue"], "42 Long": ["Blue"], "39 Regular": ["Blue"], "42 Regular": ["Blue"], "44 Short": ["Blue"], "46 Regular": ["Blue"], "46 Long": ["Blue"], "41 Regular": ["Blue"], "43 Regular": ["Blue"], "38 Short": ["Blue"], "40 Regular": ["Blue"], "44 Regular": ["Blue"], "40 Long": ["Blue"], "38 Regular": ["Blue"], "40 Short": ["Blue"] } }

{ "id" : "451543292", "productName" : "Traveler Collection Tailored Fit Check Sportcoat", "productItem" : "14HM", "productDescription" : "This Traveler Collection sportcoat is ideal for your busy life, with a flattering Tailored Fit and water and stain resistance that keeps you looking sharp and neat longer. It is fully lined with a stretch fabric for the best in fit and comfort. Two button, notch lapel, side vents. Fused chest piece. Interior pockets. 100% wool. Dry clean only. Imported.", "promoDescription" : "", "productUrl" : "http://www.gl-green.com/p/traveler-collection-tailored-fit-check-sportcoat-14HM", "productImageUrl" : "https://images.josbank.com/is/image/JosBank/14HM_70_TRAVELER_BLUE_MAIN?$browse_thumbnail$", "productImageFullSize" : "https://images.josbank.com/is/image/JosBank/14HM_70_TRAVELER_BLUE_MAIN?$browse_thumbnail$", "price" : "", "regPrice" : "$598.00", "salePrice" : "$199.00", "label": "sale", "category" : "SportCoats", "subcategory": "Traveler Sportcoats", "stock": 1, "dimension53" : "No" }

{ "451520894" : { "46 Regular": ["Charcoal"], "46 Long": ["Charcoal"], "42 Short": ["Charcoal"], "44 Long": ["Charcoal"], "42 Long": ["Charcoal"], "40 Regular": ["Charcoal"], "38 Short": ["Charcoal"], "44 Regular": ["Charcoal"], "42 Regular": ["Charcoal"], "38 Regular": ["Charcoal"], "44 Short": ["Charcoal"], "40 Short": ["Charcoal"] } }

{ "id" : "451520894", "productName" : "Traveler Collection Tailored Fit Windowpane Plaid Sportcoat", "productItem" : "142W", "productDescription" : "Ideal for travel and daily wear, this Traveler Collection sportcoat is water and stain resistant for effortless style. Two button, notch lapel, side vents. Fully lined. 100% wool. Dry clean only. Imported.", "promoDescription" : "", "productUrl" : "http://www.gl-green.com/p/traveler-collection-tailored-fit-windowpane-plaid-sportcoat-142W", "productImageUrl" : "https://images.josbank.com/is/image/JosBank/142W_06_TRAVELER_CHARCOAL_MAIN?$browse_thumbnail$", "productImageFullSize" : "https://images.josbank.com/is/image/JosBank/142W_06_TRAVELER_CHARCOAL_MAIN?$browse_thumbnail$", "price" : "", "regPrice" : "$598.00", "salePrice" : "$199.00", "label": "sale", "category" : "SportCoats", "subcategory": "Traveler Sportcoats", "stock": 1, "dimension53" : "No" }

{ "451543290" : { "42 Short": ["Grey"], "44 Long": ["Grey"], "46 Short": ["Grey"], "42 Long": ["Grey"], "39 Regular": ["Grey"], "42 Regular": ["Grey"], "44 Short": ["Grey"], "46 Regular": ["Grey"], "46 Long": ["Grey"], "41 Regular": ["Grey"], "43 Regular": ["Grey"], "38 Short": ["Grey"], "40 Regular": ["Grey"], "44 Regular": ["Grey"], "40 Long": ["Grey"], "38 Regular": ["Grey"], "40 Short": ["Grey"] } }

{ "id" : "451543290", "productName" : "Traveler Collection Tailored Fit Windowpane Sportcoat", "productItem" : "14HH", "productDescription" : "This Traveler Collection sportcoat is ideal for your busy life, with a flattering Tailored Fit and water and stain resistance that keeps you looking sharp and neat longer. It is fully lined with a stretch fabric for the best in fit and comfort. Two button, notch lapel, side vents. Fused chest piece. Interior pockets. 100% wool. Dry clean only. Imported.", "promoDescription" : "", "productUrl" : "http://www.gl-green.com/p/traveler-collection-tailored-fit-windowpane-sportcoat-14HH", "productImageUrl" : "https://images.josbank.com/is/image/JosBank/14HH_03_TRAVELER_GREY_MAIN?$browse_thumbnail$", "productImageFullSize" : "https://images.josbank.com/is/image/JosBank/14HH_03_TRAVELER_GREY_MAIN?$browse_thumbnail$", "price" : "", "regPrice" : "$598.00", "salePrice" : "$199.00", "label": "sale", "category" : "SportCoats", "subcategory": "Traveler Sportcoats", "stock": 1, "dimension53" : "No" }

{ "451515561" : { "42 Short": ["Blue"], "44 Long": ["Blue"], "42 Long": ["Blue"], "42 Regular": ["Blue"], "44 Short": ["Blue"], "46 Regular": ["Blue"], "46 Long": ["Blue"], "41 Regular": ["Blue"], "43 Regular": ["Blue"], "40 Regular": ["Blue"], "38 Short": ["Blue"], "44 Regular": ["Blue"], "38 Regular": ["Blue"], "40 Short": ["Blue"] } }

{ "id" : "451515561", "productName" : "Traveler Collection Tailored Fit Plaid Sportcoat", "productItem" : "13YZ", "productDescription" : "Traveler Collection sportcoats are stain, water, and wrinkle resistant -- ideal for the busy professional. Wool fabric is woven with comfortable stretch. Two button, notch lapel, side vents. Fully lined. Interior pockets. Straight flap pockets. Plaid pattern. 100% wool. Dry clean only. Imported.", "promoDescription" : "", "productUrl" : "http://www.gl-green.com/p/traveler-collection-tailored-fit-plaid-sportcoat-13YZ", "productImageUrl" : "https://images.josbank.com/is/image/JosBank/13YZ_70_TRAVELER_BLUE_MAIN?$browse_thumbnail$", "productImageFullSize" : "https://images.josbank.com/is/image/JosBank/13YZ_70_TRAVELER_BLUE_MAIN?$browse_thumbnail$", "price" : "", "regPrice" : "$598.00", "salePrice" : "$199.00", "label": "sale", "category" : "SportCoats", "subcategory": "Traveler Sportcoats", "stock": 1, "dimension53" : "No" }

{ "451520219" : { "42 Short": ["Brown"], "44 Long": ["Brown"], "46 Short": ["Brown"], "42 Long": ["Brown"], "42 Regular": ["Brown"], "44 Short": ["Brown"], "46 Regular": ["Brown"], "46 Long": ["Brown"], "41 Regular": ["Brown"], "43 Regular": ["Brown"], "38 Short": ["Brown"], "40 Regular": ["Brown"], "44 Regular": ["Brown"], "40 Long": ["Brown"], "43 Long": ["Brown"], "38 Regular": ["Brown"], "40 Short": ["Brown"] } }

{ "id" : "451520219", "productName" : "Traveler Collection Tailored Fit Plaid Sportcoat", "productItem" : "142N", "productDescription" : "Ideal for travel and daily wear, this Traveler Collection sportcoat is water and stain resistant. Tailored Fit. Wrinkle resistant. Fully lined. Two button, side vents, notch lapel. 100% wool. Dry clean only. Imported.", "promoDescription" : "", "productUrl" : "http://www.gl-green.com/p/traveler-collection-tailored-fit-plaid-sportcoat-142N", "productImageUrl" : "https://images.josbank.com/is/image/JosBank/142N_38_TRAVELER_BROWN_MAIN?$browse_thumbnail$", "productImageFullSize" : "https://images.josbank.com/is/image/JosBank/142N_38_TRAVELER_BROWN_MAIN?$browse_thumbnail$", "price" : "", "regPrice" : "$598.00", "salePrice" : "$199.00", "label": "sale", "category" : "SportCoats", "subcategory": "Traveler Sportcoats", "stock": 1, "dimension53" : "No" }

{ "451508996" : { "42 Short": ["Blue"], "44 Long": ["Blue"], "46 Short": ["Blue"], "42 Long": ["Blue"], "42 Regular": ["Blue"], "44 Short": ["Blue"], "46 Regular": ["Blue"], "46 Long": ["Blue"], "41 Regular": ["Blue"], "43 Regular": ["Blue"], "40 Regular": ["Blue"], "38 Short": ["Blue"], "44 Regular": ["Blue"], "38 Regular": ["Blue"], "40 Short": ["Blue"] } }

{ "id" : "451508996", "productName" : "Traveler Collection Tailored Fit Windowpane Sportcoat", "productItem" : "13VN", "productDescription" : "Traveler Collection sportcoats are stain, water, and wrinkle resistant -- ideal for the busy professional. Two button, notch lapel, side vents. Fully lined. Straight flap pockets. Windowpane pattern. 100% wool. Dry clean only. Imported.", "promoDescription" : "", "productUrl" : "http://www.gl-green.com/p/traveler-collection-tailored-fit-windowpane-sportcoat-13VN", "productImageUrl" : "https://images.josbank.com/is/image/JosBank/13VN_70_TRAVELER_BLUE_MAIN?$browse_thumbnail$", "productImageFullSize" : "https://images.josbank.com/is/image/JosBank/13VN_70_TRAVELER_BLUE_MAIN?$browse_thumbnail$", "price" : "", "regPrice" : "$598.00", "salePrice" : "$199.00", "label": "sale", "category" : "SportCoats", "subcategory": "Traveler Sportcoats", "stock": 1, "dimension53" : "No" }

{ "451520223" : { "42 Short": ["Brown"], "44 Long": ["Brown"], "46 Short": ["Brown"], "42 Long": ["Brown"], "42 Regular": ["Brown"], "44 Short": ["Brown"], "46 Regular": ["Brown"], "46 Long": ["Brown"], "41 Regular": ["Brown"], "43 Regular": ["Brown"], "38 Short": ["Brown"], "40 Regular": ["Brown"], "44 Regular": ["Brown"], "40 Long": ["Brown"], "43 Long": ["Brown"], "38 Regular": ["Brown"], "40 Short": ["Brown"] } }

{ "id" : "451520223", "productName" : "Traveler Collection Tailored Fit Plaid Sportcoat", "productItem" : "142U", "productDescription" : "This Traveler's Collection sportcoat is ideal for your busy life, with a flattering Tailored Fit and water and stain resistance that keeps you looking sharp and neat longer. Two button, side vents and a notch lapel. Fully lined. Natural stretch wool. Soft shoulders. Interior pockets. 100% wool. Dry clean only. Imported.", "promoDescription" : "", "productUrl" : "http://www.gl-green.com/p/traveler-collection-tailored-fit-plaid-sportcoat-142U", "productImageUrl" : "https://images.josbank.com/is/image/JosBank/142U_38_TRAVELER_BROWN_MAIN?$browse_thumbnail$", "productImageFullSize" : "https://images.josbank.com/is/image/JosBank/142U_38_TRAVELER_BROWN_MAIN?$browse_thumbnail$", "price" : "", "regPrice" : "$598.00", "salePrice" : "$199.00", "label": "sale", "category" : "SportCoats", "subcategory": "Traveler Sportcoats", "stock": 1, "dimension53" : "No" }

{ "451509006" : { "46 Regular": ["Blue"], "46 Long": ["Blue"], "44 Long": ["Blue"], "40 Regular": ["Blue"], "44 Regular": ["Blue"], "42 Regular": ["Blue"], "44 Short": ["Blue"] } }

{ "id" : "451509006", "productName" : "Traveler Collection Traditional Fit Plaid Sportcoat", "productItem" : "13W0", "productDescription" : "This Traveler's Collection sportcoat is ideal for your busy life, with a flattering Traditional Fit and water and stain resistance that keeps you looking sharp and neat longer. Two button, side vents. Fully lined. 100% wool. Dry clean only. Imported.", "promoDescription" : "", "productUrl" : "http://www.gl-green.com/p/traveler-collection-traditional-fit-plaid-sportcoat-13W0", "productImageUrl" : "https://images.josbank.com/is/image/JosBank/13W0_70_TRAVELER_BLUE_MAIN?$browse_thumbnail$", "productImageFullSize" : "https://images.josbank.com/is/image/JosBank/13W0_70_TRAVELER_BLUE_MAIN?$browse_thumbnail$", "price" : "", "regPrice" : "$598.00", "salePrice" : "$199.00", "label": "sale", "category" : "SportCoats", "subcategory": "Traveler Sportcoats", "stock": 1, "dimension53" : "No" }

{ "451520211" : { "46 Regular": ["Navy"], "46 Long": ["Navy"], "42 Short": ["Navy"], "44 Long": ["Navy"], "42 Long": ["Navy"], "40 Regular": ["Navy"], "44 Regular": ["Navy"], "42 Regular": ["Navy"], "44 Short": ["Navy"], "40 Short": ["Navy"] } }

{ "id" : "451520211", "productName" : "Traveler Collection Traditional Fit Tattersall Sportcoat", "productItem" : "142A", "productDescription" : "Ideal for the busy professional, this Traveler Collection sportcoat is wrinkle, stain, and water resistant to keep you looking your best no matter how hectic your schedule. This smooth sportcoat features a two-button closure, notch lapel, side vents, and a subtle, classic Tattersall pattern. Fully lined. Wool with natural stretch. 100% wool. Dry clean only. Imported.", "promoDescription" : "", "productUrl" : "http://www.gl-green.com/p/traveler-collection-traditional-fit-tattersall-sportcoat-142A", "productImageUrl" : "https://images.josbank.com/is/image/JosBank/142A_75_TRAVELER_NAVY_MAIN?$browse_thumbnail$", "productImageFullSize" : "https://images.josbank.com/is/image/JosBank/142A_75_TRAVELER_NAVY_MAIN?$browse_thumbnail$", "price" : "", "regPrice" : "$598.00", "salePrice" : "$199.00", "label": "sale", "category" : "SportCoats", "subcategory": "Traveler Sportcoats", "stock": 1, "dimension53" : "No" }

{ "451543291" : { "42 Short": ["Blue"], "44 Long": ["Blue"], "46 Short": ["Blue"], "42 Long": ["Blue"], "39 Regular": ["Blue"], "42 Regular": ["Blue"], "44 Short": ["Blue"], "46 Regular": ["Blue"], "46 Long": ["Blue"], "41 Regular": ["Blue"], "43 Regular": ["Blue"], "38 Short": ["Blue"], "40 Regular": ["Blue"], "44 Regular": ["Blue"], "40 Long": ["Blue"], "38 Regular": ["Blue"], "40 Short": ["Blue"] } }

{ "id" : "451543291", "productName" : "Traveler Collection Tailored Fit Tic Weave Sportcoat", "productItem" : "14HK", "productDescription" : "This Traveler Collection sportcoat is ideal for your busy life, with a flattering Tailored Fit and water and stain resistance that keeps you looking sharp and neat longer. It is fully lined with a stretch fabric for the best in fit and comfort. Two button, notch lapel, side vents. Fused chest piece. Interior pockets. 100% wool. Dry clean only. Imported.", "promoDescription" : "", "productUrl" : "http://www.gl-green.com/p/traveler-collection-tailored-fit-tic-weave-sportcoat-14HK", "productImageUrl" : "https://images.josbank.com/is/image/JosBank/14HK_70_TRAVELER_BLUE_MAIN?$browse_thumbnail$", "productImageFullSize" : "https://images.josbank.com/is/image/JosBank/14HK_70_TRAVELER_BLUE_MAIN?$browse_thumbnail$", "price" : "", "regPrice" : "$598.00", "salePrice" : "$199.00", "label": "sale", "category" : "SportCoats", "subcategory": "Traveler Sportcoats", "stock": 1, "dimension53" : "No" }

{ "451543298" : { "42 Short": ["Tan"], "44 Long": ["Tan"], "46 Short": ["Tan"], "42 Long": ["Tan"], "42 Regular": ["Tan"], "44 Short": ["Tan"], "46 Regular": ["Tan"], "46 Long": ["Tan"], "41 Regular": ["Tan"], "43 Regular": ["Tan"], "40 Regular": ["Tan"], "44 Regular": ["Tan"], "40 Short": ["Tan"] } }

{ "id" : "451543298", "productName" : "Traveler Collection Traditional Fit Windowpane Sportcoat", "productItem" : "14KD", "productDescription" : "This Traveler Collection sportcoat is ideal for your busy life, with a Traditional Fit and water and stain resistance that keeps you looking sharp and neat longer. It is fully lined with a stretch fabric for the best in fit and comfort. Two button, notch lapel, side vents. Interior pockets. 100% wool. Dry clean only. Imported.", "promoDescription" : "", "productUrl" : "http://www.gl-green.com/p/traveler-collection-traditional-fit-windowpane-sportcoat-14KD", "productImageUrl" : "https://images.josbank.com/is/image/JosBank/14KD_16_TRAVELER_TAN_MAIN?$browse_thumbnail$", "productImageFullSize" : "https://images.josbank.com/is/image/JosBank/14KD_16_TRAVELER_TAN_MAIN?$browse_thumbnail$", "price" : "", "regPrice" : "$598.00", "salePrice" : "$199.00", "label": "sale", "category" : "SportCoats", "subcategory": "Traveler Sportcoats", "stock": 1, "dimension53" : "No" }

{ "451543293" : { "42 Short": ["Brown"], "44 Long": ["Brown"], "46 Short": ["Brown"], "42 Long": ["Brown"], "39 Regular": ["Brown"], "42 Regular": ["Brown"], "44 Short": ["Brown"], "46 Regular": ["Brown"], "46 Long": ["Brown"], "41 Regular": ["Brown"], "43 Regular": ["Brown"], "38 Short": ["Brown"], "40 Regular": ["Brown"], "44 Regular": ["Brown"], "40 Long": ["Brown"], "38 Regular": ["Brown"], "40 Short": ["Brown"] } }

{ "id" : "451543293", "productName" : "Traveler Collection Tailored Fit Plaid Sportcoat", "productItem" : "14HP", "productDescription" : "This Traveler Collection sportcoat is ideal for your busy life, with a flattering Tailored Fit and water and stain resistance that keeps you looking sharp and neat longer. It is fully lined with a stretch fabric for the best in fit and comfort. Two button, notch lapel, side vents. Fused chest piece. Interior pockets. 100% wool. Dry clean only. Imported.", "promoDescription" : "", "productUrl" : "http://www.gl-green.com/p/traveler-collection-tailored-fit-plaid-sportcoat-14HP", "productImageUrl" : "https://images.josbank.com/is/image/JosBank/14HP_38_TRAVELER_BROWN_MAIN?$browse_thumbnail$", "productImageFullSize" : "https://images.josbank.com/is/image/JosBank/14HP_38_TRAVELER_BROWN_MAIN?$browse_thumbnail$", "price" : "", "regPrice" : "$598.00", "salePrice" : "$199.00", "label": "sale", "category" : "SportCoats", "subcategory": "Traveler Sportcoats", "stock": 1, "dimension53" : "No" }
Related Products
Description:
Our 1905 Collection sportcoats feature fine craftsmanship with bolder colors and patterns and a touch of vintage style. Made with brrr? comfort technology, this sportcoat keeps you comfortable with natural cooling minerals, a special fiber core that increases moisture wicking, ...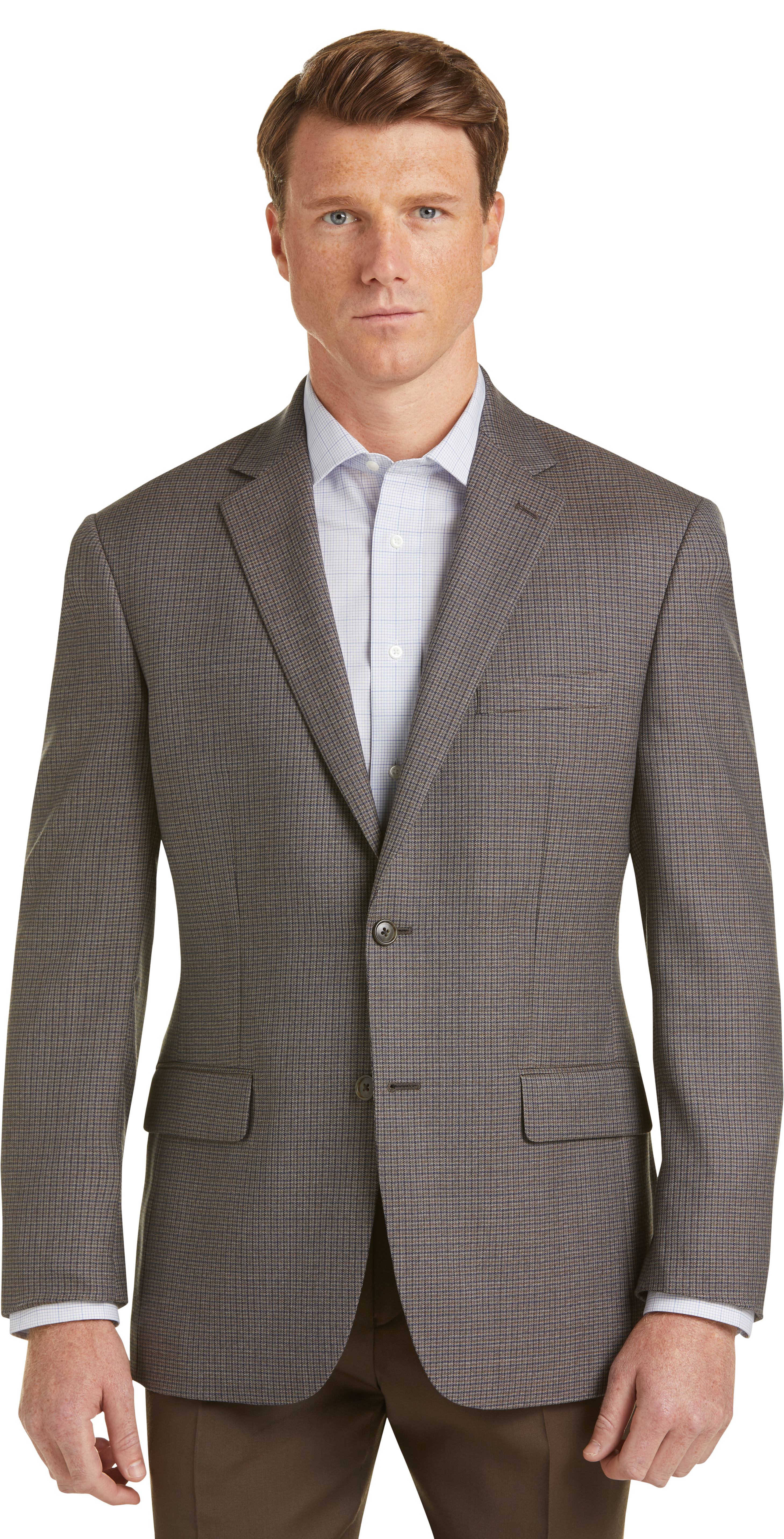 Description:
Classic and refined, our Executive Collection sportcoats feature the highest quality craftsmanship and timeless style you've been seeking. This fine coat is tailored with a two-button closure, notch lapel, and side vents in a flattering Traditional Fit. A subtle mini ...
Description:
Achieve the refined and stylish look you've been seeking with this Reserve Collection Sportcoat. This fine coat is styled with a two-button closure, notch lapel, and side vents. It is fully lined with interior pockets. 100% wool. Dry clean only. ...
Description:
This stylish sportcoat by Joseph Abboud features a trim Tailored Fit and a subtle plaid pattern. Fully lined. Two button, side vents, notch lapel. Meticulous construction. Cascade button at cuff. Soft shoulders. Plaid pattern. 100% wool. Dry clean only. Imported. ...
Description:
Crafted from the finest Italian fabric, our Reserve Collection sportcoats feature the most exquisite tailoring for an ideal fit. Two button, notch lapel, side vents. Fully lined with interior pockets. Straight flap pockets. Textured weave. 100% super 130's Italian wool. ...
EARN STYLE POINTS WITH EVERY MILE:
Sportcoats that know how to travel.
Every seasoned traveler knows that a travel sportcoat can be a lifesaver. Jos. A. Bank knows a thing or two about this, as evidenced by the Traveler sportcoat collection. You always want to look your best at a moment's notice—especially on the go, and these handsome jackets guarantee you'll always look neat and pressed. The wondrous thing about a great sportcoat is its ability to completely transform any look, be it adding elegance to a dressed-down look or the perfect piece to complete a formal event attention-grabber. With Jos. A. Bank's extensive color and sophisticated pattern options, you'll find a blazer in your favorite fit to seamlessly carry you from out-of-town meetings to drinks with business partners in impeccable style, no matter the season. These durable coats are designed for travel and made of high-quality fabrics that always leave a lasting impression. Nothing is worse than unpacking a travel bag to find your clothes looking disheveled when time is of the essence. No worries with Jos. A. Bank travel sportcoats. And best of all—these sportcoats are an amazing staple on or off the road. Wear them at the office on days you have marathon or back-to-back meetings or evening plans with your sweetie when you won't have time to go home and change. So embrace the wrinkle–free movement even if you're traveling locally.